Cold brew coffee is distilled by allowing the ground beans to soak in cold water to bring out their subtle flavors. This brewing method creates a low acidity blend that draws out the mellow flavors and adds a chocolatey tinge to them. But which coffee beans are the best for this brewing method?
The best coffee beans for cold brew include: 
Death Wish Whole Bean Coffee 
Coffee Bros. Cold Brew Blend 
Tiny Footprint Coffee Organic Cold Press Elixir 
Stone Street Coffee Cold Brew Reserve 
Koffee Kult Dark Roast 
Hazelnut Cold Buzz Coffee 
Metropolis Coffee Cold Brew Blend 
Lifeboost Coffee Light Roast Whole Bean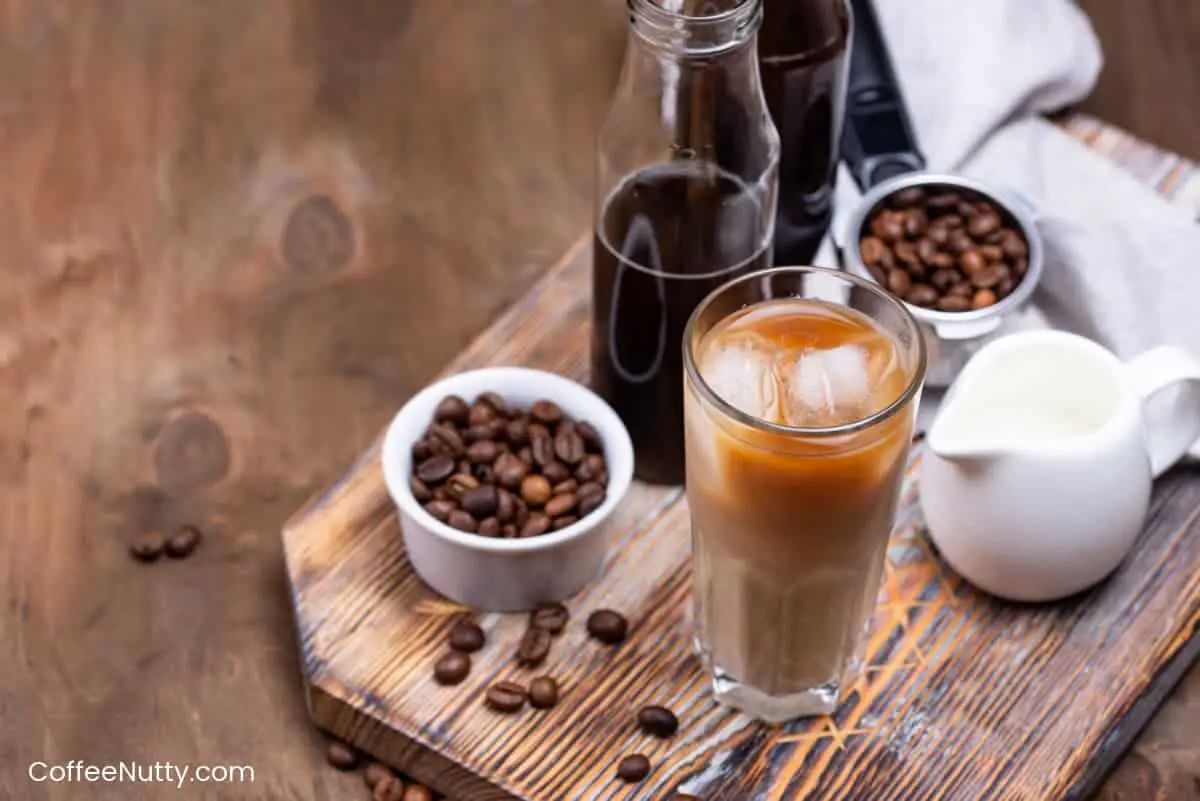 While you can use regular coffee to create a chilled drink, cold brew blends are designed to give you the ideal mix of flavors craved by most coffee drinkers. In this article, we'll take a look at the best coffee brands for a cold brew, so let's get started.
Tips on making cold brew using a french press.
1. Death Wish Whole Bean Coffee
Death Wish coffee has earned the title of the world's most robust coffee, with third-party tests to verify the high caffeine content in every cup. They use premium quality arabica and robusta beans to create a blend with a smooth, subtle flavor that will give you the energy jolt you need to tackle the day. 
This high-quality coffee (whole beans) comes with distinct cherry and chocolate flavor profiles. So while it may have the highest caffeine content on the planet, it's palatable and free from the different bitter flavors that overpower most cold brews. 
There's nothing like a cup of Death Wish cold brew to beat the summer heat, and the best part is that preparing this drink takes little effort. 
RELATED: Does Cold Brew Coffee Need to Be Refrigerated?
2. Coffee Bros. Cold Brew Blend
Coffee Bros. prides itself on quality, and its beans are roasted in small amounts to ensure each one gets the treatment needed to distill a cup of delicious cold brew. 
Their medium-roast blend is crafted in a style that brings out the sweet flavors and fruity notes in the coffee. And while this medium roast blend gives off a powerful aroma that can overpower the senses, the proper brewing technique can tone down the smell significantly. 
You might want to check out this YouTube video about the best ways to cold brew coffee:
Coffee Bros. uses arabica coffee beans that are naturally processed and obtained from two premier coffee-growing regions of the world: Minas Gerais, Brazil, and Yirgacheffe, Ethiopia.
The growing and treatment of these beans imbue them with an inherent sweetness that is significantly enhanced when roasted. 
RELATED: The Best Organic Coffee Beans
Please note that this article may contain affiliate links. You can read my full disclosure at the bottom of the page.
3. Tiny Footprint Coffee Organic Cold Press Elixir
As the name suggests, Tiny Footprint is a roastery that focuses on making the right choice for both coffee lovers and the planet. They offset carbon emissions in the production process by planting trees in the Ecuadorian cloud forest. 
Their partnership with the Mindo Cloudforest Foundation and their work to restore natural settings and minimize their impact has given them the title of the world's first carbon-negative coffee. 
This cold press elixir is designed only for cold brewing and is a unique blend of light and dark roasts that brings out an array of sweet, fruity flavors. 
RELATED: Coffee Creamer Alternatives
4. Stone Street Coffee Cold Brew Reserve
The Colombian coffee from this U.S. roastery focuses on small-batch roasting to ensure every bean is adequately prepared before being ground to create the blend. Stone Street Coffee Company uses single-origin arabica beans that are dark roasted to bring out a sweet yet smooth and balanced coffee flavor that's not too overpowering. 
They use Colombian Supremo beans known for their array of sweet flavors and are considered to be among the best coffee beans in the world. 
5. Koffee Kult Dark Roast
Koffee Kult provides a ground blend that can be used for distilling both hot and cold brews so you can switch things up if you want to. If you're looking for a high-quality gourmet coffee, look no further than Koffee Kult, which offers a solid and smooth flavor you won't find elsewhere. 
Sourcing organic, smooth, whole-bodied beans from Guatemala, Sumatra, and Columbia, Koffee Kult creates a blend with a bold flavor that goes down easy. 
This is organic and fair trade, ensuring that their farmers and workers down the supply chain receive the treatment they deserve. They also separate themselves from the competition by shipping your orders just minutes after the beans have been roasted. 
RELATED: Does Strong Coffee Mean More Caffeine?
6. Hazelnut Cold Buzz Coffee
Hazelnut Cold Buzz Coffee was explicitly designed for distilling a cold brew with as little effort as possible. A cold brew typically takes a few hours and involves a filtering process that can feel cumbersome when you're craving that quick cup of coffee. 
Luckily, Cold Buzz coffee eases the process by providing pre-ground beans in tiny sachets, like teabags. All you have to do is soak these sachets in cold water overnight, and you'll have a cup of cold brew that you can refrigerate to chill further if required. 
Cold Buzz sources their beans from Central and South America and Europe.
And while the cost of cold brews is generally higher than regular coffee, this brand partners with roasteries and wholesalers to ensure you're able to enjoy a cup of cold brew at minimal prices. 
While they offer various flavors, the hazelnut is perhaps the most highly recommended, with a sweet, buttery flavor that gets enhanced through roasting. 
The only drawback here is that Cold Buzz Coffee is not a roastery and sources their beans after they've been roasted and ground. As a result, their blend may not be as fresh as the other cold brews available. 
However, the convenience and straightforward preparation method are worth the tradeoff. 
RELATED: Why Does Some Coffee Taste Nutty?
7. Metropolis Coffee Cold Brew Blend
This Chicago-based company is a connoisseur of coffee and focuses primarily on delivering high-quality, fresh blends to their customers. They roast their beans to ensure maximum freshness and retention of flavors in the resulting cold brew. 
Metropolis shows a keen appreciation for coffee that few small-batch roasters can hope to compete against. 
Their beans are prepared with cold brewing in mind, and the roast is atypically dark, resulting in a final product that blends the flavors of dark chocolate and walnut with a hint of toast. 
RELATED: Where Do Coffee Plants Grow
8. Lifeboost Coffee Light Roast Whole Bean
Lifeboost Light Roast coffee is a great option if you prefer a lighter roast.
It is an excellent choice if you prefer a low acid roast. They boast being single-origin beans that are 3rd party tested for mycotoxins and pesticides. They also have a 30 day money back guarantee to ensure you are satisfied!

Even if you prefer hot coffee, you should give cold brew a try! Using the cold brewing method is a great way to get rich flavor using the best beans possible while saving money avoiding your local coffee shop.