Cup holders in cars are marvelous inventions that have allowed us to tag our beverages as we go about our day. However, accidents happen, and you may be ruing over your coffee spill as you look for the best way to remove old coffee stains from car carpets or car seats. Dark and ominous as the mess seems, it's possible to clean coffee from a car carpet.
To clean coffee out of a car carpet, blot the spill away with a dry cloth, then use a mixture of dish soap or coffee stain remover and water to scrub the coffee from the carpet gently. Rinse and repeat this process till the carpet is clean, then vacuum the area to restore its pile.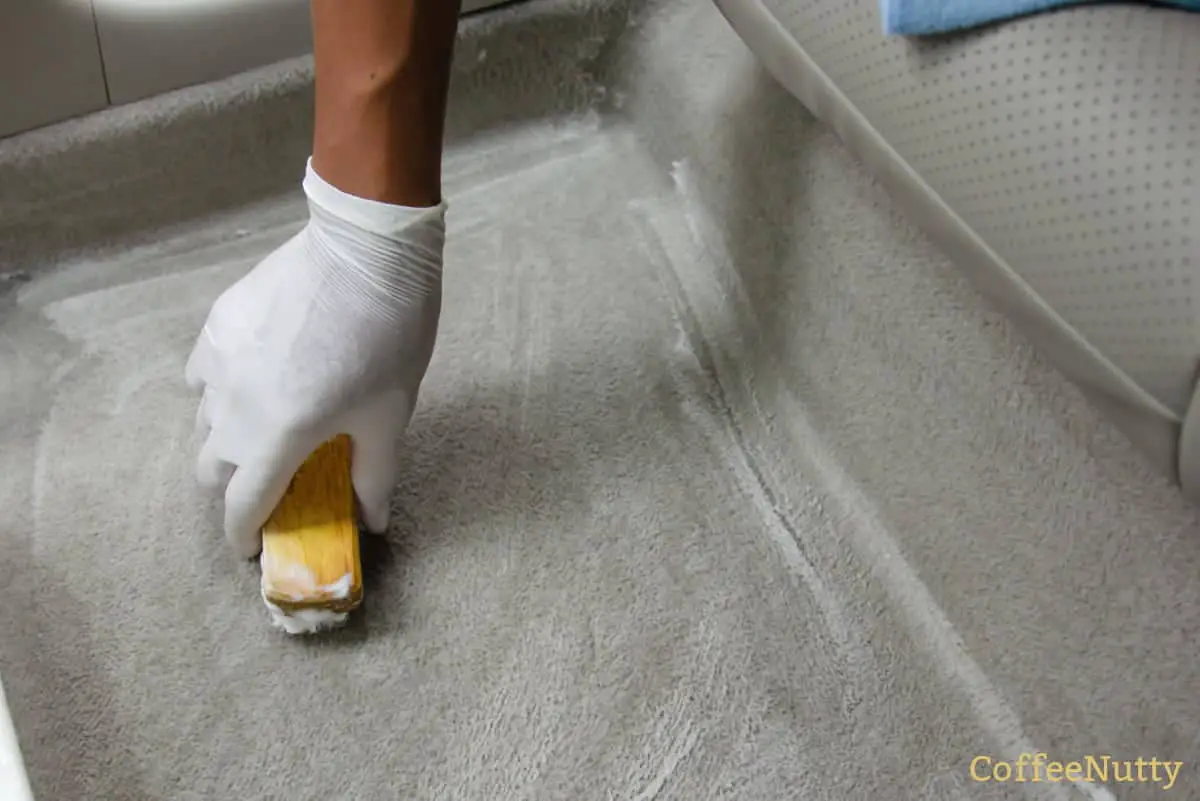 Eliminating a coffee stain from your car carpet need not be a harrowing experience.
This article is a step-by-step guide for making a car carpet look as good as new.
Blot the Spill With a Clean, Dry Towel or Paper Towel
Blotting the spill with a clean towel is a critical first step as you clean coffee from your car carpet. It lays the foundation for subsequent interventions by removing as much coffee as possible and giving you less of a mess.
Blot the stain from the affected area rather than rub it. Rubbing fresh coffee stains can impede your mission by spreading the stain and damaging the carpet fibers.
Another nifty preliminary tip in this cleaning endeavor is to act quickly.
The longer the stain sits, the harder it will be to remove. Blotting is the first thing you should do for a great outcome in coffee stain removal.
Prepare Your Cleaning Concoction
This is where the real work begins. Gather your supplies, which include: 
a clean cloth (preferably one that's not light-colored or a white cloth to avoid staining it)
a sponge or soft-bristled brush
a bowl of warm, clean water 
a carpet stain remover or dish soap and vinegar
Now, mix up your cleaning solution. If you are using a carpet stain remover, follow the instructions on the package. 
Mix a few drops of dish soap and vinegar with two cups of warm water if you are using dish soap, vinegar, and water. The rough ratio for this vinegar solution is 1:1:2. That is, one part dish soap, one part vinegar, and two parts warm water.
While carpet stain removers are preferable for this endeavor, dish soap is still a great alternative, as it's effective at breaking down coffee stains and can help to lift the stain out of the carpet.
Dish soap can replicate the magic it works on coffee mugs here.
Vinegar is also an essential part of this concoction, which explains why you can use it to clean your coffee maker.
Not sure how to go about this unconventional cleaning method? Check out our article on everything you need to know about apple cider vinegar cleaning a coffee maker.
Gently Scrub the Stained Area
Dip your sponge, microfiber cloth, or brush into the cleaning solution and gently scrub the stained area.
Alternatively, apply the mixture directly onto the tough stains or a damp cloth using a spray bottle.
Work the solution into the stained area in a circular motion. Doing so will lift the coffee from the carpet fibers.
Be sure to use a light touch to protect the carpet. If the stain isn't budging after five minutes of gentle scrubbing, let the stained area sit in the cleaning solution for five to ten minutes.
And if you're using a carpet cleaner, it's a good idea to test its bleaching effects on a small, inconspicuous part of your car carpet.
While manufacturers develop the instructions to ensure that carpets aren't bleached messes, it's better to be safe than sorry.
Related: How to Clean a Braun Coffee Machine
Rinse the Carpet
After removing as much liquid as possible, let the car carpet air dry.
This rinse will look slightly different from the one you'd give your carpet post-wash. You don't need buckets of water—blot the cleaning solution away with a clean wet cloth with clean, cold water. 
Letting the carpet dry completely has a double-pronged set of advantages; it chips away at the coffee stain and prevents any lingering moisture from causing mold or mildew to grow.
By the end of this coffee stain removal process, the fresh stains should be gone, but if it's not, do the following.
Bring Baking Soda Into the Mix
Stubborn stains call for stubborn stain removers and, occasionally, different methods.
If you can still spot traces of a stubborn brown coffee stain on your car carpet, repeat steps 2 through 4 above, then sprinkle a generous amount of baking soda on the stained area.
As you let the carpet air dry this time, leave the baking soda on it and let it do its thing. When the carpet is done air drying, vacuum the baking soda off it.
This intervention should eliminate the coffee stain, but you may sometimes need to repeat it several times, especially if the coffee had a good chunk of time to interact with your carpet.
But don't lose hope! The good news is your carpet will look like it doesn't even know that coffee exists when you are finished.
Vacuum the Car Carpet
The previously-stained area of your carpet may look deflated after exposing it to all that washing and rinsing. Fortunately, with a quick vacuum over that area, you should be able to restore its pile, restoring its previous life and shine.
This article focuses on cleaning coffee from a car carpet, but coffee spills often happen in homes.
With this in mind, we wrote an article about how to remove coffee stains from a carpet.
Due to the different materials that make these two types of rugs, we introduced methods to that article that aren't in this one. Check it out.
Conclusion
Coffee is an easy beverage to carry around, making it a regular part of people's commutes. However, the road is unpredictable, occasionally causing a fresh cup of coffee to tumble on car carpets.
All these accidents have given rise to the easy steps outlined in this article.
Luckily, you don't have to learn how to clean coffee from a car carpet from scratch. A few household cleaning supplies are all you need to get your carpet back to its spick and span state before dealing with set-in stains.
One of the best tips is to act fast and blot away as much liquid as possible.
Time needed: 30 minutes.
How to Clean Coffee Stains from Car Carpet
Blot Spill with Clean Dry Towel

Remove as much liquid a possible, using a clean towel to blot affected area.

Prepare cleaning mixture

If you have it available to you, use a carpet cleaner for the remaining coffee stain. Otherwise, combine one part dish soap, one part vinegar, and two parts warm water.

Gently scrub affected area

Using the vinegar, water, and dish soap solution, gently scrub the stain in a circular motion using a clean towel or brush.

Rinse the carpet

Using clean water and a clean cloth, gently wipe away the cleaning solution.

Let the carpet air dry then vacuum.

Allow the carpet to fully dry, then vacuum the affected area to restore carpet pile.