Spilling coffee on your carpet might make your heart jump. Not only are coffee stains notorious for being difficult to clean, but it's a race against time. How can you remove coffee stains from your carpet?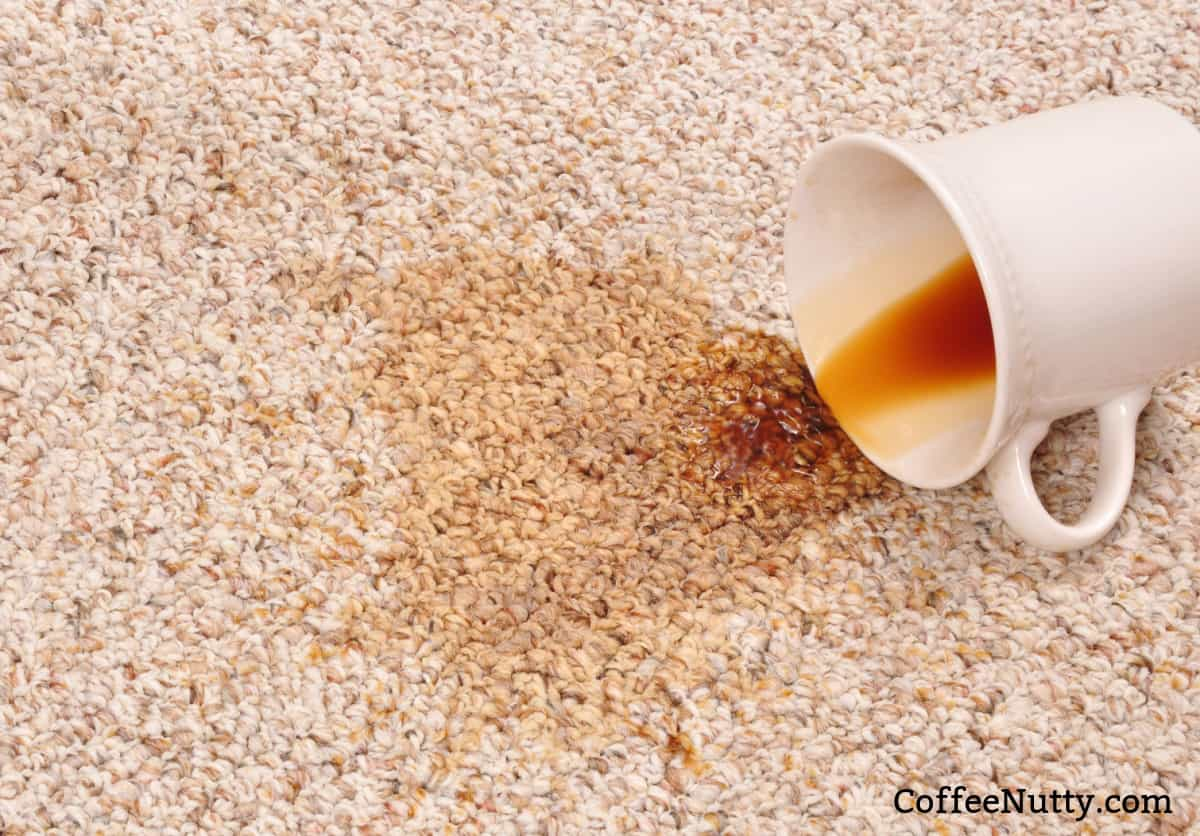 Here's how to remove coffee stains from carpet:
Gather cleaning materials.
Blot with a towel and water.
Use a cleaning solution.
Rinse by blotting again.
Additional methods for extra stubborn stains.
Additional methods for coffee with cream.
(Optional) Create your own cleaner.
The good news is, this approach is a general rule for coffee spills but read on to learn detailed methods and additional strategies for coffee with cream and old, stubborn coffee stains.
1. Gather Cleaning Materials
At a minimum, you'll need material from each of the bulleted categories below:
Rags, cloth towels, or paper towels
Coldwater
Cleaning solutions like white vinegar, detergent, or 3% hydrogen peroxide
Spray bottle (optional)
2. Blot With a Paper Towel and Water
Especially with fresh coffee stains, the first thing is to do is grab a clean cloth or towel. A light-colored towel can show you if you're still picking up more coffee transfers from the carpet. But don't just lay a clean towel on top of the stain and push it down. 
Starting at the middle can spread the coffee. Instead, gently blot the affected area from the perimeter of the spill and work your way to the interior. After the initial blotting of the coffee has soaked up the excess moisture from the coffee, pour a small amount of cold water. 
The water will dilute whatever coffee remains on the carpet. Wait a moment, and then blot again with a dry cloth. Continue until you see no trace of of the stubborn stain in the carpet fibers.
3. Use a Cleaning Solution
If blotting isn't enough for a fresh coffee stain, then the next step is to use a cleaning solution.
There are a lot of formulas available for different preferences. You can substitute whichever cleaner you want, but here is the most common solution and how to apply it.
Related: How to Clean Coffee from Car Carpet
Hydrogen Peroxide and Dish Soap
HGTV recommends mixing 1 cup (236.59 ml) of hydrogen peroxide with ½ teaspoon (2.46 ml) dish soap. Some university extension services suggest ⅓ cup (78.86 ml) of white vinegar in ⅔ cups (157.73 ml) of lukewarm water. Dribble, spray with a bottle, or apply that with a sponge or fresh towel onto the stained area.
Allow the solution to sit do its work for 5-10 minutes. After that, grab another dry towel and blot away the solution with the coffee. 
For good measure, you can repeat the process with a detergent mix of ¼ teaspoon (1.23 ml) of hand dishwashing soap that does not have lanolin or bleach ingredients with 1 quart (32 oz) of lukewarm water.
RELATED: How to Remove Coffee Stains from Clothing
4. Rinse By Blotting Again
Once you think the cleaning solutions have done their job, you'll want to make sure you rinse them out. Here are the steps:
First, apply more water and do another round of blotting with a clean white cloth. 
Then, add water, but cover the spot with the towel, way down with something broad and heavy like a book, and allow the area to dry on its own. 
After this stage, you'll have thoroughly removed the coffee stain from your carpet.
5. Additional Methods For Extra Stubborn Stains
Sometimes, stains can be very stubborn. If you still have a dried coffee stain on your carpet, then try these additional steps if the previous stain removal methods don't get out stain.
Moisten the area again, but instead of using water, use 3% hydrogen peroxide. Let it sit for one hour, then repeat the blotting process until the stain is completely gone. You also don't need to worry about rinsing after this stage because hydrogen peroxide converts to water in the light.
Alternative to using hydrogen peroxide, you can saturate the area with water, leave it alone for 10 minutes, and come back with a wet-dry vacuum on the treated area. If you do this, make sure to vacuum all the remaining fluids. 
Do this as many times as you need to remove the stain.
6. Additional Methods For Coffee With Cream
If you have cream in your coffee, you may need an enzyme laundry detergent as a second cleaning solution.
During your cleaning solution stage, use the mix that is ⅓ cup (78.86 ml) of white vinegar in ⅔ cup (157.73 ml) of water. Saturate the area with the solution, wait 5-10 minutes, and blot the moisture away.
At this point, you can now apply detergent. Take ¼ teaspoon (1.23 ml) of a handwashing soap without lanolin or bleach in it, and mix it with 1 qt (32 oz) of lukewarm water. Blot, and repeat as many times as needed to remove the stain.
Like with coffee stains without cream in carpets, rinse the area with cold water and blot.
After this, add cool water again and use 3% hydrogen peroxide. Give the hydrogen peroxide an hour to do its work. Then blot the remains until the stain is gone. Hydrogen peroxide does not need rinsing.
RELATED: How to Remove Coffee Stains from Teeth
7. (Optional) Create Your Own Cleaner
Many people have preferences for cleaning solutions. Handwashing soap, white vinegar, and hydrogen are easy to find, plus they are cheap. Yet, it pretty easy to make your own effective homemade coffee stain remover. Have a dry white cloth on hand. Using harsh chemicals may not be your top choice, so keep that in mind when making your own cleaning solution.
The following items are different methods:
Lemon juice: Good for oils and smells, you can add ¼ cup (1.23 ml) of lemon juice to 1 gallon (3.79 L) of hot water and ½ cup (118.29 ml) of liquid soap.
Double up: You can double your detergent mixes to the volume of water.
Natural scents: You can mix your choice of an aromatic herb or flower with your detergent mix.
Egg yolk: Rubbing in egg yolk with lukewarm water can take out coffee stains.
All-purpose spot remover: ¼ cup (59.15 ml) borax with 2 cups (473.18 ml) of cold water.
Ammonia solution: Mix one part ammonia with four parts clean water. Spray onto tough stain and let it sit for a couple of minutes. Blot with a dry white towel.
Club Soda: Blot stain, sprinkle salt over stained area, then pour a small amount of club soda over salt. Let sit for several hours and blot again. Use vacuum cleaner over area when fully dry.
Additionally, baking soda is an all-purpose fighter against stains. It safely cleans stains, grime, and smells off most surfaces. Mix one part baking soda with three parts water and apply with a damp sponge or towel. Or add to your other detergent mix, which is perfect for old coffee stains.
How To Remove Coffee Stains From Carpet
Whether you spilled fresh coffee or old coffee, coffee with or without cream or sugar, there's a method to clean the stain from your carpet. The specific techniques vary but follow a general step guide as well.
Blotting: This is the most common advice and most efficient for fresh spills. 
Cleaning Solution: If the stain proves stubborn, which is more likely the older it is and if it has cream.
Wet-Dry Vacuum: In some cases, you might want to invest in using a wet-dry vacuum, but likely you can skip this.
Rinse Blotting: Whether you only needed the initial blotting or had to go to Step 2, apply cold water, and blot with a towel.
As a general rule, if you want to clean your carpet, you must attack the stain as soon as possible. Older stains are tougher to deal with, though not impossible to remove. As a last resort you can always use professional carpet cleaning services.
Final Thoughts
Spilling coffee on your carpet might feel like you destroyed that area of your house. But as long as you act quickly and don't mind a little "rinse and repeat," cleaning stains is a simple process. 
Just blot the spill, add and blot water, add and blot your cleaning solution, and add and blot water again. You can even remove older stains and coffee with cream with these steps and the right cleaning solution.