We all love to grab some cold drinks or an iced coffee on a hot summer's day, but, paying ridiculous prices or being forced to get out from your comfy sofa to the nearest Starbucks to grab a drink is not ideal. So, what's the solution? Learning how to make your cold foam!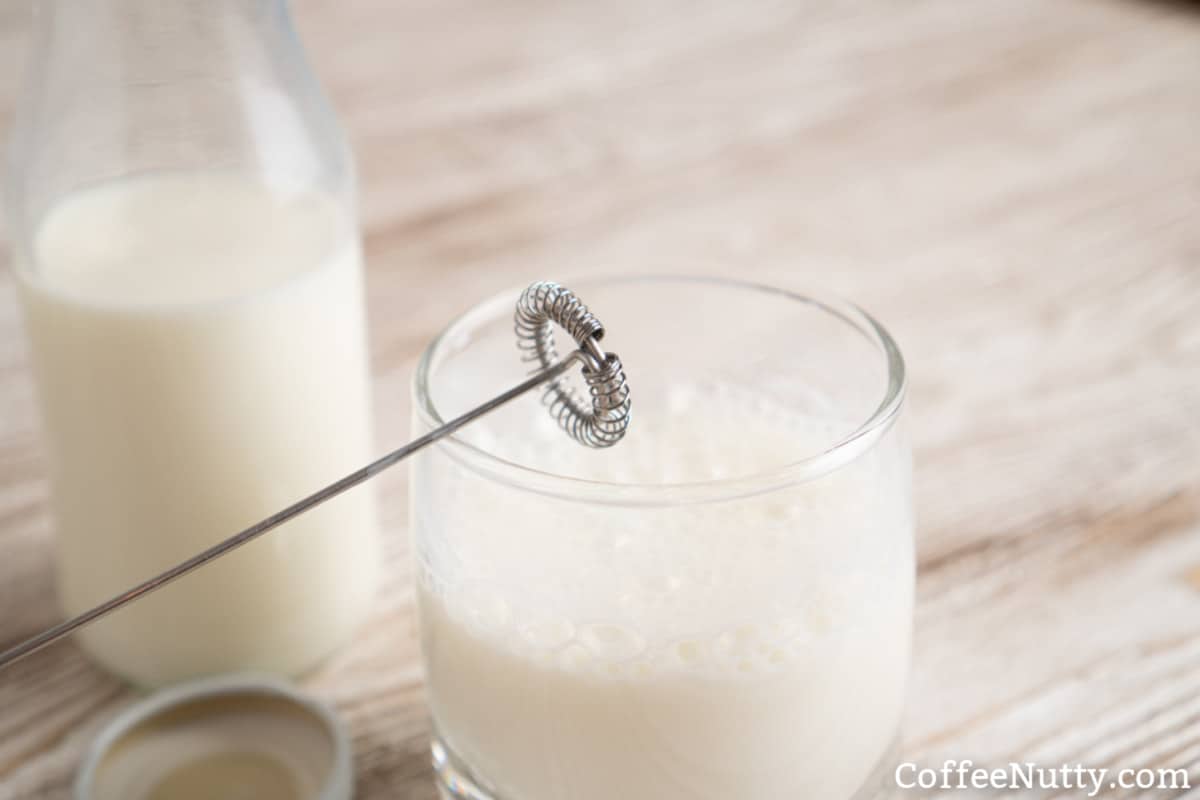 Here's how to make cold foam for coffee:
Choose your equipment.
Make cold foam without equipment.
Choose the right milk.
Use cold foam in your coffee drinks.
Cold foam can be a great topping for cold brew, iced coffee, or even blended coffee. Read on if you want to learn the best ways to make cold foam. Let's take a look. 
1. Choose Your Equipment
If you've got the correct equipment, you can make some barista-standard cold foam. Here's what you'll need:
A milk frother: These can vary in size and price, but if you're on a budget, consider a handheld frother. They're much cheaper but still do an excellent job. If you've got a bigger budget, then an automatic electric milk frother is going to be your best friend.
A small glass or jug: If you're using a handheld frother, use a small glass. The smaller the glass, the better, as it'll mean less surface area for the frother, resulting in a quicker result.
Here's how to use a frother to make cold foam:
For the best results, hold your frother at the top of your milk. This will incorporate the most amount of air, leaving you with the best and smoothest foam. 
Keep your frother on the cold setting, and use a high speed for quicker results.
Pour into your espresso or cold brew and enjoy.
To clean your frother, run it through a cup of cold water for a few seconds. This will get rid of any milk stuck to the frother.
Here's a great guide that will teach you how to froth your milk, step by step:
2. Make Cold Foam Without Equipment
If you don't have any equipment, then don't worry, as there are many different ways to make cold foam, and some require no equipment at all.
If you have a stick blender or even a full-sized blender, here's an excellent method for you:
Pour your milk into a bowl or your blender's container. 
If you're using a stick blender, submerge it into the milk and turn it on. If you're using a full-sized blender, then simply put the lid on and blend.
Blend until you have your desired consistency. This shouldn't take longer than a couple of minutes. If you want a frothier consistency, then increase the speed of your full-sized blender, or bring your stick blender to the surface of the milk.
A blender does pretty much the same job as a frother, which makes it a great substitute if you don't have one. But, of course, the best way to make regular foam is to be with a high-quality frother.
However, your coffee will still taste great if you use this method.
Related: Best Substitutes for Coffee Filters
3. Choose the Right Milk
Some kinds of milk are going to be better for foaming than others, which is due to the fat content in the milk and other factors such as consistency.
Here is a list of the best milk to use for your cold foam coffee:
Full-fat milk: The high-fat content in whole fat milk makes it simply outstanding for foaming. You'll get a creamy, thick foam that's great for iced lattes. Non-fat milk is also great, but you'll get the best results from full-fat.
Oat milk: Oat milk is incredibly creamy in texture. Foaming oat milk will leave you with a smooth and creamy foam to create an outstanding brew.
Almond milk: If you like a brew with a nutty texture, then almond milk might just be for you. Not only does it have a great flavor, but the texture is just perfect for foaming.
If you find that your milk isn't sweet enough for you, try adding some sugar or syrup, as this will help to give you a really sweet cold foam. If you want a slightly more savory tone, add a pinch of salt. 
This goes great with caramel syrup and can help to take the edge off sweeter kinds of milk.
Related: Can You Put Milk in a Coffee Maker
4. Use Cold Foam In Your Coffee Drinks
So, you've made your cold foam, and it's looking delicious. But, what can you do with it:
Iced lattes: A staple for coffee lovers, the latte just gets better when it's iced. All you'll need is some espresso, which you can make with an espresso machine. Simply combine the two ingredients, and you'll have a lovely drink to sip on. You could even try some latte art or add some pumpkin cream for a twist.
Iced cappuccinos: This coffee favors foam over smooth milk, so when you make your cold foam, make sure to foam it all the way through to get the perfect cappuccino. Pour the milk into your espresso in circular motions to ensure the coffee creamers rise to the top and you get even distribution.
Cold-brew: Cold brew has risen in popularity significantly over recent years, becoming one of the most popular of Starbucks ' drinks. Using cold foam can take your cold brew to a whole new level. Some people have created simply fabulous recipes, like vanilla sweet cream cold brew.
Ultimately, the possibilities are endless. Cold foam is so versatile, so you're only really limited by your imagination. Maybe you could try iced chocolate or a flat white. 
Whatever you can think of, you'll be able to make it with cold foam.
Related: How to Make Coffee Milk Tea
Conclusion
Next time you want to go to your local coffee shop for an iced coffee, think again. Making cold foam at home couldn't be easier, as it's delicious, affordable, and highly satisfying.
Experiment with different flavors and textures to find the perfect brew for you, and you'll elevate your morning coffee instantly!
RECOMMENDED: