We often focus on the right coffee beans to make the perfect cup of coffee. While the quality of coffee beans is essential, how well we maintain the coffee maker also plays a significant role, which makes descaling necessary. 
The best descaler for the Breville Espresso machine is the Breville Descaler powder and Breville Eco Liquid Descaler. These are both Breville products, carefully formulated to clean the Breville machines without harming them.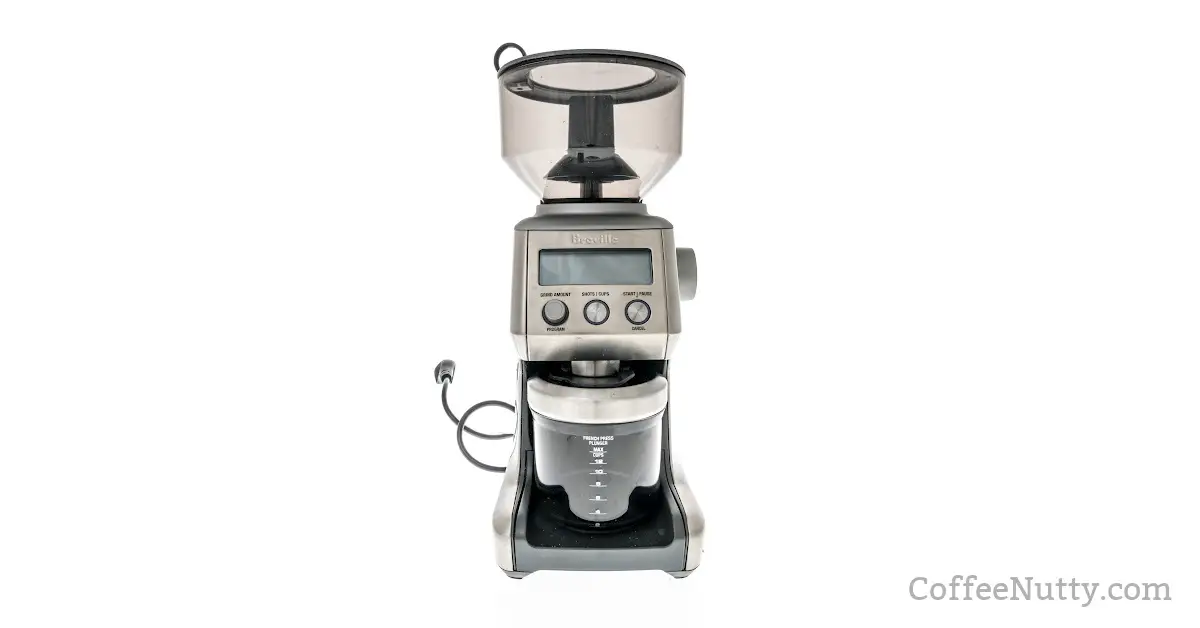 Failure to descale your espresso machine regularly messes with the brewing temperature and taste of coffee.
In this article, I'll discuss the best descaler for your Breville Espresso machine, the best way to descale, the benefits of descaling to the output of coffee, and the condition of the Breville coffee machine. 
The Best Descalers for the Breville Espresso Machine
Like other machine manufacturers, Breville recommends using their descaling products. The options range from a liquid descaling solution to powder, the Breville Descaler powder, and the Breville Eco liquid descaler. 
Using a high-quality descaler is vital when keeping your Breville Espresso Machine in top-notch condition. 
One highly recommended option is the Urnex Dezcal Coffee and Espresso Machine Descaler.
This descaler is non-toxic and biodegradable, making it an environmentally friendly choice. It effectively removes limescale buildup, which can affect the taste of your espresso and decrease the efficiency of your machine.
Another top contender on the market is the Cafetto Restorer Descaler. 
Designed specifically for espresso machines, this powerful descaler quickly dissolves mineral deposits and removes coffee oils that can accumulate over time.
It also sanitizes your machine, ensuring no harmful bacteria or residue are left behind after cleaning. The Cafetto Restorer Descaler is safe to use on the stainless steel and brass components of your Breville Espresso Machine.
Using a quality descaler regularly will help extend the lifespan of your Breville Espresso Machine and ensure that you always enjoy smooth, flavorful espressos at home. 
Whether you choose Urnex Dezcal or Cafetto Restorer Descaler depends on personal preference, budget constraints, and availability in your area.
Regardless of your choice, both options will effectively remove limescale buildup and leave your espresso machine looking new.
The Breville Descaler Powder and Breville Eco Liquid Descalers
One pack of descaling liquid comes with two 120 ml (4.06 fl oz) bottles. Depending on the size of the machine, you'll use half a bottle or one bottle per descaling cycle. 
The powder descaler comes in a pack with four sachets. You should use one sachet for each descaling cleaning cycle, depending on the size of your machine. Unlike the liquid, this one comes with clear instructions.
In addition to removing any chemical buildup, the best descalers, such as the ECO, help reduce the risk of bacteria contamination, ensuring your coffee is safe. 
With the right descaler, your coffee machine will not only be safer but will also work faster.
In short, a good descaler is essential to making the most of your device so it will last a long time. 
Other Commercial Descalers
Impressa Coffee Machine Descaler. This popular brand is suitable for all coffee machines and Breville models. It's highly effective in clearing minerals from hard water and is an excellent choice if the tap water in your area is high in minerals.
Biocaf Coffee Equipment Descaling Powder. If you are looking for a plant-based, eco-friendly descaler, you should look at Biocaf, which is compatible with single cups, drip coffee makers, and espresso machines. 
How Descaling Improves the Taste of Your Coffee 
When it comes to enjoying a delicious cup of coffee, the taste is everything. 
But did you know that descaling your coffee machine can enhance your brew's flavor?
Descaling is the process of removing mineral deposits that build up over time in your coffee maker, and it has several benefits. 
Descaling helps improve the machine's water flow, which ensures more even extraction and a richer taste. Additionally, by removing the stubborn buildup of mineral deposits, you'll notice less bitterness and acidity in your coffee, allowing you to appreciate its authentic flavors fully.
Furthermore, descaling improves the taste of your coffee and prolongs the lifespan of your beloved brewing equipment.
When minerals accumulate in your machine's internal components, such as heating elements and pipes, they can impede performance and cause damage over time. 
By regularly descaling your coffee maker, you remove these harmful deposits and prevent any potential clogs or malfunctions down the line.
This means your morning cup will be tastier and more consistently produced thanks to an efficient operating machine.
Manufacturers advise customers to describe their machines every three months to get the best taste of their coffee.
Descaling plays a vital role in enhancing the flavor profile of your coffee.
With regular maintenance and removal of mineral buildup from inside your coffee machine, you're sure to experience a noticeable improvement in taste – smoother flavors with less bitterness and acidity – allowing you to savor every sip. 
By ensuring optimal performance through descaling practices, you'll enjoy quality brews for longer while keeping potential mechanical issues at bay.
Regardless of whether you have hard or soft water, regular descaling is a good idea and should be a cleaning process.
When making coffee, water is a significant component of the brewing process. Fresh water, whether tap or distilled, comes with minerals such as calcium and magnesium that pile up on the machine's heating element as limescale. 
Limescale, including other factors, can be the leading cause of a slow coffee maker. The effects of limescale and water hardness on your coffee and machine are:
Different taste in the coffee. The limescale limits water from reaching its required brewing temperature and hampers flavor extraction from coffee beans.
The limescale will damage the machine. If ignored, this mineral buildup will clog the machine and may even stop it from working. 
How To Descale Your Breville Espresso Machine 
When your Breville coffee maker needs servicing, it will have two blinking lights and will turn on either the clean me or descale signs.
Here are the descaling steps for the Breville machine. 
Assemble the ingredients. You'll need a descaler, a 2-liter container, and a spoon. For the powder and tablet descalers, follow the instructions on the packaging on how to mix. You'll just pour half of the solution in the bottle into the water for the liquid.
Remove the portafilter, empty the drip tray, and reassemble it.
Remove the water filter from the water tank and fill the water in the tank to the descaling line.
Pour in your powder or liquid descaler. If it's powder, use a spoon to stir till the solution is fully dissolved.
Place the water tank with the new solution back in place.
Depending on the Breville model, you'll use the grind amount dial to turn to descale mode. For other models, press the 2-cup and power buttons simultaneously to activate the descaling mode.
Remove the drip tray and place your 2-liter (0.53 gallons) container under the group head and steam wand. 
On some models, the machine will indicate readiness to descale when the one cup button, power button, clean descale, and hot water steam buttons are illuminated. In other models, a simple selection of descaling on the menu gets the process started.
The descaling process will run for about 2-5 minutes and will require you to switch from hot water to steam during the process manually.
Once the solution in the tank is fully drained, take out the tank and rinse it thoroughly.
Fill the tank to the maximum with cold water and repeat the above steps to ensure that all residue from the descaling has been removed.
Related: How to Clean Nespresso Vertuo
DIY Descaling Options
White vinegar and water. Some coffee enthusiasts recommend using white vinegar solution as a descaler by mixing a solution of 25% vinegar in 75% water. This will clean your machine but isn't as effective as the commercial manufacturer's product.
Citric acid. This is an acid found in lemon juice and lime juice. It's sold in retail stores, and you'd need two tablespoons of this acid in one-quarter of a cup of water. However, over time, this citric acid may cause a mineral buildup of its own.
Final Thoughts
Descaling is a necessary routine in the upkeep of your Breville espresso machine.
Using the Breville descaling products is advisable, but if you don't have access to them, the other commercial brands on the market will also work. Read your user manual for further guidance.
Descaling should be distinct from regular cleaning of the machine, as the cleaning has its process and products. Plus, it isn't as thorough as descaling. Therefore, your machine can't function properly on only cleaning cycles.
Following the simple steps in this article is an effective way to familiarize you with the descale cycle and how to complete the entire process. 
Once you have a reliable descaler, you can use it for other Breville products like the tea maker. 
Bad-tasting coffee is never a good choice for a coffee lover. So get started with descaling your specific machine to enjoy a delicious pot of coffee once again.