Milk frothers may seem like mundane tools, but the upgrade they inject into beverages is irreplaceable. Frothed milk can instantly transform your morning coffee into the one you enjoy from your favorite barista, and what's better is that they are easy to incorporate into your coffee routine. But how exactly do you use a frother for coffee?
To use a frother for coffee:
Heat some milk and pour it into a mug.
Use a manual frother or electric milk frother to create foam by holding it just below the milk's surface and moving it in a circular motion.
Once you've made the desired amount of froth, pour the foamed milk into your coffee and enjoy!
Milk frothers are perfect for those who want to make their morning coffee feel fancier.
This article will equip you with all the skills you need to make a frother your partner in bringing out your inner barista.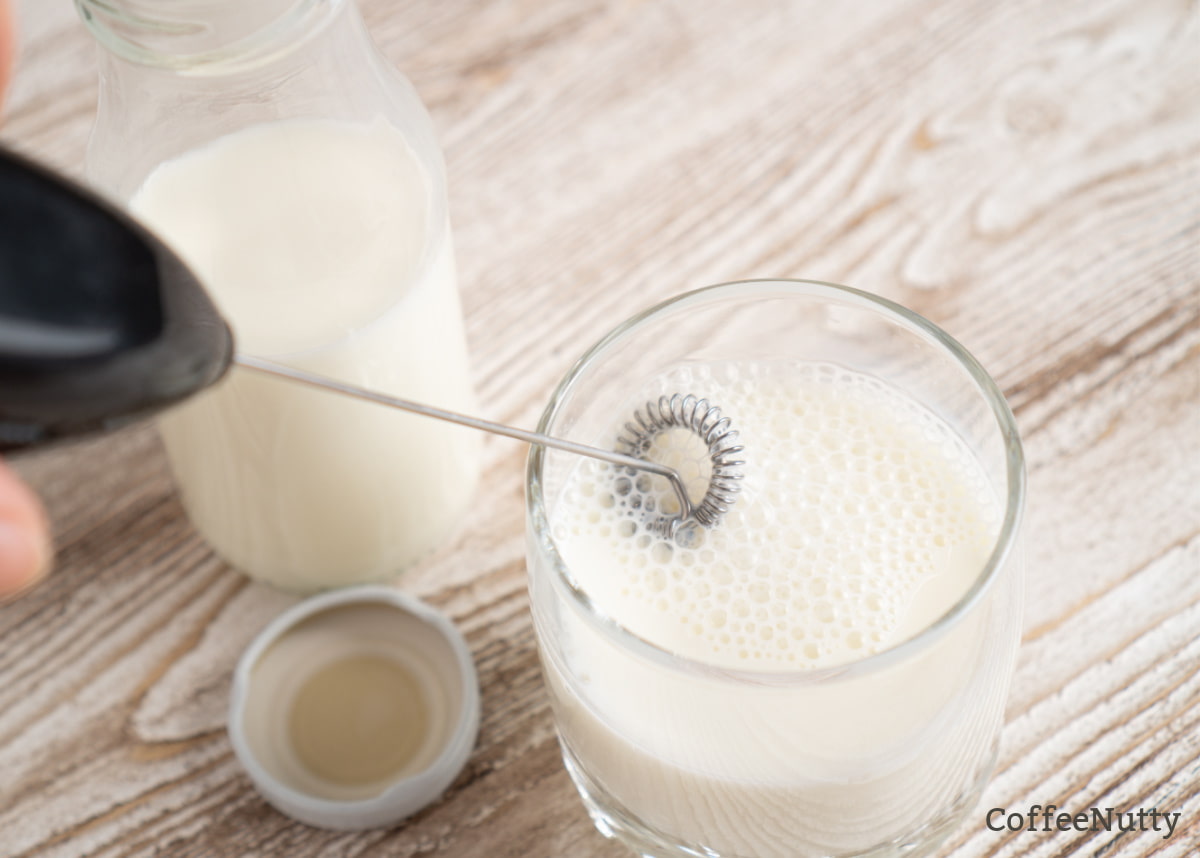 How to Use the Different Types of Frothers
Coffee lovers can distinguish between a full, creamy cup and one that robs them of the sensory journey good coffee takes them on. A milk frother is an underrated tool that can help you achieve the former, all while being extremely easy to use.
If you're a coffee enthusiast, you probably know how important it is to have the right equipment to prepare your favorite drink.
One of the most popular tools used in making coffee is a frother. Frothers are small gadgets that add texture and flavor to your coffee by creating a foamy layer on top.
Frothing works by introducing air into the milk or cream used in making coffee.
This process changes the liquid's consistency, giving it more body and thickness. The result is a creamy texture that enhances the taste and aroma of your coffee.
Different types of frothers are available today, including handheld battery-operated models, electric frothers, and manual frothers.
Each type has unique advantages and disadvantages, depending on your preferences and needs. Some factors to consider when choosing a frother include speed, ease of use, maintenance requirements, price point, durability, and versatility.
Perhaps you're getting sold on the magic that frothers spark in coffee, but before you buy the first one you see, you should know more about the different types of milk frothers. 
Let's take a look at each one to see which one is right for you.
Espresso Machine With Steam Wand 
This frother is the type most regularly found in your local coffee shop.
It uses steam pressure to heat and froth milk for making lattes, cappuccinos, and other milk-based drinks.
When you turn on the steam wand, the boiler generates steam. The frother then forces the steam through the wand's nozzle. You get the frothing effect by placing the nozzle below the surface of the milk in the pitcher. 
As the steam mixes with the milk, it heats it and creates foam.
The barista can then use the wand to mix the foam into the milk to create a rich, creamy texture. The steam pressure and the wand's movement are vital in creating the perfect foam for the drink.
If you're keen on replicating the coffee you get at your favorite cafe, getting an espresso machine with a steam wand is a great first step.
Electric Handheld Milk Frother
An electric frother is a whisk that runs on batteries. It has a single-speed setting and requires you to do the heavy lifting.
To use a handheld milk frother: 
Heat some milk in a saucepan or microwave. 
Pour the hot milk into a mug and hold the frother at a depth where you see a constant milk whirlpool.
Move the frother in a circular motion to create the foam. 
You can use this milk frother to create the perfect amount of foam for your coffee drinks, whether you prefer a light, fluffy foam for a cappuccino or a dense, creamy foam for a latte.
This is the type of milk frother most people end up getting, as not everyone can invest in a fully-fledged espresso machine.
If you're considering buying one, I recommend the PowerLix Milk Frother.
This tiny machine has a powerful motor capable of producing the exact froth you want, and you also get to choose between a wide variety of colors.
Manual Milk Frother
Like its handheld cousin, this frother requires handheld action to get the perfect amount of foam. Unlike a handheld frother, however, this one is a plunger.
Here's how you use the manual frother:
Fill the frother with hot milk.
Place the frother on a stable surface and hold it securely.
Pump the frother up and down rapidly using a back-and-forth motion until the milk reaches the desired frothiness.
You can then use the frother to pour the frothy milk directly into a cup of coffee. 
Manual frothers are typically less expensive and more portable than electric frothers, but they require more effort and skill to use effectively.
Automatic Milk Frother
Most modern automatic frothers have a heating element that can warm the milk as it froths. If you have this kind of frother, the good news is you won't need to heat the milk initially.
Here's how to use an automatic frother:
Place the pitcher on the base of the frother. 
Select the desired frothing settings, such as the temperature, type of milk, and foam consistency. 
Press the start button. The frother will heat and froth the milk automatically, creating the desired amount of foam.
Once the frothing is complete, pour the foamed milk into your coffee.
If you want to go all-out with your frother, it doesn't get better than the Nespresso Aeroccino 4 Refresh.
It quietly heats milk in only 2 minutes and is extremely easy to use. All you need to do is press one button!
Get all the tips on how to use a Nespresso Milk Frother here.
Do You Froth Milk Before or After Coffee?
You froth milk before adding it to the coffee. This helps to mix it evenly with the coffee, which can improve the overall flavor and consistency of your drink. 
If you froth the milk after adding it to the coffee, it may not incorporate as well and may not provide as much flavor and texture to the drink.
Additionally, the foam on the top of the coffee may be less thick or creamy if you froth the milk after adding it to the coffee.
Do You Heat the Milk Before Putting It in the Frother?
You heat the milk before putting it in the frother because frothing cold milk can be difficult and may produce less foam than frothing warm milk. Additionally, heating the milk helps to release more flavor and aromas, enhancing the coffee's overall taste. 
If you're using a frother that lacks a heating element, heat the milk to scalding (150°F/65°C) in a separate saucepan or microwave before frothing it.
While I've championed heating milk before frothing it, iced coffee recipes require cold foam. In this article, I dive into the mechanics of making cold foam.
What Happens if You Froth Cold Milk?
Many people may be wondering what happens if you froth cold milk instead of warm or hot milk. Here's what you need to know.
Firstly, it's important to understand that frothing cold milk is possible but the results are different from when you use hot or warm milk.
Cold whole or low-fat milk doesn't have as much fat content compared to heated whole or low-fat milk, so the foam produced won't be as thick and creamy. 
This means that if you're trying to make latte art designs on your cappuccino, then using cold milk might not produce aesthetically pleasing results.
What Does a Frother Do To Coffee?
A frother froths milk for use in coffee drinks. It creates foam by integrating air into the milk, which forms tiny bubbles that give the foam its light, fluffy texture. When you add the foam to the coffee, it enhances its flavor and texture. 
Frothers use steam or air to create bubbles in the milk, which you can then add to coffee to create that creamy and foamy texture.
Some frothers are handheld and manually operated, while others are electric and work at the push of a button. 
We typically use frothers to rejuvenate coffee drinks like lattes and cappuccinos, which have a thick layer of foam on top.
RELATED: Coffee Creamer Alternatives You'll Love
What Liquid Do You Use a Frother For?
You typically use a frother for frothing milk, such as cow's, soy, almond, or oat. You can also use frothers to froth hot chocolate or tea. Some kitchen tool gurus use frothers to foam other liquids, such as juices or non-dairy creamer.
Here is a more extensive breakdown of the types of milk used to add froth to your drink of choice:
regular milk from cows: whole milk, skim milk (aka nonfat milk)
non-dairy milk (lactose-free milk) include: almond milk, soy milk, oat milk, coconut milk
The best froth will come from full-fat milk, or if choosing non-dairy, milk with high protein content.
Another option for your frothing adventures is oat milk.
Learn if it's possible to froth Coffee Mate creamer here!
Creamy froth is often added to lattes, flat whites, and cappuccinos. Experienced baristas at your favorite coffee shop might even be able to create beautiful latte arts!
Conclusion
You're now all the wiser about finding the best milk frother for your needs and how to use them to take your morning cup of coffee next level.
No matter which kind of milk frother you use, you'll get a decent froth in your coffee beverages using this step-by-step guide. Getting a fancier machine mostly comes down to convenience.
In conclusion, using a frother is an easy and enjoyable way to make delicious milk-based coffee drinks.
Whether you're a fan of cappuccinos, lattes, macchiatos, or hot chocolates, this device can help you whip up your favorite beverages quickly and easily. 
Since many frothers are relatively inexpensive and require little maintenance, it's worth considering adding one to your kitchen arsenal if you're looking for the perfect cup of coffee every time.