Most people are very particular about how their coffee is made, and some enjoy foamed milk. A Nespresso milk frother makes creating cappuccinos and foam for your coffee easy. But what do you do when it isn't working? 
A Nespresso milk frother not working is because you're using too much or the wrong type of milk, there's a power supply issue, a poorly attached whisk, or an error code. You can fix it by adequately connecting the whisk, cleaning the milk frother, and using the right milk type and quantity.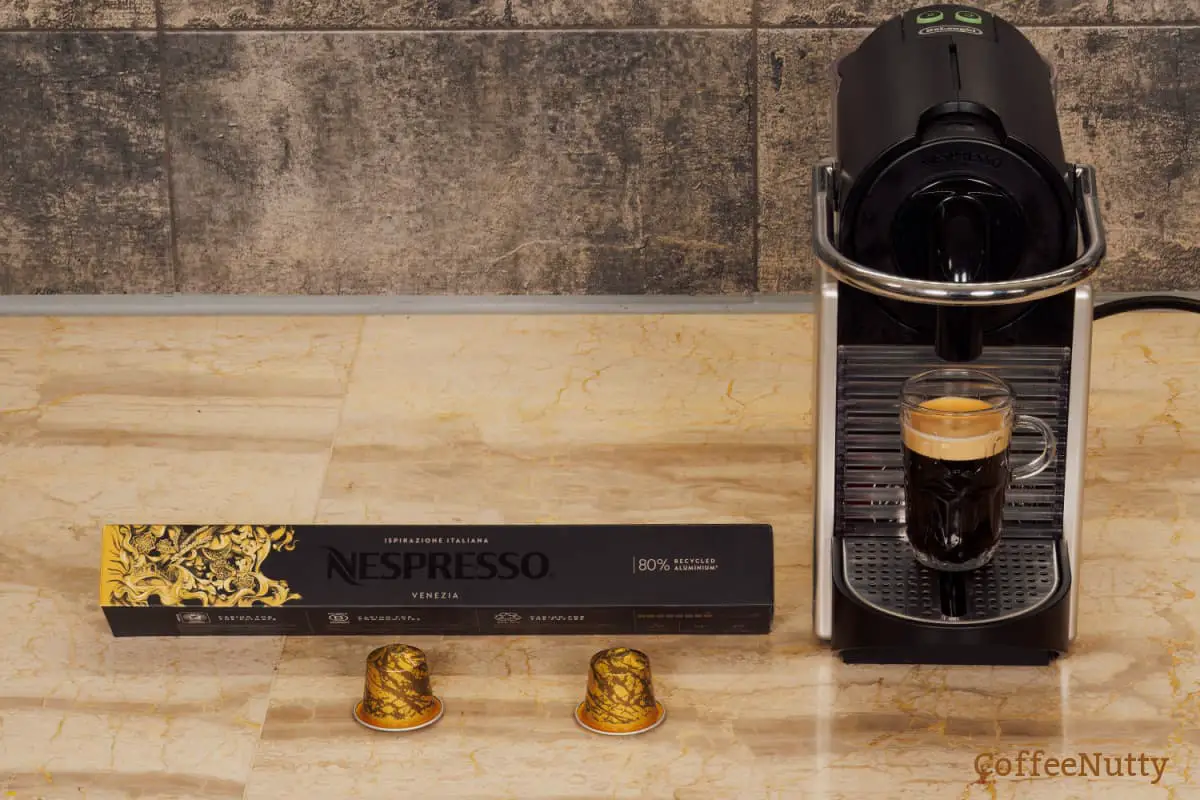 In this article, I'll discuss the most common causes for your Nespresso milk frother not working and walk you through how to fix and prevent issues in the future.
With this guide, you're close to your next perfectly-crafted beverage!
Why Your Nespresso Milk Frother Isn't Working
If something is wrong with your milk frother, Nespresso states that there are 5 common signs.
In the following sections, I'll go through each possible error, from flashing lights to overflowing milk, and talk you through the most common issues and the likely culprit:
Your Nespresso Machine Has a Power Supply Issue
If your milk frother won't start, it might mean you have a power supply issue.
The cause could be as simple as the milk frother being incorrectly plugged into the power source or a faulty power outlet. Other causes could include damage to the power cable or a defective switch. 
Another factor contributing to power supply problems could be excessive usage or lack of proper maintenance.
Over time, wires inside the machine may become loose or damaged due to constant movement and heat exposure.
Additionally, suppose the water tank is not regularly cleaned and descaled according to the manufacturer's instructions. In that case, it can affect the machine's overall performance, including its power supply capabilities.
To avoid such issues and ensure uninterrupted coffee brewing, taking care of your Nespresso machine is essential.
Regularly clean and maintain all parts as instructed in the user manual. Inspect the power cord for any signs of wear and tear and replace if necessary.
Also, ensure you're using compatible outlets with sufficient voltage to prevent potential electrical hiccups.
While Nespresso machines offer unmatched convenience when brewing coffee at home, they can also experience occasional power supply issues. 
You're Using Too Much Milk
Suppose your milk frother is overflowing and leaving a mess on your countertop. In that case, you should consider how much milk you use. If you use too much or too little milk, your frother may not function properly.
For Nespresso milk frothers, 4 oz (118 ml) is the minimum, and 8 oz (237 ml) is the maximum for best results.
Using too much milk in a Nespresso milk frother may seem like a harmless mistake. Still, it can have a negative impact on the final result. 
One of the main issues that arises from using excess milk is the lack of proper frothing. The frothing process requires air to be incorporated into the milk, creating those velvety bubbles and creamy consistency. 
When there is excessive milk in the frother, it becomes difficult for enough air to be introduced into the liquid, resulting in flat and watery foam.
Additionally, too much milk can lead to spillage and mess when the milk overflows. Nespresso milk frothers are designed to accommodate specific amounts of liquid to ensure proper performance and prevent overflow. 
Exceeding these limits can cause splattering and leaking, leaving you with a countertop covered in wasted, precious, frothy milk.
With too much volume compared to espresso or coffee shots, you risk overpowering their flavor profiles.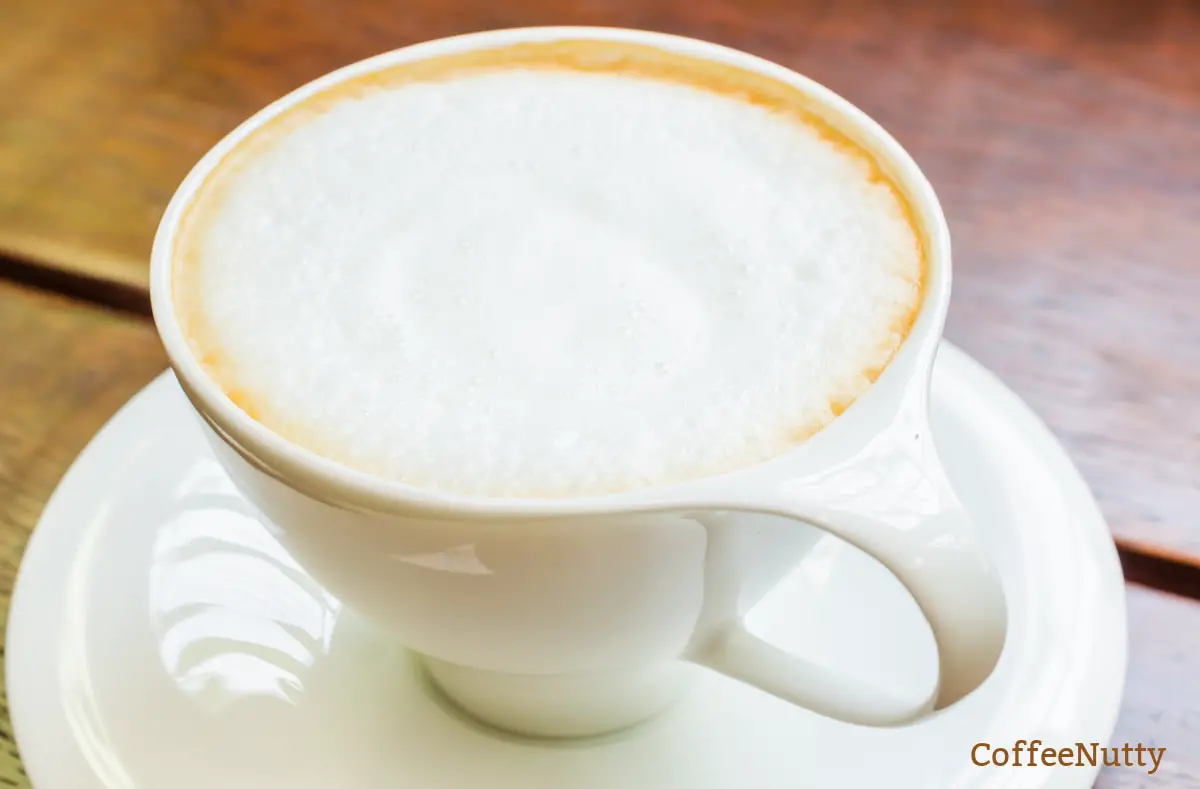 Instead of having a balanced taste experience where each element complements one another, you might end up with an excessively milky beverage that lacks depth and complexity.
So next time you use your Nespresso milk frother, remember that less is often more when it comes to achieving creamy and indulgent foam.
Stick within the recommended measurements provided by Nespresso and do not exceed maximum capacity for optimal results – both in terms of texture and taste.
The Base Connectors Are Dirty
Water, corrosion, or dirt built-up on the base connectors can prevent the machine from turning on. Milk frothers are tricky to clean, and there could be a build-up of old, solidified milk residue. 
If you live in an area with hard water, there could be a build-up of minerals on the base connectors. 
The base connectors attach the frother to the power source. 
These connectors can accumulate grime from constant use and exposure to steam and milk. First, unplug the frother from the power source to clean them effectively. 
Then, use a damp cloth or sponge with warm, soapy water to gently wipe away any visible dirt or residue on the connectors.
It's important not to submerge the frother in water or use abrasive cleaning tools, as this could damage the delicate parts.
In some cases, a deeper cleaning may be necessary to completely remove stubborn deposits. 
To achieve this:
Mix equal parts of vinegar and hot water in a bowl or container large enough for the connectors to fit in.
Submerge the connectors into this mixture and let them soak for about 15 minutes, allowing time for loosening any trapped dirt or buildup.
After soaking, take a soft, small brush or toothbrush and gently scrub away any remaining residue before rinsing thoroughly with clean water.
By regularly cleaning your Nespresso milk frother's base connectors, you'll not only maintain its performance but also prolong its lifespan. 
Neglecting these essential maintenance steps could lead to issues like poor connection between electrical contacts or even complete malfunctioning of your beloved appliance. 
You're Not Using The Correct Milk Type
Nespresso milk frothers are designed to work with only pasteurized, refrigerated, fresh (not frozen) milk.
The milk should be free from additives, like syrups or powders, and any variance from this can result in burning inside the chamber or a coating to build up on the whisk.
Cold or hot milk is acceptable to use as the temperature of the milk should not harm most frothers. 
Select your desired temperature based on the type of drink you will be making. Note the Nespresso Aeroccino milk frother is designed to work with hot and cold milk.
But check the instruction manual on your particular model to be sure.
RELATED: Can You Put Milk in a Nespresso Machine?
Types of Milk Appropriate for Frothing:
Fresh milk is always the best option when making the perfect foam. The fat content of the milk will impact the overall viscosity.
The following types of milk are all appropriate for making foam.
Whole milk
​Low-fat milk
Skim Milk
Almond milk
Soy Milk
Oat Milk
The Whisk Isn't Attached Properly
If your milk frother's whisk isn't connected correctly, it won't rotate.
An incorrectly attached whisk is usually because you cleaned it and didn't attach it to the milk frother securely. In rare cases, it can be due to a loose, faulty, or worn-out part.
There are some simple solutions to ensure that your whisk is securely attached and ready to whip up some creamy goodness.
First, make sure that you are using the correct size whisk for your specific model of Nespresso milk frother. 
Different models may have slightly different designs and attachments, so double-checking this small detail could save you a lot of trouble.
Secondly, when attaching the whisk, give it a firm push until you hear a click sound or feel it securely lock into place. 
Sometimes, gentle pressure may not be enough, so don't hesitate to use a bit more force - just be careful not to damage any delicate parts.
Suppose you've tried both of these steps and are still experiencing difficulty with getting the whisk properly attached. In that case, there might be an underlying issue with either the frother or the specific whisk attachment. 
In this case, contacting Nespresso customer support would be your best course of action.
They will be able to guide you through troubleshooting steps or provide assistance in acquiring replacement parts if necessary. 
Remember, having a well-functioning milk frother is key to enjoying barista-quality coffee beverages at home.
6 Easy Fixes for a Nespresso Milk Frother Not Working 
Now that you know why your Nespresso milk frother isn't working, you can apply an easy fix. Below are 6 easy fixes: 
Remove Dirt or Corrosion at the Base Connectors
When using your Nespresso milk frother, it's inevitable that the base will need to be cleaned as it acquires buildup and dirt from regular usage.
This is one of the most common reasons that prevent milk frothers from working, so be sure to check this issue first. 
If you lift the frother and notice build-up or corrosion on the base, clean it thoroughly to ensure a safe electrical connection.
It's essential to address this problem promptly, as it can impair the machine's ability to properly heat and froth milk.
Fortunately, there are some simple steps you can take to remove dirt or corrosion and restore your milk frother back to optimal performance.
As when cleaning all electronic devices, unplug the milk frother and ensure it is completely powered off before cleaning the electrical components. 
Gently detach any removable parts, such as the container or whisk. Inspect the base connectors for any signs of dirt or corrosion – these may appear as dark spots, discoloration, or crusty build-up.
To clean them effectively, dip a cotton swab into white vinegar and gently scrub away any visible debris or corrosion.
Next, use a small brush (like an old toothbrush) dipped in soapy water to scrub away the remaining residue on the base connectors.
Be careful not to submerge the connector itself in water - only dampen the brush slightly and clean it with gentle strokes. Rinse with clean, warm water and dry thoroughly before reassembling all components.
By regularly removing dirt or corrosion at the base connectors of your Nespresso milk frother using these simple steps, you'll not only extend its lifespan but also ensure that every cup of freshly frothed milk is made with cleanliness and precision. 
Remember that prevention is critical; avoid spills around the base connection area and always promptly wipe up any liquids.
Ensure the Whisk Is Attached Properly and Not Damaged
Check if the whisk is visibly damaged or won't lock into place properly, as this is one of the potential causes of why it is not properly working.
If there are any noticeable problems, you'll need to replace it with a new whisk.
Fortunately, Nespresso milk frothers have easily replaceable parts, and the widely available pieces are affordable.
You can even order them online. Nespresso Whisk for Aeroccino from Amazon is a high-quality whisk replacement compatible with most models. 
Use the Appropriate Milk Type and Quantity
As with any milk frother, be sure to check that you're using the recommended products with your Nespresso machine.
If the milk isn't the correct type, has additives included, or is not being used at appropriate levels, it can cause overflowing, burning, and build-up inside the machine. 
Whole milk, skim, and low-fat milk are good options. Non-dairy milk such as almond, soy, and oat milk are also acceptable options. Note that creamier milk will create thicker foam.
Clean the Nespresso Milk Frother
A regular cleaning routine after each use prevents most major issues with Nespresso milk frothers.
If you're running into issues, a thorough cleaning may solve many common problems and ensure your frother will last a long time. 
For messier situations, use a solution of salt and vinegar to soak the jug and whisk.
Check That the Machine Isn't Overheated
If your milk frother gets too hot to operate safely, safety mechanisms will kick in to prevent it from heating further.
This will lead to blinking lights to alert you to the issue. To cool the jug down, run it under cool water until it can be safely used again.
Why does the Nespresso Milk Frother overheat? 
One reason could be an excessive build-up of milk residue on the heating element.
Over time, if not properly cleaned after each use, this residue can accumulate and insulate the frother's heating element, causing it to work harder and ultimately overheat.
Another factor could be overloading the container with too much milk. 
The frother is designed to accommodate specific milk quantities, and exceeding these limits can put unnecessary strain on the device.
To prevent your Nespresso Milk Frother from overheating, ensure you clean it thoroughly after every use with warm, soapy water or purchase specially-designed cleaning solutions specifically for milk residues. 
Always refer to the instruction manual for recommended milk levels before heating. 
If All Else Fails, Contact Nespresso
You can contact Nespresso customer care here, and they'll help to repair or replace your milk frother.
There are internal components that can fail and may require professional help that should be covered by your warranty.
Once your problem is solved, why not try a new delicious coffee recipe using milk froth, like this pumpkin spice latte?
Preventing the Problem
Nespresso milk frothers are made to be durable and long-lasting appliances. A few simple steps can prevent issues in the future. 
The first prevention step is to clean it after using it. Here's how to do it: 
Remove the frother from the base, detach the seal, and whisk. 
Handwash the jug, spring, whisk, and seal before rinsing them and allowing them to dry. 
When cleaning, avoid steel wool or other abrasive materials that can scratch and damage the milk frother.
Along with regular cleaning, always check the milk you use to prevent build-up, burning, or other problems created by using flavored milk, syrups, or additives. 
With so many delicious drinks to be made using milk foam, check out this guide to making cold milk foam.
Final Thoughts
If you are experiencing issues with your Nespresso milk frother not working properly, there are a few potential solutions to consider before going out to purchase a new frother. 
The good news is these troubleshooting tips should help you narrow down the possible reason the frother isn't working, plus help you determine possible solutions to the most common problems.
First, ensure that the frother is clean and free from any residue or clogs that may be hindering its performance. 
Additionally, check that you are using the appropriate type of milk and following the recommended guidelines for frothing.
If these steps do not resolve the issue, it may be necessary to contact Nespresso customer support for further assistance or consider purchasing a replacement frother. 
Remember, proper maintenance and care can significantly extend the lifespan and functionality of your milk frother.
Don't hesitate to take action to restore your frother's effectiveness and continue enjoying deliciously frothed milk in your favorite beverages.