Cold foam is a great way to top off your iced coffee and give it that extra kick. This is an excellent recipe for those who love the taste but want to do something different instead of simply adding pumpkin pie spice to their coffees. Cold foam is perfect for any cold brew recipe but can also be added to hot coffee.
All you need to make pumpkin cold foam is cream, milk, pumpkin spice sauce, and vanilla syrup from the grocery store. You don't have to buy any expensive equipment, as you can froth milk in different ways; with a handheld milk frother, french press, (mason) jars with an airtight lid, or a blender.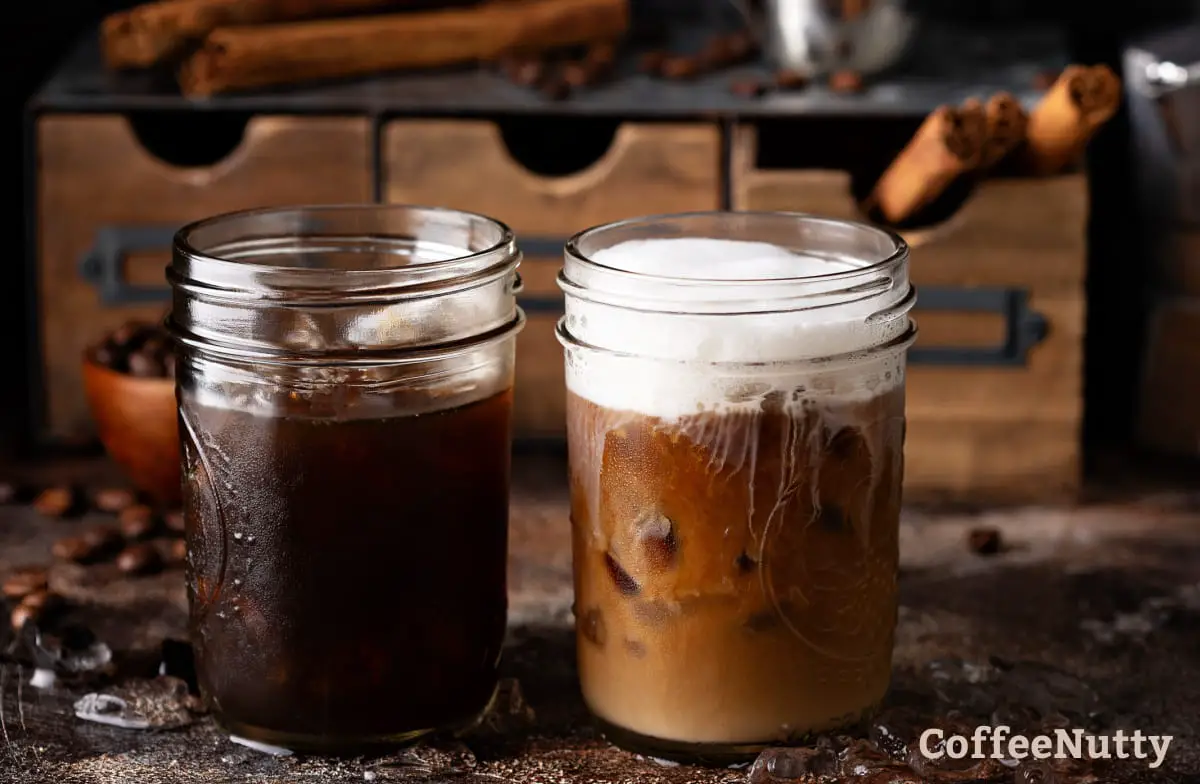 If pumpkin spice latte is one of your all-time favorite drinks from the Starbucks fall menu, you will love this recipe and the pumpkin spice sauce recipe in the article's second part.
After reading, you'll be able to make and drink anything pumpkin-flavored throughout the year.
How To Make a Starbucks Pumpkin Cold Foam Copycat
You don't need many ingredients to make pumpkin cold foam from scratch at home.
The preparation itself isn't too tricky either, so you can have your delicious cold foam (pumpkin foam!) in no time without any fancy equipment. 
Unlike sweet cream, cold foam is a layer on top of your drink.
Therefore, it's vital to froth the milk and cream until tiny bubbles form and the foam acquires a strong structure.
The suggestions in brackets in the ingredients list are simply alternatives.
While these alternatives may alter the taste of the foam, it might be fun to experiment with the flavors. Besides, you might end up making a variation on the Starbucks pumpkin cream recipe that is more to your liking. 
You can find more nutritional information about the pumpkin cold foam on the Starbucks website.
Ingredients 
Use the following ingredients for 17 fl ounces (500 ml) of cold foam:
10 fluid ounces (300ml) of heavy cream 
5 fluid ounces (50ml) of milk (skim milk, whole milk, almond milk, oat milk, or coconut milk)
4 tablespoons (59 ml) of pumpkin spice sauce (recipe below for homemade sauce)
3 tablespoons (44 ml) of vanilla syrup (Maple syrup or simple syrup with vanilla extract in case you don't have vanilla syrup)
Note: You can experiment with the amount of pumpkin spice sauce and syrup you use. You should switch it up a bit if you don't taste enough pumpkin flavor by adding a tablespoon (15 ml) of sauce and using one tablespoon (15 ml) less of syrup, for example.
Directions
Combine all the ingredients. You have to blend, mix or froth all of the ingredients. You can do this in different ways, using various equipment: food processor, electric milk frother, handheld milk frother, etc.
If you are using a French press: Pour the mixture into the French press, put the plunger on top, and pump it up and down. It might take a little while, but the mixture will start to froth, and you'll have a smooth foam in minutes.
If you intend to use a Mason jar: This method is the most time-consuming and will probably cost you sweat. Still, it's ideal if you don't have any other suitable equipment. Simply pour the cream-milk-sauce-syrup mixture into a mason jar with enough space, and start shaking as hard as you can. You'll ultimately get a nice pumpkin cold foam for a perfect drink. 
If using a handheld frother: A hand frother is inexpensive, and you might already have it at home. This method is pretty self-explanatory and an easy way to create creamy foam. Just pour the mixture into a container, dump the frother under and start the device. You can buy the Zulay Milk Frother (available on Amazon.com). It's a cheap handheld frother, available in different fun colors. Moreover, it only takes a few seconds for the frother to make foam. 
If using a blender: You probably already have a blender at home, so you won't have to buy anything new. It's the fastest method but will probably take you the longest to clean afterward. This method is also super self-explanatory. Just pour the mixture from the ingredient list into the blender and turn the device on a high setting until you have a solid foamy texture.
Store the pumpkin cold foam in an airtight container in your refrigerator. If you want some cold foam over the following days, it's best to combine all the ingredients, store the mixture in an airtight container and turn it into foam right before use. 
The last step ensures that the foam doesn't fall apart after being stored away for a little while. It also allows you to froth small portions based on the amount you want to use right away.
Once made, add to your favorite cold drinks OR hot drinks. An easy peasy way to make your favorite fall drink.
RELATED: How to Make Cold Foam for Coffee
Bonus: How To Make Starbucks Pumpkin Spice Sauce Copycat
You can't buy the Starbucks version of the pumpkin spice sauce separately, but you can make it yourself.
If you make a big batch of sauce, you can use it in all your desserts and whenever you decide to make more pumpkin cold foam.
If you don't feel like making the sauce yourself, you can get excellent pumpkin spice sauce alternatives online, like the Torani Puremade Pumpkin Pie Sauce (available on Amazon.com).
The sauce has a pumpkin pie filling taste, as described by the manufacturer. The brand offers many other sauce flavors for your desserts and drinks, like chocolate hazelnut and white chocolate, among the sugar-free options.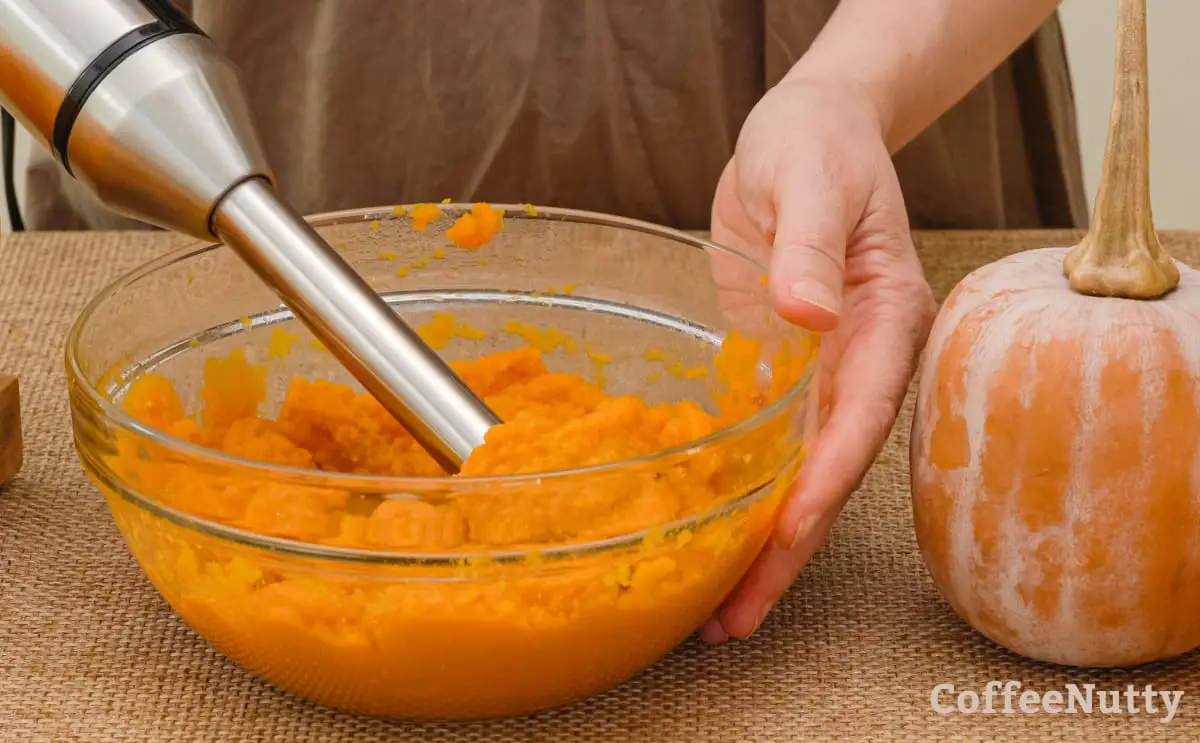 RELATED: Harry Potter Butterbeer Starbucks Copycat
Ingredients
These are the ingredients for 20 fluid ounces (590 ml) of sauce:
14 ounces (414 ml) of condensed milk 
½ cup (64 g) of sugar
3 ounces (85 g) plain pumpkin puree
Salt
Directions
Let the sugar dissolve in water over heat (1:1) as you would make syrup, but be careful not to let the mixture burn.
Take the pot or pan off the heat, and add the condensed milk, pumpkin puree, and a pinch of salt for taste.
Blend the mixture until it's completely smooth.
Let the mixture cool off and store it in an airtight container in your fridge.
RELATED: Homemade Classic Syrup - Starbucks Copycat
Final Thoughts
Pumpkin-flavored foods and drinks often don't even have any real pumpkin in the recipe! Instead, they contain the warm 'pumpkin' spices, namely cinnamon, cloves, ginger, and nutmeg. 
But the best part is if you are a pumpkin lover, this pumpkin cream cold foam is very easy to make at home without having to go buy Starbucks drinks! Just perfect for pumpkin season.
Want to save this post for later? Pin it to your favorite Pinterest board!