If you're a fan of freshly brewed coffee brewed explicitly in a percolator, this article is right up your alley! The deep-rooted tradition of brewing coffee with a percolator has become the kick-start beverage for many.
To clean a percolator coffee pot, disconnect the power source. Next, let the housing cool, then empty the used grounds. Use a little warm water and dish soap to scrub out the inside surface of the pot. To finish off, rinse well with running water until it's completely removed from all surfaces.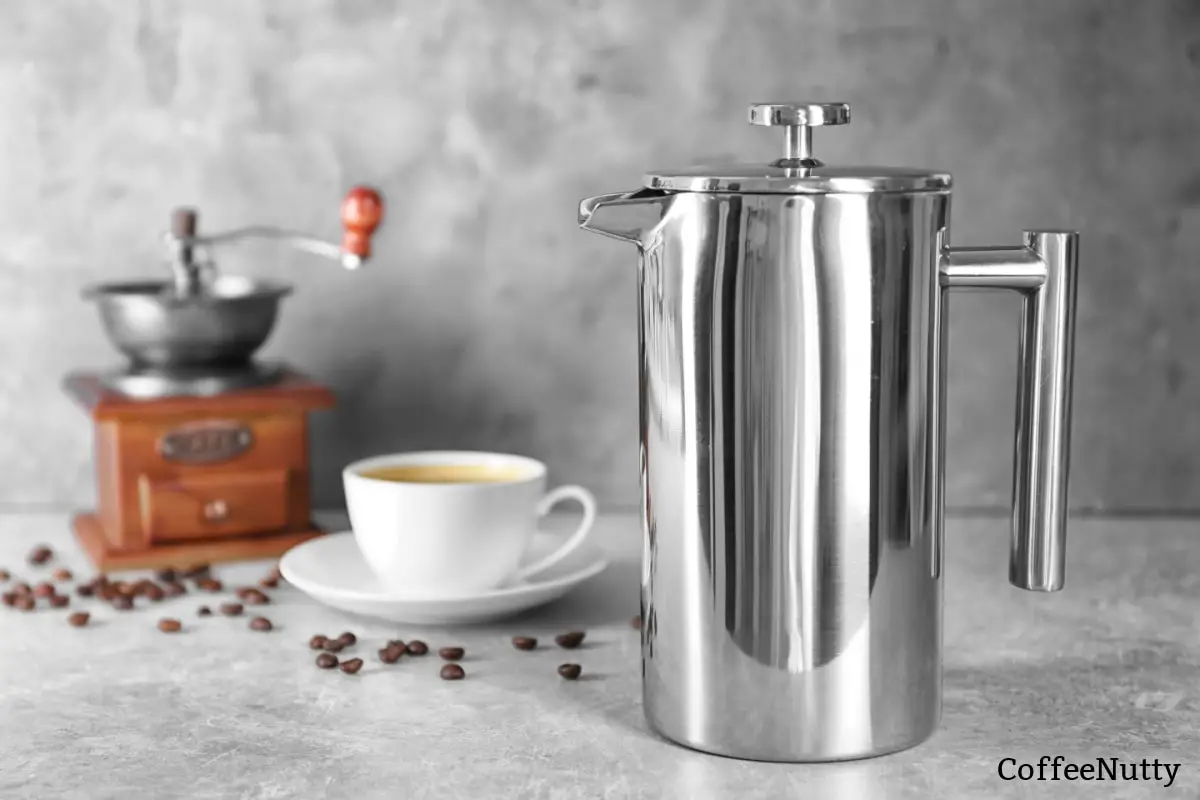 With its popularity comes the need to take care of and maintain these treasured pots, but not fret; we're here to provide some helpful advice on keeping yours preserved and providing perfect cups of java for years down the road.
So let's dive straight into it!
How to Clean a Percolator
Cleaning your percolator is an essential task that ensures you get the best cup of coffee every time.
A dirty or poorly maintained percolator with mineral buildup from hard water and coffee residue can significantly affect the flavor of your coffee and may even shorten its lifespan. 
Fortunately, cleaning a percolator is a straightforward process that requires minimal effort and time.
The pot is one of the most critical components of your percolator since it holds water and coffee grounds during brewing.
1. Unplug the Percolator Coffee Pot
The first step for cleaning any electric percolator or coffee machine is always the same: unplug it!
With that in mind, disconnect your coffee pot from its power source.
This is the best way to ensure your safety. Next, give the percolator coffee pot  after a brewing cycle time to cool down before you start the deep cleaning process to avoid any potential burns to yourself.
2. Dismantle the Coffee Pot
Once your percolator coffee pot is completely cooled down after a brew cycle, you can remove all removable parts. The parts of the machine that can be removed include the following: 
Lid
Heating element
Filter funnel
Filter Basket
Taking the pot apart is easier than it may seem. Most things snap easily into and out of place without much hassle. 
3. Wash All the Parts
Wash all of the components you just took out in warm, soapy water or hot water.
After a thorough cleaning, rinse them off with fresh water and set them aside to air dry, or use paper towels to pat dry. If you prefer to wash the individual components in a dishwasher, do so cautiously. 
Be sure to check the manufacturer's instructions to see if the individual parts are dishwasher-safe before you do so.
The good news is that the glass percolator pot should be fine, but some other components may not do well in the dishwasher. 
RELATED: How to Make Tea in a Coffee Percolator
4. Clean the Inside of the Percolator
Fill the percolator with equal parts white vinegar and cold water up to halfway or just before the maximum fill line, and securely replace the lid. 
Cleaning with white vinegar and cold water has several advantages. This vinegar mixture is an environmentally-friendly and cost-effective solution for cleaning and combating tough stains.
A mixture of water and vinegar is also non-toxic and relatively safe for household and industrial settings since it does not contain harsh chemicals that can damage surfaces or cause skin irritation.
Finally, white vinegar has natural antibacterial properties, which makes it effective at removing dirt buildup and foul odors.
Can Too Much Vinegar Damage My Percolator Coffee Pot? 
Using too much vinegar can damage your coffee pot if it's too strong, as the acid within vinegar can strip away particular finishes and weaken materials, such as the rubber in the sealer of the pot.
Therefore, you should use vinegar with restraint.
A good amount is 300 ml (10 ounces) of vinegar and 300 ml (10 ounces) of water. You can use more depending on the size of your percolator coffee pot.
A dilution ratio is recommended so that the correct amount of natural cleaner is used for the job every time and any damage done to surfaces is avoided.
Also, using more vinegar than necessary can leave an unpleasant odor in the air and on surfaces, and the pungent vinegar smell may linger long after cleaning the area. 
You certainly don't want to affect the taste of your coffee.
Some prefer using apple cider vinegar to clean their percolator coffee pot instead of ordinary white vinegar.
5. Put It on Low Heat Setting
Plug the percolator coffee pot in and turn it on the "low" heat setting for about 10 minutes.
Doing so will help remove mineral deposits and other buildups inside the coffee pot. The vinegar and cold water mix will do the cleaning on the inside.
The warmth of the water further improves the performance and speeds up the vinegar process, helping the solution penetrate deep into the grime and loosen stubborn debris and coffee stains.
6. Turn Off the Heat, Unplug the Pot and Rinse It Out
Once it's finished, allow the water in the pot to cool down for at least an hour before disposing of it.
This may seem like a long time to let something sit unattended, but it's a safety thing. If the water is still hot, you could scald yourself.
Remember, it's better to be safe than sorry. 
Afterward, you can rinse the inside with warm water and a soft cloth.
7. Clean the Inside of the Perculator Coffee Pot
Fill the pot with warm, soapy water and allow it to sit for 10 minutes before rinsing it and drying it with a clean towel.
Scrub the pot and the basket where the ground coffee beans are placed thoroughly before rinsing them with plain water.
It is usual for the baskets to turn a brown color even when you make use of coffee filters.
Scrubbing the vinegar water mix will help eliminate the vinegar scent and won't cause a "sour" aftertaste in your coffee.
8. Reassemble the Perculator Coffee Pot
Make sure you put all the removable parts back into their respective spots in the coffee pot.
If you need help with this, you can return to the user manual you received with your percolator coffee pot.
There are various models available, and if you don't have a user manual anymore and are unsure of how to do it, put the name and model into Google or YouTube for an easy reassemble tutorial.
9. Lastly, Plug the Pot Back In and Run a Cycle of Clean Water
Before you get eager to have another coffee, run a full tank of water through the percolator as if you will make a coffee. Rinse cycles ensure all the soap and vinegar residue is removed from the coffee pot. 
After you do that, it should be ready to make your next cup of joe and enjoy that great coffee taste without having to look at all of those stubborn stains!
How Often Should You Clean a Coffee Percolator?
You should clean a coffee percolator every three to six months, depending on your usage of the percolator coffee pot. People who use their coffee percolator often prefer to do it every two weeks.
Regular cleaning also helps keep your coffee hot for longer since there's no burnt residue sticking to the sides of the machine.
Following a manageable schedule of regular maintenance will help ensure that everyone in the house can access delicious, hot coffee whenever required.
Final Thoughts
There you have it—nine easy steps to clean your percolator coffee pot and keep it in tip-top shape. Starting from a quick dismantle to cleaning the inside thoroughly with a simple vinegar solution, and lastly, putting it back together like it's brand new. 
A clean percolator can become a simple part of your routine cleaning.
Remember a daily cleaning with a damp cloth is an easy way to keep a clean coffee pot without  spending a lot of time.
FAQS
Can you run vinegar through a percolator?
A vinegar and water mixture is an excellent cleaner for a percolator. Run a rinse cycle of plain water after the water and vinegar mixture to remove any lingering vinegar smell that could alter the taste of your coffee.
How do you clean a stainless steel coffee percolator?
A stainless steel coffee percolator can be cleaned with vinegar and water mixture. For extra heavy duty cleaning, add baking soda to the mixture. Brush well, rinse, and allow to fully dry prior to use.
How often should you clean a coffee percolator?
Regular cleaning of your coffee percolator should be done every 3-6 months. This will ensure calcium and mineral deposit, as well as coffee stains are removed for the best cup of coffee.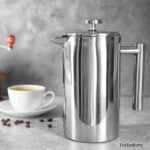 Print
Tips How to Clean a Coffee Percolator
Follow these easy steps to clean a coffee percolator and ensure you have great tasting coffee.
Yield:
1
clean coffee percolator
Materials
10

ounces

Vinegar

amount used depends on size of percolator.

10

ounces

Water
Instructions
Unplug the Percolator Coffee Pot.

Dismantle the Coffee Pot and take out removable parts.

Wash All the Parts in warm soapy water then rinse with plain water.

Clean the Inside of the Percolator with equal parts vinegar and cold water.

10 ounces Vinegar,

10 ounces Water

Put It on Low Heat Setting and run on low setting for 10 minutes.

Turn Off the Heat, Unplug the Pot and Rinse It Out.

Clean the Inside of the Perculator Coffee Pot.

Reassemble the Perculator Coffee Pot.

Lastly, Plug the Pot Back In and Run a Cycle of Clean Water
Notes
Remember a daily cleaning with a damp cloth is an easy way to keep a clean coffee pot without  spending a lot of time.