Are you ready to revolutionize your morning routine? Imagine waking up to the aroma of a freshly brewed cup of tea that satisfies your craving for caffeine and provides numerous health benefits. 
We've researched so you don't have to, and in this article, we will reveal the best morning teas that can easily replace your morning cup of coffee. From herbal teas that promote relaxation and focus to invigorating blends that boost energy levels without the crash, there's a tea out there for every taste bud and lifestyle.
So, if you are one of those coffee drinkers who need an alternative, learn which morning tea can replace your coffee.
The best morning tea to replace coffee is FGO Organic Japanese Matcha. Matcha is an excellent coffee replacement because it gives you an energy boost while also containing many health benefits. Other tea options include green tea, black tea, milk tea, and Thai tea.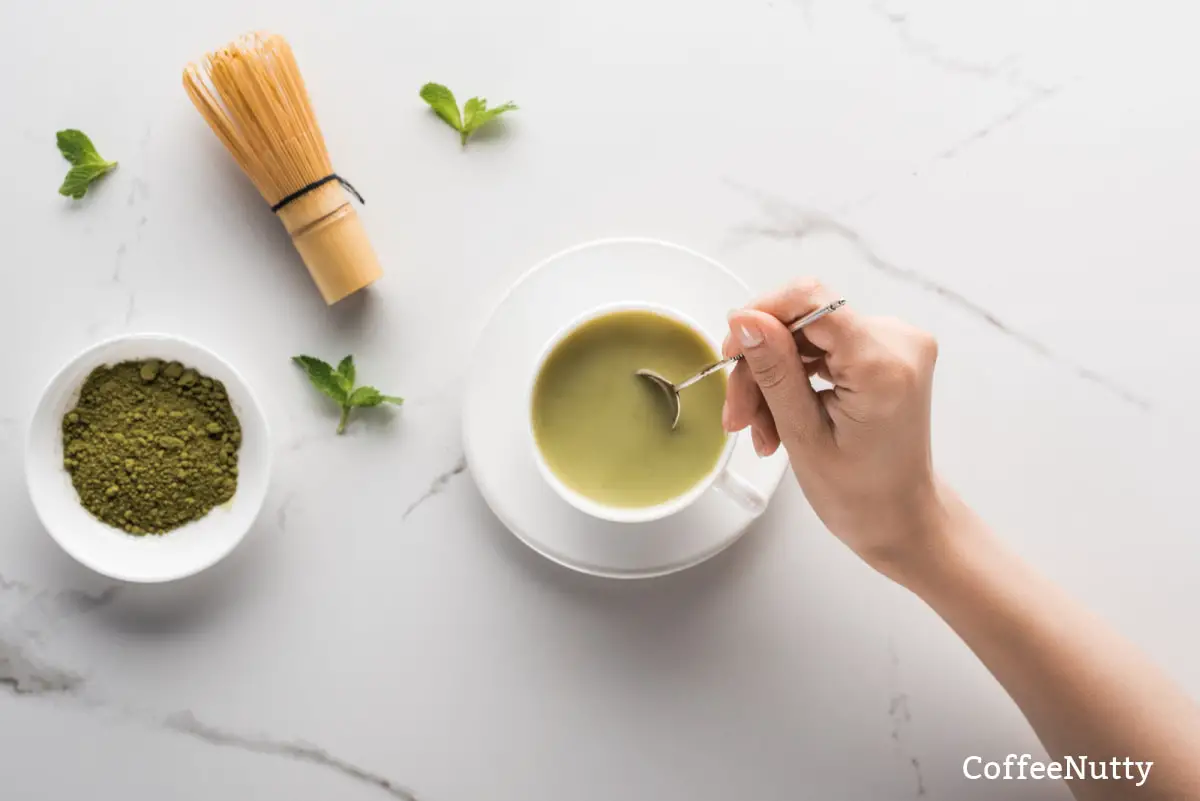 In this article, I'll further discuss the pros and cons of each type of tea (all available on Amazon) and explain why they can be a good alternative for drinking coffee in the morning. 
Best Tea Overall: FGO Organic Japanese Matcha
Try matcha if you want a healthier alternative to get an energy boost in the morning. This Japanese tea is crushed into a fine green powder and mixed into water.
The FGO Organic Japanese Matcha is an excellent choice because it's sourced from Japan, eco-conscious, and certified USDA organic. So you know it's good for you.
Let's get into the overall pros and cons of matcha tea.
Pros
Energy boost: Unlike coffee, Matcha gives you natural energy without a crash later on. According to Matcha, this is because it has L -Theanine in it. This changes how the caffeine affects you for a better energy boost lasting longer throughout the day.

Served Different Ways: Matcha can be served hot, cold, or blended. So, whatever your preference is, you can drink matcha instead of coffee. 

Health benefits: Matcha also has many other health benefits, such as decreasing anxiety and improving your overall mood. This tea is also packed full of antioxidants.
Cons
Odd Taste: Not everyone enjoys the taste of matcha. It can have a bitter taste at times if it's not made right. You can add sweeteners if you'd like. Also, it can have a powdery or gritty texture if it's not prepared correctly.
Most Healthy: Bigelow Classic Green Tea
Green tea is a variation of black tea. However, the tea leaves are oxidized and processed differently, resulting in a different tea entirely. The Bigelow Classic Green Tea is an excellent choice because it contains many essential antioxidants — making it even better for you.
There are many benefits and a few disadvantages to green tea.
Pros
Energy Boost: When drinking green tea, you'll get about 28 grams of caffeine in one cup. According to For Care Education and Research, it has theophylline and theobromine, both natural stimulates. So, even though it's not as much caffeine as coffee, you won't feel jittery while getting an energy boost. 

Made in numerous ways: Green tea can be made hot or cold, depending on your preference. Mixing with other things like lemonade or matcha is also great to get added benefits and a great flavor. 

Aids metabolism: Green tea has been known to help your metabolism and help you burn fat for those who are interested in potential weight loss. Also, drinking green tea and exercising is a great combination to burn more fat. 

Numerous health benefits: Green tea also reduces cancer risk due to its EGCG content. Additionally, it lessens the risk of heart disease, Alzheimer's, and Parkinson's disease and aids your body in absorbing essential nutrients.
Cons
Liver problems: Green tea's catechins can raise the number of liver enzymes in the body, resulting in liver issues.

Stomach issues: Green tea can also cause an upset stomach, depending on your health before drinking it. If you already have stomach issues, green tea can make it worse. 
Most Caffeinated: Twinnings English Breakfast Black Tea
Black tea is probably one of the most known types of tea. It comes from the plant Camellia Sinensis and can be drunk hot and made with different things.
Twinnings English Breakfast Black Tea is an excellent choice because it contains a blend of teas from Malawi, Kenya, and Assam — giving the tea a unique, delicious taste.
Let's examine the pros and cons of drinking black tea.
Pros
Boost of energy: A cup of black tea is an excellent source of caffeine. According to Health Line, since black tea leaves are oxidized, this increases the amount of caffeine that seeps into hot water, giving you anywhere from 47 mg to 90 mg of caffeine per cup. This makes black tea an excellent substitute for coffee in the morning because it's comparable to caffeine. 

Healthier alternative: Black tea is lower in calories than coffee, so it's a healthier alternative but still provides impressive caffeine levels.

Antioxidants: Black tea contains antioxidants that help prevent and fight off cancers and other diseases.

Health benefits: Black tea also improves blood pressure, lowers cholesterol, and is a great drink diabetics can have that doesn't negatively affect them. 
Cons
Bad for heart problems: Black tea has quite a bit of caffeine, and because of this, if you have any severe heart problem, it's recommended not to drink it. 

Causes anxiety: Because of the high amount of caffeine, like coffee, the increase in energy can cause anxiety and jitters. This all depends on your body and how it reacts to caffeine content.
Most Sweet: Nitto Royal Milk Tea
Milk tea has become increasingly popular for its great flavor, and it's seen as a healthier option for grabbing a coffee. And if you enjoy sweet coffee, milk tea is the perfect choice.
Milk tea is exactly what it sounds like — it's a type of tea made with milk. Shops selling milk tea frequently offer boba that goes into the milk tea, also known as tapioca pearls.
Nitto Royal Milk Tea is a Japanese milk tea, and it comes in 10 individually wrapped packs, making it easy to make and share with others.
There are many pros to choosing milk tea as your morning beverage.
Pros
Iced beverage: Milk teas are usually served cold, so this can be a good alternative if you're a fan of iced coffee in the morning. 

Boost of energy: Milk tea does give you a boost of energy from carbohydrates, sugar, proteins, and fat. 

Full of antioxidants: Milk tea offers other benefits, such as lots of antioxidants, so it helps your body prevent cancer and diseases.

Reduces stress: Milk tea also helps reduce stress from the L theanine, which naturally calms your mind and body. 
Cons
Weight gain: Drinking milk tea can have disadvantages. Because it's high in fat and sugar, it can lead to increased weight gain.

Diabetes: Drinking milk tea too often with loads of sugar and milk can potentially lead to diabetes. So, it can replace your morning coffee sometimes, but not 24/7. 
Most Flavorful: Yim Tea Co. Thai Tea
Another tea that can replace your coffee is Thai tea. According to Arbor Teas, this is a strong black tea made with star anise, tamarind, and cardamom spices. Traditionally, it's made with sugar and some form of milk or cream to sweeten it. 
However, due to the many spices in the tea, many people don't sweeten it. Yim Tea Co. Thai tea is a loose leaf tea and a great coffee alternative because it's authentic, naturally grown, and contains no harmful dyes or additives.
Let's look at some pros and cons of Thai tea.
Pros
Good source of caffeine: Thai tea is another good source of caffeine that isn't coffee. According to Organic Facts, you can get 50 mg to 60 mg of caffeine from 8 ounces (237 ml) of Thai tea alone.

Served in different ways: The tea can be made hot or cold however you prefer, and most people add sugar and milk to give it a sweeter, creamier taste. You can also use sugar alternatives to keep your sugar intake from being too high. 

Aids immune system: Additionally, it has been said that Thai tea lowers the risk of heart attacks and disorders, provides an excellent supply of vitamins A, C, and D, and fights against cancer. Again, this is the tea itself, not including the milk and sugar added.
Cons
High calorie: The downside to drinking Thai tea is the sugar and milk usually used to make it taste better. This increases the calories, sugar, and fat, whereas the tea alone is zero calories and low in fat and sugar.

Weight gain: Since Thai tea can be high in calories, sugar, and fat, depending on what you put in it, this can lead to weight gain. This all depends on how often you drink it. If it's not every day, then you should be safe. 
Other Popular Teas
If you are tired of relying on that morning cup of coffee to jumpstart your day, a coffee alternative may be just what you need.
Different types of tea have been mentioned in this article. But, if you are still searching for coffee alternatives, one of the below might be your best option. 
​
Yerba Mate
Oolong Tea
White Tea
Ginger Tea
Rooibos Tea
Do your research if you are trying to avoid high caffeine content because while some tea has no caffeine and most teas have less caffeine than coffee, many still have more than you might realize.
Note that many herbal teas contain no caffeine, so if reducing or eliminating caffeine is your goal, herbal teas should be considered.
With so many different flavors of tea, there is undoubtedly a great tea that will suit your needs and become your new favorite morning drink.
Final Thoughts
The best morning tea to replace coffee is matcha tea. However, black and green tea is also a great option if you are trying to reduce how much coffee you consume.
These three provide a good amount of caffeine, but not so much that it gives you jitters and the energy lasts longer. 
Milk tea and Thai tea can also be alternatives, but they are less healthy depending on the amount of sugar and milk used to make them.
Most prefer to drink them with added sweeteners, making them high in carbohydrates, sugar, and fat.