If you're an avid coffee drinker, chances are you also drink your coffee with even a small amount of cream and sugar. While many people prefer to use the OG, tons of people don't like or can't have table sugar. If this is you, then you've come across the right article to find the perfect sugar substitute for coffee.
There are dozens of sugar substitutes, many of which are delicious with your morning Cup of Joe. Some of the most common sugar substitutes for coffee include artificial sweeteners such as Splenda, Agave Nectar, and sugar alcohols such as Erythritol and Coconut Sugar.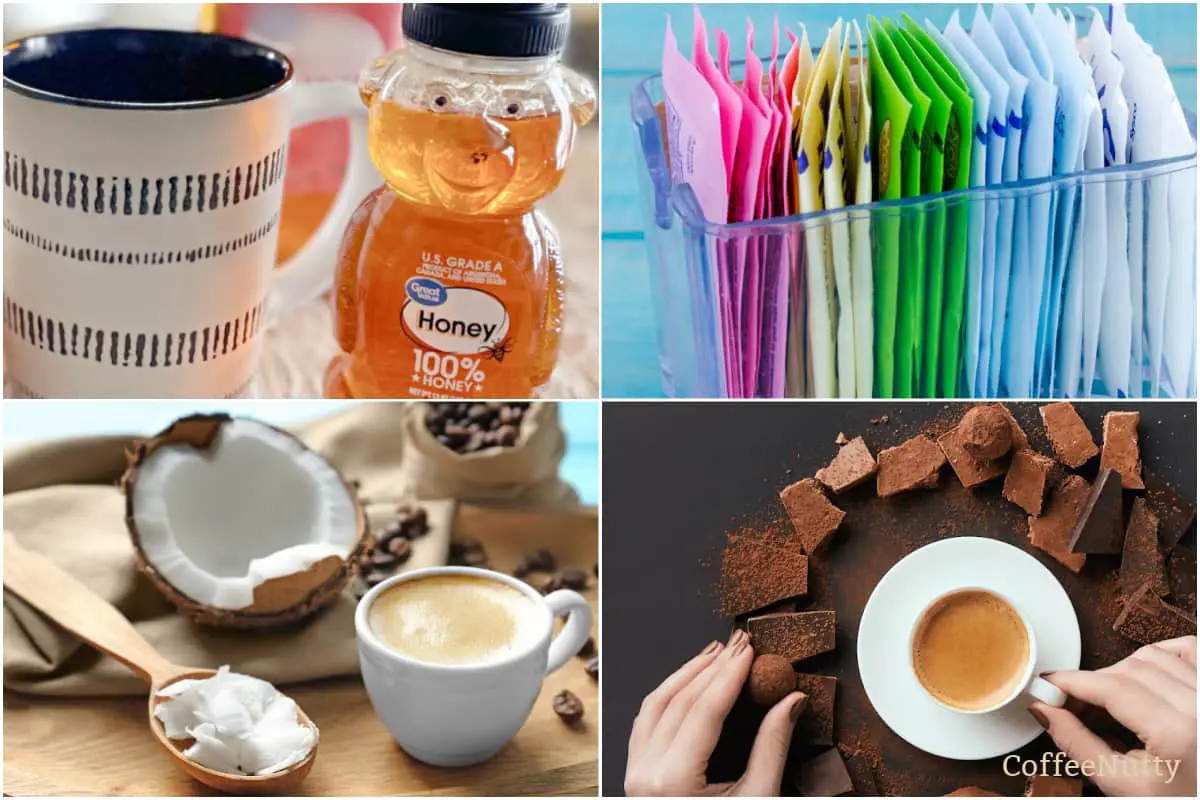 Today, I'll talk about some of the more common sugar substitutes. I'll discuss what tastes best, what the best low-calorie options are, and what their health benefits entail.
Let's get started with sugar alternatives for coffee drinkers! 
Jump to:
1. Artificial Sweeteners
Let's start with the most apparent alternative sweetener that isn't regular sugar - artificial sweeteners.
While these sweeteners often have terrible consequences on the body, they are the most popular go-to for those who don't want to take in table sugar. 
People choose artificial sweeteners for various reasons, but usually, it comes down to one of two: either the person has diabetes and needs to limit natural sugar to keep their blood sugar levels in check (lower glycemic index) or wants to lower their caloric intake.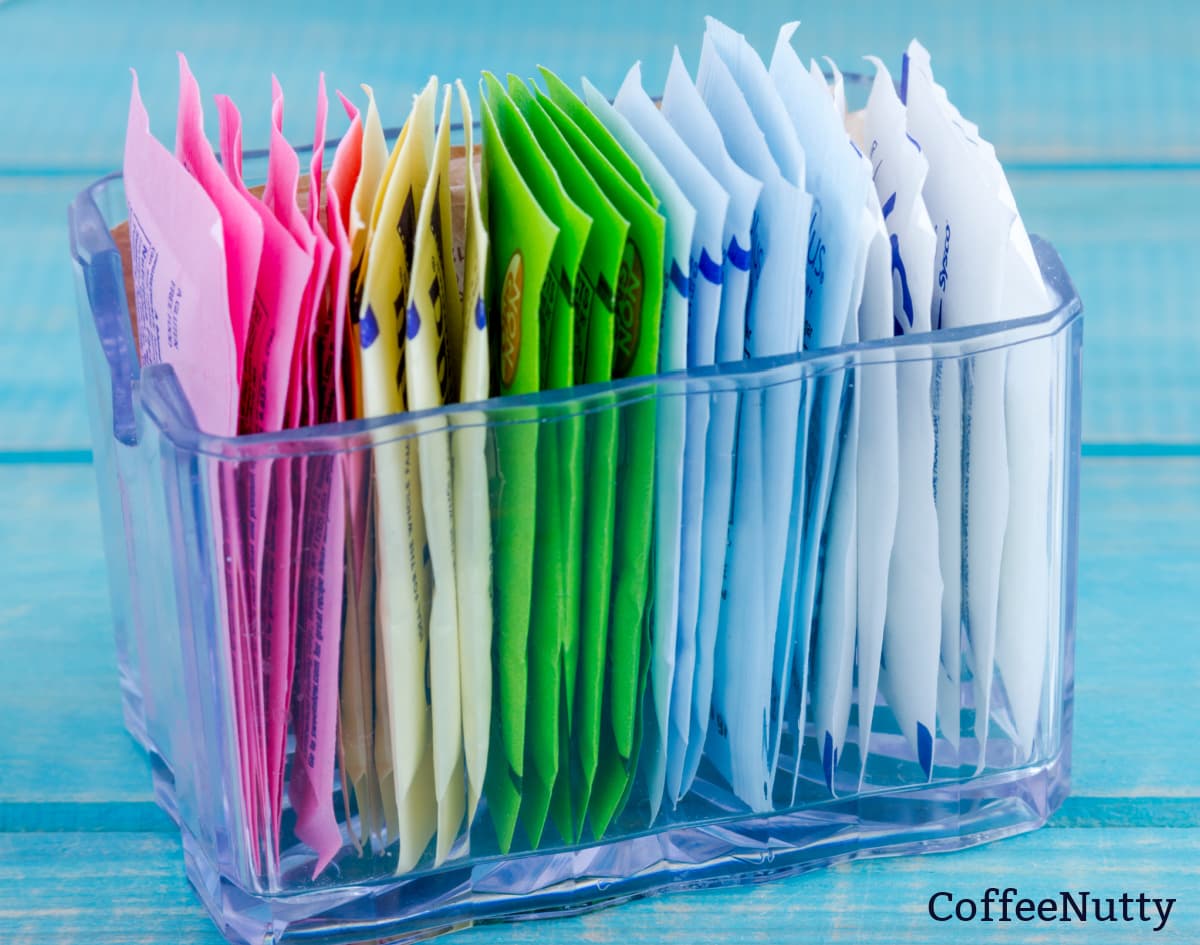 The other side of artificial sweeteners is that there is an entire range to choose from.
All of them taste relatively the same, but there are slight differences. None of them are suitable for the body, but they accomplish the goal of consuming fewer calories and avoiding natural sugar. 
So, what kinds of artificial sweeteners are out there? Here's a quick list of their scientific and brand names. 
Acesulfame K (Sunnett and Sweet One)
Advantame
Aspartame (Equal and NutraSweet Natural)
Neotame (Neotame)
Saccharin (Sweet N' Low and Sugar Twin)
Sucralose (Splenda)
While there are other artificial sweeteners, this list covers the ones currently FDA-approved in the United States. 
The excellent part about artificial sweeteners is that they are specially made to taste as close to sugar as possible. While other sugar substitutes are still tasty for the most part, they typically come with a very distinct flavor that differs strongly from table sugar. 
This is one of the biggest reasons many people prefer artificial sweeteners. If it tastes like sugar, gives the body almost the same response as sugar, and has zero calories, what's not to love?
Are Artificial Sweeteners Healthy?
Interestingly enough, while artificial sweeteners are held in high regard by a considerable number of people worldwide, many don't realize the effect they have on the body.
Here are a few things you should know.
The first thing you should be aware of is that while these sweeteners are marketed as zero calories, they aren't zero calories. However, they are significantly lower in calories than regular sugar, coconut sugar, and Agave.
For example, Splenda's nutrition label states that one teaspoon is zero calories. However, one cup of Splenda contains about ninety-six calories.
How is this possible?
Food manufacturers don't have to list the calories if it's less than five for the serving. So, in this situation, the company simply lists a serving size of a teaspoon, which contains less than five calories. Therefore, legally they can list it as zero calories. 
The problem is when you take in large amounts of the sweetener while believing it is zero calories. 
The other thing you should be aware of is that artificial sweeteners cause a spike in insulin. Those with health problems that require a careful eye on sugar intake do not always realize this.
This is because the body thinks it is about to get sugar, but it's not sugar. This can lead to weight gain, diabetic complications, and more. 
So if you are using artificial sweeteners for health reasons, you might just rethink this.
For top rated artificial sweeteners on Amazon, check out this link.
2. Sugar Alcohol
Sugar alcohols are the next most popular choice for a sugar substitute.
Besides artificial sweeteners, sugar alcohols are the closest to real sugar. Additionally, these sweeteners are marketed at zero calories and likely contain around the same amount of calories as some artificial sweeteners. 
So, what is sugar alcohol?
Sugar alcohol is, as the name implies, a hybrid of sugar molecules and alcohol molecules. Some examples of common sugar alcohols are Erythritol and Sorbitol, both of which occur naturally in fruits and vegetables. 
Sugar alcohols aren't usually as sweet as regular sugar, but they can be.
Erythritol is one of the few that measures 100% the same sweetness as table sugar. Xylitol is another one that closely mimics the taste of sugar. Because of their taste and sweetness levels, these are the two most commonly used in our foods today.
These sweeteners aren't perfect, but they're better for you than artificial sweeteners.
However, they don't taste the same as real sugar or even artificial sweeteners. You'll find upon tasting them that they typically leave a minty aftertaste, which can be a weird combination with your morning coffee.
3. Agave Nectar
If you've ever had honey in your morning coffee, you should be able to picture the taste of Agave Nectar. This natural sugar substitute comes from the Agave Cactus and is reminiscent of honey. 
Agave has a bit of a different taste than other sweeteners, but some people feel like it pairs pretty well with the flavor of the coffee.
Tons of people prefer the sweet taste of Agave to white sugar. It can also be compared to putting brown sugar in your coffee because of the molasses flavor. 
Agave has a ton of health benefits as well. It's low on the glycemic index, boosts your metabolism, and can even help with depression. 
However, it's important to note that these are possible benefits but aren't necessarily proven. Some people believe that all the health benefits of Agave Nectar are false. 
In any case, it's overall an excellent option for your morning coffee.
4. Raw Honey
Since we talked about Agave Nectar, we also need to talk about raw honey.
Raw honey, jam-packed with nutritional benefits, is probably the best option for drinking your coffee (for those with a sweet tooth), apart from drinking black coffee. 
Honey has been used for thousands of years to cure all kinds of ailments, and surprisingly enough, it makes a great addition to your coffee.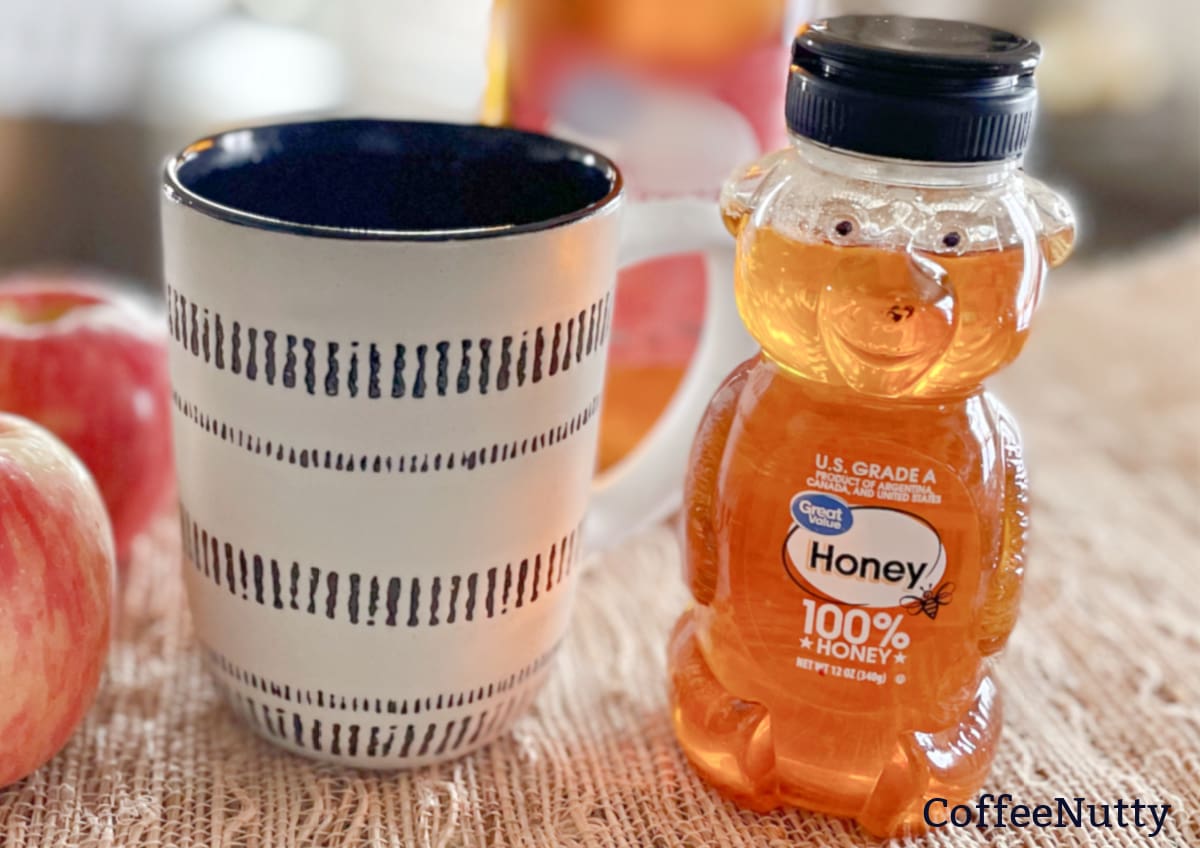 While you wouldn't imagine that the flavors would pair well together, the honey significantly limits the bitterness of the coffee and pulls the natural aromatic oils from it. 
The one downside to honey is that it's not suitable for iced coffee. This is because honey has difficulty dissolving in cold drinks. Instead, it will sit on the bottom of the coffee, and you'll take giant gulps of honey until it's gone. 
While many alternative sweeteners have fewer calories than honey, it's the most natural product you can use to sweeten your cup of coffee. In addition, using honey has practically no health risks.
Instead, it's full of benefits. 
For Amazon's top rated honey, click here.
5. Monk Fruit Extract
Monk Fruit Extract is a common sugar substitute. The nice part about this sweetener is that it's almost as natural as Agave Nectar and honey. 
Monk Fruit sweetener comes from a particular fruit that grows in southern China - the Swingle fruit.
This sweetener works similarly to artificial sweeteners, except more naturally. It can lower one's added intake of sugar and calories while still providing the sweet flavor we are always craving. 
This option is immensely sweet, even more so than many artificial sweeteners.
It's estimated that Monk Fruit is between 150 and 200 times sweeter than regular table sugar. However, this means that a little will go a long way, which is what you want considering that the stuff is very expensive. 
Monk Fruit has become more common in Western culture, but it's been used in Eastern cultures for several years.
It is produced by removing the seeds and skin of the Swingle fruit and then crushing the fruit. Afterward, the crushed fruit is filtered and extracted into both liquid and powdered forms. 
This sweetener doesn't taste quite the same as sugar, and it can take some getting used to when you first make the switch. However, it does tend to run closer to sugar than some other similar sweeteners, such as Stevia. 
RELATED: Best Sugar Free Coffee Syrups
6. Coconut Sugar
Coconut Sugar, which measures calorie for calorie the same as table sugar, has been used as a healthy sugar alternative in the health community for many years. 
The sugar is made from the sap of the coconut palm, which circulates throughout the tree similarly to pure maple syrup. When the sap is harvested, the farmers cut a small slice in the flower-bud stem of the tree and allow the sap to flow out. It is later boiled down into a syrup and left to dry and crystalize.
As expected, coconut sugar has a very distinct coconut flavor. It has a similar look and feel to raw sugar and is sometimes compared. While the two share some similarities, raw sugar still comes from sugar cane, a completely different plant.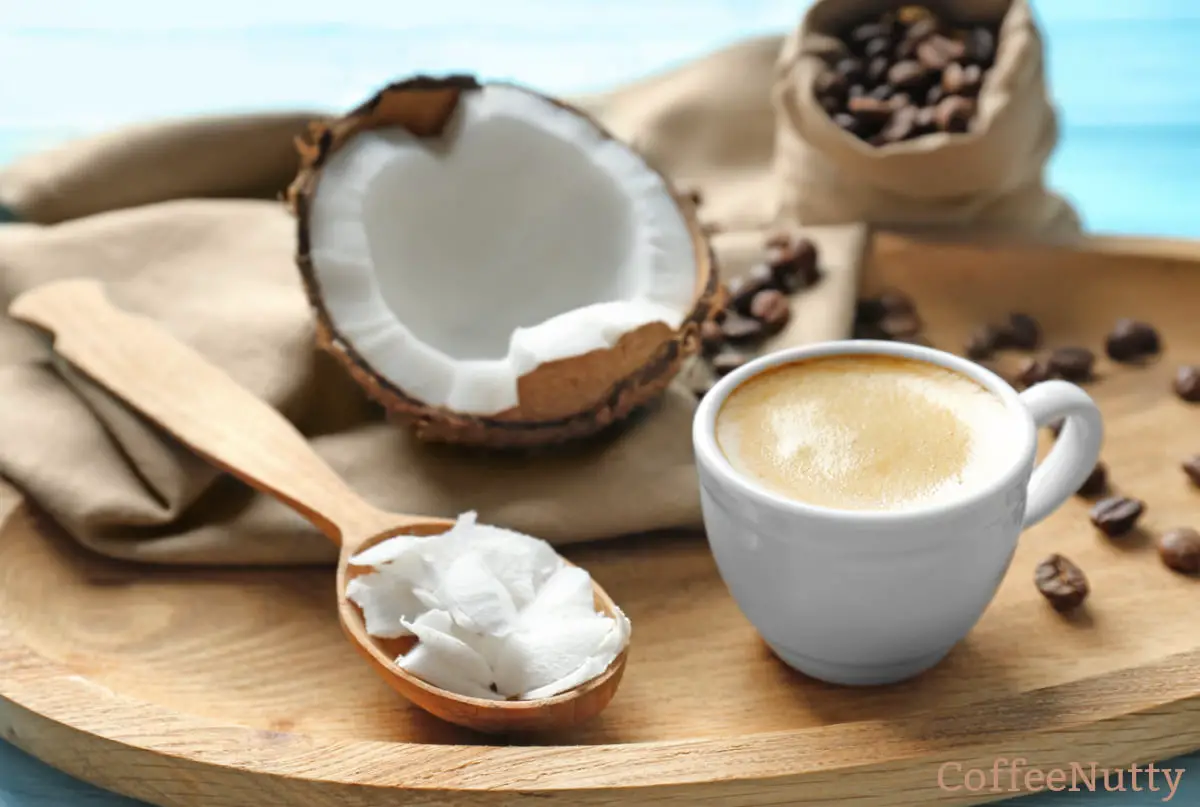 Coconut sugar doesn't cut out any additional calories, and it will still provoke an insulin response in the body. That said, it's not the best for people with diabetes or people looking to lower their caloric intake. 
However, coconut sugar is significantly better for the body than regular sugar.
This is the best alternative if you're looking for a good sweetener that measures the same as sugar. 
7. Coconut Oil
Another option that not only adds sweetness to coffee but also boasts a host of health benefits - coconut oil.
Coconut oil is derived from the meat of mature coconuts and has been used in traditional cooking for centuries. In recent years, it has gained popularity as a natural health remedy and is now being used as a coffee sweetener by many people looking for a healthier alternative to sugar and artificial sweeteners.
Some believe using coconut oil in your coffee can actually help with weight loss as it can boost your metabolism.
Mix just a bit of coconut oil with a cup of hot coffee and enjoy.
RELATED: Best Substitute for Instant Coffee Powder
8. Coconut Milk
While we are on the subject of coconut, let's not forget coconut milk.
Coconut milk is a healthy and delicious alternative to traditional coffee sweeteners.
Made from the flesh of the coconut, coconut milk is rich in vitamins, minerals, and healthy fats. Coconut milk adds a creamy texture and sweetness to coffee without the need for sugar or artificial sweeteners.
The healthy fats in coconut milk help to keep you feeling fuller for longer and prevent cravings throughout the day.
Coconut milk is an ideal coffee sweetener for those looking for a healthier alternative to traditional sugar or artificial sweeteners.
9. Vanilla Extract
Vanilla extract is becoming a popular coffee sweetener.
Vanilla extract is made from vanilla beans and has a long history of being used as a flavoring agent. It has a very mild flavor that will not overpower the taste of your coffee.
If you are looking for a healthy and delicious way to sweeten your coffee, then look no further than vanilla extract!
RELATED: Coffee Creamer Alternatives
10. Unsweetened Cocoa Powder
Is your coffee too sweet for your taste?
Try using unsweetened cocoa powder as a coffee sweetener. You might find it has a bitter aftertaste, but perhaps that is something you enjoy.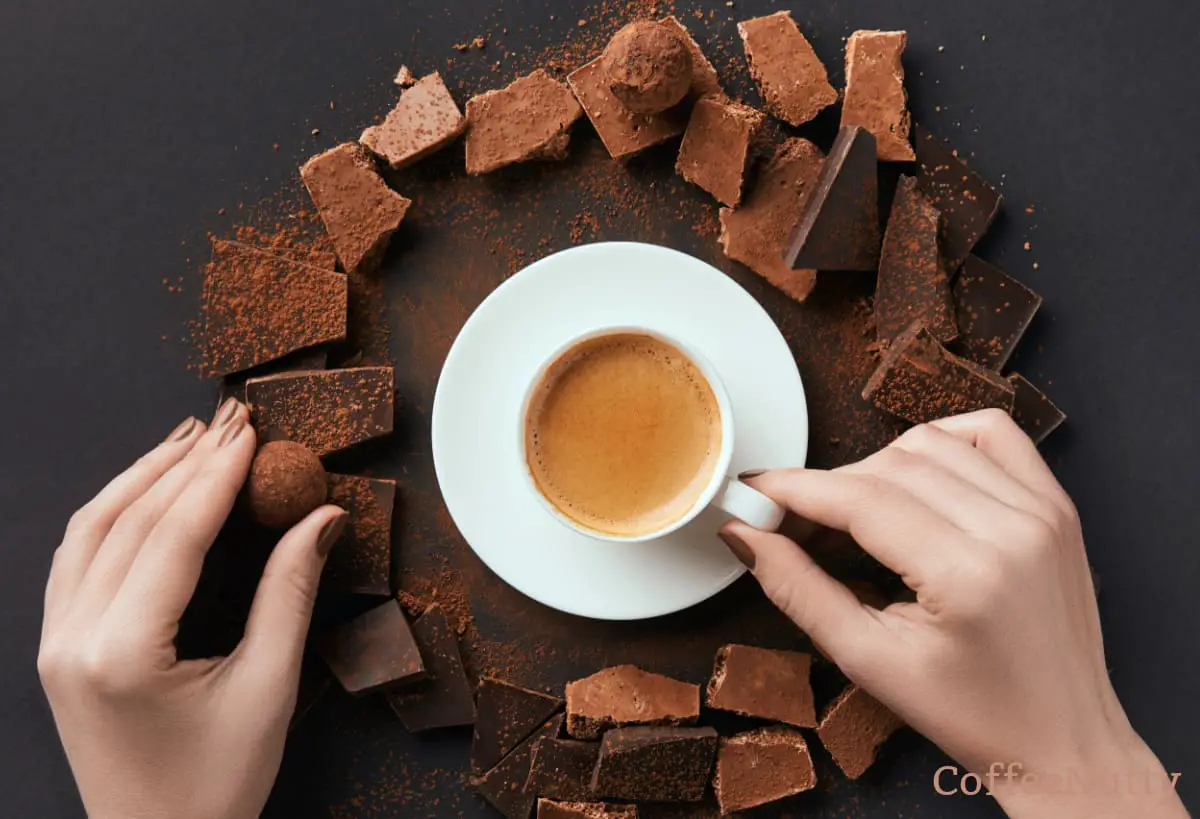 Just a little bit of cocoa powder can go a long way, so start with a small amount and increase it to your desired level. You may find that you like your coffee with a little bit of chocolate flavor!
Conclusion
There are a number of sugar alternatives for your morning cup of coffee.
When looking for a healthier option, it's a good idea to experiment to find the best natural sweeteners (or artificial sweeteners should you choose that route) for your palate.
The good news is there are a number of artificial and natural sources to enhance the flavor of your coffee!
Want to save this post for later? Save it to your favorite Pinterest board!