If the amount of caffeine is important to you, whether you are trying to increase your milligrams of caffeine or consume less caffeine, then you may wonder if the caffeine in cacao or coffee is the best choice. Drinking caffeine can affect people differently, so monitoring your caffeine levels can be crucial.
Remember that there are pros and cons to consider when consuming any amount of caffeine. Caffeine in coffee is the best pick to rev up your metabolism and increase your alertness. Cacao is the best pick if you want to reduce your caffeine intake.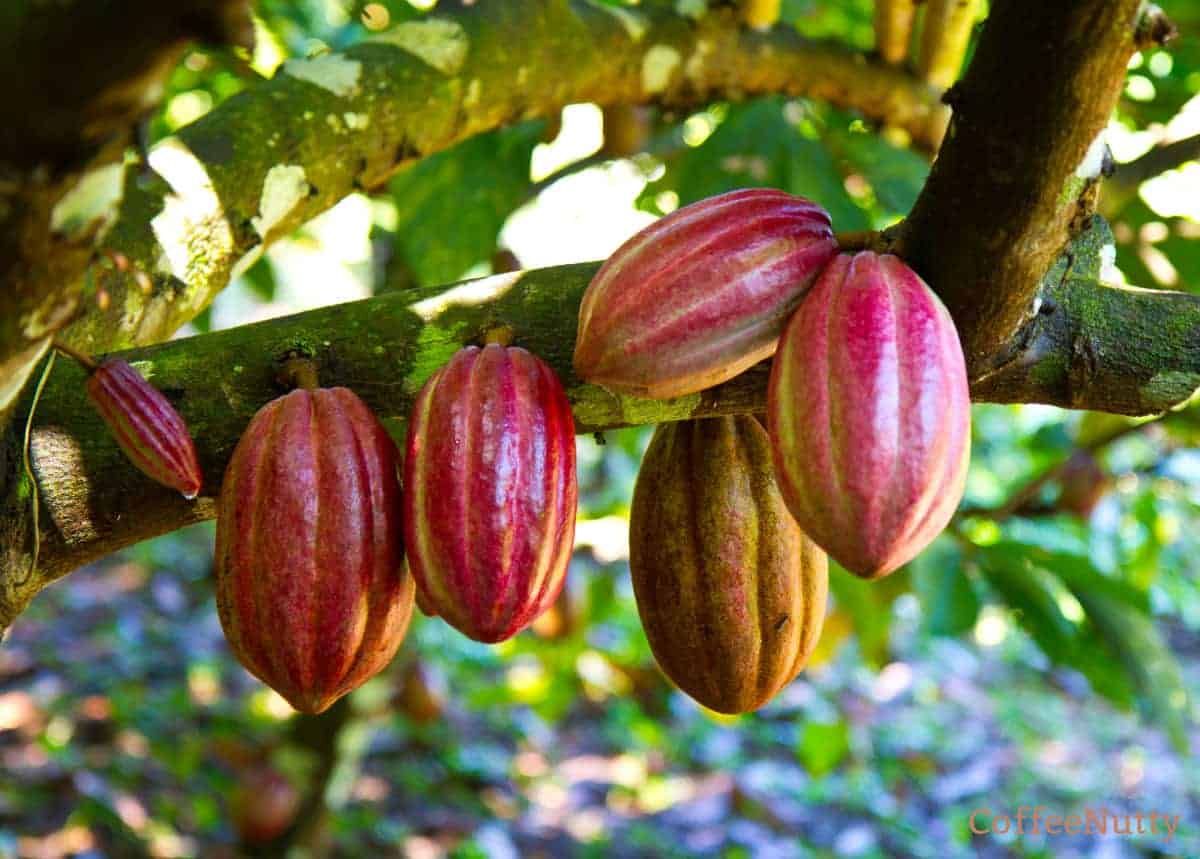 In this article, we will explore the purpose of caffeine and its pros and cons. We will also examine the differences between the caffeine in cacao vs. coffee and whether it is a more powerful component in one versus the other.
What Is Caffeine?
Before diving into the caffeine content in these beverages, we first need to understand what caffeine is. Caffeine is a substance found in many beverages, such as cacao and coffee, that can be natural or man-made.
If you are drinking coffee or cacao, the caffeine in your drink is most likely natural. The natural substance is found in certain plants, such as coffee beans or cacao pods from cacao trees.
However, caffeine can also be manufactured and added to drinks that do not contain caffeine naturally. This scenario is usually only the case with coffee or cacao if someone is artificially trying to hike the caffeine levels.
What Is the Purpose of Caffeine?
Caffeine is a naturally occurring stimulant that wakes up your body, which is the main reason people often drink it in the mornings to start their day.
Your body absorbs it quickly, and can stay in your system for some time.
Caffeine has been shown to have both positive and negative effects on the body. One of the areas that caffeine can affect is blood vessels.
Caffeine acts as a vasoconstrictor, which narrows blood vessels and reduces blood flow to certain body parts. This effect can increase blood pressure in some people sensitive to caffeine.
On the other hand, caffeine has also been shown to improve endothelial function – which refers to the ability of blood vessels to dilate or widen – in healthy individuals.
In addition, some studies have suggested that regular consumption of moderate amounts of caffeine may reduce the risk of developing cardiovascular disease by improving endothelial function over time.
People will also take breaks mid-day to drink a caffeinated beverage since caffeine accelerates metabolism.
If you are feeling sluggish in the afternoon, especially after a big lunch, a caffeinated drink can help to give you the boost you need to get through the rest of the day.
If you are trying to decide whether coffee or cacao is the best pick for you, the amount of caffeine each type of beverage contains can be a factor in your decision.
Let's explore the difference between the caffeine content in coffee vs. cacao further.
Caffeine Content in Coffee and Cacao
A cup of coffee contains more caffeine than a cup of cacao.
For example, a 5 oz (148 ml) cup of brewed coffee has about 115 mg of caffeine versus a 5 oz (148 ml) cup of cacao containing 4 mg of caffeine – clearly, there is a difference!
Another thing to consider is what type of coffee you are drinking. Different coffee varieties will contain different caffeine levels.
For example, an espresso contains more caffeine than a cup of drip coffee since it is more concentrated, with 1 oz (30 ml) of espresso containing 63 mg of caffeine versus 1 oz (30 ml) of coffee containing anywhere from 12 mg to 16 mg.
Keep in mind that any type of coffee can be made with a higher caffeine content if a higher bean percentage is used when combining it with water.
Why Do Coffee and Cacao Differ in Caffeine Content?
The caffeine in cacao is different from the caffeine in coffee due to the scientific makeup of the plants.
Coffee beans are known to have high caffeine content, resulting in a beverage with high caffeine content.
The cacao plant contains smaller amounts of caffeine.
However, it has significant traces of a stimulant chemical called theobromine which acts like caffeine.
Theobromine is the primary reason cacao can make you feel more vigilant and clear-thinking. This boost of energy that you feel doesn't come from the small trace amounts of caffeine found in the cacao plant.
Which Is the Best Pick - Cacao or Coffee?
Which beverage is best for you, coffee or cacao, depends on how much caffeine you want.
If you are starting your day off at work and looking for the best beverage to wake you up and help you stay alert, then coffee is your best choice.
Cacao is your best pick if you want to get that same feeling but want to curb your caffeine intake.
Either way, both cacao, and coffee contain caffeine and will do the job of keeping you attentive at various levels. It just depends on how strong you want that caffeine kick to be.
If you have specific health issues or if you are looking to get some health benefits, then it's important to make sure you take this into consideration when deciding on cacao vs. coffee.
While there are similar effects, there are also key differences.
What Are the Pros and Cons of Caffeine in Coffee?
One of the biggest pros of caffeine in coffee is that it can make you more alert. There are so many people that rely on coffee each morning to help them wake up and work more efficiently.
Some studies show drinking a small quantity of coffee can be beneficial for your health in a few ways, including:
Reducing your risk of a deadly disease
Avoiding a type 2 diabetes diagnosis
Protecting organs such as your liver
You can suffer some unhealthy side effects if you try to stop consuming cold turkey. On the other hand, one of the biggest cons of caffeine in coffee is that it is highly addictive. Your body becomes dependent on it.
Too much caffeine in coffee can also dehydrate you, so it's best to take water breaks between drinking multiple coffee cups throughout the day.
What Are the Pros and Cons of Caffeine in Cacao?
Cacao can be a better-caffeinated beverage choice to lower blood pressure. It has been shown to reduce both systolic and diastolic blood pressure. Some would argue cacao beans can improve cognitive function.
Note cacao beans are most known for making chocolate, not hot beverages. The cacao beans undergo a particular process to create chocolate bars (dark chocolate bar as well as milk chocolate and white chocolate.
But brewed cacao is a good alternative if you want the energizing effect of a caffeine boost without the caffeine. If you have teens that want to incorporate drinking a hot drink in the morning, then cacao is a better option than coffee due to its lower caffeine content.
You do want to avoid cacao if you have high cholesterol. Cacao has a much higher fat content, which will negatively contribute to existing high cholesterol issues.
Caffeine Amounts
Here is a closer look at the caffeine amounts in various food and beverage items you might consume:
Cacao powder: 6.6 mg of caffeine per teaspoon
Cacao Nibs: 10.4mg of caffeine per teaspoon
Cocoa powder: 12 mg of caffeine per tablespoon
Cocoa beans: 12 mg of caffeine per tablespoon
Instant coffee: 47 mg per 6 oz cup
Decaf coffee: 7 mg of caffeine per 8 oz.
Black tea: 47 mg per 8 oz.
Cup of hot chocolate: 1 mg per 1 fluid oz.
An 8-ounce cup of coffee: Dark roast contains ~130 mg of caffeine light roasts contain ~180mg of caffeine
Related: How much caffeine is in half caff coffee?
Side Effects of Caffeine in Both Cacao and Coffee
Caffeine can be an addictive substance, which is another reason many people feel like they must have a cup of coffee at some point in their day.
Like any other addictive substance, if you try to withdraw or miss a day of drinking a beverage containing caffeine, your body will feel like it is missing something and will respond with adverse side effects.
You should watch the amount of caffeine you consume daily, as too much can result in several side effects, including:
Headaches
Jitteriness
Disrupted sleep patterns
Enhanced depression symptoms
Despite the energy boost, it would be best if you did not consume more than the recommended amount of caffeine for an average adult, which is 400 mg per day. This equals about 4 cups (946 ml) of coffee.
So, if you are trying to break your coffee addiction, cacao will be your healthier choice for those with caffeine sensitivity since it has a much lower caffeine level.
Related: Comparing Caffeine in Earl Gray Tea vs. Coffee
Can Children Drink Cacao and Coffee?
If the decision on the amount of caffeine in a beverage is linked to providing it to children, you should avoid both coffee and cacao due to the caffeine content altogether.
Doctors do not recommend any amount of caffeine for children ages 12 and under, including cacao. Children can experience similar symptoms to adults regarding numerous health-related problems and anxiety.
Therefore, it may be best to offer a caffeine-free beverage to your child.
Which Beverage is the Cheaper Option?
Price may be a determining factor if you are trying to pick between cacao and coffee at a coffee shop.
Most of the time, you will find that a cup of drip coffee is one of the cheapest items you can purchase at a coffee shop. If cost is impacting your decision, then a cup of drip coffee is the best pick.
Now, purchasing a more complicated coffee drink, such as an espresso or latte for those with a sweet tooth may cost more than just a regular cup of coffee or cacao. If cost is a factor, then a cup of cacao will be the best pick.
As we mentioned, caffeine is addictive, so choosing between cacao or coffee can significantly impact your budget.
Conclusion
Coffee instead of cacao is the best pick if you are looking for a beverage with a higher caffeine level to keep you awake and alert. Cacao can still provide a similar benefit, but it will not have as strong an effect as coffee due to its lower caffeine content.
It is vital to consider the purpose of caffeine, weigh the pros and cons, and be informed of the side effects when deciding on cacao vs coffee for your daily caffeine fix.