I prefer my coffee to be strong when I drink it. But I worry about whether I am giving myself unnecessary doses of caffeine with my morning routine. I love the robust roasted aromas and bold bitter flavors. 
Coffee can be made stronger, both in flavor and caffeine content by adding a higher bean ratio to your water. A "strong" cup of coffee refers to a higher percentage of chemicals extracted out of the beans and dissolved in the water. These compounds will have different effects on the flavor and caffeine content.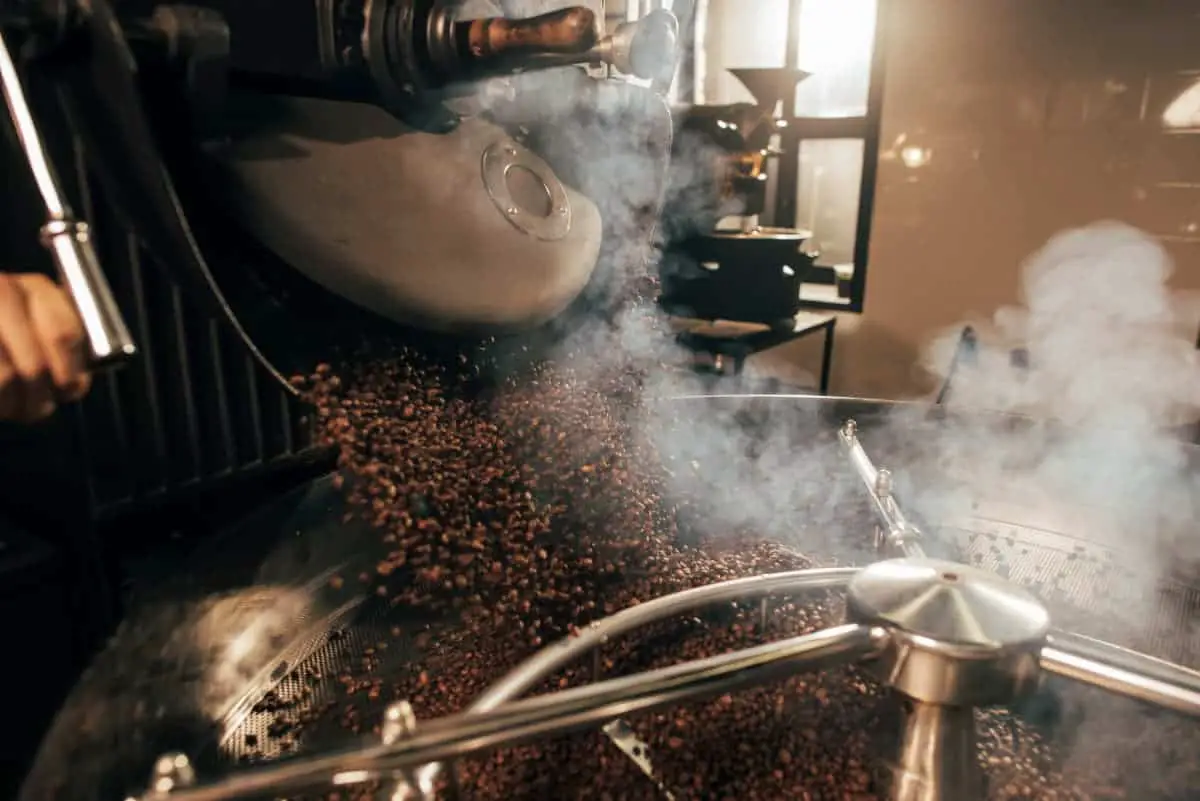 Coffee could be considered strong if it has more flavor or if it contains more caffeine.
Generally, when people use the word strong to describe their coffee, they are referring to the flavor. The actual caffeine content depends on the process used to make the coffee and other variables.
We'll cover that all right here. 
As an Amazon associate, I earn from qualifying purchases.
Jump to:
Coffee Strength Depends on Extraction Ratio
One of the easiest and most practical ways to get stronger coffee is to use a larger portion of ground beans in the water when you make the coffee. This is easy to do, no matter what your preferred process is. 
Changing the extraction ratio of beans to water is the number one way to make the coffee "stronger" and affect the flavor at the same time. 
There is a finite amount of caffeine in each bean.
Just add an extra scoop (or two!) if you want your coffee to be stronger in both flavor and caffeine content. If you are limited on grounds, you can achieve the same effect by adding less water to your usual coffee portion. 
There are a few variables that seem like they would affect caffeine content but manipulating these will have more of an outcome just on the flavor. The following sections will outline some of these factors.
Extraction Time Only Affects the Strength of Taste. 
Regarding the coffee-making process, extraction refers to the process of dissolving soluble chemicals from the beans using water as a solvent.
The degree of extraction has to do with how long the coffee grounds and water are allowed to mingle. You should beware of over-extracting the beans. Getting this wrong can easily turn your coffee too bitter.  
Most of the caffeine (and good flavors) will already be extracted after 30 seconds to a minute. After that, you're just over-saturating your coffee grounds, allowing bad things to happen to the flavor.
Perfect extraction is balanced and allows just enough time for the water to grab the desirable flavor compounds, fats, acids, and sugars. 
Over-extraction goes beyond those good things and starts to pull out the plant fibers in the coffee. This can produce different flavor notes, often unappealing. 
Under-extraction happens if you don't give the water enough time to do its work. If you've had a weak, watery cup before, odds are the coffee was under-extracted. 
Depending on what type of coffee extraction method you are using, extraction time and the process will vary. 
RELATED: How Many Ounces are in a 12 Cup Coffee Pot?
Grind Affects Both Taste and Caffeine Content
The grind of the coffee refers to the particle size of the grounds. You can grind coffee fine, of course, depending on what type of extraction method you are using.
All methods soak the beans in some form or another. 
A coarse grind is used if you are soaking the beans without a filter, such as with a percolator or French press. The bigger surface area of the coarser grind helps to protect against over-extraction because it slows down how quickly the water can pull from the grounds.
A finer grind can be used if you use a filter such as with an electric coffee maker, a pour-over method, or one that involves pressure, like espresso-making. 
If you get grounds in your finished coffee cup, you probably used too fine of a grind for the filter.
The grind can affect the caffeine content, depending on the brewing method used. For instance, this study found that doubling grinding time increased caffeine content up to twice as much. 
Related: Comparing Caffeine in Coffee vs. Earl Grey Tea
What About Finely Ground Espresso? 
Espresso has less caffeine than its coarser brewed coffee cousin – even though it is ground finely – because the high pressure of the brewing method extracts more so quickly.
But, more importantly, the cup brewed is much smaller – so the caffeine is more concentrated. And perhaps consumed more quickly. (Source: Kicking Horse Coffee)
See, we told you.
There are a lot of variables at play when talking about caffeine in coffee, mostly because there is no "one" extraction method, no "universal" grind, and…many types of coffee beans! 
Bean Variety Affects Taste and Caffeine Content
If you are looking for an extra-bold flavor from your coffee, you can get it by using a particular variety of coffee beans. Coffee beans come from all over the world.
The flavor is largely influenced by the environmental conditions the bean is grown in, while the caffeine content is more a product of the species of the coffee plant.
Arabica and Robusta Beans
Most coffee beans you come across are from the same species.
Although there are many different species found in nature, the two most common species that are farmed for world production are the Arabica (Coffea arabica) and Robusta (Coffea canephora). 
Taste and Caffeine Differences in Robusta and Arabica
The Robusta varieties generally have a higher caffeine content, 2% volume by weight. That is double that of the Arabica variety at 1%. 
However, most commercial and specialty roasters will be using Arabica beans because they have much better taste profiles. 
You should be able to find information about what type of beans are in your coffee on the bag or from the roaster. Sometimes roasters will even use a percentage mix of beans from different regions to get a more balanced flavor. 
Coffee Bean Varieties, by Region
Although the region the beans are from does not affect the caffeine content as much, the flavors vary wildly.
Some people have tried to express the complicated essences between regions. I have tried a few of them at my local coffee shop. One of my favorite region so far is Guatemala. 
Some examples of flavor notes may be described in ranges such as:
Light, full, or rich 
Acidic or bitter 
Fruity or floral
There are a few types of coffee that are specially designed to be very high in caffeine content.
The companies that sell them mostly use Robusta beans and monitor the climate they are from and when they are harvested to guarantee a high caffeine experience. 
Effect of Roasting Time on Coffee Strength
When you buy a bag of beans, they will usually have information on the bag about the flavor profiles of the beans.
One important aspect will be about how "light" or "dark" the beans are. This is referring to the length of roasting time the beans had. Roasting time can affect the flavor of the beans. 
Dark roast means the beans have been roasted for a longer amount of time. These types of beans will often have a bolder flavor with more bitter notes.
Light roast coffee is roasted for a shorter time, has more acidic and complex notes. 
Caffeine does not get broken down and lost during the roasting process.
Caffeine is stable up to  460 degrees F. That is the highest part of the range for roasting coffee, and most do not go up even that high.  
The caffeine in a specific variety of beans will be approximately the same regardless of roasting time. (Kicking Horse Coffee)
Measurement of Different Roasts Minimally Affect Caffeine 
It is important to note that when we are talking about the roast, the reason people generally think that one roast or another has more caffeine is that the beans weigh more.
Since the light beans are roasted for a shorter time, they have more water content. "Dark" beans are roasted for a longer amount of time and have less water content. 
Even though the caffeine does not break down too much during the roasting process, a scoop of light vs. dark beans can have a different amount of caffeine because of the volume of the actual beans. 
Caffeine is Affected by Weight and Volume, not Roast
Since there is less water in the dark beans, if you measure out your coffee by WEIGHT, you will get more coffee by volume than the same WEIGHT in the lighter roast version of the same coffee. 
In short, it takes more dark roast beans to equal the same weight as light roast beans.
On the other hand, if you use a scoop to measure your morning coffee by VOLUME, then you will end up getting more caffeine out of the light roast.
It is denser and fills in the scoop better. The dark beans are lighter and fluffier to contrast. 
Conclusion
There is a lot of complexity to brewing a cup of coffee. There are many ways you can change the flavor profiles and strength of your coffee.
Whether you are looking for higher caffeine content or not, you can manipulate your brew to fit your taste and your needs. 
There are many things to consider when you are making your perfect cup. You can play around with your preferred method, trying to find the perfect balance between variety, roast, ratio, and extraction time to get the perfect flavor and caffeine content for your palette and body. 
Happy Brewing! 
RELATED POSTS