If you're looking for an easy, step-by-step guide to cleaning your Braun coffee maker, look no further. In this guide, you'll find all the information and tips you need to keep your coffee maker running smoothly and efficiently.
To keep your Braun coffee maker clean, you'll need to regularly clean the filter, carafe, lid, drip tray, and spout. You can also use deep-cleaning methods such as vinegar or baking soda for more thorough cleaning.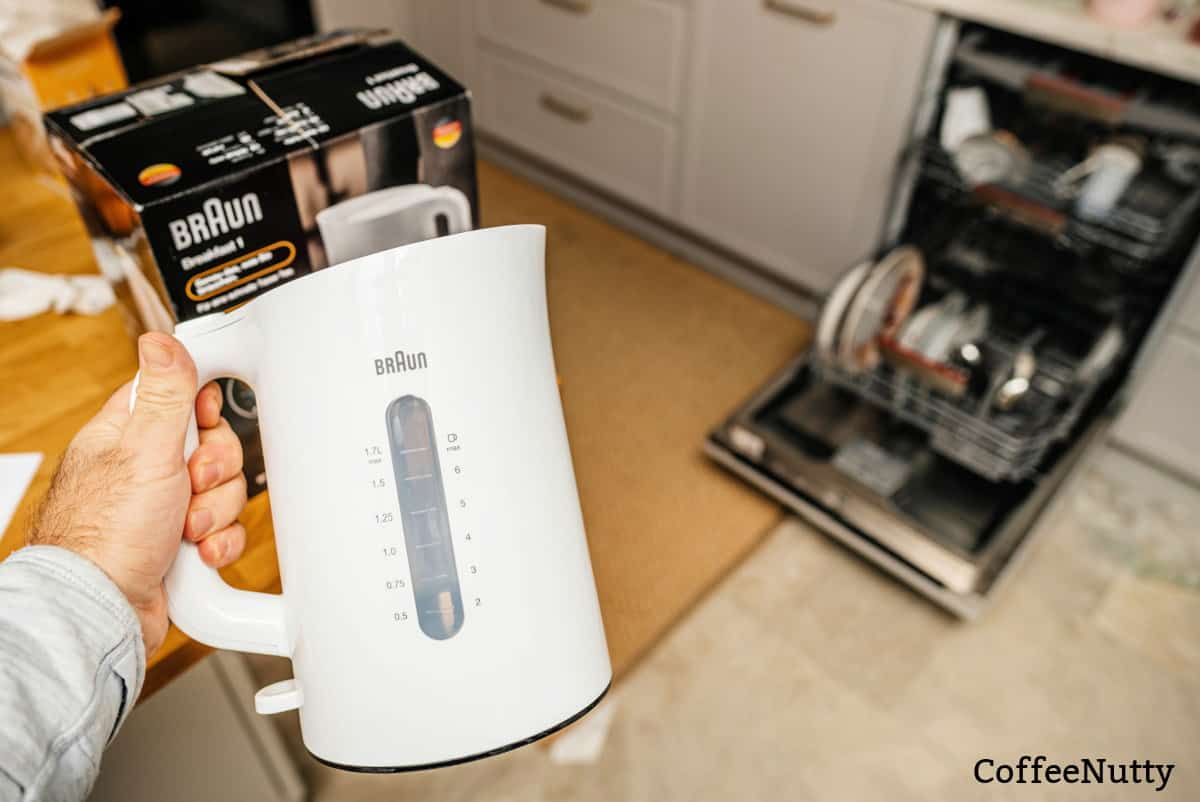 By following the steps outlined here, you can easily keep your Braun coffee maker in tip-top shape and ensure it brews a delicious cup of coffee every time. 
Let's take a closer look.
A Step-by-Step Guide To Cleaning a Braun Coffee Maker
Cleaning your Braun coffee maker is a quick but important thing to do to keep your coffee tasting great and to make it last longer. 
After all, while this company makes some of the best coffee makers on the market, all of that quality goes to waste if the machine isn't kept clean and well-maintained.
But if you keep your coffee pot spotless, your coffee will taste better, and you won't have to worry about bacteria or grime building up and ruining the taste and quality of your morning brew.
To get started, gather the following cleaning supplies: 
Dish soap
White vinegar (apple cider vinegar is an alternative)
Clean cloth or sponges
A toothbrush or other small scrub brush for hard-to-reach areas
Alright, let's use these simple steps to get your Braun coffee machine sparkling clean!
First things first, unplug your machine and take out the removable parts, like the filter basket and carafe.

Rinse and wash these parts with dish soap and warm water to get rid of any old coffee grounds or stains.

Next, it's time to break out the trusty white vinegar. Mix equal parts clean water and vinegar in the water tank, then start the brewing cycle. During the brew cycle, the vinegar will help dissolve any stubborn coffee oils and grime that's built up inside your coffee maker. 

Let the vinegar solution (vinegar and hot water) sit for at least 30 minutes, or even up to an hour for really tough stains.

After the vinegar has had a chance to work its magic, empty the coffee maker and give it a good rinse with fresh water. 

Then, use a damp cloth or sponge to clean the outside of the coffee maker, getting rid of any lingering dirt or grime.

Don't forget to tackle those hard-to-reach spots with a toothbrush or small scrub brush, like the nooks where the carafe sits or the spout where the coffee comes out.

Once you've cleaned both the inside and outside of your coffee maker, let it air dry completely before putting it back together and using it again. This will stop any leftover moisture from messing with the taste of your coffee.
And voila, you're ready to enjoy some freshly brewed coffee from a shiny, clean machine!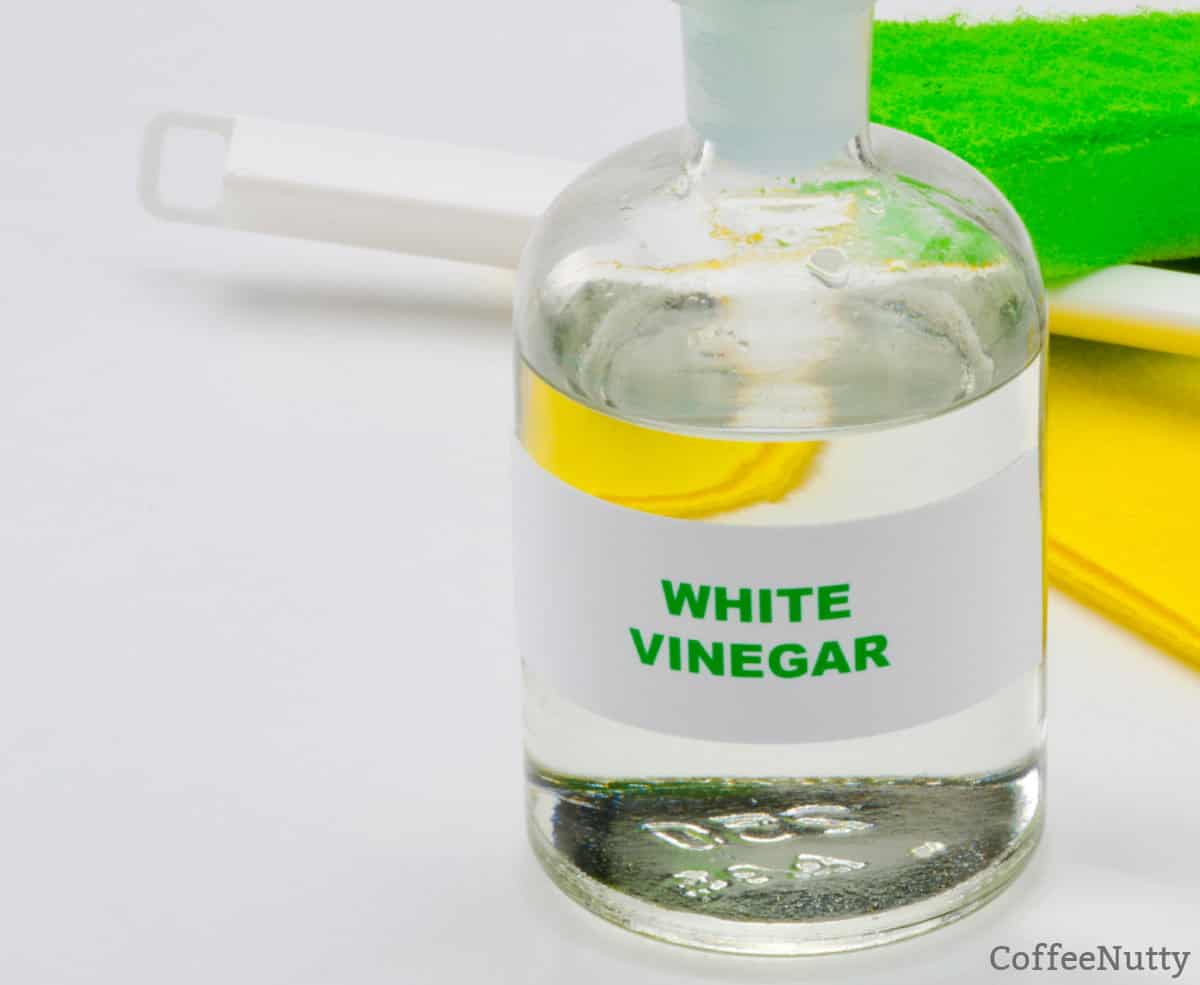 Why It's So Important To Clean Your Braun Coffee Maker
Cleaning your trusty coffee maker on a regular basis might not be the most exciting task in the world, but it's worth it.
Sure, you could just let those pesky bacteria and mold spores have their way with your machine, but do you want to risk drinking musty, gross coffee? I didn't think so.
Cleaning your coffee maker regularly not only keeps it running well but it is the best way to maintain the taste and quality of your coffee.
And let's be real, nobody wants to drink moldy coffee. Gross! 
By taking a few minutes to give your coffee maker a good scrub down, you're ensuring that every cup of coffee you brew is as delicious as the last. Plus it will extend the life of your coffee maker.
How Often Should You Clean a Braun Coffee Maker?
It's a good idea to give your machine a good scrub-down every few months or so. Why, you ask?
Well, over time, all those coffee grounds and oils can start to build up inside your coffee maker, which can make your morning brew taste a little... well, less than fresh.
After all, a good cup of coffee is what it is all about.
Plus, if you don't clean your coffee maker regularly, bacteria and mold can start to grow in there, which is definitely not something you want to be sipping on with your morning joe.
So, regular cleaning of your coffee maker will keep it working at its best performance and ensure that you're always enjoying the freshest, most delicious pot of coffee possible, make sure to give it a good cleaning every now and then.
Your taste buds (and your health) will thank you!
Should You Clean a Braun Coffee Maker With Vinegar?
If you're looking to give your Braun coffee maker a good ol' cleaning, white vinegar is the way to go. Just fill up the water tank with equal parts white vinegar and water, then hit brew.
This cleaning solution will help to get rid of any pesky hard water deposits or mineral buildup that's been hanging around.
Afterward cleaning your drip coffee maker, make sure to rinse the removable parts of the machine really well to get rid of any lingering vinegar flavor. (There's nothing worse than a cup of coffee that tastes like, well, vinegar. Great coffee taste is the goal.)
Proper cleaning with white vinegar will keep your coffee maker running smoothly and serving up delicious cups of joe day after day.
Furthermore, it's way cheaper than those fancy cleaning solutions at the store.
Not only is this method super easy and quick, but it's also cost-effective.
So you don't have to worry about breaking the bank just to keep your machine clean and running smoothly.
Tips for Keeping Your Braun Coffee Maker in Tip-Top Shape
If you want to keep your Braun coffee maker running like a champ for years to come, here are a few tips that'll come in handy:
Give your coffee maker a good cleaning on the regular to prevent any gross buildup of coffee oils and mineral deposits. Trust me, removal of built-up calcium deposits is necessary as they can really mess with the taste of your brew and make your machine less effective.

Use a descaling solution to get rid of any pesky calcium deposits that may have formed on the inside of your coffee maker. This includes the water tank, heating element, and tubes.

After you've finished the descaling process with your coffee machine, it's important to give it a thorough washing to eliminate any descaling solution residue that may still be present.

Always use fresh, cold water for each brew. Bottled water or filtered water work great if the hardness of your tap water is of concern. Your coffee will thank you!

If your coffee maker has a water filter, make sure to check and replace it regularly to keep impurities out of your cup. This will make for a better-tasting brew.

Avoid using abrasive cleaning agents or hard scrub brushes, as these can damage the internal parts of your coffee maker. Treat it gently and it will serve you well.

Refer to the user manual for specific instructions on descaling and cleaning your coffee maker. Every model is a little different, so it's important to follow the right steps of your model.

If you notice any issues with the performance of your coffee maker, such as slow brewing or subpar coffee quality, check the user manual for troubleshooting advice or contact the manufacturer for support.
Related: Filtered or Unfiltered Water for Coffee- Which is Best?
Final Thoughts
The benefits of a clean coffee maker are easy to see. 
Cleaning your Braun coffee maker regularly is the key to having fresh, tasty coffee for many years to come.
So, give it a good scrub-down every few months with some white vinegar and water, and make sure to follow all the recommended maintenance steps from your user manual.
With a little bit of TLC, you'll be able to keep your coffee maker running like a dream and enjoy great-tasting cups of joe day after day.
Cheers to that!