You can consume coffee in different ways - steaming hot straight from the pot or iced cold, which is especially lovely in the summer. But how do you get steaming hot coffee iced cold? Can you put it in the refrigerator?
You can put hot coffee in the fridge, but you must do so with precaution. Whether you want to preserve your coffee for later consumption or are attempting to cool it faster doesn't matter. Quick, in-the-fridge cooling should be done infrequently and with great consideration.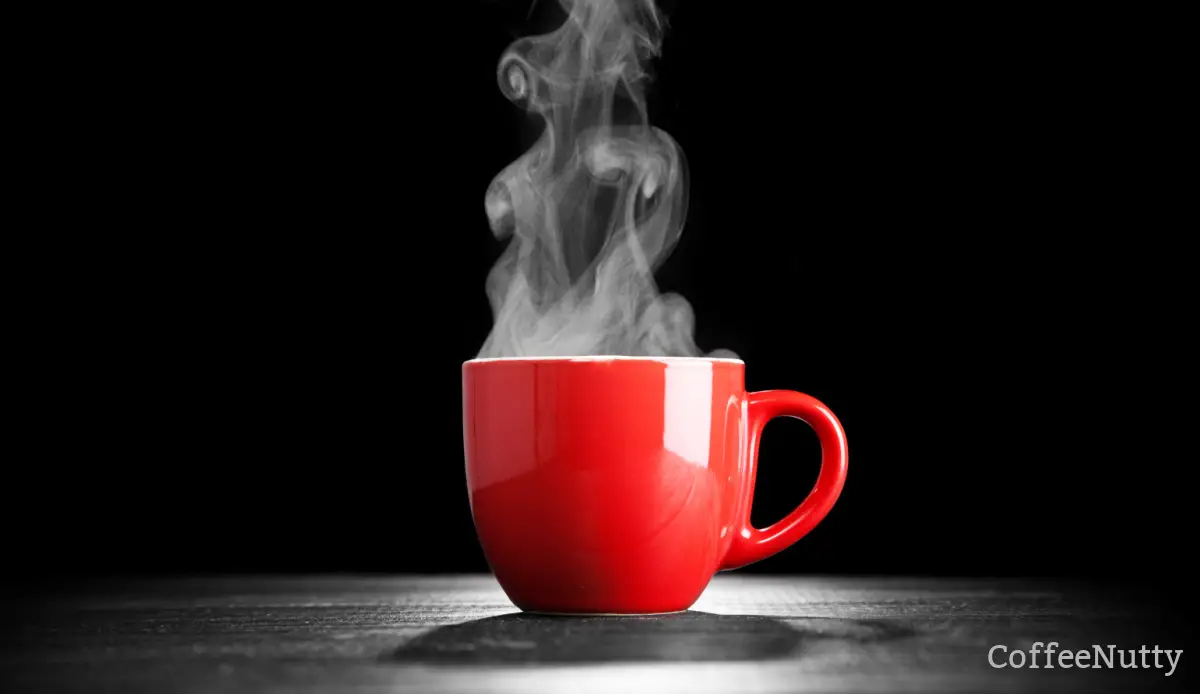 It's not a good idea to place hot foods or beverages in a refrigerator, but if you must, this guide will show you how best to cool your coffee.
It'll also outline the best ways to enjoy a cooled-down coffee without breaking down the taste and soul of the beverage. Enjoy!
Four Golden Rules for Putting Hot Coffee in the Fridge
Keeping hot foods and beverages in a fridge can destroy the machine, so most manufacturers advise against adding hot foods and drinks to your refrigerator.
However, placing hot coffee in the fridge is possible if you take precautions and follow specific guidelines.
I will outline these precautions and guidelines in the sections below. Follow them closely to cool your coffee and keep your refrigerator in working order.
Remember, the best way to ensure a delicious, fresh cup of coffee is by drinking it after it is freshly brewed.
1. Cool the Coffee Before Adding It to the Refrigerator
As I've mentioned, putting hot beverages in your refrigerator destroys the fridge's functionality over time.
Therefore, you should only put hot coffee into the refrigerator occasionally. If you have time, it's always your best bet to cool it down first.
You can use these reliable methods to cool your coffee fast.
Use ice cubes. If you have some ice cubes, pour hot coffee over them to make the most effortless iced coffee. You may make concentrated coffee like an espresso by pouring it over the ice cubes.

This way, the coffee isn't overly diluted. Use the 60:40 ratio for best results, with 60% being the Espresso. Another option is to pour leftover coffee into an ice cube tray, making coffee ice cubes.

Allow it to cool to room temperature. This will take longer, but it will get the job done. Endeavor to use an airtight container with this process to keep the essence of the coffee and leave it be.

You can place it next to a window on a cool day or another cool place to quicken the process.

Freeze your spoon. You can get creative by freezing your spoon in the freezer, taking it out, and using it to stir your coffee. You should freeze more than one spoon for quick requests.

This method won't dilute your coffee like ice cubes, and it's an easy way to start the cooling process. You can also purchase stainless steel "ice" cubes and freeze those instead.

Use the two-cup cooling method. This is a popular cooling method many had growing up.

Pour your hot coffee into another cup and then cool the empty cup in a dish of cool water, then transfer the hot coffee back into the empty cup and repeat the process.
Related: Can You Heat a Starbucks Latte and Not Ruin It?
2. Use an Airtight Container
If you must place your hot coffee in the fridge, do so in an airtight container such as a mason jar.
This container preserves the coffee naturally and lessens the oxidation process. Oxidation happens when coffee gets old, making it taste bitter and darker.
A mason jar or sealed container will limit the oxidation process and, even better, protect the coffee from being contaminated with other smells from the fridge.
An air-tight container is critical in preserving the coffee taste.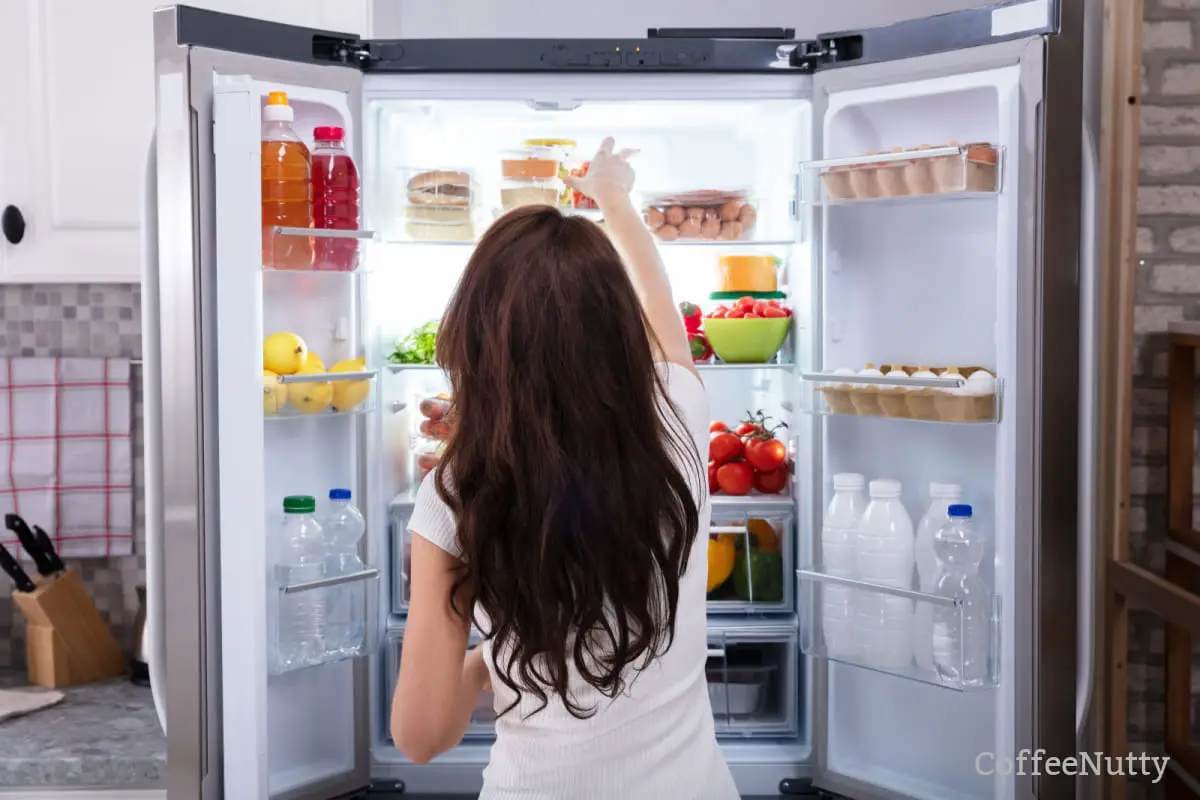 3. Use Non-Insulated Containers
Suppose you transfer your coffee into an insulated container, such as a porcelain mug (which retains heat) or a coffee thermos. In that case, you're defeating the purpose of putting it in the fridge.
An insulated container is designed to retain the drink's heat.
Therefore, putting your coffee in the fridge in something designed to contain heat makes it much harder for the refrigerator to cool the beverage and lower temperatures.
For quicker results, avoid insulated containers. Instead, switch your coffee from your mug to a glass or plastic cup/jar.
4. Keep Coffee Away From Other Food Items
Refrigerator manufacturers advise consumers not to place hot items in the fridge.
As I've already mentioned, this recommendation is because doing this too often can tear up the appliance. However, there are other reasons you shouldn't add hot food or drink to the fridge.
Doing so can also cause your other food items to spoil.
The condenser in a fridge is tasked with keeping foods cool and fresh. To do this, it removes the warm air and replaces it with cooler air from the room through the fridge's coils.
However, the condenser cannot work to total capacity if the food in the fridge is hot.
The mixture of hot and cold in the fridge causes convection and condensation, emitting moisture into the refrigerator that isn't good for preserving food.
That's why it's always best to cool coffee before placing it in the fridge. You can do this by using one of the methods above.
However, if you must put hot coffee in the fridge, place it as far away from other food items as possible. The further away it is, the less likely the other foods will spoil.
Can I Store Coffee Beans or Coffee Grounds in the Fridge?
There has been a long-standing debate among coffee enthusiasts about whether it is best to store coffee beans or grounds in the fridge.
Some argue that refrigeration can help preserve the freshness and flavor of coffee. In contrast, others believe it can do more harm than good.
One factor to consider is moisture.
Coffee beans and grounds are susceptible to moisture, which can cause them to become stale and lose their flavor. While refrigeration can help control humidity levels, it is important to note that the fridge itself can introduce moisture when opened frequently.
Therefore, if you choose to store your coffee in the refrigerator, whether whole coffee beans, instant coffee, or regular black coffee, make sure it is properly sealed in an airtight container.
No coffee lover wants to risk stale coffee.
Another consideration is odor absorption.
Coffee beans are notorious for absorbing odors from their surroundings, which can greatly impact their taste.
Storing them next to pungent foods like onions or strong cheeses in the fridge may lead to a flavored cup of joe that you didn't bargain for.
Additionally, ground coffee tends to absorb flavors more quickly than whole beans due to its larger surface area exposed to air.
Overall, while some individuals may have success storing coffee in the refrigerator without any negative impacts on flavor and freshness, it's generally advised against unless done correctly with a proper storage container, and precautions are taken against odor absorption and moisture exposure.
The best option would be storing your beans or grounds in a dark place at room temperature in an airtight container away from direct sunlight and heat sources – just be sure not to keep them for a long time.
Keep tabs on the shelf life and expiration dates so you enjoy the delicious coffee before the taste of the coffee is affected.
Final Thoughts
Coffee is a beverage that is at its best when freshly brewed and served. Even in an iced state, coffee should be enjoyed immediately and not left out to be contaminated with other smells and gases in the atmosphere.
As I have discussed, putting hot coffee in the fridge will get you the desired results quicker only if you use the proper techniques. However, it will cost you your fridge if done too frequently.
If you frequently have much coffee left in your coffee pot, a good option to consider is brewing a smaller pot of coffee.
FAQs
Should you let hot coffee cool before refrigerating?
Yes, you should allow hot coffee to cool prior to putting it in the refrigerator. Use an airtight container to ensure the best taste possible.
Can I put warm coffee in the fridge?
You can put warm coffee in the refrigerator. Just be aware that fresh coffee will can possible taste stale if stored in the fridge. If you have leftover coffee, make coffee cubes to add to cold brew coffee.
Can you chill hot coffee to make iced coffee?
Yes, you can definitely chill hot coffee to make iced coffee. The process is simple - brew your coffee as usual and let it cool to room temperature. Once it has cooled, transfer it to a container and place it in the refrigerator to chill for a few hours or overnight. You can then pour the chilled coffee over ice and add desired sweeteners or milk to customize your iced coffee. However, it's important to note that chilling hot coffee may result in a slightly different taste than brewing coffee, specifically for iced coffee. When hot coffee cools down, its flavors can change and become more muted. So, if you're looking for a stronger flavor profile, it might be worth considering brewing your coffee using a cold brew method instead. Cold brew involves steeping coarsely ground coffee in cold water for an extended period of time, resulting in a smooth and flavorful iced coffee without the need for heat.
Is it okay to put coffee in the fridge?
Yes, it is generally okay to put coffee in the fridge. However, there are a few things to keep in mind. Transfer the coffee into an airtight container before placing it in the refrigerator. This will help prevent odors or flavors from seeping into the coffee and affecting its taste. Additionally, allow the coffee to cool down to room temperature before refrigerating it to avoid condensation inside the container. It's worth noting that while refrigerating coffee can extend its shelf life, it may also lead to changes in flavor over time. Some people find that refrigerated coffee can taste stale or lose some of its original aroma. If you prefer your coffee fresh and flavorful, it might be better to brew smaller amounts as needed rather than storing large quantities in the fridge.