So you've got an electric frother and ran out of milk for your latte. Or you may be starting to experiment with making lattes at home. In any case, can I use liquid coffee creamer to make foam for my coffee?
You can froth Coffee Mate creamer because it has dairy and other ingredients that make frothing possible. This includes natural and artificial thickeners that mimic the protein in milk. You can froth coffee mate creamer using nearly any method, including by hand or with an electric frother.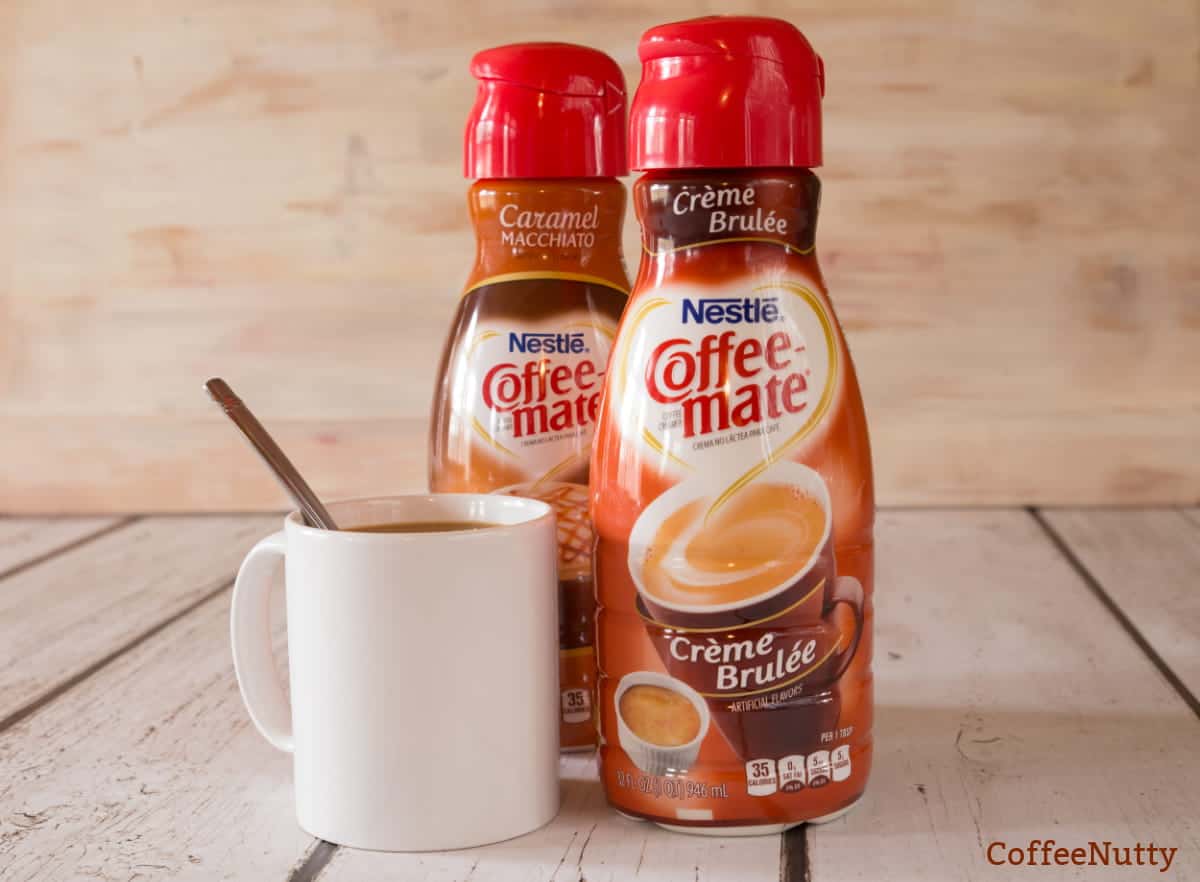 This article will answer questions about frothing Coffee Mate creamer and other creamer products.
This includes comparing different creamers and their foaming qualities, plus whether you can put them in frothers.
Read on to learn everything you need to know about using creamers with frothers! 
What Works Best For Creating Froth for Coffee Drinks?
One of the critical elements that create froth for coffee drinks is the introduction of air into the milk or cream.
The type of milk used also plays a crucial role in creating froth. 
Whole milk is commonly used for best results when creating foam due to its higher fat content that contributes to a richer foam. Alternatives like soy or almond milk can also produce satisfactory results. 
Baristas skillfully manipulate their techniques and equipment to create different levels of foam suited for specific coffee drinks. 
For instance, cappuccinos typically have more airy and dry foam than lattes with a smoother and denser texture.
By understanding these nuances and experimenting with various factors such as steam velocity or angle of pouring, baristas can turn an ordinary cup of joe into a work of art with delightful layers of velvety foam.
But coffee lovers can froth creamer when they are in a pinch at home.
But will likely experience different flavors and foam consistency than milk foam.
What Kind of Creamer Froths the Best?
Half and half is the creamer that froths the best for a nice, frothy coffee. Due to its high protein and fat content, it produces thick, creamy, high-quality foam, even better than whole milk. It is traditionally used in a foamy latte drink called breve, which replaces the usual milk with steamed half and half. 
However, you can also foam other types of creamers, including plant-based creamers like oat milk and soymilk creamers.
The best choices include creamers with high protein content or thickeners like gellan gum, guar gum, and carrageenan. These will allow the product to produce bubbles that hold together when frothed. 
For example, Coffee Mate creamer froths well due to its dairy and carrageenan content.
A non-dairy creamer such as soy milk also froths very well due to the high protein content of soy.
Check the nutrition and ingredients label for protein and gel thickeners to know whether your chosen creamer will froth. 
Can You Make Foam With Coffee Creamer?
You can make foam with most coffee creamers. Any coffee creamer with milk or gel thickeners like gellan gum, guar gum, carrageenan, and casein (a type of milk protein) will produce foam. This includes dairy-based and many non-dairy creamers like oat, soy, and almond milk creamers. 
There are several different ways to make foam with coffee creamer.
You can use a traditional steamer wand, an electric hand mixer, an immersion blender, an electric milk frother, a whisk, a mason jar, etc. However, some methods will work better (and much faster) than others.  
Remember, the higher the fat content, the slower your creamer will be to foam or froth.
Very high-fat creamers should not be used in tabletop frothers because they are designed for milk. 
High-fat creamers will eventually damage the appliance. For example, you can foam half and half in a tabletop frother like the popular Nespresso Aeroccino3 Milk Frother from Amazon.com, but only do it sometimes.
A steam wand or handheld milk frother is better for high-fat creamers.
RELATED: How to Use a Nespresso Milk Frother
Is Milk or Half and Half Better for Frothing?
Regular milk and half and half are both great choices for frothing. Whether one is better than the other is a matter of personal opinion. Milk will produce excellent, creamy, sweet foam. Half and half will have a heavier, thicker, richer foam. Some people find half and half too heavy, and some people prefer it. 
The best choice is to try them both and see which one you like better.
Whole milk is easy to foam, and low-fat milk is even easier. Half and half will make excellent foam, but because of its high-fat content, it may take longer and be more difficult, depending on your chosen method. 
Suppose you want an easy frothing method that works on milk and half and half.
In that case, I suggest the Zulay Original Milk Frother, available on amazon.com. It will produce loads of foam very quickly. However, it won't be as fine and dense as foam with other frothers. 
Check out this YouTube demonstration from Zulay Kitchen to see how their frother performs on various creamers.
Skim milk can also be used for a fresh milk froth.
But it will not provide the creamy taste of whole milk or half and half.
Can You Put Coffee Mate Creamer in a Frother?
You can put coffee mate creamer in a frother. However, it will likely not foam as well as milk, depending upon what kind of frother you use. A tabletop frother produces less foam because it usually runs on a timer. However, a handheld frother can be used longer to make more foam.   
Again, remember that the foam made with a handheld frother will be higher in volume but lower in density than the foam made with a tabletop frother or a wand steamer. 
In addition, tabletop frothers are designed for use with milk, and coffee mate creamer has thickeners and other additives that milk does not.
Therefore, putting coffee mate creamer in your tabletop frother may cause damage to the appliance if done repeatedly over a long period. Check with the specific manufacturer of your product to be sure. 
I have had great success with a frothing wand, found on Amazon.
I love the ease of use. It's also a great way to mix up protein shakes!
Can You Whip Coffee Mate Creamer?
You cannot whip Coffee Mate creamer, but you can create a whipped cream alternative. First, add some artificial sweetener like stevia as a stabilizer. Use a handheld mixer or frother to create loads of foam. After a few minutes, you should have a sweet, fluffy product similar to Cool Whip. 
Now, enjoy your whipped topping on a coffee drink or dessert!
You can add vanilla extract before whipping to boost the flavor. Additionally, consider freezing the whipped creamer for 15 minutes to create a fluffy, icy treat.  
Can You Froth Cold Creamer?
You can froth cold creamer. In fact, you can use any milk product to make cold foam. Most non-dairy creamers will also work because they have added gel thickeners that mimic milk protein. Use a tabletop frother with a cold foam setting or an electric handheld frother. 
Cold foam is made most efficiently with a handheld frother.
However, you can also make it without an electric tabletop frother.
For more info on this topic, check out my other article, How to Make Cold Foam for Coffee. 
If you're ready to make a delicious cold foam treat, try my Pumpkin Cold Foam Starbucks Copycat Recipe.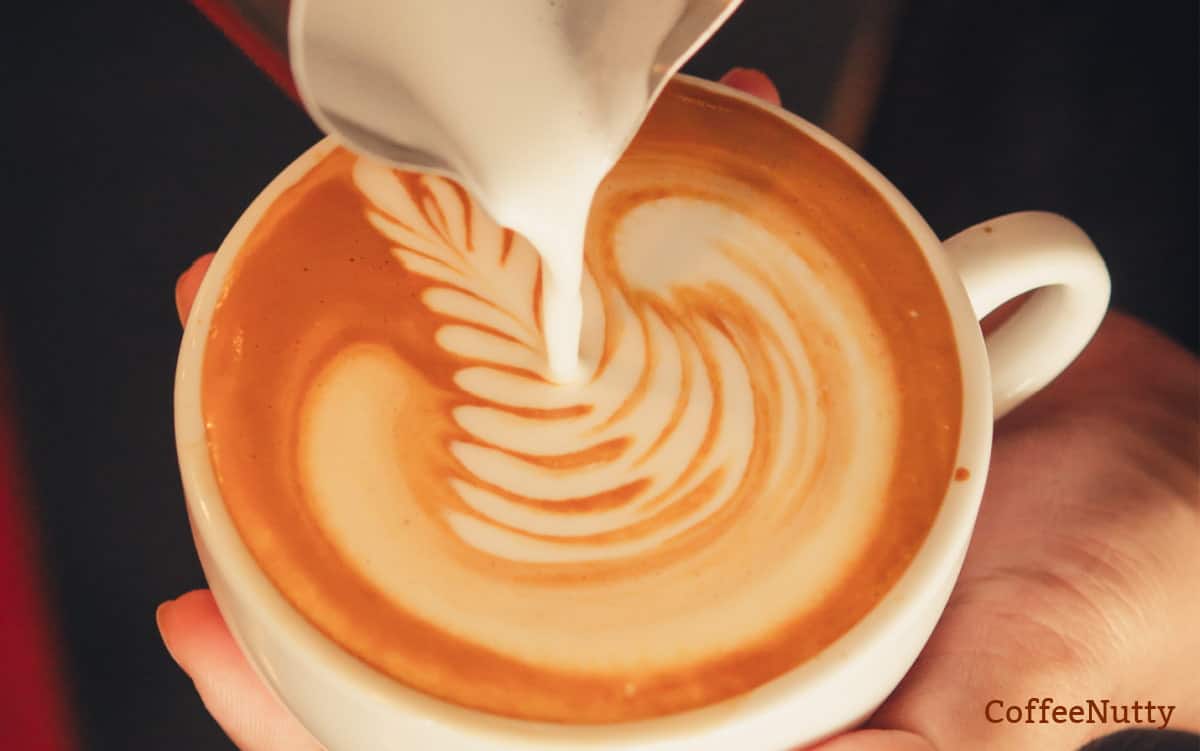 Can You Froth Coffee Mate Powdered Creamer?
You can froth Coffee Mate powdered creamer.
In fact, you can froth any creamer in powder form that contains milk or milk derivatives. Coffee Mate powdered creamer has sodium caseinate, which is a milk protein. 
To froth, mix the powdered creamer with water and use a handheld frother, electric mixer, or even a blender.
Putting powdered creamer into a tabletop frother is only recommended if you confirm with the manufacturer that it will not damage your machine. 
However, if you do put powdered creamer in your tabletop frother, it should have no problem creating foam!
Can You Heat Creamer to Froth?
Heating coffee creamer is not recommended. 
But note that creamer can be heated and frothed with pretty successful results. 
Pour the desired amount of creamer into a microwave-safe container and heat it in short intervals until hot but not boiling.
The key is low heat.
Then, use the frother or whisk to vigorously aerate the warm creamer, creating tiny bubbles and transforming it into a luscious foam.
The key to achieving a perfect froth is selecting the suitable creamer for your taste preferences. 
Some varieties may yield better results than others due to fat content and additives differences.
Experimenting with different brands or choosing plant-based alternatives like oat or almond creamers can open up new possibilities for unique textures and flavors in your drinks.
For coffee enthusiasts looking to elevate their favorite coffee drink or those coffee drinkers who want to add elegance to their favorite desserts, heating creamer to froth is indeed possible. 
What Can You Froth Besides Milk?
If you're looking to elevate your drink game or simply curious about exploring new possibilities for a good froth, here are some exciting alternatives to consider in place of milk.
A  surprising alternative worth frothing is coconut milk.
Offering a rich and tropical taste, coconut milk combines beautifully with espresso or chai tea. 
The natural sweetness of this dairy-free option creates a velvety foam that perfectly complements bold flavors while adding an extra layer of indulgence to your beverage.
With its exotic twist and velvety texture, coconut-milk froths make for an Instagram-worthy treat that will transport your taste buds to paradise.
In summary, please don't limit yourself to traditional milk when indulging in frothy delights. 
What Coffee Drinks are Good With Froth?
One coffee drink that pairs exceptionally well with foam is the classic cappuccino. 
The cappuccino exhibits a harmonious balance of flavors and textures with its equal parts of espresso, steamed milk, and frothed milk. The froth adds a creamy and velvety layer to each sip, enhancing the overall experience. 
The combination of strong espresso and rich, frothy milk creates a delightful contrast that can be enjoyed throughout the day.
Another coffee drink that benefits from a generous amount of foam is the macchiato. 
This Italian beverage typically consists of a shot of espresso topped with just a dollop of foam.
However, adding more froth turns it into something extraordinary.
The milk's fluffy texture compliments the espresso's boldness, resulting in an indulgent cup that offers both intensity and sweetness in every sip.
Whether you prefer the elegance of a cappuccino or enjoy the boldness of an extra-frothy macchiato, incorporating deliciously whipped foam into your coffee drinks can take your experience to another level. 
The addition provides not only visual appeal but also contributes to enhanced flavor and texture profiles. 
Conclusion
Almost any type of coffee creamer can be used with a frother and will produce foam.
Although milk and half and half make the best foam, Coffee Mate creamer and non-dairy coffee creamers like soy, oat, and almond milk creamers also foam well due to protein and additives. 
Check the ingredients and nutrition label to know whether your favorite creamer will froth.
Does it have protein? Does it contain milk? Is there added gellan gum, guar gum, carrageenan, or sodium caseinate?
If the answer to these questions is yes, your creamer will froth!