Nowadays, you can choose from half a dozen or more different types of milk for your latte at Starbucks or other coffee shops. At the grocery store, there are dozens! But which type of milk makes the best foam when using a frother?
The best milk for use with a frother is whole dairy milk due to its high fat, sugar, and protein content. It produces rich, dense foam. Low and fat-free dairy milk also froth readily, but their foam is lighter and airier. The non-dairy milk that makes the best foam is oat milk and soy milk.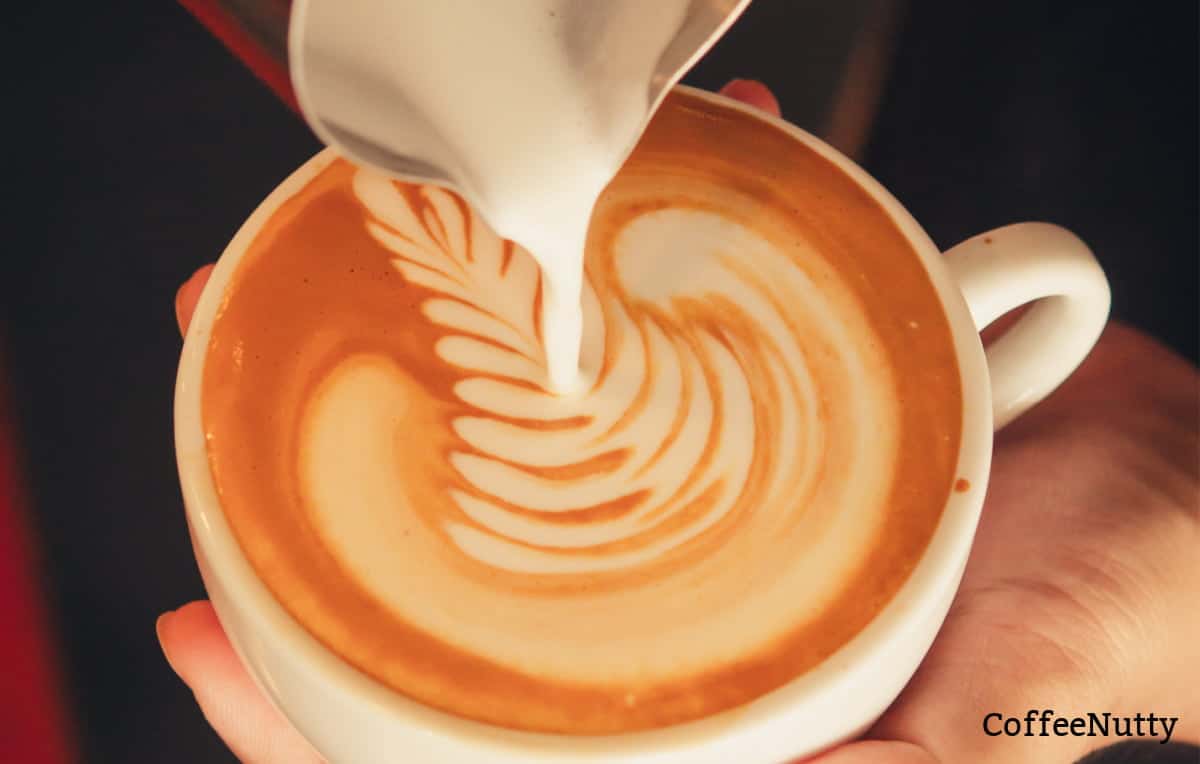 This article will detail the five best types of milk for use with a frother, including dairy, non-dairy, low-fat, and fat-free options.
It will also include pros and cons for each, depending upon their flavor and nutrient content, plus a few electric milk frother recommendations. 
Learn how to use a milk frother here.
Best Overall: Whole Dairy Milk
There's a reason lattes, cappuccinos, and other coffee drinks have been made with whole dairy cow's milk since the dawn of the coffee shop!
Whole milk's fat and protein content are ideal for producing the most decadent, dense, and creamy foam to top your favorite latte. 
A higher fat content would make it too rich and challenging to foam, while a lower fat content carries less flavor and a lighter foam. 
In addition, the mild, fatty sweetness of whole milk compliments the bold and bitter qualities of espresso, making it the best option for milk froth. 
The two balance each other superbly to create that perfect sip. 
If you start experimenting with frothing milk, you'll find the best results with whole milk.
Pros
Rich, dense foam
Creamy, sweet flavor
High protein content (8 g/0.3 oz per serving)
13 essential nutrients (higher than any non-dairy milk)
Compliments the taste of espresso better than other milks
Cons
High fat content (8 g/0.3 oz per serving)
High in saturated fat (5 g/0.18 oz per serving)
High in sugar (12 g/0.42 oz per serving)
Not suitable for the lactose intolerant
Best Low Fat: 1% Milk
Although whole milk is the star of the latte business, low-fat milk options are nothing to sneeze at, especially if you're trying to reduce fat in your diet but still want that traditional dairy flavor. 
1% milk is the best replacement for whole milk because it still has that creamy and sweet flavor, plus the foam is delightfully stable and lasting.
1% milk foams readily. It foams much more quickly than whole milk. 
Pros
It has a thick, stable, and lasting foam
Creamy, sweet flavor
It balances the flavor of espresso almost as well as whole milk
Contains 8 g (0.3 oz) of protein per serving
It contains 13 essential nutrients (much higher than non-dairy milk)
Low fat (2.5 g/0.09 oz per serving)
Cons
The foam is less dense and a bit less creamy 
High sugar content (12 g/0.42 oz per serving)
Not suitable for the lactose intolerant
Best Fat-Free: Skim Milk
Skim milk is easily the best fat-free option, as it produces loads of stable foam and retains some of the signature milk flavor.
It also has higher protein and nutritional value than dairy-free milk without fat. 
However, due to the low-fat content, it produces a stiffer, airier foam. It lacks the creaminess needed to balance the flavor of espresso like higher-fat dairy milks.
It also still has the high sugar content of whole milk.
Pros
Zero fat
Produces thick, stable, and lasting foam
Retains some of the sweet milky flavor 
Contains 8 g (0.3 oz) of protein per serving
It contains 13 essential nutrients (much higher than non-dairy milk)
Cons
The foam is stiff, less dense, and noticeably less creamy 
High sugar content (12 g/0.42 oz per serving)
Not suitable for the lactose intolerant
Best Overall Dairy Free: Oatmilk
You may be among the many lactose-intolerant individuals out here or want to reduce your dairy intake.
Non-dairy milk, including plant-based milk, can still produce a beautiful froth for your cup of coffee or beverage.
In that case, the best bet is oat milk. 
Oat milk is 100% dairy free and vegan, and it has the right sweet and creamy flavor to mimic that dairy goodness. 
However, it can have more sugar and less protein than dairy milk. Oat milk also has additives that can be bad for you. 
Pros
Dairy-free and vegan
It foams very well
Creamy, rich, and sweet flavor
It balances the flavor of espresso almost as well as milk
Cons
Foam is less dense and lasting than dairy foam
Higher sugar content (15 - 24 grams/0.53-0.85 oz per serving)
Less nutritious than dairy milk
About half as much protein as dairy milk (4 g/0.14 oz per serving)
It contains additives like oils and preservatives that can cause inflammation
Cross-contamination risk with allergens like nuts and wheat gluten
Best Dairy-Free Foam: Soy Milk
While oat milk is the best dairy-free option, soy milk is a close runner-up. 
It produces excellent foam due to its higher fat and protein content. Soy milk produces foam most closely comparable to dairy foam in texture and density. 
Again, the foam and flavor quality depends upon the brand used. Although soy milk brands all seem to froth very well, some brands taste much better than others when mixed with coffee. 
I recommend Eden Organic Soy Milk (available on Amazon.com) and Trader Joe's Organic Soy Milk (available on Amazon.com).
Pros
Dairy-free and vegan
Foams exceptionally well (it is the most like dairy milk foam)
Higher in protein than any other milk (10 g/0.35 oz per serving)
Low fat 
Evidence supports that drinking soy milk can help reduce cholesterol levels and prevent certain illnesses
Cons 
Less nutritious than dairy milk
More additives like oils and preservatives
The flavor is not the best combination with coffee
It can sometimes be cross-contaminated with allergens like nuts and wheat gluten
Other Types of Milk for Frothing
Please don't limit yourself to cow's milk for frothing milk for your favorite coffee creations.
Experimenting with different types of alternative milks and non-dairy milk like almond, oat, coconut milk, or soy can open up a whole new world of flavors and textures.
Milk Alternative for Creating Froth
When creating frothy drinks, many automatically think of using milk as the primary ingredient. 
However, several milk alternatives can be used for frothing, allowing those who are dairy-free or looking for a unique twist to enjoy this popular technique. 
Plant-based milk, such as almond milk or soy milk, has been discussed. These options provide a creamy texture and offer different flavors and nutrients that can enhance your beverage. 
Another surprising option is coconut cream, which adds a rich and velvety texture and a subtle tropical flavor to your drink.
For those seeking a more unconventional approach, egg whites can be used for frothing as well. 
This method has been utilized in classic cocktails like whiskey sours for decades, where the egg white creates a smooth and foamy consistency when shaken vigorously with other ingredients. 
Furthermore, aquafaba - the liquid from canned chickpeas - has recently gained popularity among vegan communities as an excellent substitute for obtaining whipped textures without animal products.
Its versatility allows it to be used in sweet and savory recipes while providing an airy texture miming traditional foam.
With these alternatives readily available, experimenting with different ingredients can open up a world of possibilities for creating frothy beverages.
Electric Frothers for Your Home
You may already own an electric frother, but if not (or if you're looking to upgrade), check out my recommendations for electric milk frothers below. 
These convenient and easy-to-use appliances produce high-quality froth for your coffee drinks at home.
All are available on amazon.com.
However, if you don't have a frother handy and don't want to buy one, there are easy ways to make froth at home without appliances. 
Check out my article "How to Make Cold Foam for Coffee", which includes some handy tricks! 
The Nespresso Aeroccino3 Milk Frother (available on Amazon.com) carries the highest price tag on this list, but it also produces the foam in 2 minutes for those hectic mornings when you need to be out the door quickly!

The Nespresso Aeroccino has a sleek and handsome design, and it turns off automatically. It has settings for hot and cold foam and to steam your milk. Just press the power button, and you are in business.
The Instant Pot Milk Frother (available on Amazon.com) is a more affordable option. However, it has easy, intuitive controls plus all the functions you could ask for.

These include settings for cold foam, hot foam, thick or light foam, and a basic heating function to steam your milk. 
The Zulay Original Handheld Milk Frother (available on Amazon.com) is a basic but reliable handheld option with no heat functions but will froth your milk in seconds! Handheld frothers provide ease of use.

This battery-powered model certainly is simple and one of the more affordable milk frothers. I also use this frother to mix my protein shakes!
Manual Milk Frothers
A manual frother is a game-changer for those seeking barista-quality frothed milk on a budget. 
Remember, the best milk frothers are the ones you use. So, trying a manual frother is a good option until you are certain you will use one often enough to upgrade to the more expensive electric models.
With their simple design, these devices allow you to create perfectly creamy foam without the need for expensive espresso machines or electric frothers.
Plus, they give you complete control over the whisking process, allowing you to tailor your foam's thickness and texture to suit your preferences.
The only downside is the extra effort required.
What makes manual milk frothers an excellent choice is their versatility. 
Unlike other types of frothers requiring specific types of milk or temperatures, these handheld tools can work with any milk – from whole dairy to soy or almond milk. 
The ritualistic aspect of using a manual milk frother adds an element of joy and satisfaction to your coffee-drinking routine.
As you manually pump the handle or whisk vigorously, you not only engage in physical activity but also participate in the artistry of crafting beautiful latte art.
Does Skim Milk Make the Best Cold Foam?
When making the perfect cold foam, many people wonder if skim milk is the best choice. 
Skim milk has long been praised for its low-fat content and ability to create light and airy foam. However, its lack of richness may leave the foam lacking in flavor.
One alternative that has gained popularity is using whole milk or cream instead.
The higher fat content adds a luxurious creaminess to the foam, resulting in a more decadent and velvety texture. Additionally, the fuller flavor of whole milk can enhance the taste of your cold brew or iced latte.
However, others swear by skim milk as their preferred option for cold foam.
They claim that its lighter consistency allows for a more delicate and fluffy result while still delivering a refreshing touch to their beverage without overpowering it. 
Ultimately, determining whether skim milk makes the best cold foam may come down to personal preference - some prefer the indulgence of creamy whole milk.
In contrast, others appreciate the lightness and subtlety brought by skim milk.
Does 2% or Whole Milk Froth Better?
Whole milk tends to produce an overall creamier froth than lower-fat milk.
But, the debate between using 2% or whole milk for frothing is common among coffee enthusiasts. Some swear that whole milk is the only way to achieve that perfect creamy foam, while others argue that 2% milk can produce just as good results. 
The truth lies somewhere in between.
Whole milk contains a higher fat content, allowing it to create a richer and creamier foam than its lower-fat counterpart. This means that when you froth whole milk, you'll end up with small bubbles that are denser and creamy in texture. 
However, it's important to note that the high fat content can make the foam less stable and more likely to separate quickly.
On the other hand, 2% milk may not produce as thick foam, but its lower fat content makes for a more stable microfoam. 
You can still achieve great results and a fluffy foam with 2% milk with some practice and technique adjustments.
Experimenting with different frothing methods, such as adjusting temperature or incorporating different aeration techniques, may surprise you with how well this lower-fat option performs.
Ultimately, deciding between 2% or whole milk for frothing comes down to personal preference. 
Frothed Beverages
The fascination with frothed beverages extends beyond just coffee and tea. 
From hot chocolate to chai lattes to herbal infusions like chamomile or lavender teas, there is no limit to what can be topped with that luxurious foam.
This opens up a whole realm of possibilities for experimenting with different flavors and ingredient combinations in search of that perfect frothy creation. 
So why settle for ordinary when you can add an extra flair to your drink?
Frothed beverages are here to provide us with enticing visuals and an elevated drinking experience that will keep us coming back for more.
Final Thoughts
While alternative milks may be necessary for some, it's clear that those who can drink dairy milk in their coffee should. Especially if it's a froth-centered latte or cappuccino! 
While high in fat, whole milk is also nutritious and protein-rich. It produces the most rewarding and flavorful foam, hands down. 
1% and skim milk are reliable runners-up if you're looking for low or fat-free alternatives. However, oat and soy milk are low-fat and produce great foam. 
Whatever milk you choose, rest assured you don't have to give up the pleasure of that frothy, delicious sip!
FAQs
What is the best type of milk for frothers?
The best type of milk for frothers is whole milk, as it has a higher fat content that helps create a creamy and rich foam.
Can I use non-dairy milk in a frother?
You can use non-dairy milk such as soy, almond, or oat milk in a frother. However, results may vary depending on the brand and type of non-dairy milk used.
How long does it take to froth milk in a frother?
Frothing times can vary depending on the machine and desired consistency, but typically it takes around 1-2 minutes to froth milk.
Can I heat the milk while using a frother?
Many frothers have the option to heat the milk while frothing it. This is convenient if you prefer your drink hot.
5. Does the size of the frothing pitcher affect the quality of foam?
Using a smaller-sized pitcher can help create better foam as it allows for more control and better circulation of air during the frothing process.
Can I use skim or low-fat milk in a frother?
Skim or low-fat milk can be used in a frother, but they may not produce as creamy or voluminous foam due to their lower fat content.
How do I clean my milk frother?
Most milk frothers are easy to clean by simply rinsing with water after each use and wiping with a clean, non-abrasive cloth. Some models also come with detachable parts that are dishwasher safe for convenience. Read the manufacturer's instructions for specific cleaning instructions.