As a coffee-lover, you'll want to go all the nine yards to know everything that makes the various coffee beverages stand out. They're all delicious and unique, whether cappuccino, americano, latte, mocha, or espresso! Many people, nonetheless, question the difference between latte and mocha.
The main difference between mocha and latte is that mocha is prepared with chocolate while latte is not. Mocha can be described primarily as a latte with chocolate. This is because both contain espresso and steamed milk as their main ingredients.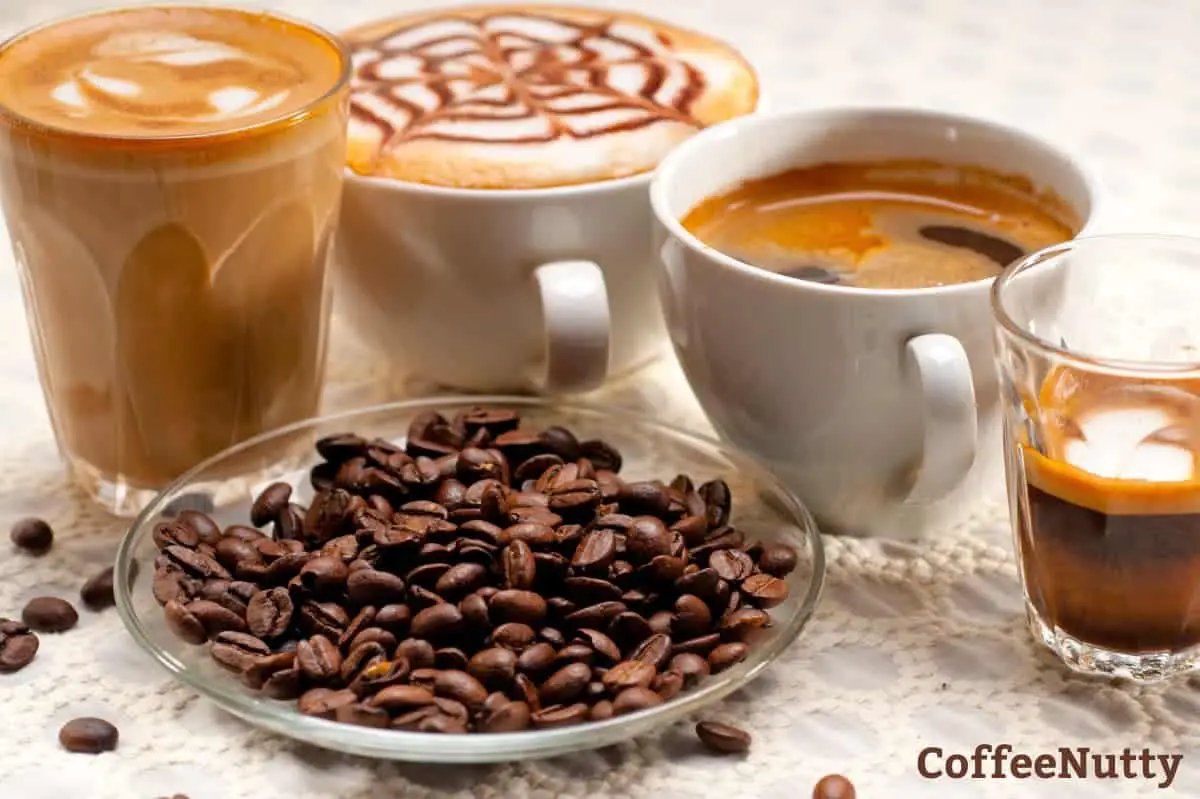 This article will look into the differences between the two; I'll go back in time to give you a brief history of these drinks, plus a recipe to prepare them at home. Here's a quick overview of mocha and latte.
Latte vs. Mocha: What Are They?
A latte is a coffee with steamed milk, whereas a mocha is a coffee with chocolate undertones. Both are exceptionally popular coffee drinks, enjoyed by coffee enthusiasts everywhere.
One of the biggest differences between the two is that a mocha has many different variations, prepared in different ways.
Mocha
Mocha, also known as caffe mocha or mocha latte, is a chocolate-flavored coffee beverage composed of three main ingredients: hot milk, chocolate, and one or two espresso shots.
Perfect if you are deciding between coffee and hot chocolate.
The chocolate used in mocha is typically cocoa powder; however, you can use a chocolate syrup as an alternative. Some varieties of mocha also contain dark or white chocolate.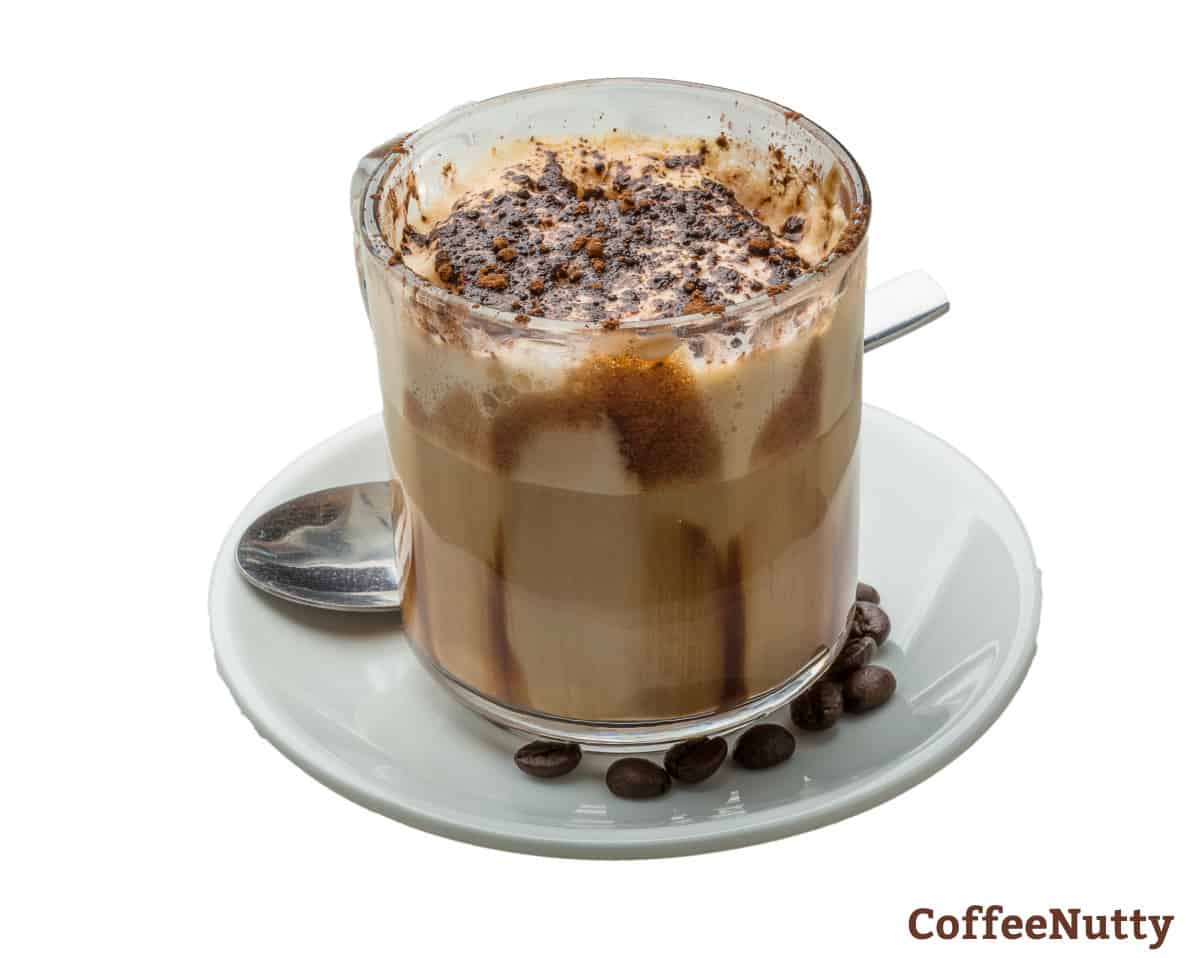 Talking of varieties, there are different forms of mocha that you can find on coffee shop menus:
Mocha coffee: this is basically mocha prepared with coffee as the base instead of espresso.
Mochaccino: Derived from cappuccino, it is steamed milk with cocoa powder or chocolate milk combined with a shot or double of espresso. It is literally cappuccino with chocolate.
White mocha: This is a caffe` mocha prepared with white chocolate in place of milk or dark chocolate.
Black-and-white mocha: uses both black and white chocolate. They are also known as marble mocha, zebra mocha, and many other names.
Adult mocha: This is mocha with a shot of liquor. Italians traditionally used sambuca, but you can use any liquor, whatever tickles your fancy.
All mocha drinks that a skilled barista can make for coffee lovers that also love the addition of chocolate.
RELATED: Is Chai Latte Coffee or Tea?
Latte
A latte is among the most popular espresso-based drinks in coffee shops and restaurants worldwide. The term "latte" is a short form of the Italian word "caffe latte," meaning coffee and milk.
This milky coffee is made of steamed milk and an espresso shot (or two shots of espresso) and topped with milk foam.
The drink is famous for its smoothness and subtle sweet taste. It is a go-to drink if you don't want anything strong since it's a milky beverage with just a hint of coffee.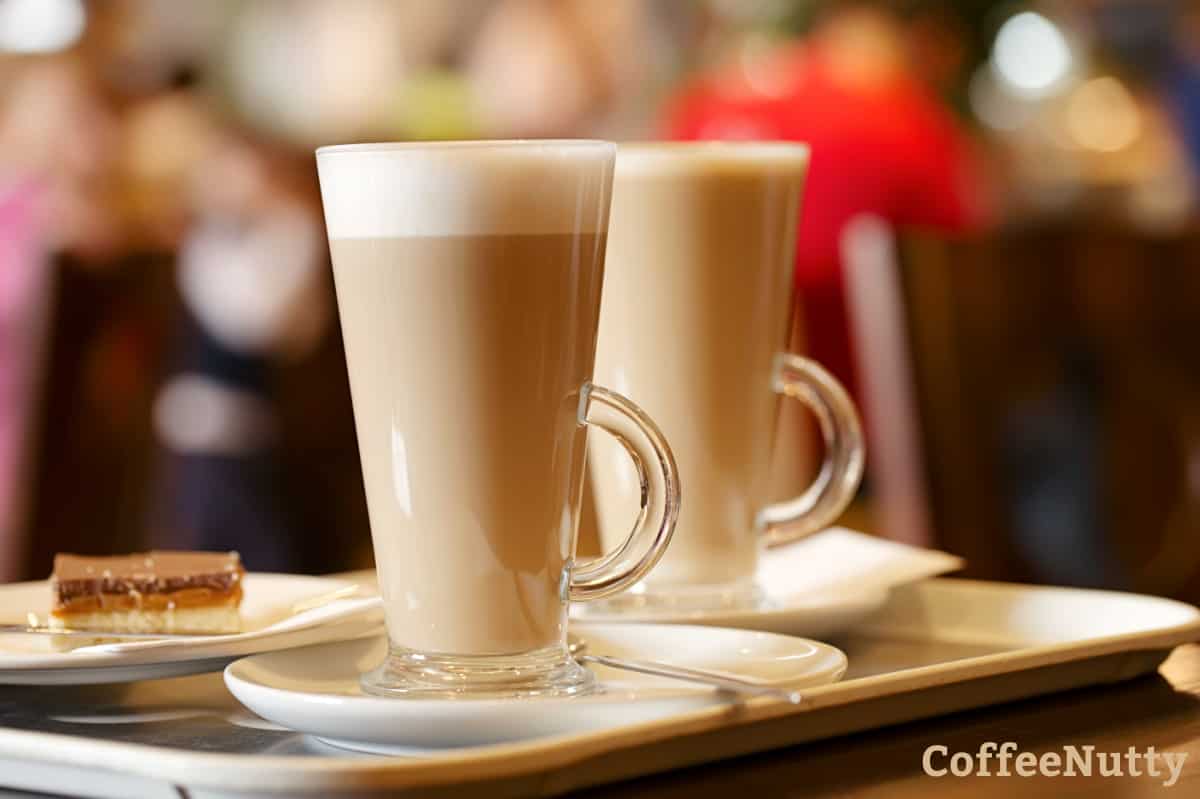 Likewise to mocha, latte has variants that can taste like very different drinks.
Some people even replace the base ingredient, coffee, with tea supplements like masala chai, matcha, mate, turmeric, rooibos, etc. If you're lactose-intolerant, you can use plant-based milk such as soy, coconut, or almond, instead of cow milk in a latte.
Latte is also famous for how baristas create epic designs on its surface using microfoam.
They methodically pour milk into a cup of espresso, forming patterns of leaves, flowers, heart shapes, emojis, and more. This practice is referred to as latte art. The coffee community even holds annual international competitions for it.
RELATED: How to Reheat a Starbucks Latte and Not Ruin It
Latte vs Mocha: Differences
Here are some of the primary differences between a latte and a mocha, from historical origins to ways of preparation.
The Legend of Caffe Mocha
The term "mocha" originates from a place in Yemen, Al Moka, a coastal city and a port along the Red sea. Al Moka was popular for coffee trading between the 15th and 18th centuries. 
The city was named "Mocha" after the Arabian coffee beans cultivated in the mountainous regions of Yemen, harvested, roasted, and shipped from the port. These mocha beans are today's Arabica coffee beans.
By now, you probably think that's where today's caffe mocha hails from. Sadly, you're mistaken.
Around the same time, the mocha beans were also famous in Italy, and it's speculated that that's where the first espresso with milk and chocolate drink was mixed. The beverage was then called Bicerin. 
Bicerin inspired the first caffe mocha we know today, which precisely arose in the United States in 1892 in a recipe.
Related: Best Moka Pot Coffee
The Legend of Caffe Latte
A drink made of a mixture of coffee and milk has been popular since the 17th century in Europe. It originated from Italy and was used throughout Europe and Britain as a home breakfast dish. 
The drink was also popular in the US around the same time. It is actually believed that Americans were the first to commercialize it about a decade after World War II. 
In the late 1700s, Kapuziner was invented by coffee houses in Austria. The beverage consisted of coffee, cream, sugar, and spices. It is the father of the classic Italian cappuccino.
Today's latte is claimed to have been first made by Caffe Mediterraneum in Berkeley, California. Yet, its popularity exploded in Seattle – the capital of coffee – during the 1980s. According to the Oxford Dictionary, the word caffè e latte made its first appearance in English in the essay "Italian Journeys," by William Howells. 
Latte is coined from Caffè latte, an Italian term. The drink is also called "café au lait" (French) and "cafe con leche" (Spanish). 
RELATED: Instant Coffee Not Dissolving- Here's What to Do
Preparing Homemade Latte
It would be best if you didn't have to wait in line in a coffee house every time you need an espresso beverage when you can easily make one in the comfort of your home. All you'll need is espresso-making equipment like a Moka pot or espresso machine for your espresso drink.
I vouch for the De'Longhi Stilosa Manual Espresso Machine on Amazon.com. It is highly rated and well priced, earning it Amazon's best choice. Consider it if you are looking to buy one.
A cup of latte contains:
4/6 of steamed milk 
⅙ of espresso 
⅙ of foamed milk 
Here's how to make a latte: 
You'll first pour the espresso into your cup as a base. 

Pour the steamed milk into the espresso until the cup is two-thirds full. This way, you'll have an adequate surface for latte art.
This YouTube video demonstrates how you can make basic latte art:
You can top your latte with different flavorings or syrups.
RELATED: How to Make Froth for Coffee Drinks
Preparing Homemade Mocha
A typical mug of mocha contains: 
⅖ of espresso (ratio of espresso is ⅖ of your cup)
⅖ of chocolate 
⅕ of steamed milk. 
Like a latte, a caffe mocha is properly created and layered.
Here's how to make a mocha: 
Brew your espresso and pour it into a cup.

Mix it with chocolate.

Add hot milk. 

You can top it with foam or your favorite whipped cream, dusting of cinnamon or cocoa powder, or any other ingredients, then enjoy.
We've already established that these drinks require steamed and/or frothed milk. You'll need a steam wand or a frothing appliance (a cheaper option) to create these popular drinks. 
Mocha vs. Latte: Which One Is Stronger?
Mocha beans are revered for their natural chocolate-like flavor. Baristas, nevertheless, tend to enhance the chocolate taste by adding a small amount of chocolate to the recipe.
A mocha drink contains less milk than a latte, making it stronger.
In fact, it's even more robust than a typical cappuccino. However, a latte generally contains more milk, making it weaker.
Latte is deemed the lightest and mildest coffee beverage due to its recipe's large amounts of milk.
Mocha vs. Latte: Which Is Sweeter?
Mocha is sweeter than a latte. Whereas latte doesn't have chocolate, mocha coffee contains chocolate in any form, be it syrup, cocoa powder, or melted bars. 
Additionally, some people add sugar and other flavors to make mocha even sweeter.
| | |
| --- | --- |
| Mocha | Latte |
| Espresso-based with milk and chocolate  | Espresso-based with milk only |
| Sweet and chocolatey | Less sweet |
| Very rich in caffeine due to the high amount of espresso | Light with caffeine due to high amount of milk |
| Topped with whipped milk or caramel or chocolate shavings | Topped with microfoam |
Latte vs. Mocha: Summary
Now that you can differentiate a mocha from a latte, go ahead and try them out at your local coffee shop next time you are craving something different than a standard black coffee.
Alternatively, you can purchase an espresso maker and learn the art of making them at home. It will save you costs in the long run.