Moka pot coffee is favored by many coffee lovers, as it gives you both the coffee and espresso fix you crave. Moka pots are especially popular in Italy. However, they're becoming increasingly popular worldwide.
The best Moka pot coffee is made by putting ground coffee into a Moka pot and heating it on a stovetop until the coffee brews. Moka pot coffee is known for its delectable taste — a robust coffee similar to espresso but not actually espresso.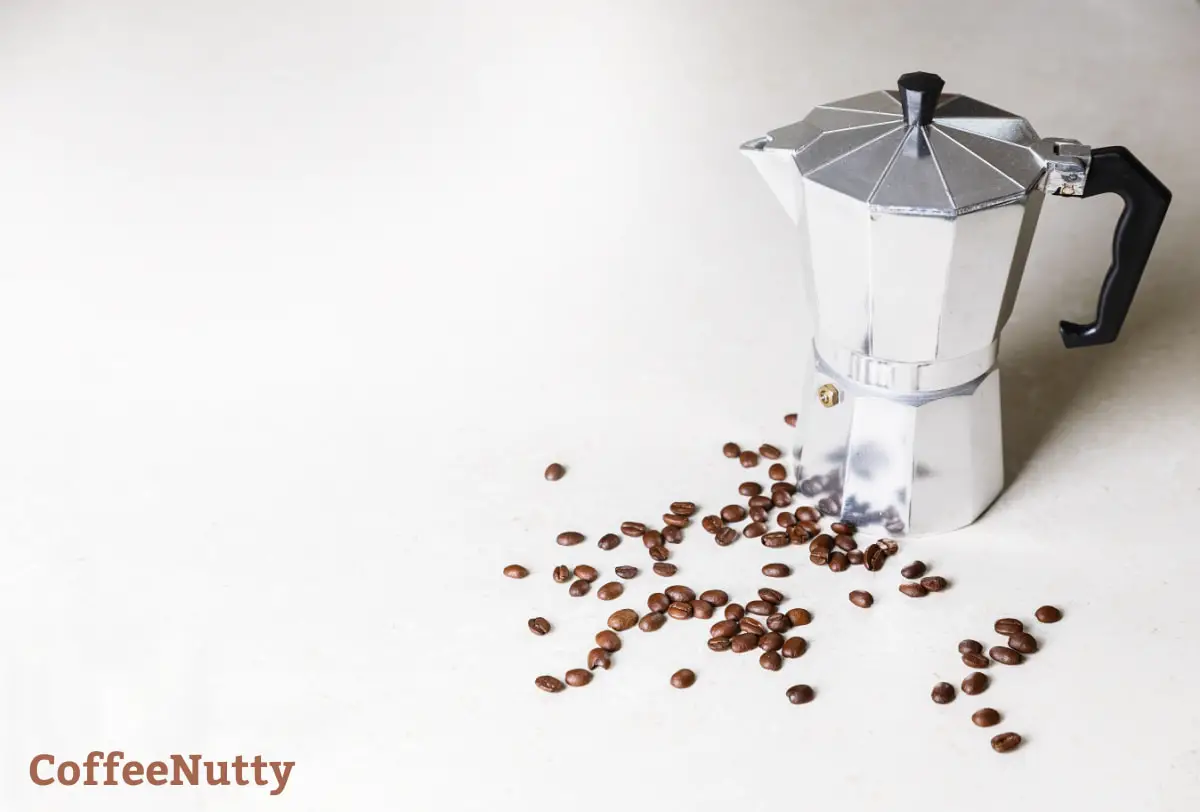 The rest of this article will discuss the best way to make Moka pot coffee and why you should use the Moka pot. Let's get started!
How To Make the Best Moka Pot Coffee
Although the process of making Moka pot coffee is usually the same, the quality of the coffee varies depending on the coffee grounds you use. If you're new to the Moka pot, knowing how to use it to make the perfect coffee is essential.
I'll list the ingredients needed and easy directions to follow below.
Ingredients
Coffee (fine grounds or whole beans)
Coffee grinder
Water (we recommend cold water, but experiment with adding boiling water into lower chamber may help reduce bitter taste)
Moka pot
Directions
Take your favorite coffee and grind the whole beans in the coffee grinder until the consistency becomes fine to medium-fine grind.
Add cold water (preferably filtered) to the bottom chamber of the Moka pot until it's level with the valve.
Fill the funnel with your ground coffee.
Place the Moka pot over medium heat on the stove.
Allow the coffee time to brew.
Remove the Moka pot from the heat when you hear a loud hissing sound. This sound is due to the pressure pushing out of the upper chamber of the pot.
Once all of the coffee is in the upper chamber, pour it into your cup.
Clean your Moka pot for the next use.
If you don't know which coffee grounds to use in your Moka pot, I recommend the Illy Classico Ground Moka Coffee from Amazon. This coffee has excellent ratings (4.7 out of 5 stars) and is relatively inexpensive.
RELATED: 11 Best Substitutes You Can Use for Coffee Filter
Why Should I Use a Moka Pot?
While coffee connoisseurs know the many benefits of the Moka pot, everyday coffee drinkers may wonder what the big deal is with this type of pot. So, why should you use a Moka pot? 
You should use a Moka pot because it gives you strong coffee that is also high-quality. If you enjoy the taste of espresso, a Moka pot will give you an espresso-like coffee with a delectable taste without all of the bells and whistles of espresso makers.
A Moka pot is also relatively easy to use, will make your coffee quickly, and is not as expensive as an espresso machine.
Moka pots can also be a great option to prepare fresh coffee on a camping trip.
Additionally, Moka pots are highly versatile. Depending on your preference, there are different types of Moka pots you can use. Two of the most common ones include stainless steel and aluminum.
Stainless Steel Moka Pot
Stainless steel Moka pots are incredibly durable. Because they're made of 100% stainless steel construction, you're guaranteed to get a Moka pot that lasts you a lifetime. I recommend the LuxHaus Stovetop Moka Pot from Amazon. This Moka Pot is entirely stainless steel, comes in three different size options and has a 100% no-rust guarantee.
Many find stainless steel pots produce a more delicious coffee than aluminum Moka pots as they doesn't taint the taste.
RELATED: Filtered vs Unfiltered Coffee- Do You Know the Difference?
Aluminum Moka Pot
Although aluminum Moka pots aren't at the same level quality-wise as stainless steel, they're still decent Moka pots. They're also an excellent option for those who don't want to break the bank, as aluminum is much cheaper than stainless steel.
My top pick for aluminium moka pots is the Primula Stovetop Moka Pot from Amazon.
This Moka pot is relatively cheap, comes in five different sizes, and is compatible with all stovetops.
This 6-cup Moka Pot (also available in 1, 3, 9, or 12 cup) has an aluminum body and heat-resistant handle which is always a good idea. The lower chamber / water chamber is filled with water then fresh coffee grounds or espresso is added to the filter basket. The top chamber will hold the brewed coffee.
RELATED: The Best Coffee Beans for Espresso
How Much Heat Does a Moka Pot Need?
Making Moka pot coffee isn't too challenging on its own. However, you still need to know the proper heat to use for the perfect brew. So, how much heat does a Moka pot need?
A Moka pot needs medium heat to start, about 204℉ (95 ℃). However, as the Moka pot begins to brew the coffee, it's best to reduce the heat by half. If you're using a gas stove, the flame must be smaller than the width of the pot for the best results.
Different stovetops require different heating methods. This means your stovetop coffee maker will be used someone differently depending on the type of stovetop you have or will be using.
While induction and electric stovetops are typically easier to use, gas stovetops are a bit more of a challenging heat source. I'll go over the various stovetops below and discuss the best way to use a Moka pot on each.
Electric Stovetops
Electric stovetops are the most commonly used stovetop. This one has a metal coil that the electrical current flows through to heat the surface. Additionally, electric stovetops offer a more centralized heat, which is a bit different from other stovetops.
When using electric stoves to make your Moka pot coffee, you should heat it like usual (on medium heat) and gradually reduce the heat as the coffee starts to brew.
Induction Stovetops
Induction stovetops are very similar to electric stovetops design-wise. However, this one uses copper coils instead of metal.
Because of this, induction stovetops heat up significantly faster than electric stovetops. Therefore, when using an induction stovetop to make your Moka pot coffee, you must be careful with the heat settings during the brewing process. 
Though you should still put the Moka pot on medium heat, be aware that this stove heats up considerably faster than the electric stove.
Gas Stovetops
Gas stovetops are very different from both electric and induction stovetops.
They're fueled by gas rather than electricity. Therefore, gas stovetops use an open flame to produce heat.
The most important thing to remember when using a gas stovetop to make your Moka pot coffee is to ensure the flame is always smaller than the width of the Moka pot.
If it's any bigger, you risk brewing the coffee too quickly, which can change the taste in a way you won't like.
Final Thoughts
Many coffee connoisseurs favor Moka pot coffee. The best Moka pot coffee is made using a Moka pot over medium heat.
Although the specific type of coffee grounds is up to you, using a dark roast will give you the most robust flavor of the espresso-like coffee. Grind your own coffee beans to ensure the best grind, exactly how you want it.
It's essential to consider the type of Moka pot you want to use and what kind of heat (gas or electric) you're using before making the coffee, as the heat speed can vary. The best choice will be finding what makes the best coffee for your needs.