Cold days call for one of two things - a cup of hot chocolate or a bowl of hot chicken soup! Though hot chocolate is the easier to make of the two, can you use a coffee maker to make it even easier?
You can make hot chocolate in a coffee maker. However, knowing that this is only possible with some coffee machines is essential. You can use an espresso machine or a drip coffee maker to make your hot chocolate. Still, note that there are specific techniques to getting it right.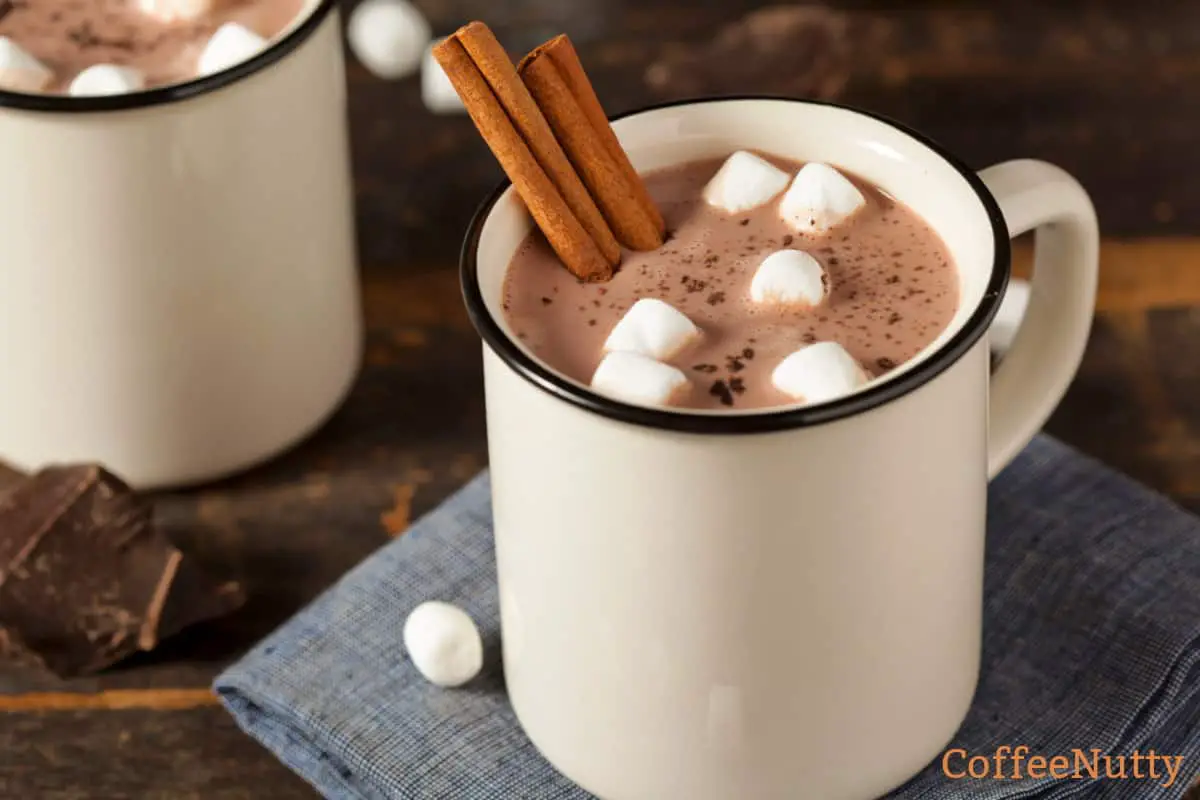 Having established that it is possible to make hot chocolate in a coffee maker, below are step-by-step instructions on the best way to go about it. 
How To Make Hot Chocolate in a Coffee Maker
We have stated earlier that you can only use some coffee makers for hot chocolate. So in this segment, we will show you how to use three types of coffee makers to make hot chocolate. 
Using a Drip Coffee Maker 
The easiest way is to make hot chocolate in a drip coffee maker. Few coffee makers, including regular coffee makers, allow the use of milk or other dairy products as it increases the risk of bacteria forming in the machine.
So this method will only allow water to be used in the hot chocolate mixture.
Just prepare the ingredients and follow the directions using your drip coffee machine / coffee pot:
Items Needed
Coffee maker 
Hot chocolate mix
Water (4 cups of water)
Directions
Fill the coffee maker water reservoir with at least 4 cups of cold water (946.35 ml).

Pour 3 to 4 packets of hot chocolate powder (depending on the amount of water used) into the coffee carafe (not the filter basket) and place it on the machine. 

Put on the coffee maker and allow it to run. 

After the hot water has dripped from the water tank into the carafe, stir the liquid properly to ensure the hot cocoa mix is well dissolved. 

Pour and serve with marshmallows if desired. 
Note: If you have a coffee urn, you can use it as a hot chocolate maker for many people.
Using a Coffee Pod Machine
This is also known as a capsule coffee machine or single-serve machine. 
Items Needed
Directions
Fill the reservoir of the pod machine with water and ensure that the hot chocolate pod you have is the right size for the device.
 
Place the hot chocolate pod in the machine's opening and start the brew cycle. 

When the brew cycle ends, your drink is ready! 
You can add coffee flavor or chocolate chips to your beverage.
You can also use a milk frother to get a rich, creamy, chocolaty brew. We will discuss the milk frother method in more detail below.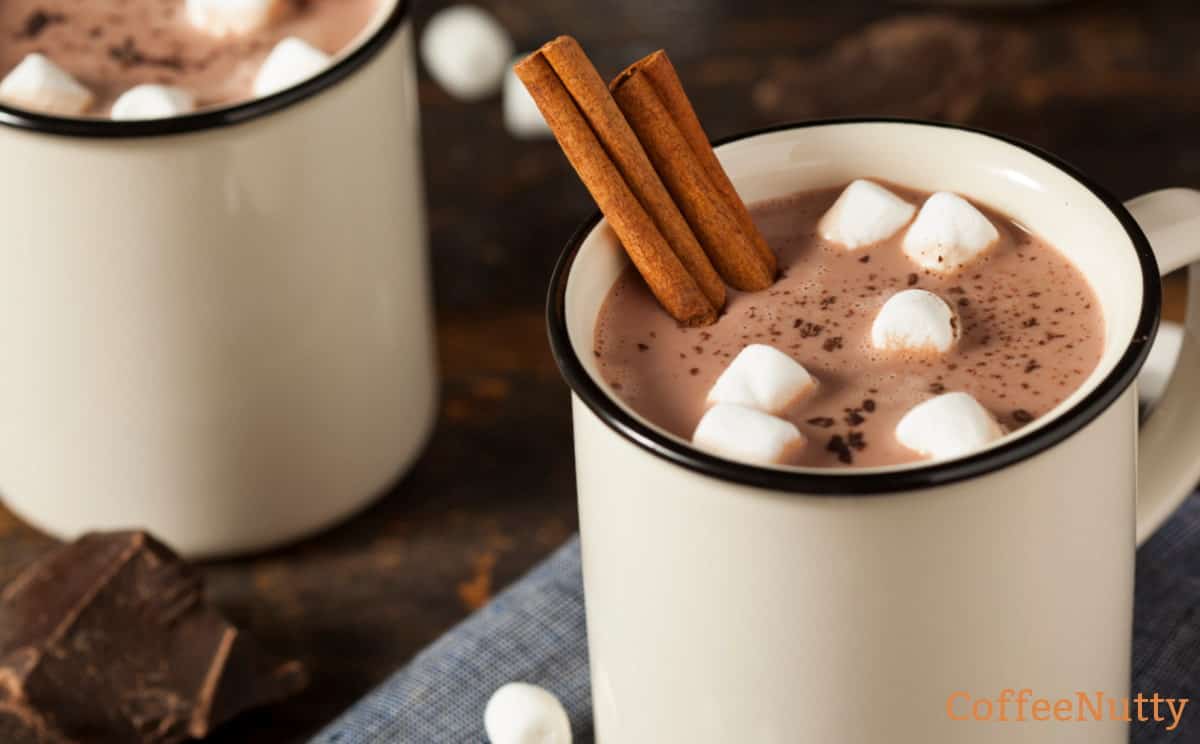 Using An Espresso Machine
Many professionals working in established coffee shops argue that there is a difference between a coffee maker and a coffee machine.
They posit that a coffee maker is a device with a jug that collects filtered coffee. On the other hand, a coffee machine contains a milk frother and can be used to make espresso. 
Since we are not addressing professionals here, we will make things easier using the term 'espresso machine.'
Items Needed
Espresso machine 
Chocolate powder
Cup 
Milk
Directions
Place two teaspoons (6.32 g) of chocolate powder in your cup (this can be more depending on the sweetness you desire). If you do not add the correct quantity, you may have a chocolate-flavored milk drink. If, on the other hand, you add too much chocolate powder, your drink might become a bitter concoction.
 
Add 2 ounces (59.15 ml) of water to the chocolate powder to melt it. Ensure that the chocolate powder is not diluted with too much water, as that would affect the drink's texture. 

Add 1 ½ cups (355 ml) of milk (in proportion to the chocolate mix) to the milk pitcher. 

Add the chocolate mix to the milk. 

Place the frothing end of the milk frother in the pitcher and press the 'froth' button. Ensure that the milk doesn't burn by moving the pitcher around. Let the frother run for 20 seconds, and your hot chocolate drink is ready! 

Remember to clean your milk frother immediately so the chocolate and milk residue does not stick. 
Traditional Way of Making Hot Chocolate
We have shared some of the easiest ways to make hot chocolate at home. But what happens if your coffee maker breaks down? Do you have to go to the coffee shop to get your favorite hot drink? Absolutely not! 
The best part about this method is no equipment is needed other than a stove and large saucepan. This is good news for most people.
Here are some simple steps to making hot chocolate the traditional way:
Items Needed
Whole Milk /cream
Sugar (you can use white or brown sugar or even honey)
Unsweetened cocoa powder 
Vanilla (extract or paste); you can also use any other flavor you like ( try peppermint)
Marshmallows (mini size is best)
Semi-sweet chocolate chips
Chocolate shavings
Directions
Put some water in a saucepan and let it boil. 

Whisk in your cocoa powder and sugar to taste.

Turn down the heat and add milk (whisking as you add). Keep whisking the milk as it gets heated to avoid burning. Do not allow the hot milk to boil over. 

Add chocolate chips. Keep whisking until they melt and you get a smooth consistency. 

Turn off the heat and add the vanilla extract. 
The trick here is to keep stirring on a low boil and not allow the liquid to boil over. Ensure that the cocoa powder and sugar are well incorporated before adding milk.
This will ensure the milk does not stay too long on the fire.
If you are considering buying a coffee maker, it will make economic sense to look out for versatile brands. With such, you can get your hot cup of coffee and delicious cups of hot chocolate!
Conclusion
So whether you have a coffee machine or not, you can always enjoy your hot chocolate drink whenever you want.
And if you have been buying your hot chocolate and specialty coffees from a coffee shop while you have a coffee maker at home, you are short-changing yourself. We have shown you four methods of making this delicious drink- hot chocolate. 
So, pull out that coffee maker to use with coffee grounds for your early morning cup of coffee and your delicious hot chocolate on those cold days.