You've made yourself a delicious iced coffee, or maybe you bought one from your favorite coffee shop. You have a few sips and decide to save some for later, but you don't want to leave it at room temperature. You put it in the fridge and forget all about it. But how long is it safe to drink?
Iced coffee lasts about 3-7 days in the fridge if it's in an airtight container with no milk. However, any coffee stored in the fridge will lose potency and taste more bitter the longer it is kept. With milk added, iced coffee lasts only 24-48 hours in the refrigerator.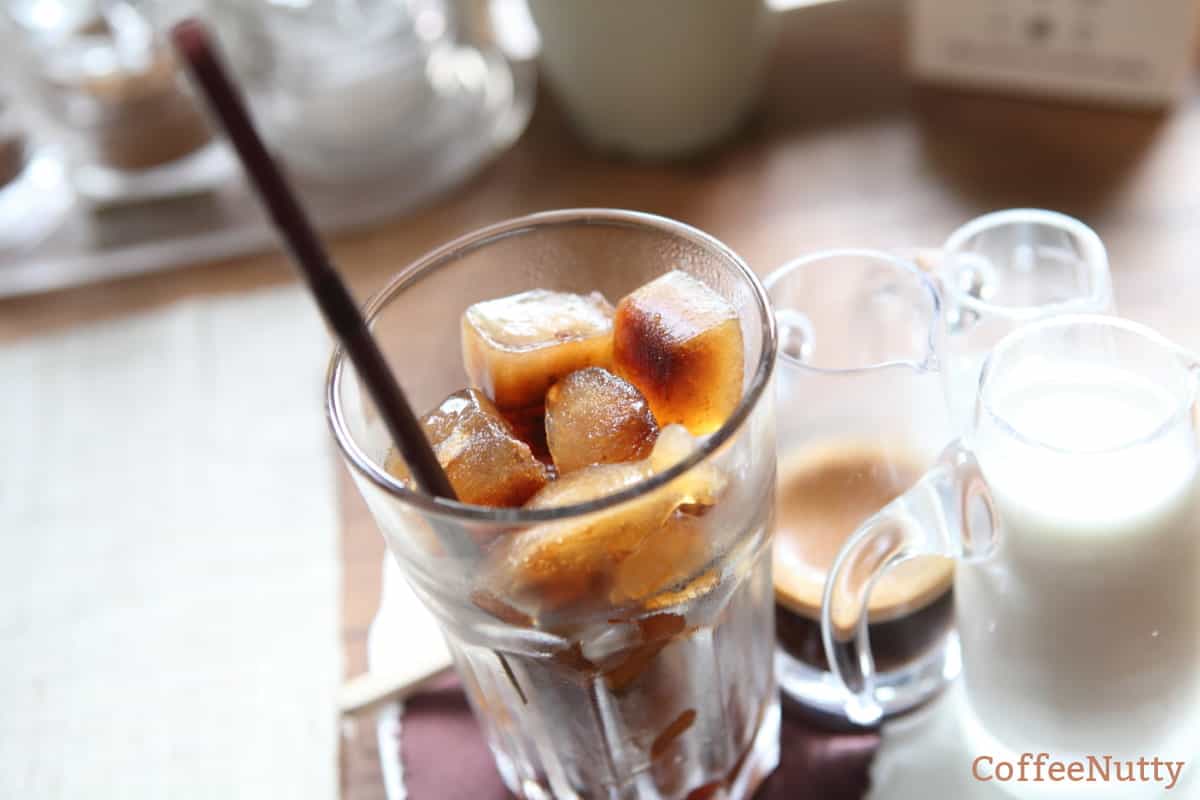 This article will explore the above topic in detail. I will also offer tips on how to make iced coffee last longer in the fridge.
Tips To Make Iced Coffee Last Longer in the Fridge
You're a busy person, and sometimes mornings are a rush.
Having your iced coffee already made can help you start your day off right. But you also want that coffee to keep properly and taste good!
Here are some tips on making your iced coffee last as long as possible in the fridge. 
Use an Airtight Container
The best way to help your leftover coffee last a long time is by storing the coffee in an airtight container.
Keep your refrigerated coffee in an airtight container with as little extra air as possible. This will slow spoiling and prevent your coffee from absorbing smells and flavors from the foods in your fridge. 
It will also help keep the coffee's flavor good for longer.
Try something like the Hiware 50 Oz Glass Drip-free Carafe from Amazon.com.
It is made from tempered glass, so you can pour hot-brewed coffee directly inside without fear of it cracking from the heat of hot water. It also has an airtight lid that does not need to be removed for pouring. 
If you don't want to purchase a carafe, put your coffee in a mason jar or recycled pasta sauce jar, as these will seal airtight well.
You can even buy special lids for your mason jars that make them perfect travel mugs! For example, the Mason Jar Lids with Straw Hole set from Amazon has lids, silicone stoppers, straws, and straw cleaner brushes. 
If you want to explore the best containers for keeping your coffee grounds fresh before you brew, check out my other article, The 13 Best Coffee Containers - 2023. 
Wait to Add Creamer
Add creamer or milk to black coffee once you are ready to drink your iced coffee. 
Milk products spoil quickly. 
Any cup of coffee with milk or creamer will keep for a maximum of 48 hours in the fridge. This is true regardless of the container, although airtight is still the best choice. 
However, perhaps you want to pre-mix your coffee and creamer the night before so you can 'grab and go' in the morning. In that case, you should be fine. Just remember, if you forget and leave the pre-mixed coffee for longer than a day, it's always a good idea to do a smell check before drinking it to be sure it hasn't spoiled. 
When in doubt, throw it out. Better safe than sorry! 
Even coffee enthusiasts don't want to risk getting ill. Plus, the best taste is essential for coffee lovers.
Make Cold Brew 
Making cold brew may take quite a bit longer than regular hot-brewed coffees and espresso, but it keeps for longer in the fridge, too!
Since it was never exposed to heat, the coffee's decomposition process is slowed, and the flavor is preserved for longer. 
Cold brew refrigerated in an airtight container can last up to 2 weeks. However, the coffee loses potency after a couple of weeks, and the flavor becomes more bitter the longer it is kept. 
I recommend storing cold brew in the fridge for at most seven days for the best quality. Drinking cold brew within the first week can help you avoid stale coffee.
If you need a cold brew pitcher, try the Takeya Patented Deluxe Cold Brew Coffee Maker from Amazon.com.
It has an airtight lid, silicone handle grip, and fine mesh coffee filter built in. With something like this, you can make up to four servings of cold brew at a time and have them handy for your morning iced coffee!
If you need a cold brew pitcher handy and want to avoid buying one, you can also make your cold brew using a French press.
Use 2 cups of coarsely ground coffee to 3 cups of water. Put it in your French press and let it brew in the fridge or counter for 12 hours. When your 12 hours are up, press. Voila - fresh cold brew!
Do you want to know the best coffee beans to make cold brew at home? Check out my article The Best Coffee Beans for Cold Brew.
Use Cold Brew Concentrate
If you care more about convenience and longevity, buy cold brew concentrate from the grocery store. This option lasts the longest.
It will keep in the fridge for as long as two weeks, depending on its expiration date and preservative content. 
Although it won't have the freshness of home-brewed coffee, its potency can be conveniently adjusted according to your tastes.
However, please only add water or creamer once you're ready to drink it, as this will considerably shorten its shelf-life in the fridge. 
You can also order something like Starbucks Cold Brew Concentrate from Amazon.com. 
Freeze Your Coffee
Brew your coffee as usual.
The brewing process can be regular drip coffee or cold brewed coffee. Use it to fill an ice tray. Let the cubes freeze in the ice cube tray, and then put them into a freezer storage bag or another airtight container.
They will keep for two weeks. 
This isn't the best choice if you want iced coffee unless you're willing to use fresh cold brew to top off your cubes. However, you can also defrost the cubes or melt them partially in the microwave, then add creamer for a slushy treat. 
Using coffee ice cubes is also a great way to avoid the annoying watered-down effect regular ice cubes have on your coffee!
This can be a fun cold drink on a hot summer day. 
How Long Does Iced Coffee From a Cafe Last in the Fridge?
Say you bought a Starbucks iced coffee or an iced coffee from Dunkin Donuts. You want to save it for tomorrow morning. Will it keep in the fridge? 
The short answer is it depends. 
Does it have milk or creamer in it? If so, your coffee shop iced coffee should keep in the fridge for 12 hours. If you bought it late enough, you can safely leave it in the fridge overnight and drink it in the morning. 
However, it won't taste terrific. The ice will melt, and the coffee will lose flavor and potency. What you'll have is a weak and watery glass of disappointment. 
For the best flavor, it's much better to brew your coffee at home the night before and keep it in the fridge til morning. 
How Long Does Bottled Iced Coffee Last in the Fridge?
Bottled iced coffee, as you might buy from the convenience or grocery store, typically comes in bottles or cans. Each has its expiration date. 
The product should, of course, be consumed before that date. However, expiration dates are based on when the coffee was made, not when you opened it. 
Once opened, the rules for keeping bottled iced coffee in the fridge are essentially the same as any other type of coffee.
If it has dairy products, it will keep for a maximum of 12 hours in the refrigerator after opening. However, you should always check that it's not spoiled before drinking it if it's been in the fridge for more than 8 hours. 
If it does not have milk products, it will keep in the fridge for 3-7 days in an airtight container after you've opened it. The flavor may still deteriorate, though. 
This may vary from product to product due to the addition of preservatives. 
Sometimes there may be instructions on the bottle for how quickly to drink after opening, but usually, there aren't. Since there is no way to know precisely how long the iced coffee will keep once opened, it's best to follow these guidelines. 
Conclusion
Iced coffee will keep in the fridge for 12 hours to a week, depending on its contents, how it's made, and what kind of container you keep it in. 
Iced coffee with milk or creamer is only good in the fridge for 12 hours. Black home-brewed coffee in an airtight container will last 3-5 days in the fridge. Cold brew will last around a week. Cold brew concentrate and frozen coffee will keep for 2 weeks. 
However, even if the coffee doesn't go bad in any of these examples, it will lose potency and become more bitter the older it is. 
The good news is you have options! Whether you prefer a cup of hot coffee or cold coffee drinks, there is no reason to compromise the flavor of the coffee.