When it comes to coffee preparation, having some already ground can be convenient. However, how long can your coffee grounds last once you open the bag?
A bag of coffee grounds that has been opened can last anywhere from two weeks to 5 months. It all depends on how it is stored and the room temperature. If stored in a freezer after you open it, it can last up to 5 months. But if left on the shelf, it should be consumed within two weeks.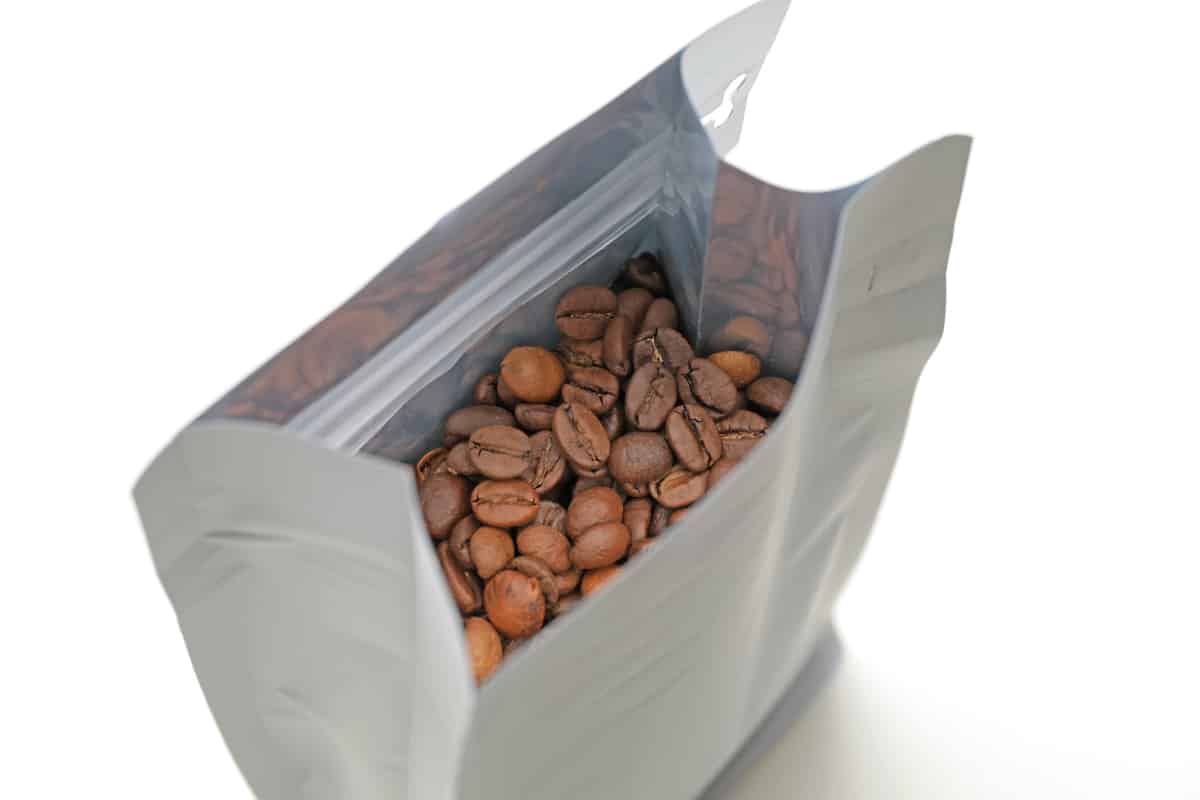 In this article, we will look at this topic in detail to provide tips that will help you keep your opened bag of coffee grounds good for extended periods. Let's get into it.
Tips for Keeping Opened Coffee Grounds Fresh
Many coffee lovers argue that the best way to enjoy coffee is to grind your whole beans whenever you want to brew a cup of coffee.
However, we all know this is only a feasible practice for some coffee drinkers. Therefore, this necessitates using packaged ground coffee or instant coffee. 
Still, one recurring issue with ground coffee for coffee lovers is the issue of freshness.
Some complain that the coffee doesn't taste as good after coffee bags have been opened for a few days or weeks, usually before the expiration date. 
Generally, this is because the grounds have been exposed to oxygen, leading to oxidation. The level of exposure determines how fast this oxidation process will occur.
This will, in turn, determine how long it will take the grounds to go stale. 
This brings us to the issue of storage methods for coffee grounds and whole coffee beans once you open the bag.
The following are some helpful tips on proper storage of ground coffee:
Place in an Airtight Container and Store in a Cool, Dry Place
Most often, your ground coffee will come in re-sealable paper bags.
However, this may not stop air from getting inside, causing stale coffee. This could happen if the bag is not opened correctly in the first instance or if it is not properly sealed after use.
So to be sure that no air gets into your coffee grounds, it is a good idea to seal the bag as tightly as possible and then place it in a vacuum-sealed container.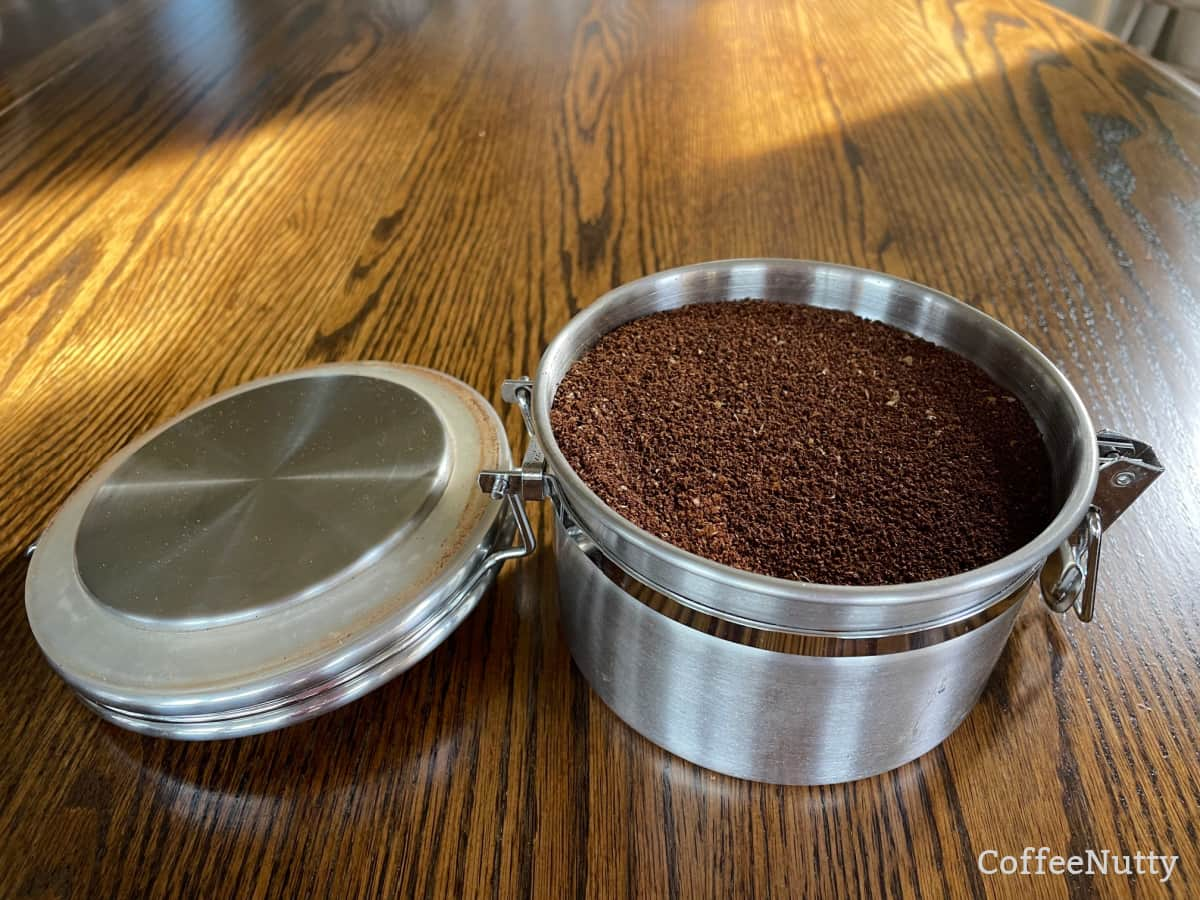 Also, ensure that you place the container in a cool, dry, dark place. These storage conditions will keep out moisture or the effects of humidity. 
Keep Away From Sunlight or Artificial Light 
For fresh flavor and fresh beans, ensure that the storage place is away from both natural (direct sunlight) and artificial light.
Additionally, use stainless steel or an opaque container instead of clear canisters. This further keeps away light of any kind.
The pantry is usually the place that fits this description in most homes. 
Store in the Freezer
If you have a large quantity of pre-ground coffee, your best bet may be to store it in the freezer.
Place the coffee grounds in a vacuum-sealed bag and then put the bag in a ziplock bag. This way, you are sure that the coffee will not imbibe the taste and odor of the other items in the freezer.
Stored in this manner, the coffee grounds will remain fresh for as long as two years. 
Buy in Small Quantities
In addition to the above tips on storage, you will need to consider how you buy your coffee grounds.
You see, buying coffee grounds in smaller batches is the best thing to do. When buying small amounts at a time, you will be okay with the shelf life of coffee beans and grounds or long-term storage.
Other Types of Coffee Grounds That Last Long 
Below are other types of coffee grounds that last considerably longer.
Instant Coffee
Instant coffee will last longer than all other coffee grounds.
Most instant coffee products have an expiration date of between a year and one and a half years. However, some have been known to last for as long as 20 years. 
This is because they usually come packaged in packets or containers with an aluminum layer. This layer stops heat and moisture from getting into the contents of the package/container, preventing mold growth. 
Coffee Pods
These are coffee packets used in single-serve coffee makers.
They usually last long after their expiration dates. Most coffee pods come with what is known as a "best by" or "best before" date. This means the product retains its quality if consumed before or by the date stated.
However, the product remains edible after that date though it may have a different quality. 
Many people attest that coffee pods can still taste great after the date stated by the manufacturer. All you need to do is keep the packets away from light, heat, and moisture. 
Ensuring the seal on the coffee pod remains unbroken is another way of ensuring the contents remain edible beyond the "best by" date.
If you notice a broken seal, do not use the coffee grounds because there is a high probability of deteriorated quality. 
Tips for Brewing Perfect Coffee at Home
From what we have discussed, pre-ground coffee offers a lot of convenience for the user.
However, avid coffee lovers swear that a perfect cup of coffee precludes pre-ground coffee beans. But short of going to a coffee shop every morning to get a cup from a professional barista, you may wonder how this is possible. 
In this last segment, we will drop some tips on the preliminaries of getting a perfect cup of coffee at home.  
Ensure You Buy Freshly Roasted Whole Bean Coffee 
Coffee usually tastes best a few days after roasting and needs to be consumed by a month after.
Many coffee sellers do not put the roast date on their coffee bean packaging as the product might stay in grocery stores for a long time before being sold.
To overcome this hurdle, you would look for local shops that sell freshly roasted beans. These merchants produce coffee grounds in smaller amounts which ensures the freshness of each batch. 
Ensure You Store the Beans Properly
We have discussed some practical ways to store the coffee grounds above.
These tips will come in handy when it comes to your grounds. However, we highly recommend using a vacuum-sealed container for the beans, especially those with a one-way valve.
If this is not available, you can use a regular Mason jar. 
Grind the Beans When You Need To Brew Your Drink
The flavor profile of coffee grounds begins to reduce 30 minutes after the beans are ground.
So it is best to grind your own beans when you are ready to brew a fresh cup. Therefore, depending on your preference, you need a good coffee grinder, whether automatic or manual. 
Ensure You Have the Right Grind Size
Take note of the kind of brew you want and the texture of the coffee grounds required to achieve it.
If the grounds are too coarse, your brew will be weak. On the other hand, if they are too fine, the coffee will be too strong and, of course, bitter. Whatever you do, ensure you get the right consistency /texture. 
These are the preliminaries of getting a perfect cup of coffee. For full details, this article from the National Coffee Association is your best bet. 
Conclusion 
We have tackled how long an opened bag of coffee grounds can last. We have also given you some bonus tips on how to brew great coffee at home and store coffee beans. 
Note that the longevity of your coffee grounds depends solely on how well you store them, and we have given you valuable tips on this too. 
We hope that the information we have provided will enable you to enjoy the great benefits of fresh coffee.