Cold brew coffee has become popular these last few years because it is convenient to make right at home. When the brew cycle is finished, some prefer to leave their cold brew coffee out on the counter, while others like to keep it cold.  
Cold-brew coffee should be stored in the refrigerator. Deciding to store your cold brew coffee in the refrigerator will help extend the flavor for several days. It can be stored out at room temperature but will lose some of its kick faster and will not last much longer than 24 hours.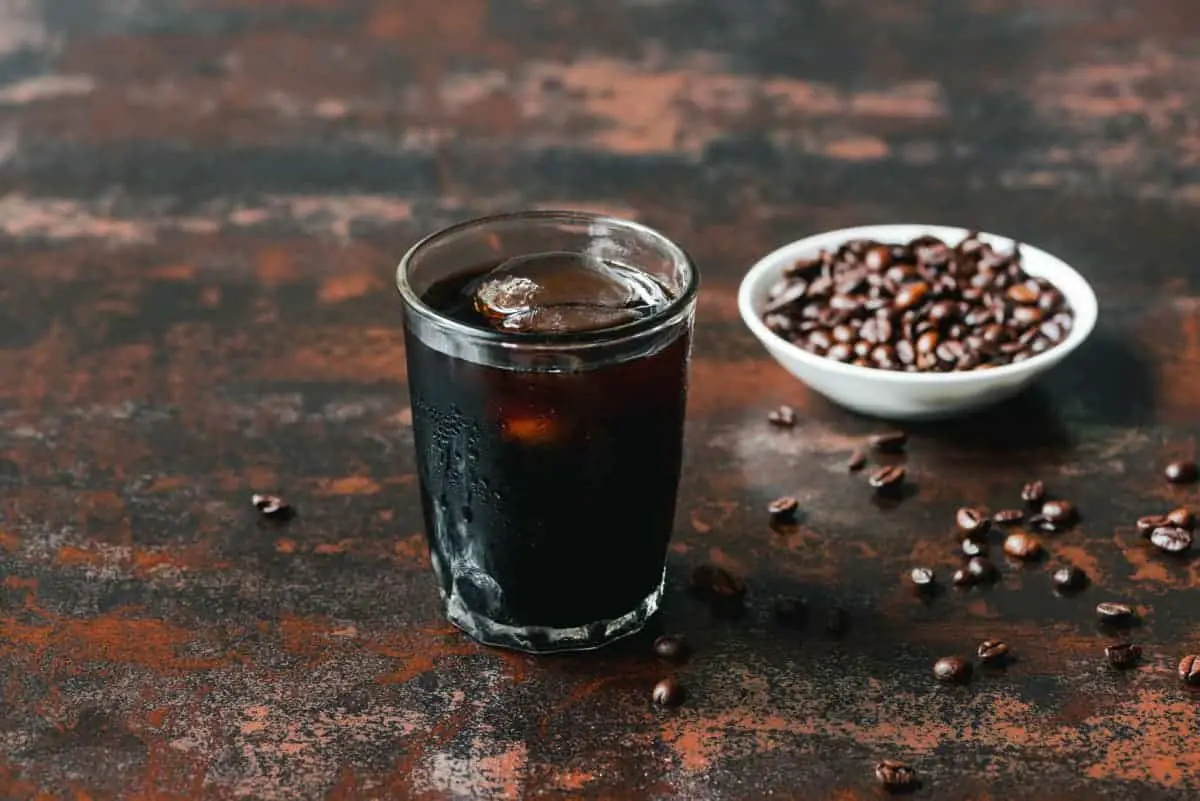 Many enthusiasts will refrigerate their cold brew as soon as they've finished making a batch. They choose to do so because they notice that the flavor is more intact than storing it out on the counter. However, this coffee has a short life span and will always taste the best right away. Read on to find out exactly why you should keep the cold brew in the fridge. 
As an Amazon associate, I earn from qualifying purchases.
Should Cold Brew Coffee be Refrigerated?
Coordinating the end of the brew cycle with your schedule is no easy task. Although the brewing process is straightforward, it is far from quick. To extract the full flavor and caffeine from the coffee, expect that it could take up to 12-18 hours.  
Sometimes it can take even longer than that, so instead of throwing the batch down the drain anytime you have extra, the next best option is to store what you have left. By keeping it at room temperature, the flavor and caffeine level will only hold up to 24 hours. However, keeping it cold extends it much longer than that.
Keeping it cold and storing it properly can extend the coffee up to 10-14 days. A good rule of thumb is to keep it only a week because the coffee will deteriorate if kept longer than that. Unfortunately, just like other coffee beverages, it will become bitter and not very enjoyable to drink.
If you like your cold brew coffee with cream, sugar, or any other flavorings, add these when you are ready to drink it. Keeping the batch just as is, after the brew cycle, will also help maintain the full flavor during the time it is kept in the fridge. 
If you are unsure if your stored cold brew is still good, it will be hard to tell just by smelling it. If it has been stored for less than two weeks and you are hesitant, give it a taste.
Tasting it will not get you violently ill like drinking spoiled milk but might upset your stomach a little. It will not taste as delicious as it should be. If it tastes a little more acidic, you confirmed what you already knew.    
If you have been storing your coffee longer than two weeks, even in the refrigerator, do not even waste your time and risk drinking it. Get rid of the batch and work on getting your next one started.
The Proper Way to Store Cold Brew
You have a fresh batch of cold brew coffee but have no other option other than storing what you have leftover. Keeping it cold could help it last up to 14 days, but you need to make sure it is stored properly to help extend the life of the coffee. Here are some tips that will help maintain its flavor during those crucial seven days.
Avoid Plastic Containers
Stay away from using plastic. Although convenient and readily available, a plastic container such as Tupperware is not the best choice. Plastic is great for storing leftovers, but if you have used that same container to store something else, that flavor and odor will be absorbed by the coffee.  
Trust me, tasting leftovers in your batch is not going to taste good. Even though your plastic container is covered, it is not airtight, and over time, air will seep in and affect the taste. You want to be able to extend the shelf life, but air will only shorten it.   
If you have no other options and must store it in plastic, then use that container for coffee only. Dedicating that container to store only coffee will help prevent any previous flavors from being absorbed.
A stainless steel container is another option. A stainless steel container will not absorb flavors, but the metal could leech back into the coffee. This will surely affect the flavor and taste and potentially affect your overall health.   
Glass is going to be the best option to store what you have leftover. As you consider options, a glass container with an airtight lid is the recommended choice. A glass pitcher will work, but most come without a cover.  
Use a Lid or Cover
Leaving it uncovered or covered with plastic wrap, there is still a chance that the coffee will absorb whatever odors are in your refrigerator.
 If you can, try to use smaller glass containers because they work the best. Using a smaller container reduces the amount of air trapped under the lid, which can be difficult to eliminate by using one larger jar. Choosing smaller glass containers makes it a little easier to keep it refrigerated when space can be limited or hard to come by. 
How Can I Extend the Life of the Stored Cold Brew Coffee?
It is expected that there will be times when your cold brew batch is approaching the 10-14 day window, and you know there is no chance you will be able to finish it in time.   
There is the obvious choice to dump it down the drain and waste your effort and money. Even though making cold brew coffee is fairly inexpensive, dumping it may not feel right.  
Here is a couple of option of what else can you do when time is running out. 
Heat it: Cold brew coffee is smooth and delicious all by itself but heat it and drink it like a regular cup of brewed coffee tastes just as good.
Freeze it:  Yes, freeze what you have and store it in a plastic freezer-proof bag. When you are ready for it, defrost it in warm water, and you are good to go. Another frozen option is to pour it into an ice cube tray as an alternative instead of regular ice cubes. This option is a great way to prevent your iced coffee drink from becoming too watered down using regular ice cubes.
Use with another beverage: Take what you have leftover and add it to your morning smoothie or combine it with hot chocolate to create a hot mocha chocolate. Use it with spirits to create a specialty cocktail. This jolt of caffeine can do wonders after a long work week.
Eat it: Combine it with your homemade chili or experiment and use it as a marinade for red meat or to create a salad dressing. Take some of what you have, pour it over ice cream, or create your version of an adult milkshake. There are countless dessert recipes where you can add coffee to enhance cookies, brownies, or even cheesecake or revamp your family recipe and kick it up a notch. 
Feed your plants and garden: It is common for many gardeners to use coffee grounds in the soil because it helps keep those annoying bugs away. But old coffee, as long as it has not turned rancid and grown mold, added to the soil helps it become more acidic. That, in turn, acts as a natural fertilizer that helps enhance growth.
Final Thoughts
Cold brew is much better when it's enjoyed… cold! Keeping your cold brew in the fridge is the best way to preserve its flavor and keep it fresh. Just be careful with the containers you use, and be sure to cover your cold brew to prevent it from absorbing other flavors.
RELATED POSTS: