A visit to Starbucks may be something others need to stay awake, but you don't always have to make the trip to get the sweet you crave. You can make your own Starbucks classic syrup right at home using a copycat recipe.
You can make a homemade Starbucks classic syrup using sugar and water only. You only have to heat and dissolve the sugar in water until it becomes a syrup. The finished product can be used for a homemade iced coffee, hot chocolate, vanilla latte, pumpkin spice latte, and other favorite drinks.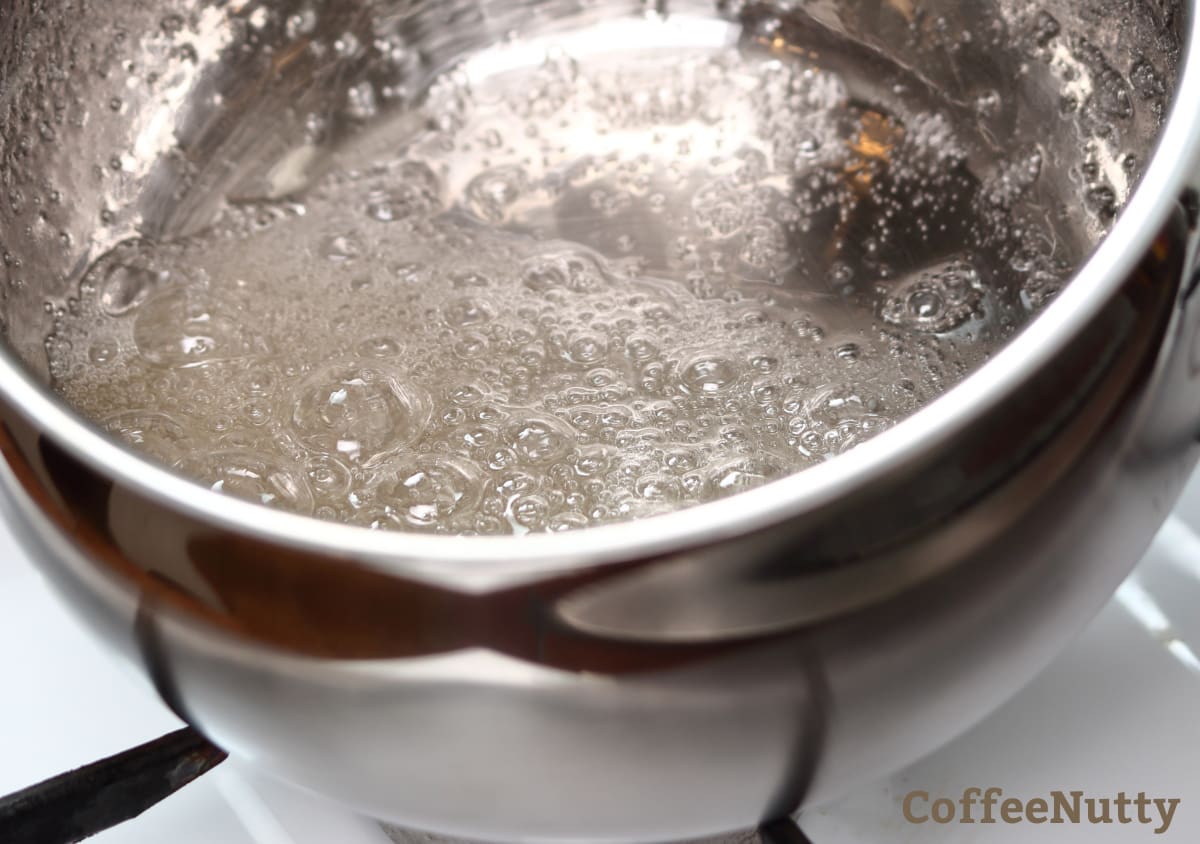 I will be sharing a copycat Starbucks classic syrup recipe that is so easy to make that you'll often make it in your own kitchen. Keep reading this article to find it.
What Is a Classic Syrup?
You may be more familiar with many other Starbucks syrups, like caramel syrup, brown sugar syrup, hazelnut syrup, and cinnamon dolce syrup.
What makes the classic syrup different from them?
The classic syrup is Starbucks' version of a simple syrup recipe. It's made by dissolving sugar in water using heat, and is often used for iced coffees and teas. It is one of the company's unflavored liquid sweeteners, along with the cane sugar syrup.  
The classic syrup is basically liquid sugar. Compared to the cane sugar syrup, it appears less dark and has less molasses flavor. It does not need additives like vanilla extract or citric acid because it's not meant to provide other flavors. 
How To Make a Homemade Classic Syrup Recipe – Starbucks Copycat
Now, I'll share the Starbucks copycat recipe of the classic syrup.
This is the best way to make a liquid sweetener without going to Starbucks and spending a lot for a coffee syrup. 
Unlike a simple syrup, the classic syrup is much sweeter. The latter is formulated through a specific ratio (1.5:1) of white sugar to water.
For comparison purposes, the ratio for simple syrup is just 1 part white sugar to 1 part water. 
One of the best parts of this recipe is that the syrup can be kept in the refrigerator for a few weeks.
You can also make more than the recipe, so you don't have to make it too often. The most important thing is to follow the ratio to preserve the sweetness. 
Related: How to Make Coffee Milk Tea
Main Ingredients (Yields 16 Tablespoons Classic Syrup)
½ cup water
¾ cup white sugar (alternative: cane sugar)  
Directions
Prepare your equipment and ingredients. You will need water, white sugar, a pan, a stove, a funnel, and a bottle for storage. 
Pour the water and add the sugar into the pan. Stir. 
Simmer the mixture using low to medium heat. Keep stirring, so the sugar does not stick to the pan. 
Keep stirring for two to three minutes or until a syrup is formed. You may allow the mixture to boil for a thicker syrup but keep stirring, so it does not burn and stick.
Turn off the heat. Then, allow the syrup to cool.
Once cool, transfer into a bottle using a funnel. Refrigerate.
The classic syrup is excellent for making cold drinks. Science tells us that it's harder to dissolve solid sugar in cold temperatures because heat is needed for better dissolution of the particles.
By using a liquid sweetener, you won't have to worry about sugar concentrate settling at the bottom of your drink. 
RELATED: Easy Caramel Latte Recipe- Starbucks Copycat
Iced Coffee Bonus Recipe
You can use the classic syrup to make iced coffee, cold brew, caramel macchiato, shaken iced teas, espresso drinks, etc. You can even add it to your cocktail drinks!
It can also be used to make foam for your drinks.
Main Ingredients 
1 ice brewed coffee
2 tablespoon homemade classic syrup
1 cup ice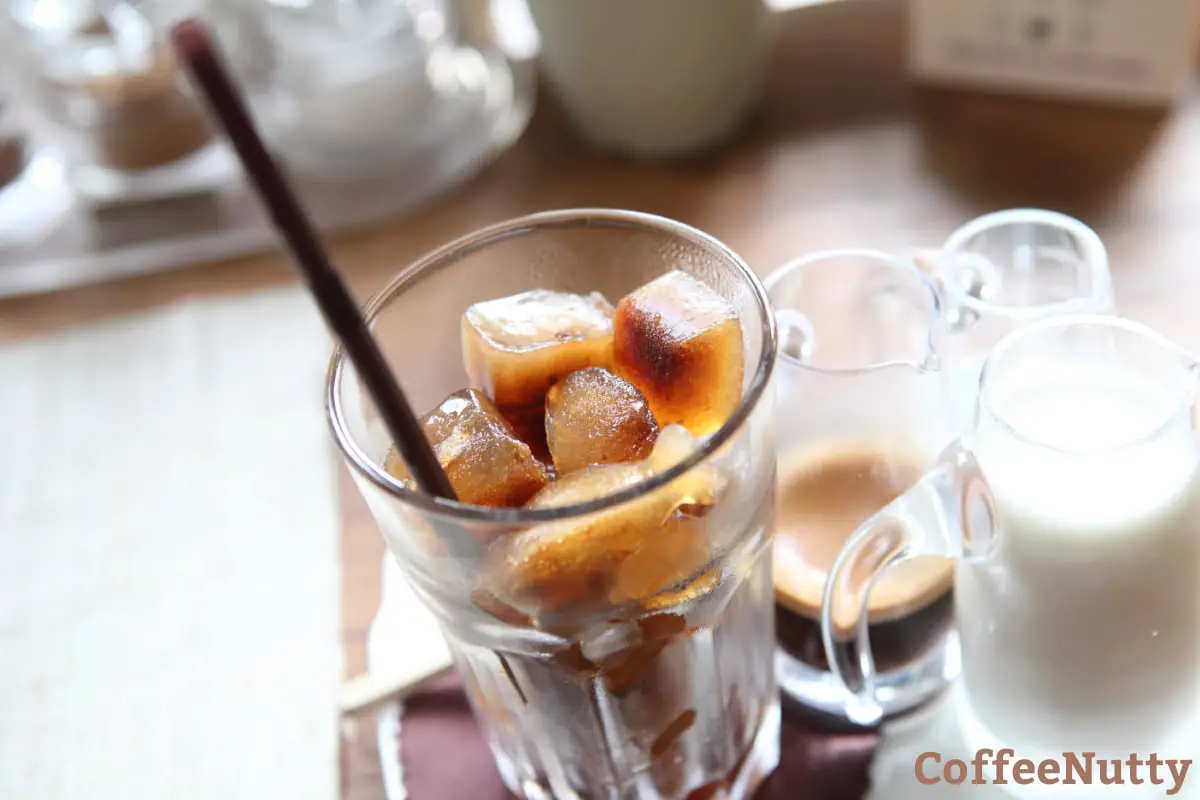 Related: Butterbeer Recipe Starbucks Copycat
Directions 
Brew your coffee. It is recommended to use the French press or cold press method. 
Chill the brewed coffee for eight hours or overnight in the refrigerator. 
Add the homemade classic syrup by stirring. 
Pour the mixture into an ice-filled glass.
You can also add creamer or milk to your iced coffee. Anything you like can be added – whipped cream, almond milk, coconut milk, etc. 
RELATED: How to Make Cold Foam
Why Make a Homemade Classic Syrup – Starbucks Copycat?
You can get a bottle of classic syrup from your local Starbucks. You just have to ask the barista if they have some in stock, and if you are lucky, they can sell you some.
But it may not always be available year-round. 
Making a homemade classic syrup saves you money and ensures the syrup is always available. Sugar is a cheap ingredient you can get at a grocery store, making it an affordable alternative. Classic syrup may not always be sold at Starbucks, so making your own would be more reliable. 
You can also get classic syrup by ordering from Amazon.com, but it would still be costly.
It may also take a while to arrive, which isn't worthwhile when you can make this syrup in just a few minutes. 
How Many Pumps of Classic Syrup Are in an Iced Venti?
An iced venti has five or six pumps of classic syrup. According to the Starbucks menu, they use six pumps of syrup for a venti iced coffee, iced coffee with milk, and iced shaken espresso. The tall has three pumps, while the grande and the trenta have four and seven pumps, respectively. 
The best part is that you can change the number of pumps, though, depending on your preference.
Other drinks don't have the classic syrup in their recipe, but you can add them. 
RELATED: How to Reheat Starbucks Coffee Without Ruining It
Final Thoughts
The Starbucks Classic Syrup is a rich, simple syrup that many love for its sweetness and simplicity. It is so convenient and effortless to make at home using only white sugar and a cup of water.
A good rule of thumb is to follow the ratio: 1 part water for every 1 and a half parts of sugar.
This homemade copycat recipe is a good option for anyone who wants to save money and skip the hassle of going to the coffee shop and possibly waiting in a long line. 
You Might Also Enjoy