Starbucks is famous worldwide for its coffee drinks. Among their most popular and iconic choices is the caramel latte, but we aren't always near a coffee shop when we crave these delicious treats.
So, are there Starbucks copycat recipes that you can make at home?
You can make a Starbucks caramel latte copycat recipe at home in a few minutes. With just three ingredients, an espresso maker, and a milk frother, you will be on your way to sipping a delicious drink that tastes like the barista at the coffee shop made it for you.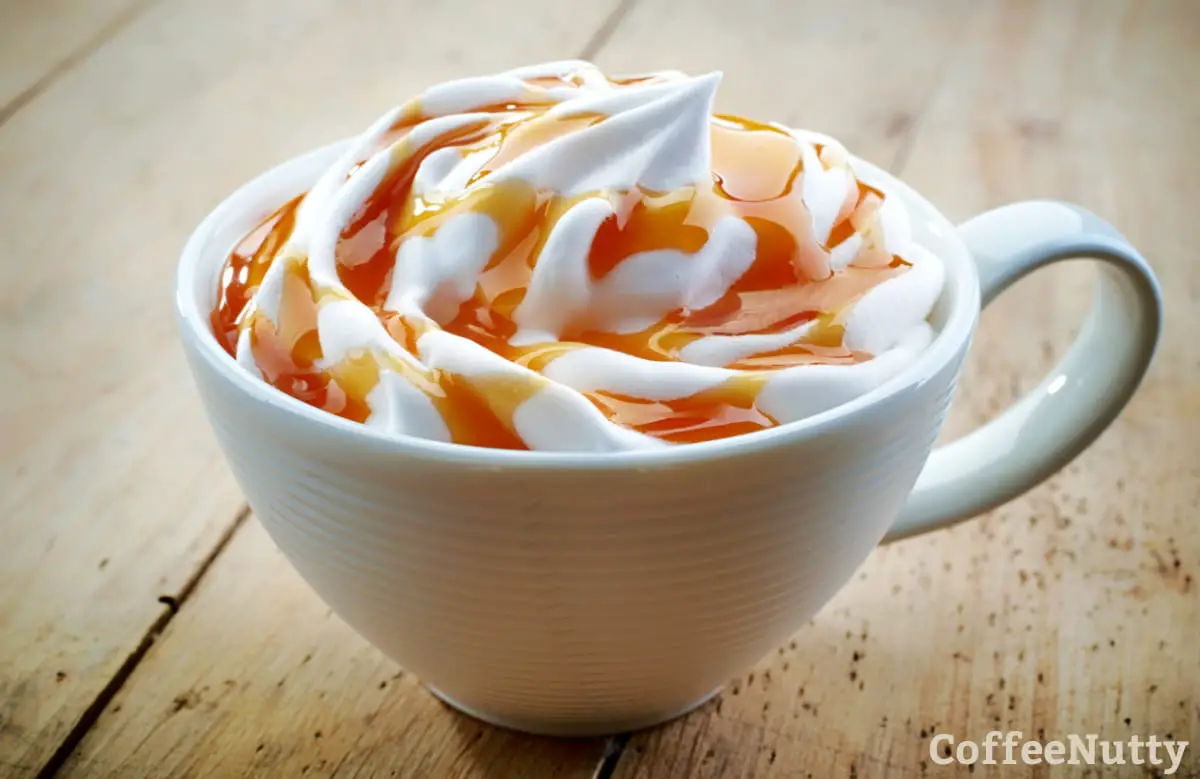 This article includes the copycat recipe, instructions for making your caramel syrup, and some suggestions on how you can adapt this fun, easy beverage into all kinds of delicious variations.
How To Make a Copycat Starbucks Caramel Latte 
Follow these easy steps for the drink recipe below to make an easy caramel latte recipe like you get at Starbucks. It is best enjoyed at medium heat, so let it cool off a little bit before sipping. 
Ingredients:
Espresso or Coffee beans
Milk
Caramel syrup 
Instructions:
First, you will want to brew your shots of espresso or coffee. Feel free to use just one shot, or make it a double if you like it a bit stronger. You could even use premium instant coffee. Use sugar if you like and make it with love like they do at the coffee shop.
Next, warm up your milk to medium heat and froth it. Get your milk nice and warm for a copycat version that tastes like the real thing. If you don't have a latte machine feel free to use a saucepan to heat it and an immersion blender to froth it up.
Lastly, pour the milk and espresso into a mug and top with your caramel drizzle. When presenting your drink, you really get to be creative, like the barista at your neighborhood Starbucks. 
This drink is commonly made with 2 percent milk but is even more delicious when made with whole milk.
The espresso and caramel complement the richness of warm milk. However, if you don't want dairy in your latte recipe, try making it with one of the following kinds of milk:
Oat milk
Coconut milk
Almond milk
Soy milk
RELATED: How to Reheat a Starbucks Coffee and Not Ruin It
How to Make Your Own Caramel Drizzle
Not everyone has access to caramel syrups at their local grocery store. If you want to make a copycat caramel latte recipe, just like the real thing, you can use brown sugar from your house to make your own caramel sauce.
Just follow the simple steps below, and you will have a delicious caramel drizzle for your copycat Starbucks caramel latte recipe:
Ingredients:
2 cups brown sugar 
6 Tablespoons butter
¾ cup whole milk
¼ cup heavy cream
1 teaspoon vanilla extract
Small pinch of sea salt
Directions:
Put all of your syrup ingredients in a saucepan and simmer slowly. 
Whisk occasionally to prevent burning. 
Start the mix at high heat, then reduce to low and cook for about 10 minutes until the caramel sauce has reached the desired thickness. 
Let it cool down until you are ready to use it or store it in the refrigerator.
Making this caramel sauce will give your copycat Starbucks caramel latte recipe an even more authentic flavor.
It is a great idea to make this ahead of time and refrigerate or freeze it to use it whenever you are craving a copycat recipe from Starbucks.
RELATED: How to Make Cold Foam for Coffee
Variations of the Caramel Latte recipe
The beauty of this easy recipe is in its simplicity, but there are also so many variations that you can make.
From simple additions like topping it with whipped cream, sea salt, and brown sugar to some fancier versions like those you would find at the coffee shop. 
Don't worry, if you don't have an espresso machine, you can french press your coffee for delicious results. You can make a cup resembling rich espresso.
Here is a YouTube video from French Press Coffee on how to do french press a cup in the comfort of your house:
Iced Caramel Latte 
You can build this same drink over ice with cold espresso or cold brew coffee if you want a refreshing iced caramel latte.
It is incredibly delicious with additional syrup. Try the following wonderful additions to caramel in your iced caramel latte, or use sugar to sweeten it up more:
Vanilla syrup
Toffee nut syrup
Sea salt
Vanilla extract
Ice cream
An extra drizzle of caramel sauce
RELATED: The Best Instant Coffee
Starbucks Caramel Macchiato 
Another one of the most popular choices at Starbucks is the caramel macchiato. This drink is different from the standard caramel latte for several reasons.
However, the most noticeable flavor difference is vanilla syrup.
The drink is layered with vanilla syrup, frothy steamed milk, a shot of espresso, and then a healthy drizzle of caramel syrup on top. Try this with whipped cream as well to make it even tastier than it already is.
RELATED: How to Use a Frother for Coffee 
Starbucks Caramel Brulée Latte 
Another delicious take on the caramel latte is Starbucks Caramel Brulée. This decadent coffee drink is a favorite for many people at their neighborhood Starbucks.
You can order this drink as a hot coffee or a refreshing iced caramel latte.
The caramel brulée latte has a delicious caramel sauce, whipped cream, and some wonderful brulée crumbles. You could make the iced version even more delicious by serving it over homemade coffee ice cubes.
Watch this Starbucks Coffee YouTube video to learn how to make your own homemade coffee ice cubes:
RELATED: Latte vs. Mocha- What's the Difference?
Final Thoughts
This caramel latte recipe is simple, and it tastes just like the real thing. There are plenty of easy steps to play with the ingredients to make variations of this delicious coffee drink. 
Whether you are craving the drink as a hot coffee, or a decadent iced caramel latte, you can make a delicious caramel latte recipe that tastes just like the real thing.
So the next time you are craving a caramel latte and aren't near a Starbucks, try this copycat recipe.