Are you wondering how much caffeine is in Earl Grey tea and coffee? Do you want to know which one is healthier to consume and its effects on your health? The answers to your questions might really surprise you.
Coffee has a higher caffeine level than Earl Grey tea. Coffee caffeine levels range between 70 and 140 milligrams per cup, and tea between 40 and 120 milligrams. However, you can make tea and coffee that is over or under that range using less coffee grounds or tea leaves.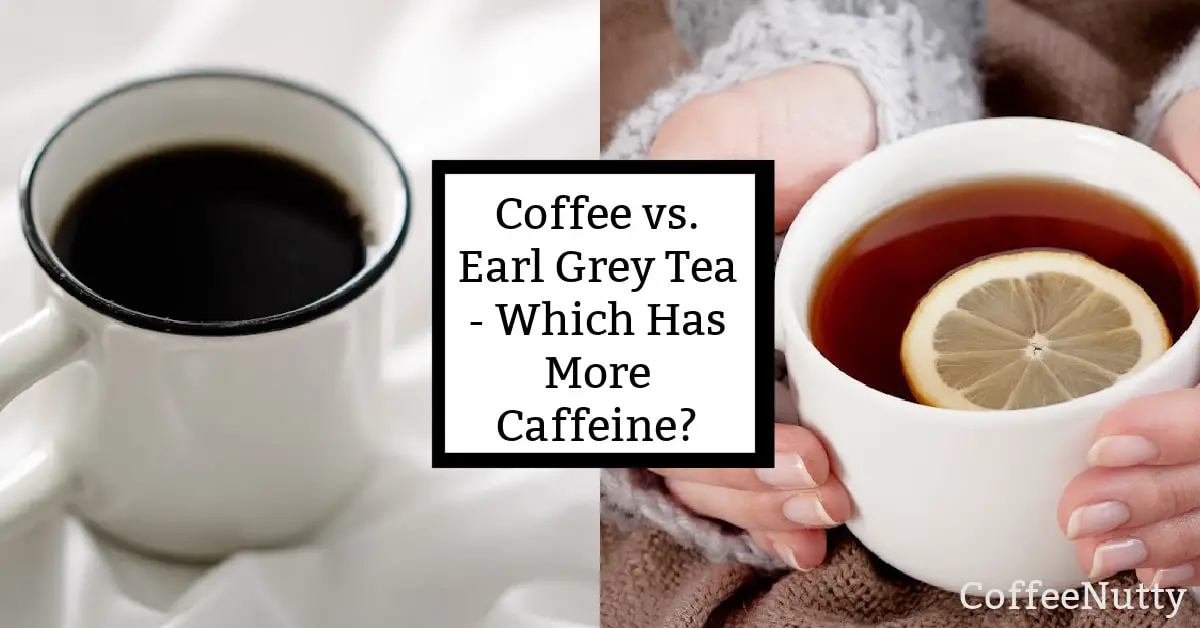 This article will explore the differences in caffeine levels between coffee, Earl Grey, and other caffeinated drinks.
We'll also discuss where the caffeine comes from, the effect of the drinks on your health, and which popular drink is best for you.
Jump to:
How Much Caffeine Is in Earl Grey Tea and Coffee?
Let's examine the caffeine levels of Earl Grey tea and coffee below: 
Earl Grey Tea
Earl Grey tea, named after Charles Grey, 2nd Earl Grey, aka Viscount Howick, is a flavored tea. It is black tea combined with bergamot oil, which comes from the bergamot orange, a small citrus fruit.
Black tea is the most popular type of tea, and it's the tea with the highest caffeine level. 
In a serving size of 1 cup (237ml), there are about 40 to 120 milligrams of caffeine, so an average of 80 milligrams. It entirely depends on how strong you make your tea, of course.
Check out some of the Best Earl Grey Tea on Amazon right now!
Black Coffee
In brewed black coffee, there's an average of 105 mg of caffeine in one cup (237ml). The range is 70 to 140 milligrams per cup, but it can also exceed that amount.
There's even caffeine in decaf coffee, but only a minimal amount.
The amount of caffeine in your cup of coffee depends on how strong you make it yourself and the type of coffee beans you use. 
Related: How Many Ounces in 12 Cup Coffee Pot
Where Does Caffeine Come From?
The caffeine in coffee and tea comes from the tea leaves and coffee beans.
The caffeine is released in the water after letting the leaves, tea bags, or coffee grounds steep in water that is often hot unless it's a cold brew.
Tea Leaves
The caffeine content in tea leaves depends on the type of tea, the location where the trees are grown, the conditions in which the trees are grown, and the growing method. 
Black tea is oxidized, which means the black tea leaves are exposed to oxygen.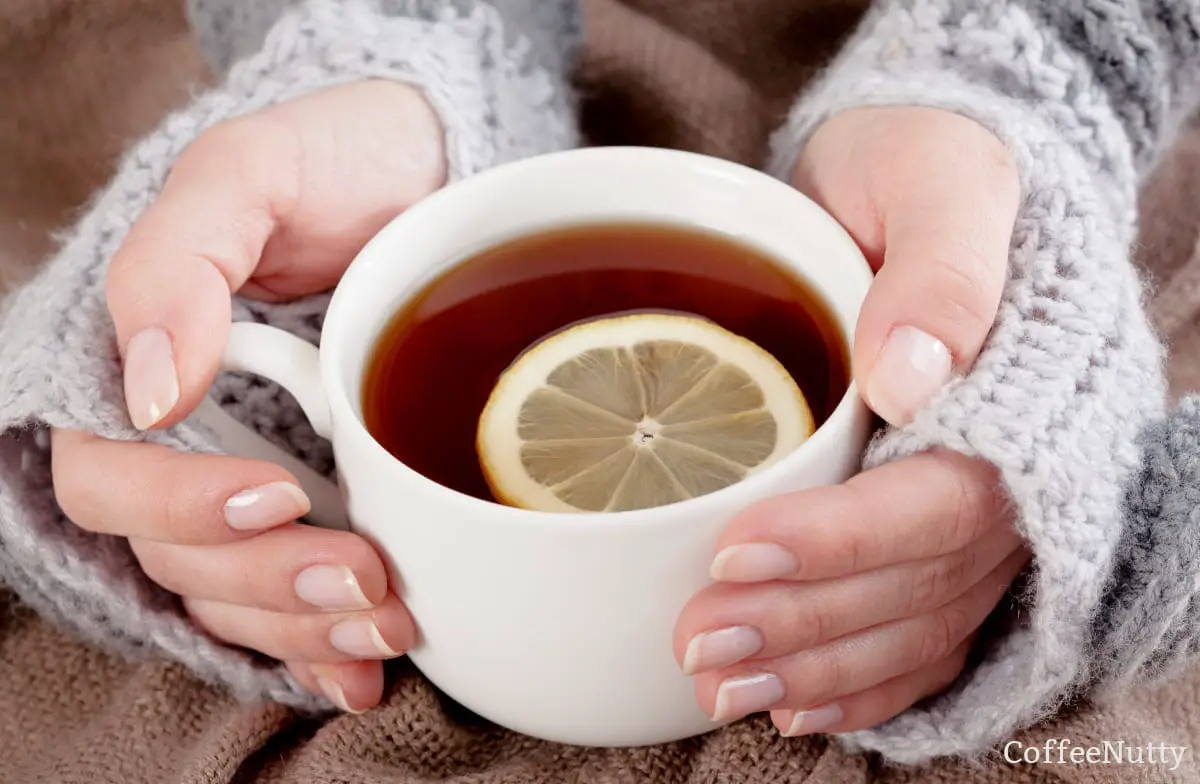 That's how the leaves dry out, and get their flavor. It's also how the tea turns black. Not all teas are oxidized, and some are more oxidized than others.
If you want to learn more about tea oxidation, you should definitely check out this article.
Coffee Beans
Robusta coffee beans, which come from the Coffea canephora plant, have a caffeine level that is a lot higher than Arabica beans.
When you go out for coffee, there's a big chance the cafe or restaurant uses Arabica beans. That's because they taste better, are sweeter, and are better for the environment. 
If you want to learn more about the differences between Robusta and Arabica beans, you should read this article.
Tea leaves are higher in caffeine, but more caffeine is released from coffee beans because you're using water at a higher temperature.
This also explains why there's usually less caffeine in cold brew coffee, even though you're supposed to use more coffee grounds. 
Related: One Cup Coffee Beans Equals How Much Grounds
What Are the Caffeine Levels of Other Popular Drinks?
There's caffeine in other teas as well, but how much exactly? 
Energy drinks and soda are also very high in caffeine, and they don't have the health benefits that tea and coffee have.
Additionally, both soda and energy drinks are very high in sugar and preservatives. 
Now, let's take a look at the caffeine content of different tea and coffee types:
Green tea: The healthiest tea is green tea because it has the most antioxidants. It also has a lower caffeine content per cup, at an average of 28 milligrams of caffeine. This means you could drink about 14 cups daily and still be within the safe limit. Additionally, green tea will give your metabolism a big boost. 
White tea: White tea is a low-caffeine drink among teas. The caffeine content ranges from 6 to 55 milligrams per cup of tea. White tea has the softest, most subtle taste, so it's perfect for those who don't like intense tea flavors. 
Herbal tea: Herbal tea is usually caffeine-free, but it depends on the herbs used to make it. Drinking herbal tea is a great way to combat acid reflux and can significantly help people with GERD (Gastroesophageal reflux disease). Coffee does the opposite.
Espresso: Espresso is pretty high in caffeine, at about 64 milligrams per ⅛ cup (30ml). Coffee drinks like the ones in Starbucks often have several espresso shots in the recipe, making them very high in caffeine. 
Related: What is Maca Coffee?
How Much Caffeine Can I Consume?
A caffeine overdose can be quite dangerous for your health, so there is, in fact, a limit on how many caffeinated beverages you can consume before experiencing issues.
Every person is different, so we all have different caffeine tolerances. 
A general advised limit for caffeine consumption is about 400 milligrams per day for adults with no severe health problems, like kidney failure, as recommended by the FDA (U.S. Food And Drug Administration).
That means more or less four cups of coffee with an average caffeine content (of 105 milligrams) and five cups of Earl Grey tea with an average caffeine dose (of 80 milligrams per cup of Earl Grey).
People with digestive issues like IBS should limit their caffeine consumption.
They might even find that caffeine was a source of many of their problems. Young kids and pregnant women should not be consuming a lot of caffeine.
It is recommended that those who are pregnant should limit their caffeine intake to about 200 milligrams, which is half of the recommended FDA limit. 
RELATED: Caffeine in Half Caff Coffee
Earl Gray Tea vs. Coffee: Which Is Better for Your Health? 
Earl Gray tea is healthier than coffee because tea has more antioxidants and it has lower caffeine levels than coffee.
Drinking too much caffeine can cause immediate side effects and general health problems. 
Let's explore some of the effects caffeine can have on your health: 
Stress
People with anxiety issues often notice an increase in their anxiety after consuming a lot of caffeine. There's often an increase in the heart rate in the case of over-consumption.
However, there's a substance in tea that combats that anxiety increase called L-theanine. L-theanine helps you relax, so it negates the effect of caffeine. 
Therefore, Earl Grey tea (or any other tea) is excellent for people with high blood pressure.
Immune System
Tea can improve your immune system because it contains many antioxidants, and Earl Grey's bergamot is antibacterial.
There are antioxidants in coffee as well, but the positive effect of those on your health are somewhat offset because of the high caffeine levels.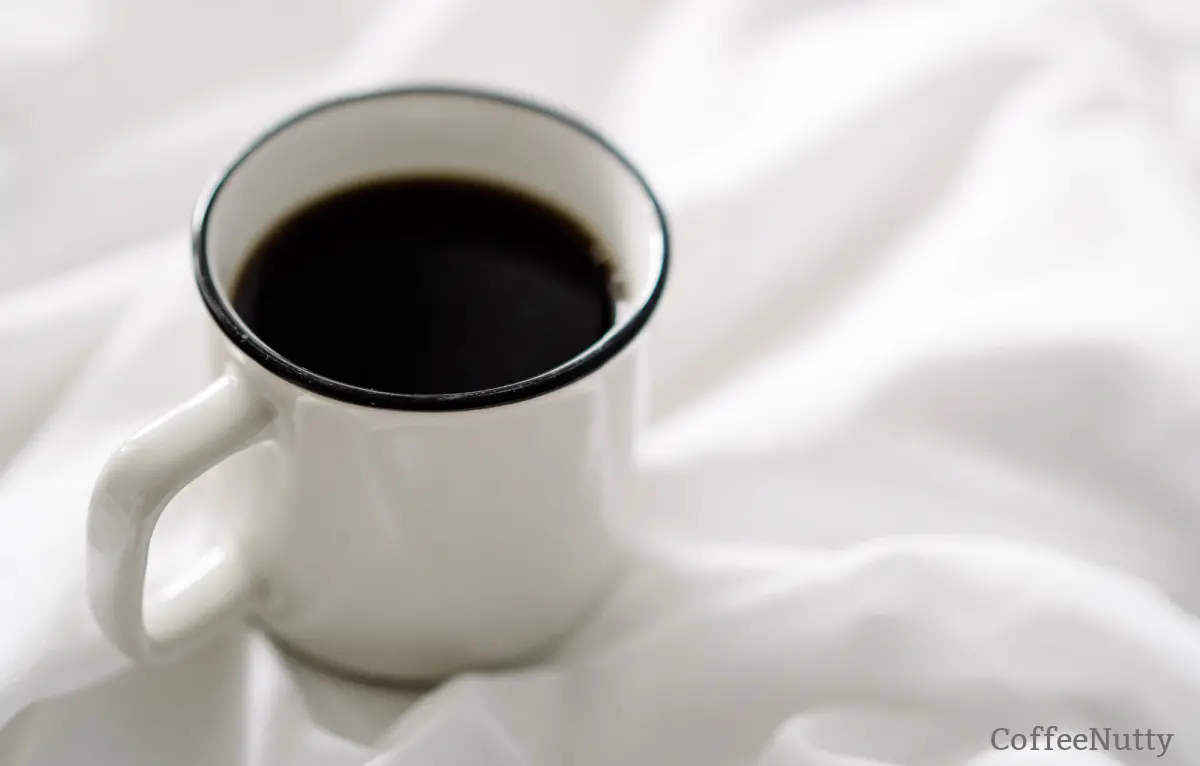 Heart Health
You might think that people with heart problems shouldn't consume caffeine, but there's proof that caffeine consumption might improve heart health. 
However, this doesn't mean that you should drink coffee like water. Consuming in moderation is a great rule when it comes to our health. 
It's recommended that drinking up to five cups of coffee daily can help prevent heart attacks and heart failure because it lowers blood pressure.
On the other hand, drinking more may have the opposite effect on your body. 
Of course if you have heart disease or cardiovascular disease you should consult with your physician before trying to get your caffeine kick from coffee or any of the popular teas.
Metabolism
The antioxidants in black tea and coffee boost your metabolism, so these are great beverages for people trying to lose weight. 
Caffeine can stimulate your body, including the fat-burning component.
You shouldn't rely solely on caffeine consumption for weight loss, but it can give you a little push in the right direction. 
Energy Boost
It's no surprise that caffeine gives you an energy boost. However, while coffee gives you a quick energy kick, tea gives you a stable energy boost over a long period. 
Therefore, tea is the healthier and smarter option when you are looking for a recharge.
Coffee, on the other hand, might make your energy levels crash once the caffeine high fades. 
Related: How Much Caffeine in Chai Tea?
Final Thoughts
Brewed black coffee is higher in caffeine at an average of 105 milligrams per cup (237 ml) than Earl Grey, with an average of 80 milligrams of caffeine per cup. Earl Grey is traditionally made with black tea, the tea highest in caffeine.  
Both black coffee and tea have several health benefits, but tea is a winner with its high antioxidant content and lower caffeine levels.
Furthermore, Earl Grey tea's health benefits are boosted metabolism, improved heart health, and reduced stress levels. 
But, it all boils down to personal preference and personal taste.
Coffee drinkers will likely want to stick with coffee while tea drinkers will still prefer a cup of black tea.
Want to save this post for later? Pin it to your favorite Pinterest board!