Just because you've decided to go keto doesn't mean you have to drink black coffee forever. Sugar-free coffee syrups allow you to enjoy your favorite drink without the guilt of cheating on your diet. Whether you're looking to reduce your sugar intake for keto or other health reasons, you can still drink delicious coffee thanks to these sugar-free syrups.
Here are the 8 best sugar-free coffee syrups for 2023, all of which are available on Amazon.com:
Starbucks Naturally Flavored Coffee Syrup, Sugar-Free Vanilla
Jordan's Skinny Syrups | Classic Syrup Sampler
Monin Sugar-Free French Vanilla Syrup
DaVinci Gourmet Sugar-Free Chocolate Syrup
NuNaturals Premium Plant-Based Pumpkin Spice Syrup
Torani Sugar-Free Syrup Variety Pack
Upouria Syrup Sugar-Free Coffee Syrup Variety Pack
Hip Syrups Natural Sugar-Free French Toast Coffee Syrup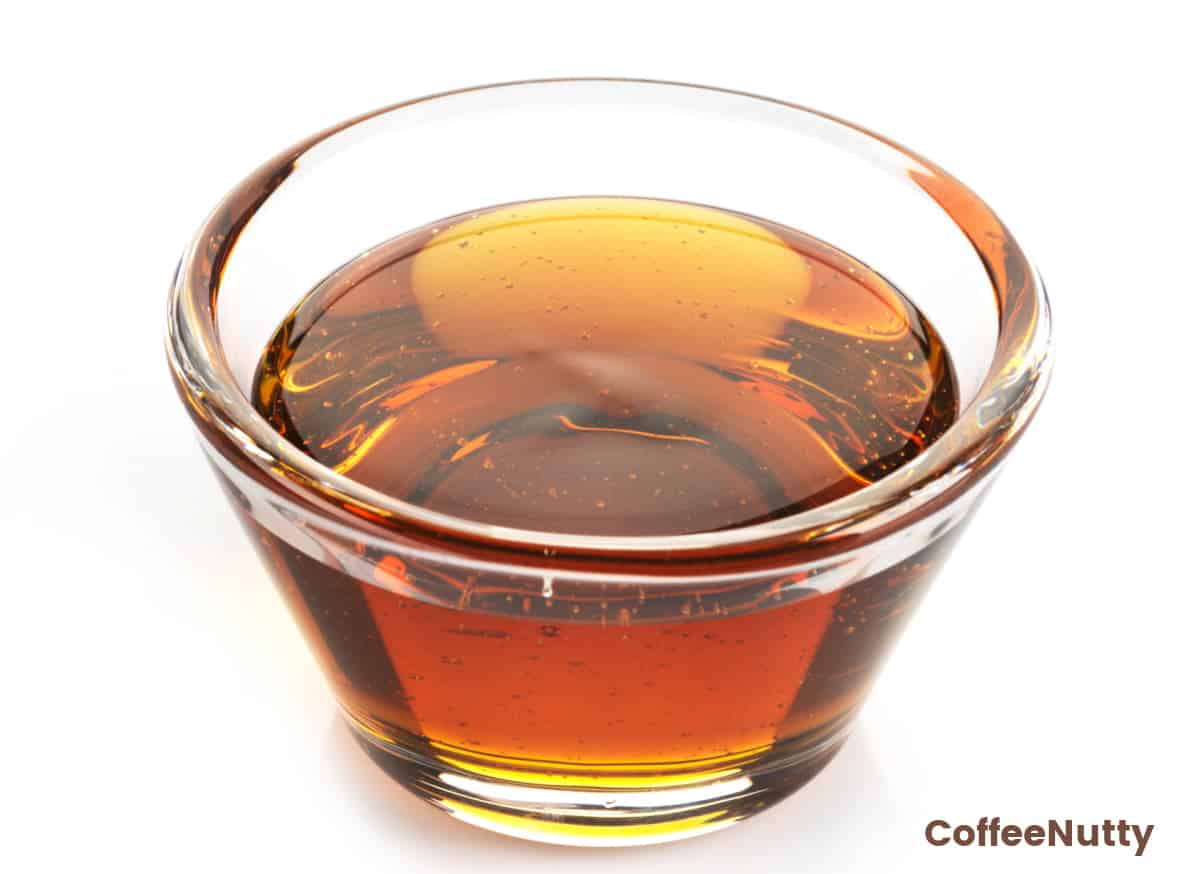 In this article, I'll take a closer look at each of these different flavors of sugar-free syrup. This will allow you to easily determine which are the best coffee syrups you should try with your favorite beverages.
Just because you decided to cut out sugar doesn't mean you have to stop drinking Starbucks and have to forgo that sweet taste. They make a sugar-free vanilla syrup that is perfect for all your hot and cold drinks...without the added sugar. 
For a relatively affordable price, you can purchase a pack of four bottles of syrup. Each bottle is 12 ounces (354.89 ml), so you'll get 48 ounces (1419.53 ml) of syrup. That's nearly a hundred tablespoon-sized servings of syrup! 
Starbucks suggests using this syrup for vanilla brewed coffee, vanilla lattes, and vanilla steamed milk.
However, the options are practically endless. You can add this syrup to any drink for a sweet and rich burst of sugar-free flavor in your morning coffee.
When you're looking for sugar-free coffee syrups, you're bound to find products from Jordan's. Jordan's Skinny Mixes has a massive range of different flavors, and all of them are zero calories. This sampler pack lets you try six of their most popular flavors.
In this pack, you'll get classic flavors and get to try Jordan's vanilla, mocha, caramel, hazelnut, butter toffee, and salted caramel flavors. 
A serving of syrup is just one ounce, and this variety pack contains over 150 fluid ounces (4436.03 ml) of delicious syrups. That's over 150 cups of keto-friendly flavored coffee!
In addition to being sugar-free and keto-friendly, Jordan's Skinny Syrups product line is gluten-free, kosher, and non-GMO. You can drink your favorite coffee totally guilt-free. 
Most of the Monin syrups are fruity syrups / simple syrup used for bartending. But they do offer a handful of coffee syrups, and some of them are in fact sugar-free. 
Monin's gourmet French Vanilla syrup is made with vanilla beans from Madagascar. You'll taste the bold, delicious vanilla in every sip of your coffee. Each bottle holds 1 liter (33.8 fluid ounces) of gourmet syrup, and one bottle should last you about 30 cups of coffee.
If vanilla isn't your favorite, you can also check out Monin's Sugar-Free Caramel Syrup.
As a bonus, when you purchase from Monin, you're helping restore local bee colonies - the company sends their waste syrup to feed bees when there's a shortage of nectar-producing flowers! This brand is eco-friendly as well as a keto-friendly syrup. 
DaVinci is another big name in sugar-free coffee syrups, so of course, I have to recommend one of theirs.
DaVinci's gourmet chocolate syrup lets you enjoy that rich chocolate flavor with your morning beverage without the guilt.
This chocolate syrup comes in a pack of four bottles and contains about 100 ounces (2957.35 ml) in total. That's 100 cups of coffee for much less than what you'd spend on the same number of store-bought coffees!
DaVinci has tons of other sugar-free flavors worth trying, including Toasted Marshmallow, White Chocolate, and Caramel. 
NuNaturals is a brand of plant-based products, including this yummy stevia-based sweetener.
No matter the season, you can enjoy a pumpkin spice latte when you have a bottle of NuNaturals Pumpkin Spice Syrup on hand.
This syrup is highly concentrated and comes at a great value. One bottle contains 385 servings. You could drink a PSL every day for a year and still have some syrup leftover!
In addition to being sugar-free, this product is non-GMO, gluten-free, and vegan.
For fans of pumpkin spice coffee beverages, NuNaturals is the best option in terms of keto-friendly coffee syrups that still achieve a great taste.
Torani syrups are another keto-friendly brand with a huge variety of flavors.
The Torani sugar free coffee syrup has variety pack that contains four classic sugar-free flavors that any coffee addict needs: vanilla, caramel, hazelnut, and chocolate. Each bottle is 25 ounces (739.34 ml), so you'll get 100 ounces (2957.35 ml) of sugar-free syrup. 
This Torani variety pack is admittedly a little more expensive than several of the other options on our list.
However, it's still far more affordable than going to the local coffee shop every day. 
Between these four sugar-free options, you're sure to find right syrup that you love.
And if you really want to feel like you're your own barista, consider ordering a package of syrup pumps. You can get a Torani and DaVinci Syrup Pump that fits all Torani and DaVinci syrup bottles. 
The Upouria Sugar-Free Coffee Syrup Variety Pack includes French Vanilla and Caramel flavors.
These syrups are sugar-free, calorie-free, gluten-free, and vegan. 
The caramel flavor is rich and buttery with a hint of salt, while their French vanilla is a classic flavor that pairs well with almost any coffee beverage. With these syrups, you can drink gourmet coffee while still keeping to your keto diet. 
In this pack, you'll get two 25-ounce (739.34 ml) bottles.
As a bonus, it also includes two syrup pumps you can fit onto your syrup bottles to make adding them to your coffee easier. Upouria recommends three pumps of syrup for one 12-ounce (354.89 ml) cup of coffee.
If you've tried most of these brands so far and you want to try something new and exciting to change up your coffee game without adding sugar to your diet, look no further than Hip Syrups.
Hip Syrups is a young brand that launched in 2018. They produce syrups made in the United States using all-natural ingredients.
And their line of sugar-free flavors is creative and distinct from most other brands. 
I personally love their French Toast Coffee Syrup. However, if you're looking for something different, you can also try their other flavors, including Cinnamon Roll, Butter Pecan Pie, and Irish Cream.
Each bottle is about 25 ounces (739.34 ml), so you should be able to test the flavors out thoroughly and make a decision about whether they're to your taste.
RECOMMENDED: