Herbal teas can be made from certain plants' dried leaves, fruits, and flowers. Every herbal tea can have a different composition, but the plants most herbal teas are made of don't contain any caffeine.
Most herbal teas contain no caffeine. High in antioxidants and low on calories, they are perfect for anyone who is caffeine-sensitive, looking for a health boost, and trying to minimize their calorie intake.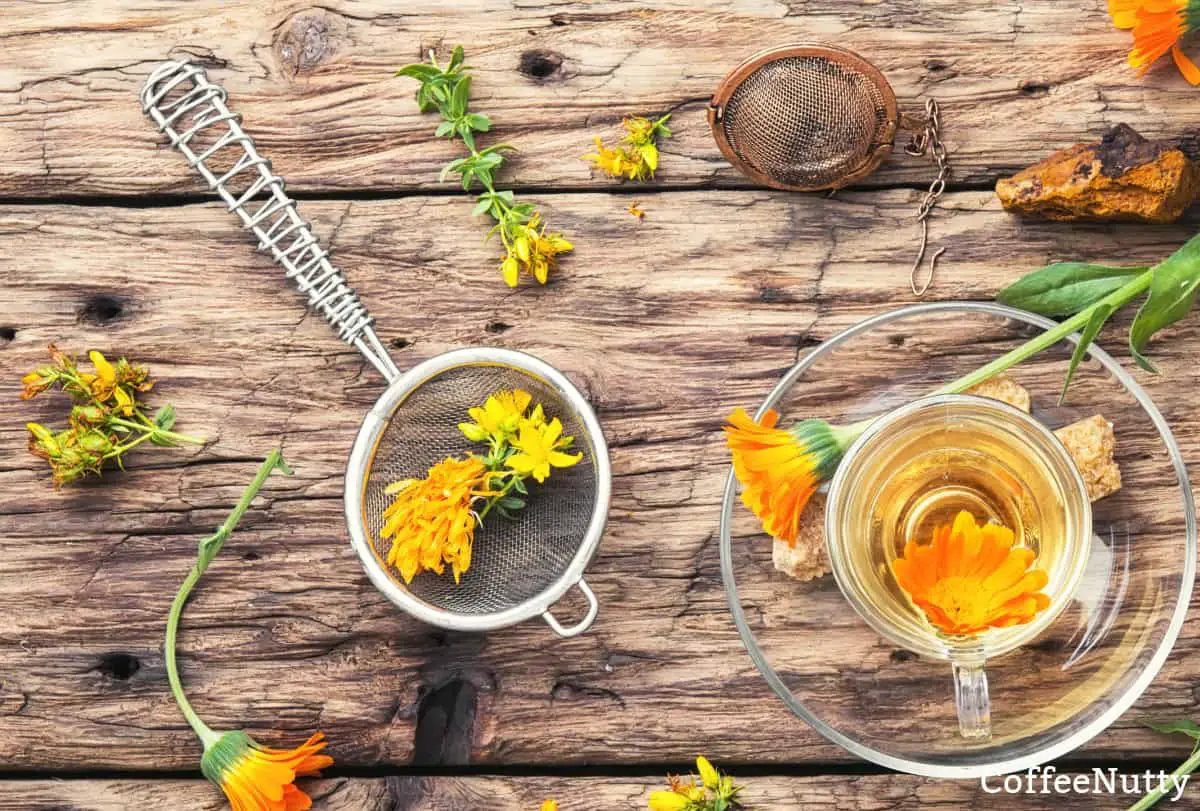 If you're looking for information on the amount of caffeine in herbal teas contain caffeine, you've come to the right place. 
Please keep reading to know which herbal teas have caffeine, which are decaf teas, and their potential health benefits.
The Caffeine Content of Common Herbal Teas
Almost all herbal teas are caffeine-free because they are made from infusing plant parts that do not contain any caffeine. Examples of these caffeine-free tea (herbal infusions) include: 
Chamomile
Ginger tea
Peppermint
Lemongrass
Cinnamon
Hibiscus
Rosehip
Lavender
Thyme
Nettle
Licorice
Guava 
Dandelion
However, some herbal teas may contain trace amounts of caffeine, including:
Coffee: Surprised? Technically speaking, a cup of coffee is an infusion since you make it by soaking fruits from the coffee plant in water. In this sense, coffee is a type of herbal tea. 8 oz of coffee (236.6 ml) contains 96mg of caffeine. Learn how much caffeine is in half caff coffee.
Oolong Tea: There is some variability regarding the amount of caffeine this tea contains. Roasted tea and tea harvested in the spring have less caffeine.
Yerba Mate: This tea from South America is made from the Ilex paraguariensis plant. In an 8oz (236.6ml) serving, this tea contains up to 80 milligrams of caffeine (0.003oz). 
Guarana: This South American tea is just as popular as the Yerba Mate. You can make it by soaking the guarana plant seeds in water. 1g of guarana seeds contains 47mg of caffeine. 
Herbal teas don't contain caffeine but have high amounts of antioxidants. 
However, they still contain fewer antioxidants than their authentic tea counterparts. Some of the herbal teas with the highest amounts of antioxidants are: 
Sweet basil
Lemon balm
Scarlet pimpernel
Arabian jasmine
Guava 
Balsam pear
Wolfberry
RELATED: How Much Caffeine in Cacao vs Coffee?
Differences Between Herbal and Green Teas
No one will blame you for using green and herbal tea interchangeably. A lot of people think they're the same.
You may quickly argue that green tea is herbal since it's made from a plant. It does come from a plant, but it is essential to note its origin. 
Green tea leaves, like all other true teas, come from the leaves of the camellia sinensis plant. 
8 oz cup (226. 9 g) of green tea contains between 24-39 mg of caffeine. Green tea has numerous benefits, such as reducing inflammation, boosting cognitive abilities, and fighting carcinogenic properties of skin cancer. 
Herbal teas are made from the stems, roots, leaves, seeds, spices, fruits, and flowers of plants other than the Camellia sinensis.
It's common to find herbal teas sold as "infusions" instead of tea because they don't originate from the true tea plant. 
For example, you get a herbal mint tea by steeping mint leaves in water.
Please check my article if you're curious about how tea compares to coffee regarding caffeine levels.
Benefits of Drinking Herbal Tea
If you have yet to discover the wonders of herbal tea, below are a few reasons that may encourage you to pick up a box on your next grocery run. 
Better Sleep 
Because it has zero caffeine, herbal tea is a great drink to take at night.
Tea drinkers who struggle with caffeine sensitivity can benefit from taking herbal teas. In addition to being a decaffeinated tea, some herbal teas can help you sleep better.
For example, research shows that chamomile tea has sedative properties, thus helping you sleep better. 
Antioxidant properties
Antioxidants help free radicals in our body, which cause cellular damage and increase the risk of certain chronic diseases, including heart disease and cancer.
Some herbal teas are rich in antioxidants and help the body defend against damage from free radicals.
You shouldn't stress about free radicals, as our body easily gets enough of them, but it's a nice plus for herbal teas.
Anti-inflammatory Properties
Herbal teas can help reduce inflammation in the body. 
Ginger, turmeric, and chamomile all have anti-inflammatory effects.
Ginger, in particular, is a powerhouse for ridding the body of arthritis, muscle pain, and other inflammatory-related conditions. 
Turmeric tea contains a compound called curcumin which, in addition to promoting health and wellness, also helps reduce inflammation.
Rosehip is another herbal tea that has anti-inflammatory properties. Taking it regularly can help with arthritis. 
Improved Digestion
Herbal teas like peppermint tea help improve your digestive system.
Peppermint boosts the digestive tract's health by relieving nausea, stomach pain, and indigestion. It can also help relax spasms in the esophagus, colon, and intestines.
Peppermint even has a positive effect on Irritable Bowel Syndrome effects. 
Reasons To Avoid Caffeine
Most people who drink herbal teas for the low caffeine content do so to avoid the risks associated with caffeine.
The FDA suggests that the average person shouldn't consume more than 400mg (0.014oz) of caffeine daily, translating to around 4 to 5 cups of coffee.
Risks associated with caffeine include:
Restlessness
Insomnia
Dehydration
Headaches
Increased heart rate
Anxiety
Dependency
Generally, you should avoid drinking too much coffee or high-caffeine teas if you are pregnant or breastfeeding, suffering from migraines, have trouble sleeping, have high blood pressure, or have anxiety attacks.
Examples of Popular Herbal Teas
As you have read, there are several different types of tea to choose from. 
Below are some popular different tea types you can find on Amazon.
Herbal Tea Warnings
Be in the habit of always checking the ingredients list when purchasing tea, whether it be tea bags or loose-leaf tea. 
You need more than the tea name to tell you whether the tea contains caffeine or not.
Some teas are sold as tea blends, so even though you may be purchasing jasmine tea, it may contain blends of actual black or white tea, which contain caffeine. 
Herbal teas are far less mainstream compared to their true tea counterparts, and it's not easy to determine how these herbal teas will affect medications. Some ingredients may also contain side effects that you're unaware of.
Just because something is labeled as "herbal" doesn't mean it is automatically good for you.
RELATED: How Much Caffeine in Chai Tea?
Final Thoughts
Herbal teas are a great way to boost your health.
Drinking herbal tea allows you to enjoy benefits like detoxification, improved digestion, anti-aging, and more.
Luckily, they come in various types and flavors for you to enjoy. Herbal teas have a lower caffeine content than green, white, black, and oolong teas.
Herbal teas are a great alternative to traditional teas or even coffee if you're looking to lower your caffeine intake.