There's nothing more disappointing than going to the effort of making your morning coffee in a percolator from scratch only to notice the flavor is a little… off. 
If you've found that your percolator coffee is a bit too bitter for your liking, there are a few factors that could be the cause. Let's take a look at the 9 most common reasons your percolator coffee is bitter and how to fix the issue. Soon you'll be waking up to a perfect, piping hot cup of percolator coffee.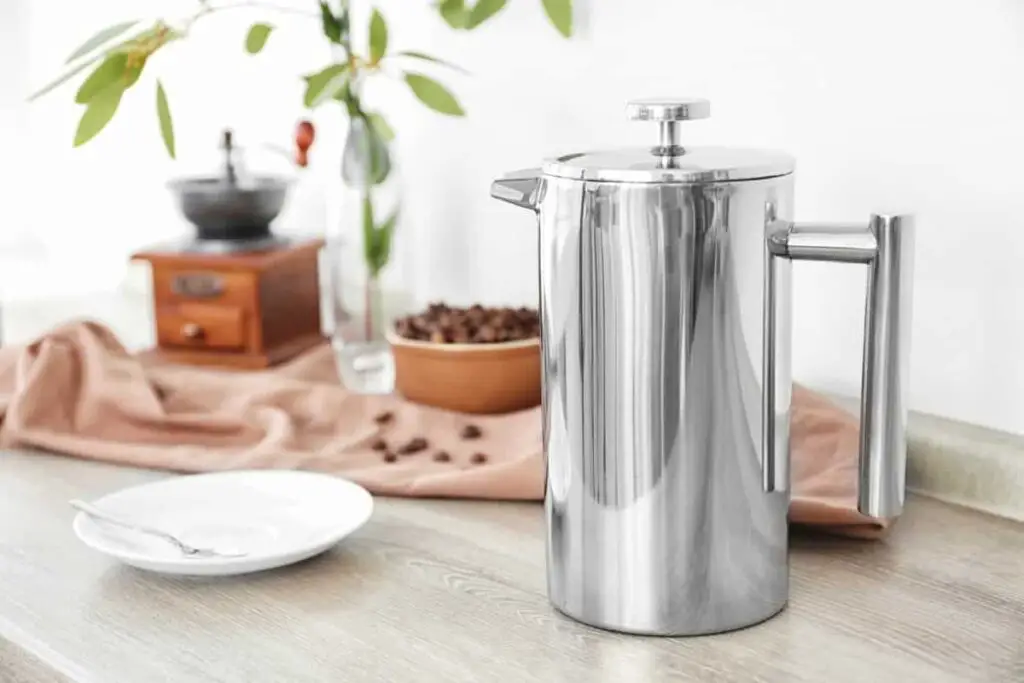 Your Water is Too Hot
One of the most common reasons your percolator coffee is too bitter (if not the most common reason) is that your water is too hot. Brewing coffee with water that is too hot creates a bitter flavor- this is called over-extracting your coffee. 
The original purpose of coffee percolators was to avoid under-extracting your coffee. So, it's more susceptible to over-extracting than other types of coffee makers. 
Thankfully, the solution is simple. Make sure your water is at the right temperature. If you want to be exact with your temperature, use a thermometer.
Try to brew your coffee with water that ranges between 197.6-204.8 degrees Fahrenheit (Source: Colleti Coffee). Otherwise, heat your water until the first boil bubbles start to form. Then remove it from the heat. 
You can also try to boil or warm up your water before putting it into the percolator. This keeps the water from getting too hot too fast- a common culprit of bitter coffee. 
You can also check out this YouTube video for a visual guide to making the perfect cup of percolator coffee.
You Left it In the Percolator Too Long
Did you let your coffee sit in the percolator for an extended time? Or are you someone who likes a strong brew and sent it through two rounds of brewing? 
While it can be fun to experiment in these ways, it's best to follow the rules to ensure you make the best cup of coffee possible. 
If you're using an electric percolator, leave the coffee brewing for the allotted amount of time- usually about 7-10 minutes.
However, if you're using a stovetop percolator, try to finish your brew in 6-10 minutes. You can choose however long within that window based on your taste. 
You Used Too Much Coffee
It's also entirely possible that you used too much coffee.
This is an easy mistake every coffee lover has to make at least once. When the amount of coffee is higher than the proper coffee-to-water ratio, it can make your coffee unnecessarily strong and bitter.
Try to abide by the classic ratio rule- use one heaping tablespoon of coffee for each cup of water you're using.
If you aren't a fan of mental math, it's easier to have an expert tell you how much coffee and water to use based on how many cups of coffee you'd like. Try using RoastyCoffee's coffee-to-water online measurement tool.
You Used Too Little Water
Conversely, it's possible that you used too little water in the percolator.
Maybe you used the same amount of grounds you always use but eyeballed the water quantity because you were in a rush. That happens to the best of us. 
This has the same fix as the previous solution.
Make sure you're abiding by the coffee-to-water ratio. Again RoastyCoffee's measurement tool is an extremely helpful tool for finding the perfect amount of water and coffee to use. 
Your Coffee Grounds are Too Fine
If your percolator coffee is too bitter, did you notice pieces of coffee grounds floating around at the bottom of your cup? You may ground your coffee too finely.
If your coffee is ground too fine, it can make its way into the finished coffee product itself because it's so small.
This means you're drinking coffee with coffee ground particles floating around in it. That's enough to make any cup of coffee a little too bitter. 
Try to purchase coarsely ground or regular ground coffee in the future. Avoid finely ground or espresso coffee types. Doing so will help keep those extra coffee particles out of your mug.
You're Using the Wrong Type of Coffee
Before you call me out, I know, you can use any type of coffee in a percolator.
But that doesn't mean that all roasts are equal in flavor. If you've been using dark roast coffee in your percolator, that could be the culprit. 
Many people believe that medium roast coffee produces the best tasting cup of coffee from a percolator. Dark roasts can taste extra bitter, while light roasts can taste watery.
Therefore, if you're looking for a balanced-tasting coffee, the medium roast is the best way to go.
You can experiment with different kinds of medium roasts to find which one works best for you and your percolator. Find the classic Starbucks Medium Roast on Amazon or Caribou Coffee's Medium Roast.
Your Percolator is Dirty
Sometimes, we use our trusty coffee equipment so often that it can be difficult to remember that they need a little TLC, too. 
If you notice your percolator coffee is bitter despite following all of the above-mentioned recommendations, it could be an issue with the percolator itself.
If you haven't cleaned your percolator in a while, the taste of build-up can interfere with the taste of your coffee. 
Try cleaning out your percolator with this easy method.
Add water and three tablespoons of baking soda to your percolator and let it run for one round. Afterward, use a coarse brush to scrub out the inside. Dispose of the cleaning solution and done! You've got a sparkling clean percolator. 
If you'd like to purchase a product made specifically for cleaning out coffee-making equipment, try out BrewRite's Coffeemaker cleaner on Amazon!
Your Percolator is Broken
As much as we hate to finally admit it, maybe the percolator we've used for decades just isn't what it used to be anymore. Your coffee may taste bitter because your percolator is broken. That means it's time to replace it. 
The most common problem with coffee percolators relates to the power cord. Power cord issues can make the water heat up far too quickly or far too much- the main culprit of coffee over-extraction. 
If you're in the market for a new percolator, there's plenty of great options available online. Try out this stovetop espresso percolator , this copper electric percolator, or this outdoor camping percolator on Amazon.
You Prefer the Taste of Drip Coffee
Finally, it's possible that percolator coffee simply isn't for you.
Learning to make percolator coffee can be quite the process to perfect, and coffee is one of those things that tastes different to each person.
Some people simply prefer drip coffee or espresso drinks over percolator coffee- and that's okay! 
Drip coffee tends to produce a milder flavor than percolator coffee. Espresso beverages come with many options for customization.
By adding water, milk, cream, or foam, you can make americanos, lattes, and cappuccinos.
Have fun with it by experimenting with different kinds of coffee to discover which one suits your tastes best! 
Conclusion
Making percolator coffee takes a bit of time and care to perfect.
If you notice your percolator coffee isn't turning out the way you'd like, check out the aforementioned tips and tricks to get back to having the perfect cup of coffee every time.
Good luck, and happy brewing! 
Related Reading