Making coffee on a grill is one of the easiest ways to make coffee when you're out on a camping trip. Since you don't have access to electricity in the woods, a grill set over an open flame can provide a way for you to get your morning dose of caffeine even in the backcountry. 
Coffee can be made on a grill for best flavor by boiling water over the grill, then either pouring the boiling water into a French press or setting a percolator directly on the grill top to heat up before filtering. Coffee grounds can also be poured directly into water that is boiled in the grill, but this method can often lead to bitter flavors in the coffee.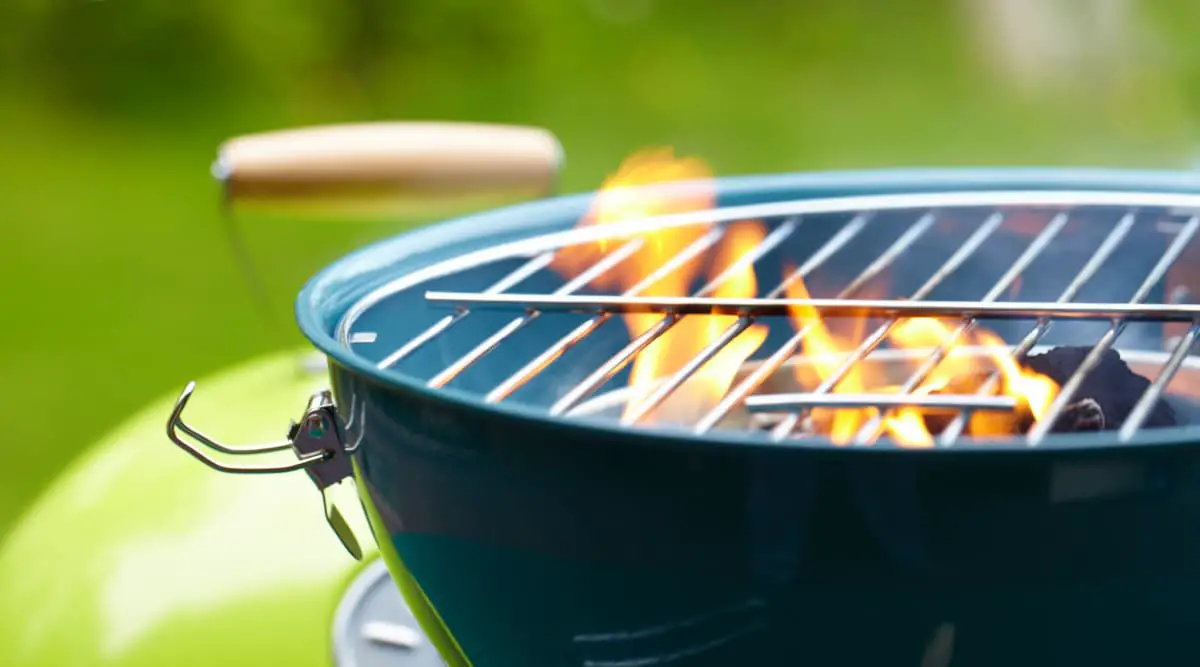 There are a few different ways you can successfully make coffee on a grill either at a tailgate or when you're out camping in the woods, but only a few of them result in flavorful coffee that isn't too harsh or bitter. Keep reading to learn more about how to make coffee the right way on the grill. 
Filter Your Coffee When You Make It on the Grill

The biggest thing you need to remember about making coffee on the grill is that filtering your grill coffee can greatly improve the consistency and flavor of the coffee. 
Here are some of the ways filtering improves your grill coffee: 
Gets rid of any dregs or leftover coffee grounds
Reduces the bitterness of the brew
Regular coffee filters can be used to filter coffee that's made on the grill, but many other things can also be used in a pinch, such as gauze, paper towels, or even a clean tee-shirt if you're hard-pressed.
Grilling your coffee is a rough way to make coffee, but filtering can remove a lot of the more off-putting bitter flavors associated with "cowboy coffee," or coffee that is boiled with the water in direct contact with the coffee grounds. 
As an Amazon associate, I earn from qualifying purchases.
French Presses Can Improve Your Grill Coffee Flavor

You may not think of French presses when you think of camping coffee because so many high-end French presses feature a lot of ceramics and glass, but there are many models of durable plastic or metal French press coffee makers that can be used along with a grill to make decent coffee. (Source: Stack Exchange) 
To use a French press to make grill coffee, do the following: 
Boil a pot of water for coffee on the grill in a fire-safe pot. 
Use this boiling water to feed into the French press where you have your coffee grounds prepared. 
The major benefit of using a French press is that by separating the coffee grounds and boiling water during the brewing stage and pressing the coffee through a filter, you can end up with a much smoother cup of camp coffee than if you just boiled water and put coffee grounds in them. (Source: Art of Manliness)
A French press may seem excessive to bring along on a camping trip, but since good-tasting coffee is one of the best luxury items you can have along on a camping trip, it's worth the investment in a small French press for making sure the coffee you brew in camp is fresh and flavorful, with minimal notes of bitterness from the grounds. 
Coffee Grounds Can Be Added Directly to Boiling Water on a Grill

The easiest method of making coffee on a grill is to boil a container of water on the grill and add coffee grounds directly to it. This is commonly known as making "cowboy coffee" and is one of the oldest known methods of making coffee as a drink. (Source: Kent Rollins) Boiling coffee grounds in water for three to five minutes is long enough to make coffee, but this is the least preferred method for grilling coffee. 
Here are the reasons why: 
It is difficult to control temperature on a wood or charcoal-burning grill, and coffee that is boiled at temperatures that are too high will become bitter quickly.

Coffee grounds that are left to boil on the fire for more than three to five minutes will also begin to become bitter. 
This method of making coffee on the grill is usually done in an old-fashioned camp coffee pot. If coffee is made this way, filtering it through a cheesecloth or some other filter before drinking can help keep dregs out of the coffee cups and can make the coffee less bitter since the grounds don't continue to steep in it. 
Percolators Are Another Option for Cooking Coffee over the Grill

Other than camp coffee pots, percolators are another way to cook coffee over the grill. A major advantage of percolators is that they usually come with a filter inside of them, which helps drip boiling water slowly over the coffee grounds and helps brew the coffee without the coffee becoming too bitter by being submerged directly in hot water. (Source: Kitchen Zap)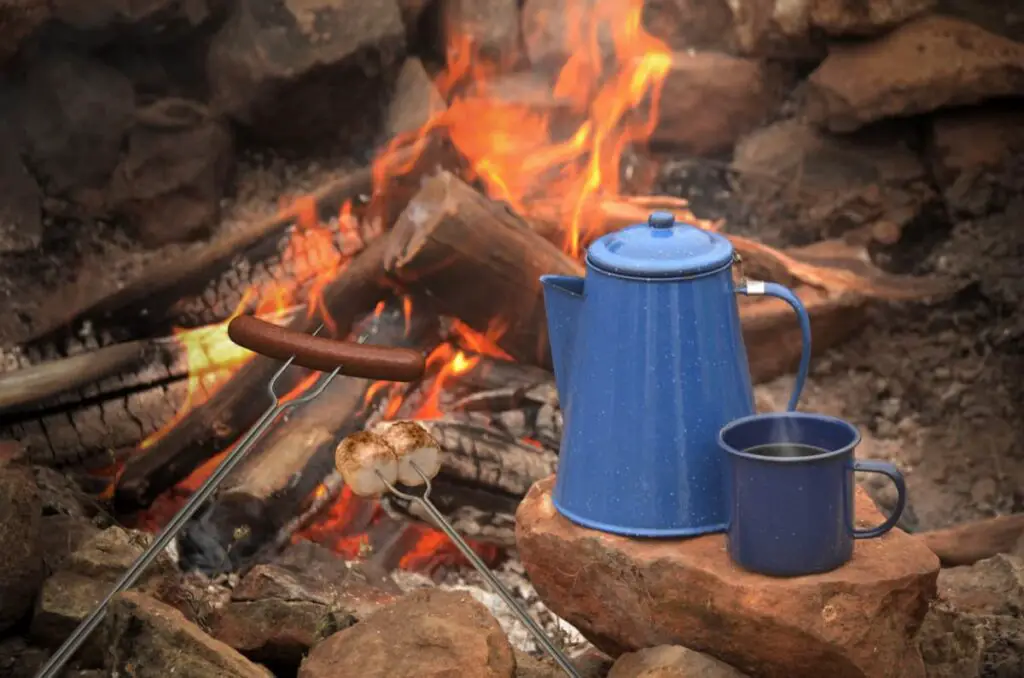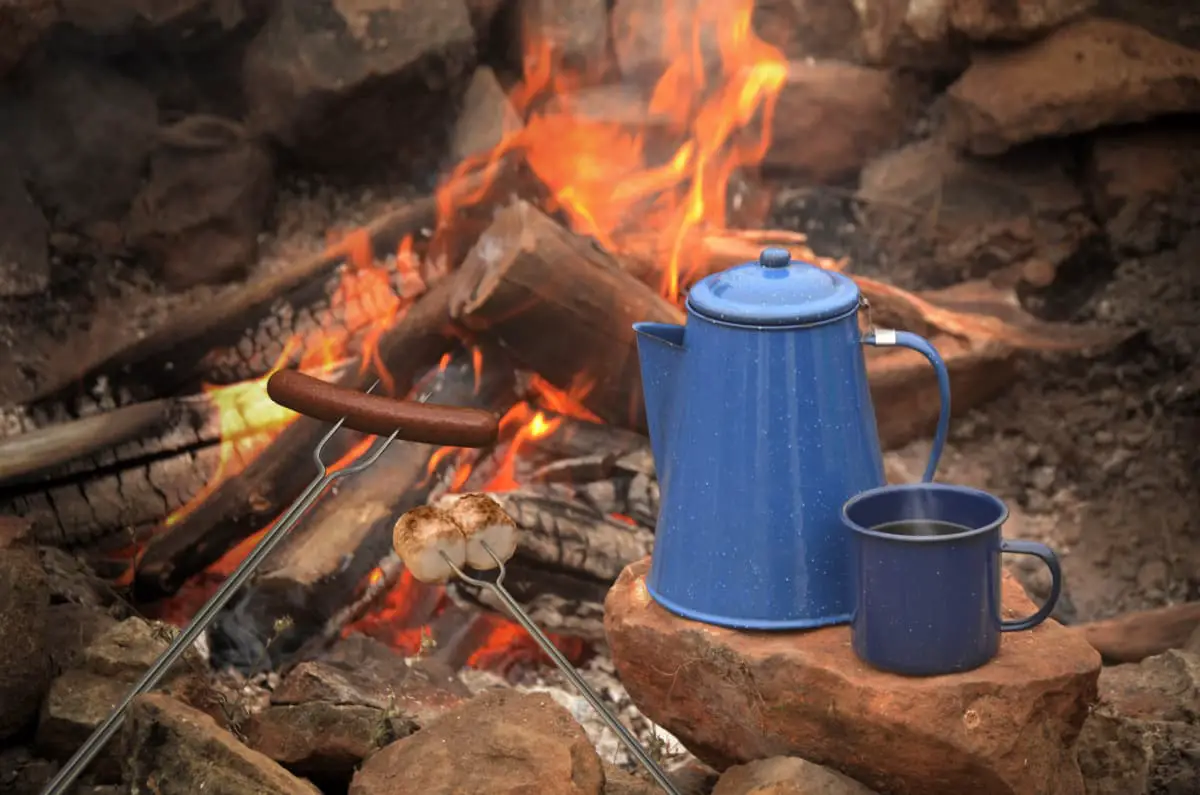 When using a percolator, you should only use as many coffee grounds as you need for each cup of coffee. This helps prevent you from wasting your coffee. Each percolator has slightly different percolating times and will percolate more quickly or slowly, depending on your heat source, so be sure to check your owner's manual before operating to make sure that you get the best results out of your campfire coffee.
How to Make Coffee Taste Better on the Grill

Other than making sure not to over-boil the coffee and filtering it when possible, there are a few other ways you can help improve the taste of coffee that is made on the grill. 
Here are some ways to improve the coffee's flavor: 
Make sure you have the right condiments. Plenty of cream and sugar can go a long way toward disguising lower-quality campfire coffee. If you are forced to make cowboy coffee, cutting the coffee with milk can help take the bite out of some of the coffee's bitterness. Powdered milk or creamer can be used for those who don't want to keep milk cool while they're camping.

Use high-quality ground coffee. One way you can help lessen the rough flavor of campfire coffee in comparison to brewed coffee is to use a higher-quality coffee bean for your coffee grounds. This can help drastically improve the flavor of your end coffee even if you cook it over a grill. 
How to Make a Campfire for Grill Cooking

If you're trying to set up a grill over your campfire to brew coffee, you'll want to try to keep the size of your campfire small but also hot. This will help the coffee grounds steep quickly so that you can remove the coffee before it becomes bitter on the fire. 
No matter what kind of container you use to heat your coffee over the fire, whether you use a tin coffee pot or a percolator, you'll want to try and filter the coffee before drinking it if you can. This will help improve the coffee's flavor.
There is No One Right Way to Make Coffee on a Grill
There are so many options for making coffee on a grill; there is no one right way to do it. Some people may be content to boil some coffee grounds in a pot on top of the grill, while others will want to bring along a coffee maker such as a French press or a percolator. It all comes down to personal preference and how bitter you're willing to take your coffee.
RELATED: