For many coffee lovers, waking up can be difficult without first enjoying some hot coffee or black tea to kickstart the day. But after the caffeine buzz has worn off, you may notice your cup of Joe sticks around in the form of tooth discoloration. 
If you are a regular coffee drinker, having white teeth can be challenging. Coffee stains teeth. BUT, there is good news. There are simple ways to fight surface stains while still enjoying your cup of coffee.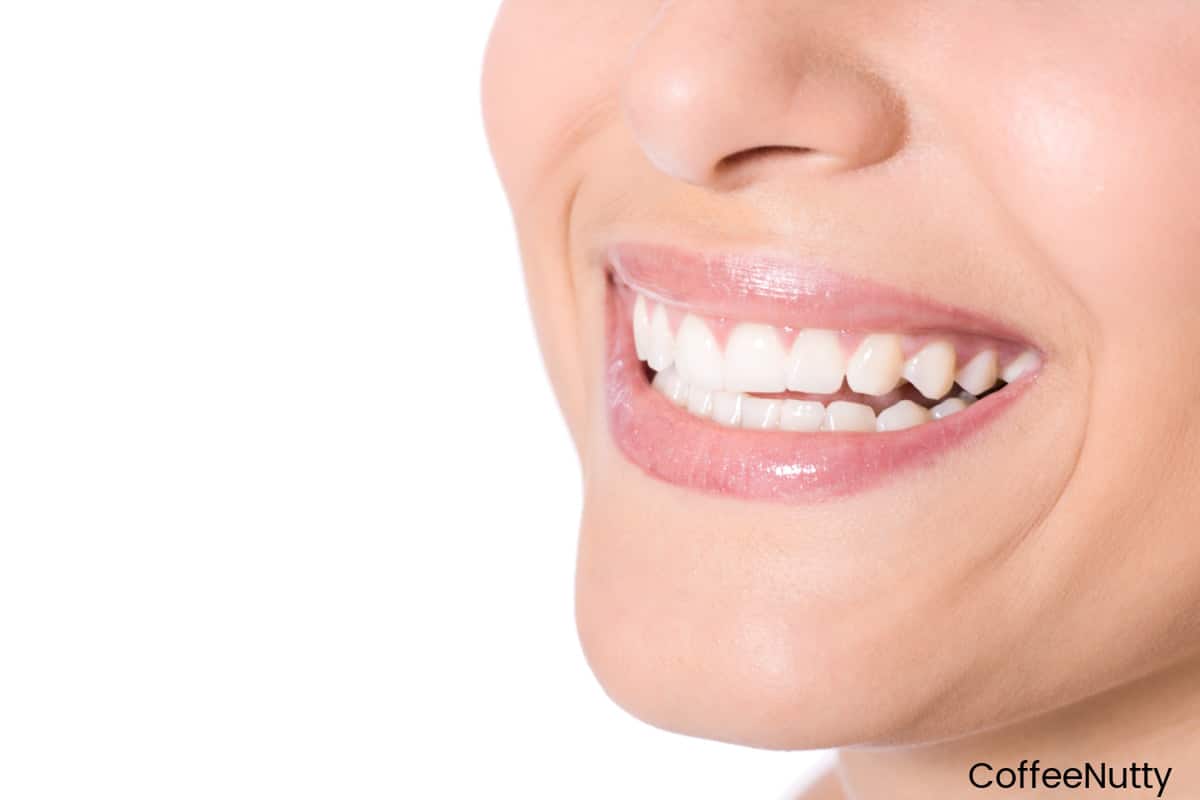 Here are 8 ways you can remove coffee stains on your teeth:
Brush your teeth with baking soda.
Use diluted hydrogen peroxide. 
Brush your teeth with diluted apple cider vinegar.
Rinse your teeth with sesame, coconut, or sunflower oil.
Use whitening toothpaste with an electric toothbrush. 
Try at-home teeth whitening systems.
Schedule a professional cleaning with your dentist.
Try preventative measures and alternatives.
We'll explore each listed item in-depth so you can pick the best way for you, whether you're at home or the dentist.
1. Brush Your Teeth With Baking Soda
Teeth whitening products can be expensive, but there are measures that you can take with components you may already have in your home, like baking soda. A study conducted by the American Dental Association concluded using sodium bicarbonate, or in layman's terms, baking soda, is a safe and effective at-home remedy to give you whiter teeth without breaking the bank. 
How To Use Baking Soda
Mix one part baking soda and one part water in a cup to use baking soda at home. When each part is thoroughly mixed, dip your toothbrush in the concoction and start brushing. Be sure to cover not only the tooth surface but the harder-to-reach crevices between your teeth and gum line. Once the entire mouth is clean, spit, rinse, and brush your teeth with regular toothpaste.
Use this method only 1-2 times a week to prevent further damage to your tooth enamel. Do your best not to swallow the solution. 
2. Use Diluted Hydrogen Peroxide
There are a few different ways to utilize hydrogen peroxide as a whitening agent for your teeth; you can use it just with water or in combination with baking soda for extra efficiency to combat those brown stains. This ingredient is commonly found in over-the-counter whitening products and even during professional whitening procedures! 
How To Use Hydrogen Peroxide Solution
A quick and easy way to whiten is to mix one part 3% hydrogen peroxide and one part water to create a mouthwash. Move the solution around your entire mouth for about 30 seconds, always avoiding swallowing. The taste may be unsavory but should go away after rinsing with water. 
For a more controlled approach, try creating a paste by adding a few drops of hydrogen peroxide to a small amount of baking soda in a shallow bowl. Once you achieve a smooth texture, brush your teeth like you would with store-bought toothpaste. Let the paste sit on your teeth for around two minutes while it does its magic, then spit and gargle with water until your mouth is entirely clean. 
If you choose to use diluted hydrogen peroxide for stained teeth, it's important never to swallow and only use it periodically. Prolonged exposure to this antiseptic can break down the enamel of your teeth and cause further damage. 
3. Brush Your Teeth With Diluted Apple Cider Vinegar
You may have used apple cider vinegar when preparing meals or making healthier choices, but did you know it can be used as a natural agent to whiten teeth? Another at-home remedy, anti-bacterial apple cider vinegar, contains acids that are great at removing discoloration and giving the appearance of whiter teeth. 
How To Use Apple Cider Vinegar
Just as you would with hydrogen peroxide, you can use diluted apple cider vinegar as a mouthwash or toothpaste. If you choose to use this as a mouthwash, dilute the solution with water. 
Because the active ingredients in this method are acidic, don't apply to your teeth often or for an extended period. Acids can break down the enamel on your teeth and cause further damage and discoloration if misused. 
RELATED: Best Sugar Free Coffee Syrups
4. Rinse Your Teeth With Sesame, Coconut, or Sunflower Oil
Oil has been used for thousands of years as a means of maintaining oral hygiene, as it extracts toxins trapped in your saliva and mouth that cause bad breath and teeth yellowing. Using natural oils like sesame, coconut, or sunflower oil is effective not only for whitening but protecting your teeth and gums from harmful bacteria and plaque build-up.  
How To Use Oil
Yenepoya Dental College and Hospital recommends utilizing this method daily and on an empty stomach.
Push a tablespoon of oil around your mouth for 20 minutes, allowing the oil to pull toxins out of your teeth and gums. Try this sitting down with your chin up. Once finished, spit the oil into a cup or paper towel to protect your pipes from oil damage and follow up by rinsing with water or brushing your teeth. 
It's important not to swallow the oil, as it contains the toxins you're dispelling from your mouth. YDCH also notes that if you experience jaw pain, you can reduce the time to 5-10 minutes. Additionally, this method is safe to use up to 3 times daily. 
5. Use Whitening Toothpaste With an Electric Toothbrush
You may prefer to use a product specifically formulated for teeth; consider whitening toothpaste with an electric toothbrush. Opting for an American Dental Association-approved whitening toothpaste is a standard and cost-effective option to get whiter teeth. Using an electric toothpaste ups the ante because it can more effectively brush the surface of your teeth and gums than a manual toothbrush. 
You can find both an ADA recommended whitening toothpaste and electric toothbrush at your local store or online. 
6. Try At-Home Teeth Whitening Systems
Another safe and effective option is at-home teeth whitening systems, like strips, trays, and pens. A teeth whitening kit can be more expensive than previous alternatives but are still far cheaper than professional cleaning and are a popular choice for stain removal from coffee or tea stains. 
Try researching different methods available, and be sure to check for that ADA seal of approval. Follow the listed directions carefully and consult your dentist if you experience any adverse side effects beyond just minor sensitive teeth.
7. Schedule a Professional Cleaning With Your Dentist
If the natural remedies or store-bought options aren't cutting it, you can always schedule a professional whitening. Though more expensive, the professional option covers extrinsic and intrinsic damage, meaning discoloration on the surface and within the tooth. 
An added benefit of "pro" cleaning is the expertise a dentist can deliver to your procedure and experience. A licensed professional can give you whiter teeth with as minor damage as possible. Your oral health is always in jeopardy when performing whitening procedures on your own, so choosing in-office whitening diminishes that risk. 
RELATED: Can You Drink Coffee After Wisdom Teeth Removal?
8. Try Preventative Measures and Alternatives
To prevent/maintain those pearly whites, try preventative measures while and after your morning cup, like drinking water between sips or eating certain foods that combat teeth yellowing. Raw fruits and foods like strawberries that have a high concentration of water produce more saliva and reduce staining. 
Tannins in coffee and tea cause discoloration, so water between sips will reduce the amount of time they're on your teeth. If you can't avoid adding sugar, water will prevent further enamel damage to your chompers. Adding animal milk can help produce saliva and protect your teeth from staining, so try adding it to your next java drink. 
Wait about 20 minutes after breakfast and brush your teeth (remember, using an electric toothbrush is most effective) and floss! Brushing will clean any remnants of your morning routine out of your mouth. 
Things To Avoid
Try avoiding acidic foods that cause microscopic gaps and break down the enamel of your teeth and cause irreversible staining to the outer layer of your tooth. If you can, avoid foods with tannins, that dyeing agent in coffee and black tea. Try switching to green tea as a caffeinated alternative. 
Final Thoughts
Whether you want to remove coffee stains from your teeth at home or dental hygienist, many effective methods and products are suitable for anyone's price range and skill set. Use caution when dealing with dental health and hygiene and seek answers to any questions with a dental professional.
RECOMMENDED: