Coffee is definitely a motivator to get up and start the day. Sometimes the craving for a special coffee flavor strikes and nutty is becoming more of a winner. Nut flavors have become increasingly popular, and for good reason.
Can coffee taste nutty? As a general rule, coffee can most certainly have a nutty flavor which is the direct result of how it is roasted. Nutty flavor is generally considered a good thing. "Good" nutty flavors might include a hint of almonds, chestnuts, hazelnuts, macadamia nuts, walnut, cashew, or pecans. "Bad" nutty flavors would be a bitter, peanut-like taste.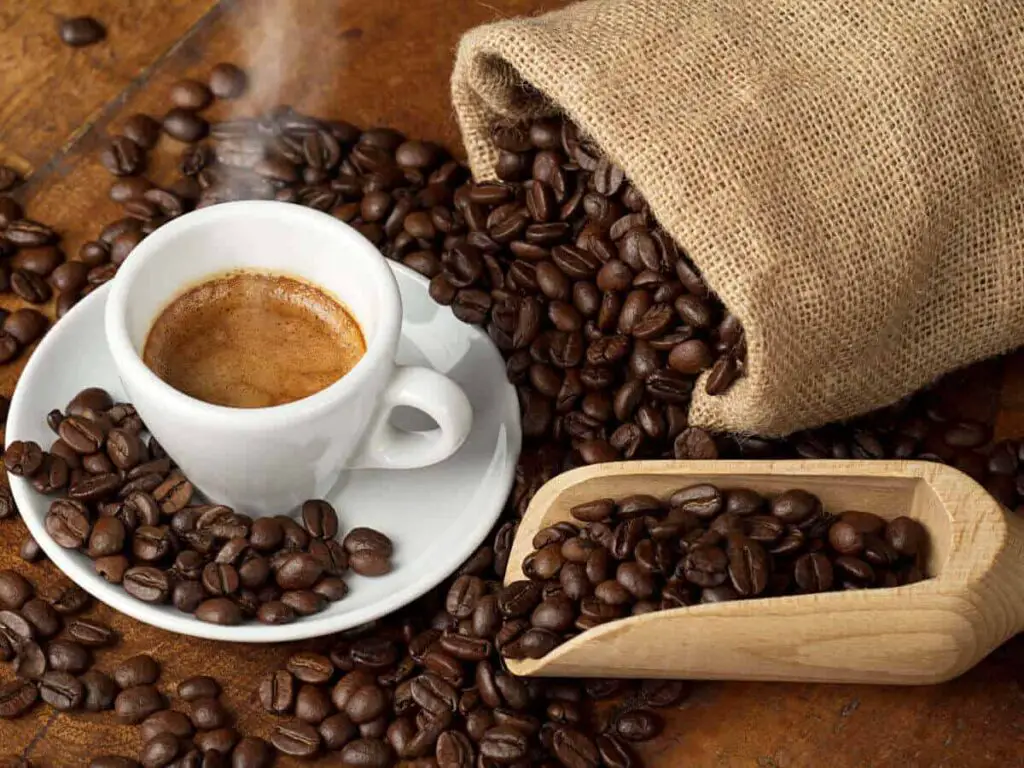 Picking out the specific type of coffee with a hint of nut flavor can be a challenge. Knowing what to look for is key in getting your cup just the way you want it. If there is a particular nut you love, chances are good you will like that type of coffee.
But, if you aren't sure which nut-flavored coffee to try, this should help!
Types of Nutty Coffee Flavors
| | |
| --- | --- |
| NUT TYPE | FLAVOR DESCRIPTION |
| Almond | Almond, almost buttery flavor |
| Chestnut | Fresh, roasted chestnuts |
| Hazelnut | Toasted, earthy, somewhat musty, sometimes buttery, crunchy |
| Macadamia | Creamy, subtle sweetness |
| Walnut | Strong, rich, nutty flavor |
| Cashew | Nutty, creamy, and lightly sweet |
| Pecan | Sweet, nutty, and buttery |
Almond:
Typically slowly toasted, golden almond taste. Often you will see almond coffee with a hint of vanilla as they make a great combination.
Chesnut:
The brand of coffee can vary from a mild and light taste to a thick, smoky flavor. Be sure to read the description to get exactly what you are looking for.
Hazelnut:
A very popular flavor, if not the most popular nut/coffee variety as hazelnut and coffee marry very well together. The creamy, slightly sweet hazelnut flavor is incredibly appealing. Hazelnut coffee is the nut flavor you will likely most often find in your local grocery store.
Macadamia:
Macadamia nuts are also a popular choice for nutty flavored coffee as they have a creamy, subtle sweetness. It should be noted that macadamia nuts pair beautifully with coconut, so this is often added to the macadamia coffee.
Walnut:
This particular nut can have a stronger, more robust flavor. Some might even tend to find walnut coffee tastes a bit bitter. Of course the specific brand of coffee you purchase will ultimately make a big difference with the final flavor.
Cashew:
Yum. A creamy, slightly sweet nut flavor.
Pecan:
Sweet, nutty, and buttery flavor.
I'm sure you are finding a trend here. Essentially, in order to enjoy a specific type of nutty coffee, you need to actually like and appreciate the taste of that particular nut.
Do nutty tasting coffees actually contain nuts?
As a general rule, yes, nutty tasting coffees typically contain nuts.
But, it actually depends.
This is a question many ask due to allergy to nuts. You can find nutty flavored coffee that is made from nut-flavored syrups that do NOT list any actual nuts on their ingredients list.
However, if you suffer from any nut allergy, I would highly suggest ensuring the place you purchase your coffee does not have cross contamination with nuts and coffee.
However, if your goal is to actually get that yummy nutty flavor, but are hoping to avoid the actual nuts, you should know that sometimes real nuts are in with the coffee versus a syrup, so there most certainly could be nuts IN the coffee.
When in doubt, ASK!
As an Amazon associate, I earn from qualifying purchases.
Are nuts actually ground into the coffee?
Much of the coffee you will purchase in a store or even coffee shop that states it is a specific type of nut coffee has simply been infused with that flavoring to achieve the nutty flavor.
However, there are those that actually grind the coffee beans and roasted nuts together. Saveur describes the process that is used to make piñon coffee at the Piñon Coffee Company in New Mexico and it sounds absolutely delightful.
If you are a lover of nuts, this is the way to go for nutty coffee in my personal opinion - which leads me directly to the next question.
Is flavored coffee bad for you?
According to Spoon University, flavored coffee can contain propylene glycol which according to Wikipedia, is also used in whipped dairy products, ice cream, and soda.
Is flavored coffee bad for you? There is a general consensus that products containing propylene glycol could be linked to negative health consequences. Due to this, flavored coffee could in fact be bad for you.
What type of extracts give a nutty flavor to coffee?
Almond extract will sweeten coffee, giving it a hint of a nutty flavor. If you don't have almond extract, almond milk is another option to add that nut taste you are seeking.
Where can you find nutty coffee?
If you are on the search for a coffee with a hint of nut taste, you should not have any difficulty locating the perfect blend.
Here are a few options to try, available on Amazon.
RELATED READING: