Are you a chronic coffee drinker and wondering if there's anything you can do with the coffee grounds you usually throw out after enjoying your cup of joe? Or have you noticed that your indoor plants could use a nutrition boost lately and wondered if coffee grounds can help?
Coffee grounds added to soil can offer significant benefits to plants, but only if those plants can hold out against the possibly damaging acidity in coffee. Plants like African violets, peace lilies, Christmas cactuses, and roses like slightly acidic soil that gives them a nitrogen boost.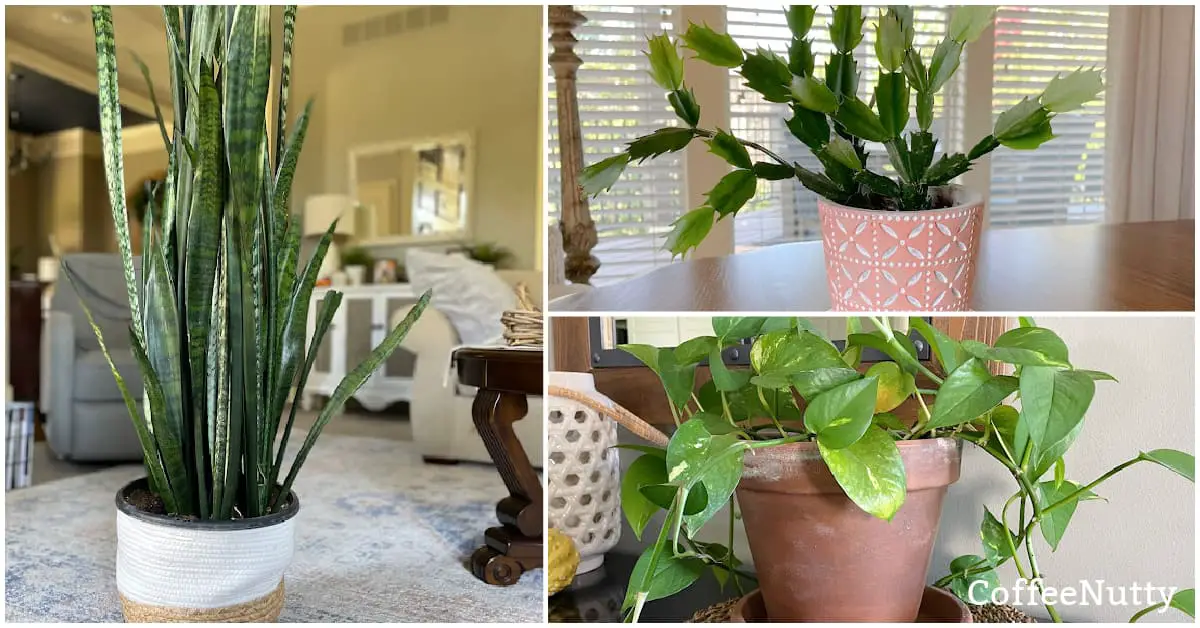 In this article, I will name some plants that can benefit from coffee grounds and explain how to use them.
Additionally, I will discuss in detail the different methods of using old coffee grounds, their benefits, and how often you can use them without causing any damage to your plants.
Jump to:
What Do Coffee Grounds Do for Plants?
Coffee grounds can function as fertilizer in the soil. The benefits of coffee grounds are that they also help to keep the soil moist and provide nutrients like nitrogen for certain plants that are not affected by their acidity. 
As mentioned, coffee grounds can do wonders for plant growth.
Adding them to your soil is also a way to put the 'waste' from your coffee maker to good use - you won't have to throw away your leftover coffee grounds after making yourself a cup of coffee anymore. 
The grounds are absorbent.
When you water your plants, they will absorb some of that water and keep your soil moist for longer, precisely what a healthy plant needs.
Coffee grounds are also super nutritious for certain plants though they're slightly acidic.
Some plants should not be fertilized with coffee grounds because they are too acidic and can damage the plant. If you don't carry out in-depth research, you can do more harm than good to your house plants.
So use much caution if attempting to use a coffee fertilizer.
Plants That Like Coffee Grounds
Plants that can significantly benefit from coffee grounds are those that like acidic soil.
These acid-loving plants enjoy the benefits of the nitrogen in coffee grounds to grow and become as healthy as possible.
African Violets
African violets prefer slightly acidic soil.
Thus, using coffee grounds is a recommended method to balance out the pH level of the plant's soil. African violets thrive on high nitrogen content, so adding coffee grounds will give them a much-needed boost.
The best way to use coffee grounds for the violets is as fertilizer.
Using brewed coffee grounds diluted with water is the perfect way to spread the nutrients around and simultaneously keep the soil moist so your flowers don't dry out.
RELATED: Substitutes for Coffee Filters
Jade Plant
Jade plants and spider plants are pretty similar when it comes to their use of coffee grounds as fertilizer.
Both plants enjoy the nutrients in coffee grounds. As such, in addition to the standard compost or mulch, you can also fertilize them with diluted brewed coffee grounds. 
Spider Plant
Spider plants prefer soil with a slightly lower pH level rather than alkaline soil. They greatly benefit from the nutrients, growing big and strong. 
It is essential to limit the amount of coffee grounds used for this plant, to avoid damage.
Like with jade plants, you can use brewed coffee grounds in fertilizer, mulch, or compost for these plants. Do not combine different methods. 
Snake Plant
Snake plants like coffee grounds in their soil as they need nitrogen to stay healthy.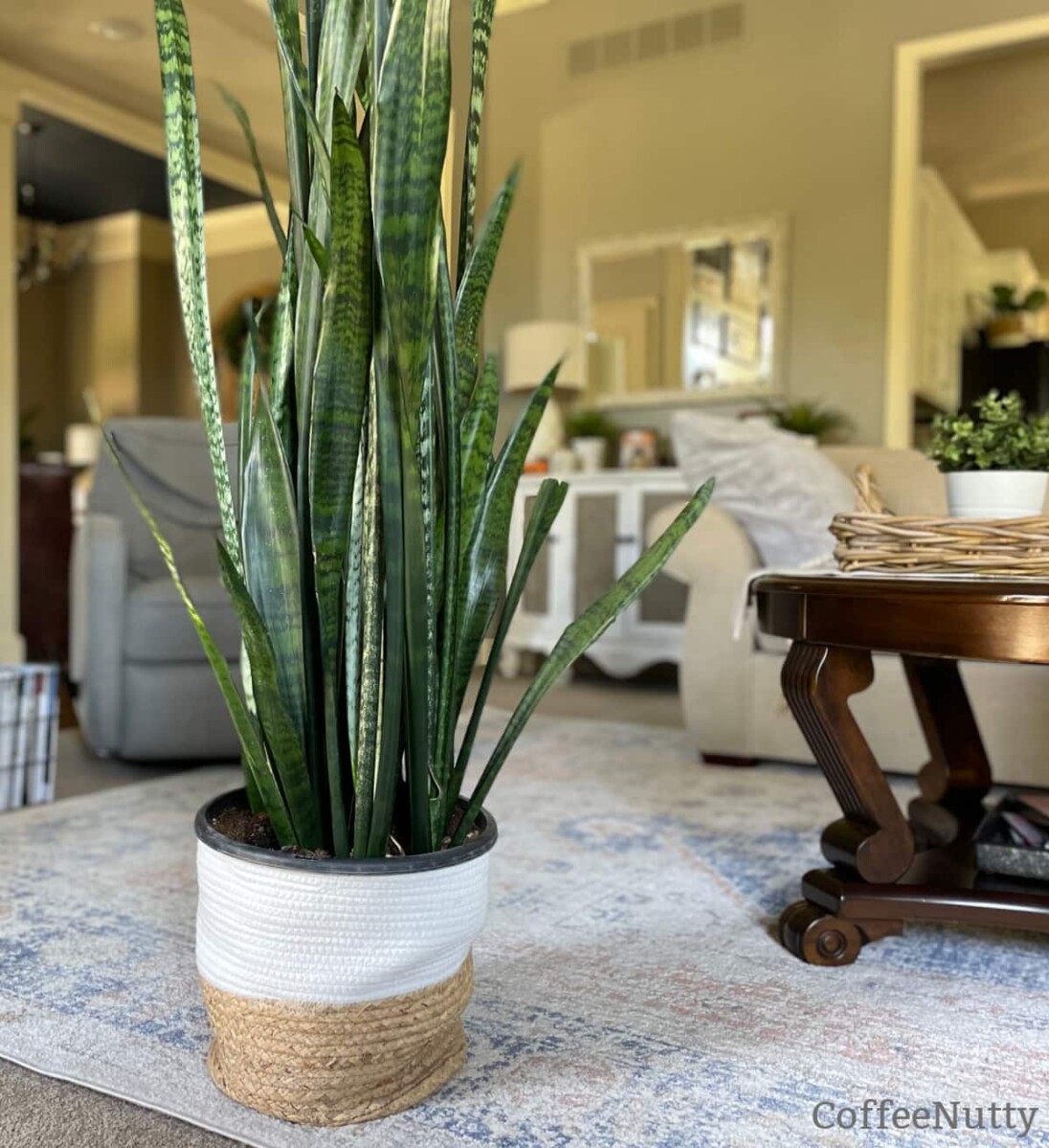 However, they are also a little sensitive to acidity, so limiting the amount of coffee grounds you use is essential. 
The preferred way to use coffee grounds for snake plants is in compost or mulch. It's a great way to spread the coffee ground around as much as possible, limiting direct contact with your plant's roots.
RELATED: One Cup Coffee Beans Equal How Much Coffee Grounds?
Christmas Cactus
As you might know, succulents don't like moist soil.
They don't absorb much water, so they will just sit in the wet soil and start to rot.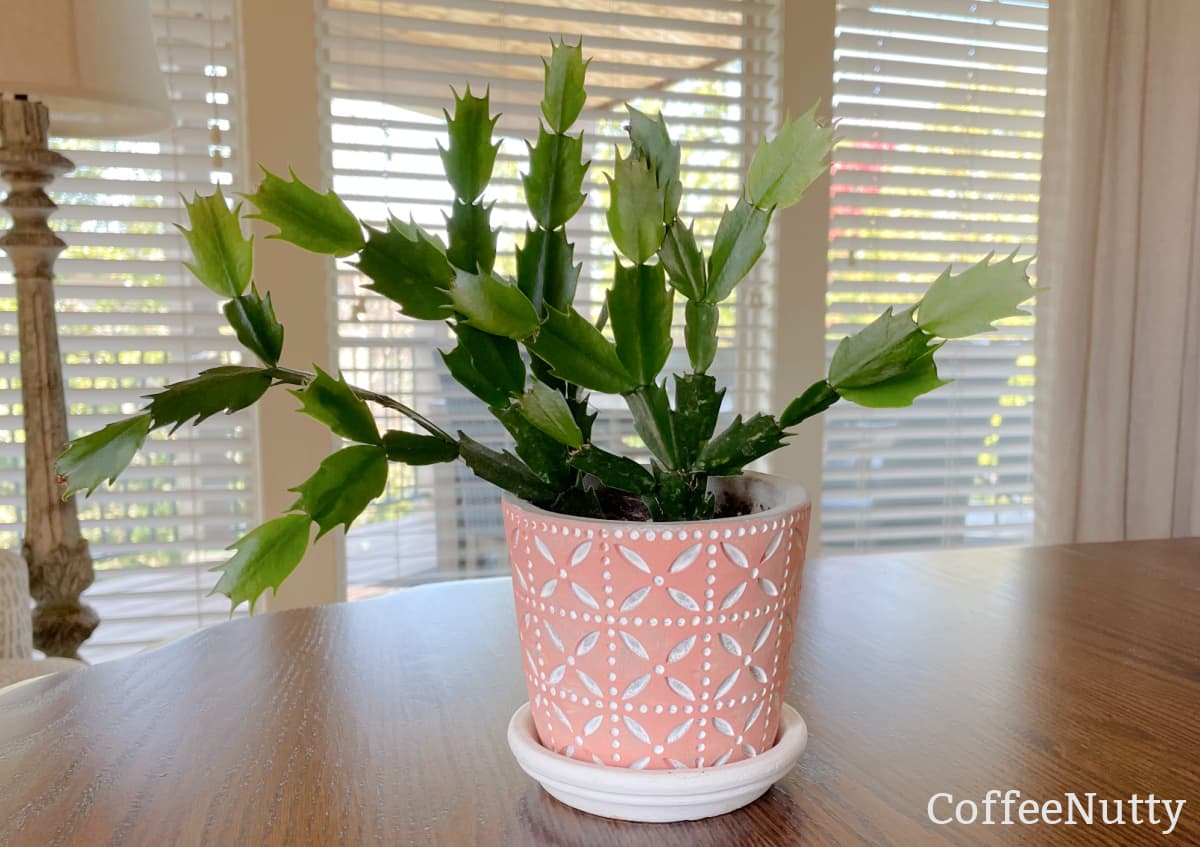 Cactuses can profit from the nitrogen in coffee grounds. However, you can't add them in while wet.
Allow your coffee grounds to dry then mix them into the soil once they're completely dry.
RELATED: What Happens if Coffee Grounds Go Down Garbage Disposal?
Peace Lilies
Peace lilies don't like alkaline soil.
As such, coffee grounds make an excellent substance to balance out the soil pH level, providing a supportive environment for your lilies to grow.
Using coffee grounds as natural fertilizer is the best method for peace lilies because they can enjoy a smaller dose of coffee spread throughout the soil.
You can also make a compost pile with coffee grounds for your Lillies, but mulch wouldn't work well for these flowers.
Miniature Roses
Roses need nitrogen to live and grow so they can profit from coffee grounds.
However, they are also relatively sensitive to acidity. Limiting the amount of coffee grounds you use is essential if you don't want to risk killing your beautiful roses.
The best way to incorporate coffee grounds in your roses' soil is by mixing them into mulch alongside other organic material.
Mixing the coffee grounds with organic matter prevents direct contact with the roots, limiting the risk of damage.
Lily of the Valley
The lily of the valley is a sensitive flower that can use a boost of nitrogen every now and then.
Golden Pothos
Pothos is an easy to care for plant that can benefit from coffee grounds. A small amount of used coffee grounds can be mixed with potting soil for a great source of nitrogen.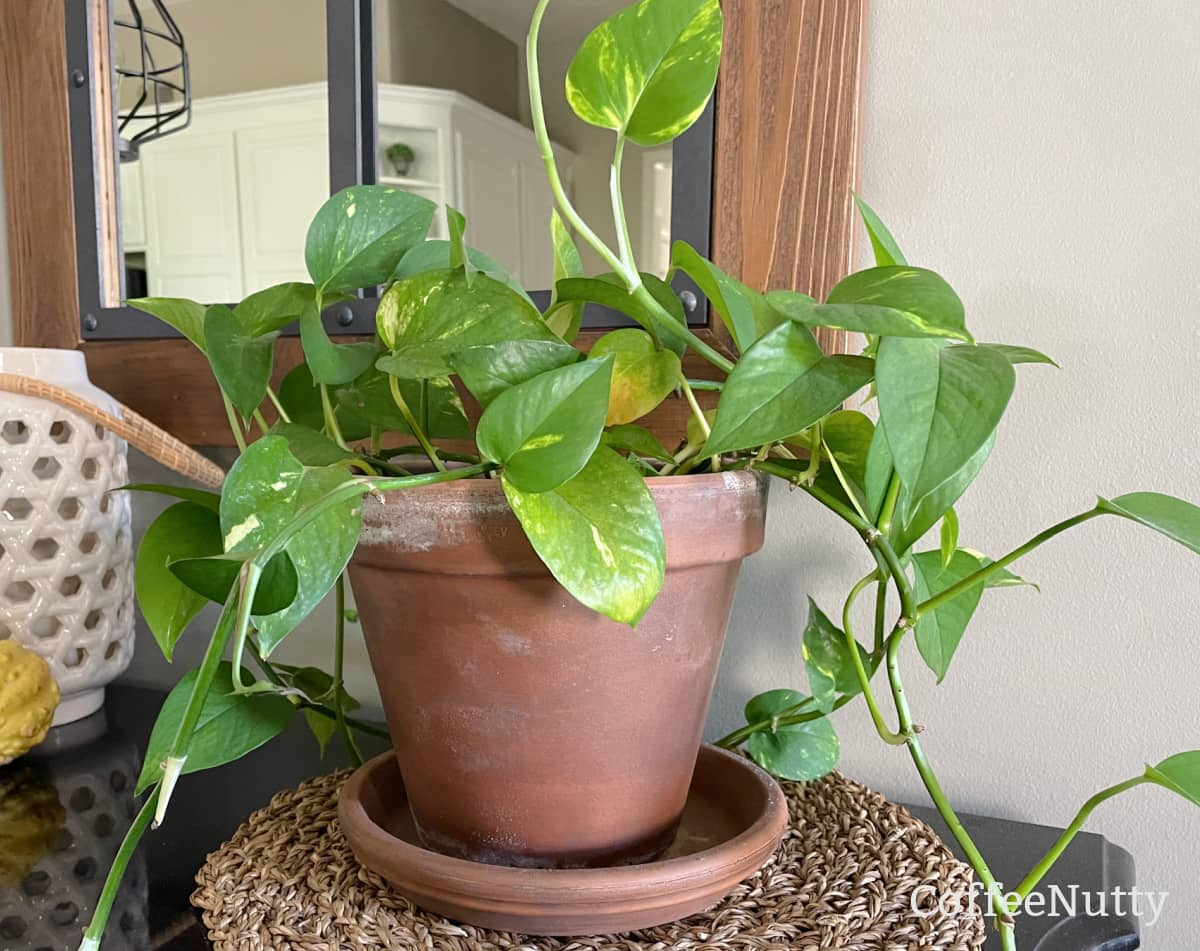 Keep in mind that it is important to know the pH of your soil and general soil structure for best results with any plant.
Plants That Don't Like Coffee Grounds
Not many plants are made to withstand acidic coffee grounds.
This completely outweighs the possible benefits of the nutrients available in the grounds. Such plants prefer the opposite; 'alkaline' soil, which is soil with a pH level over 7.
Here is a list of indoor plants that like alkaline soil:
Geraniums
Coral Bells
Aloe Vera
Begonia
California Poppies
Oxalis
How To Use Coffee Grounds in Plants
There are different ways to fertilize your indoor plants with coffee grounds, all of which have a specific purpose.
Not all plants can handle coffee grounds straight to their soil because the amount of nitrogen they are bombarded with can seriously damage the more sensitive plants that could otherwise benefit.
Here are the three main ways to use coffee grounds:
1. Make Compost 
Compost is a mix of green and brown materials in a fifty-fifty ratio.
Brown materials include small wooden parts (like sawdust, branches, and tree bark), dry leaves, dead plants, etc. Surprisingly, paper, like a coffee filter, is also a brown material. You won't have to throw out your paper coffee filters, either. Green materials are a source of nitrogen, e.g., coffee grounds, grass, and food waste (including some kitchen scraps). 
Composting is a great way to get rid of all your waste and keep your plants healthy, giving them an extra boost at the same time. 
To learn how to make compost, read this article from the GardenersWorld website.
2. Mix Coffee Grounds in Mulch
Mulch is not the same thing as compost because it is a layer on top of the soil that you can replace with new mulch full of important nutrients every now and then.
Using mulch is a great way to maintain the moisture in your soil, when placed on the surface of the soil.
Remember that whatever materials you use for your compost or mulch will decompose and start to smell.
This shouldn't be an issue when it comes to dead plants, wood scrapings, or leaves, but it might make you regret your decision if you choose to use food waste.
3. Make Fertilizer With Coffee Grounds
Fertilizer is a great way to provide nutrients from coffee grounds in small doses for plants that are more sensitive to acidity. 
Making fertilizer is relatively easy. You just mix brewed coffee grounds with a lot of water. A good ratio would be 640fl ounces (18,93 l) of water to two cups (473ml) of brewed coffee grounds.
Snag a cute t-shirt for coffee and/or plants from these fun options on Amazon!
How Often Can You Use Coffee Grounds in Your Plants?
Mulch doesn't have to be replaced often, maybe once a year. You'll probably be able to tell what condition your mulch is in by merely looking at it.
You can fertilize your plants every two weeks in the spring and summer months, but leave them alone during winter and autumn.
If you want to learn more about fertilizing your plants, check out this article on the Real Simple website. 
You should replace your soil once a year or every year and a half to maintain a healthy source of nutrients and moisture for your plants. This means changing your compost as well. 
Other Ways to Fertilize Your Plant Soil
You can use other substances to fertilize soil besides coffee grounds.
One example is eggshells. Egg shells are very nutritious; you can add them to the soil after grinding them into a fine powder. This method is most useful for vegetable plants as it promotes growth of the vegetable garden.
Another option is adding banana peels. Potassium is a nutrient that many plants can benefit from. Letting banana peels soak in water or directly adding the peels to soil are the best ways to use them.
Final Thoughts
African lilies, miniature roses, Christmas cactus, jade plant, spider plant, snake plant, and golden pothos are a list of plants that all love slightly acidic soil. You can use coffee grounds in compost, mulch, or dilute brewed coffee grounds with water to use as a fertilizer.
Choosing the proper method of using the coffee grounds for your plant type is essential because they all have different needs and are sensitive to different things.
Plants like geraniums, coral bells, aloe vera, begonias, California poppies, and oxalis prefer alkaline soil, which is the opposite of acidic soil, with a pH level over 7.
Enjoy this post? Pin it for later!