After brewing your coffee and running it through a coffee filter, you may wonder what to do next with your paper coffee filter. Do you trash it, use it as one of your toilet paper alternatives, or simply flush it down?
Coffee filters are not flushable because they're designed to stay in liquid for extended periods. As they're made from materials that will not dissolve when flushed into your sewer system, attempting to flush coffee filters may result in a clogged drain.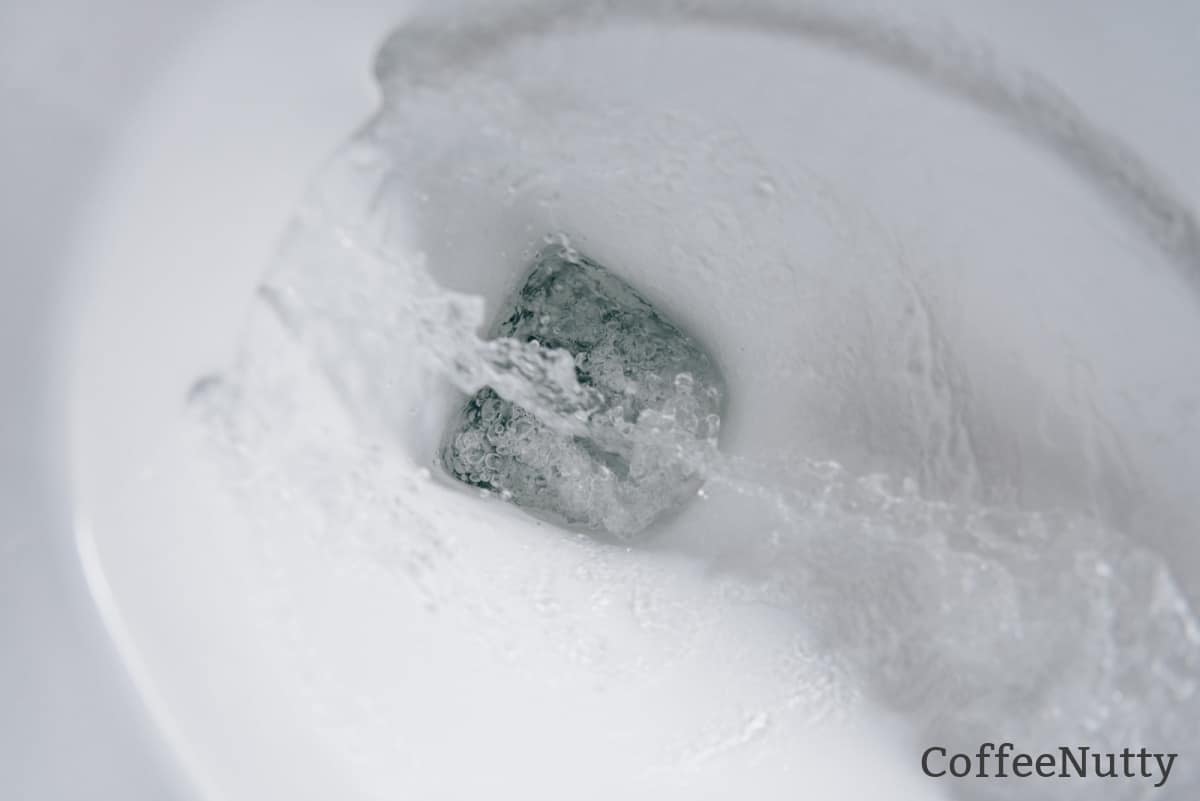 In this article, I'll discuss why coffee filters are not flushable. I'll also examine the composition of coffee filters and how to dispose of them properly.
Jump to:
Can You Flush Coffee Filters Down the Toilet?
You cannot flush coffee filters down the toilet because they're made from materials that aren't affected by liquid.
Hence, they cannot dissolve when disposed of in the toilet.
The purpose of a coffee filter is to separate the brewed coffee from the chaff left after the brewing process. Without filtering your coffee, you'll be left with a cup filled with a coffee dredge.
Unlike other paper products, a coffee filter doesn't disintegrate when immersed in liquid.
This makes it the best choice for filtering coffee, but also the worst choice for flushing down a toilet and potentially ruining sewer systems.
What Happens After Disposing Coffee Filters in the Toilet?
Coffee filters are not made from short cellulose fiber materials that decompose quickly, like toilet paper.
Therefore, if you flush a coffee filter down the toilet, you can cause many problems in your plumbing that will cost you money to fix.
In the following sections, I'll go over what issues can arise from disposing of a used coffee filter in the toilet.
The Sewer System May Become Clogged
Since coffee filters are made of non-degradable materials, flushing them down the toilet can cause a clog in your sewer.
If this happens, the flow of substances through the sewer will be significantly hampered.
Additionally, if this is the case, you'll have to hire a plumber to rectify the issue, leading to unwanted expenses due to the repairs needed.
You May Notice an Unpleasant Smell in Your Home
Clogged drainage prevents flow and causes an accumulation of waste and dirt within the septic system.
This accumulation causes an unpleasant smell that can affect your bathroom and your entire home, which can significantly impact your day-to-day life.
You May Develop an Infection
An accumulation of wastewater and food particles creates a conducive environment for bacteria and viruses.
These organisms can cause several Urinary Tract Infections (UTIs), skin infections, and more.
Additionally, you'll likely have unwanted medical bill expenses if you develop an infection because of a flushed coffee filter.
RELATED: 11 Best Substitutes for Coffee Filters
How To Properly Dispose of Coffee Filters
Trashing a coffee filter is the next thing on most people's minds after use.
However, there are better alternatives that are more productive uses for a coffee filter.
Recycling is another way to get the best out of your filter papers because it can save you money. Aside from disposing of your coffee filter in the trash, you can recycle it.
Below are some of the best options for recycling your coffee papers:
Reuse the Coffee Filters
The materials used in making coffee filters can withstand extended exposure to liquids.
This means you can reuse them several times before you trash them. In fact, you should use the filter papers at least twice before throwing them away.
To reuse the coffee filters, you only need to wash and rinse them in warm water, and they'll be as good as new.
However, you mustn't use chemicals while cleaning them, as this can be toxic.
RELATED: How to Clean a Braun Coffee Maker
Use the Coffee Filters To Filter Used Cooking Oil
Believe it or not, you can reuse your cooking oil after frying.
And the best way to reuse your cooking oil after frying is to filter it, which is where coffee filters come in handy. Coffee filters can filter cooking oil as well as any other liquid.
You must ensure the filter is clean; strain the used oil carefully into a new container.
You can watch this YouTube video by Around the Home to learn more about how to filter used cooking oil with coffee filter papers:
Use the Coffee Filters To Clean Glass Surfaces
Glass surfaces are delicate and require soft textured materials to clean them. A coffee paper filter is an excellent example of a material that fits this purpose.
Therefore, you can reuse a paper filter to clean glass surfaces around your home.
The filter paper provides an abrasive that's ideal for cleaning glass.
Learn more about paper vs. reusable coffee filter here.
Compost the Coffee Filters
Composting is recycling organic waste matter to help improve soil nutrients.
Coffee filter papers are made from organic matter, especially the unbleached (brown) coffee paper filters, so they work wonderfully for a compost pile.
You can add them to your compost heap alongside other waste matter including food waste, spent coffee grounds, tea bags, etc.
The (brown) papers contain carbon-rich nutrients, and coffee beans are nitrogen-rich, providing suitable nutrients for the soil.
Therefore, if you have a farm, composting will be a more profitable means to dispose of your filter papers.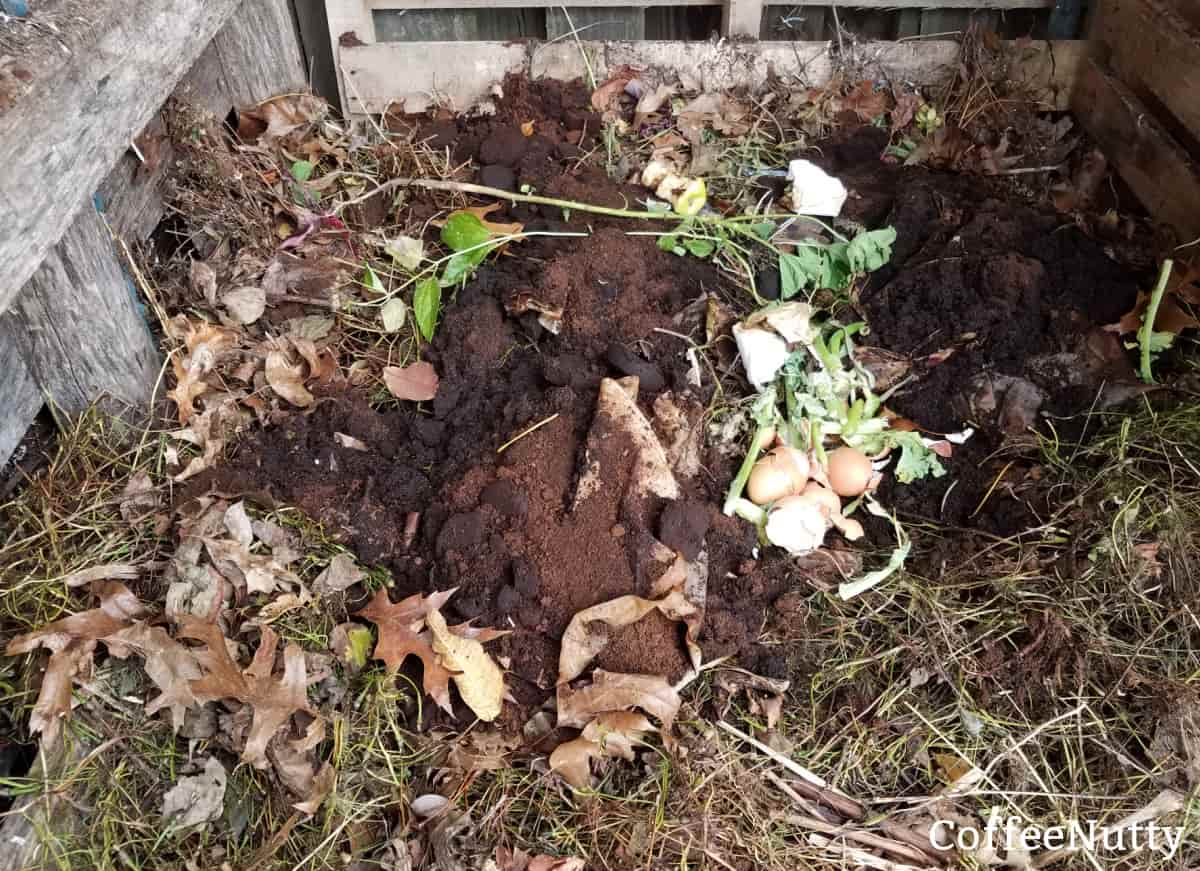 However, even if you don't have a farm or any plants, composting coffee filters for Mother Nature is still a wallet-friendly way to create fertilizer.
Learn more about how coffee grounds can be a rich source of nitrogen for indoor plants and tomato plants.
Other Paper Products that Should Not Be Flushed
During the great toilet paper panic of 2020, many individuals became quite creative with toilet paper alternatives. Unfortunately, many of these paper products should be thrown away vs. flushed.
The following is a list of paper products that could be pretty damaging to your sewer system (i.e., do not flush):
Paper towels
Wet wipes (many are not genuinely flushable wipes. Be sure to read the label to ensure they are meant for flushing).
Sanitary pads
Baby wipes / moist wipes
Cigarette butts
Some toilet seat covers
Thank goodness we all have easier access to toilet paper in the United States, and the toilet paper shortage is behind us. Our store shelves almost always have some toilet paper available for purchase.
So for best results, toilet paper is one of the only things (paper products) you should consider flushing.
Conclusion
Coffee filters are not flushable because the materials the paper filters are made from won't dissolve when flushed down the toilet. Therefore, if the filters are flushed, you'll likely have one or more of the following problems arise:
A clogged sewer system.
An unpleasant smell permeated throughout the house.
Possible infections, including UTI's.
Therefore, it's ideal to dispose of coffee filters safely, whether by reusing them in other ways or simply composting them.
FAQs
Are coffee grounds flushable?
No, you should not flush coffee grounds. Coffee grounds run the risk of clogging your drains.
Are coffee filters biodegradable?
Coffee filters are biodegradable and work wonderfully in a compost pile.
Can coffee filters go in food waste?
Yes, coffee filters can go in food waste in a compost heap. In addition to paper filters, you can also compost coffee grounds, tea bags, egg shells, and a number of other food waste items.