Many people throw their leftover coffee grounds in their plants. One of the reasons gardeners cite for using coffee grounds in gardening is the acidity which can benefit acid-loving plants. However, there still needs to be more debate about whether or not it is suitable for edible plants like tomatoes.
Coffee grounds are good for tomato plants in moderate amounts, especially when added to compost. When used directly, they can add some nutrients to the soil but not such a significant amount that you could replace your fertilizer with coffee grounds. Coffee grounds also have an antifungal effect.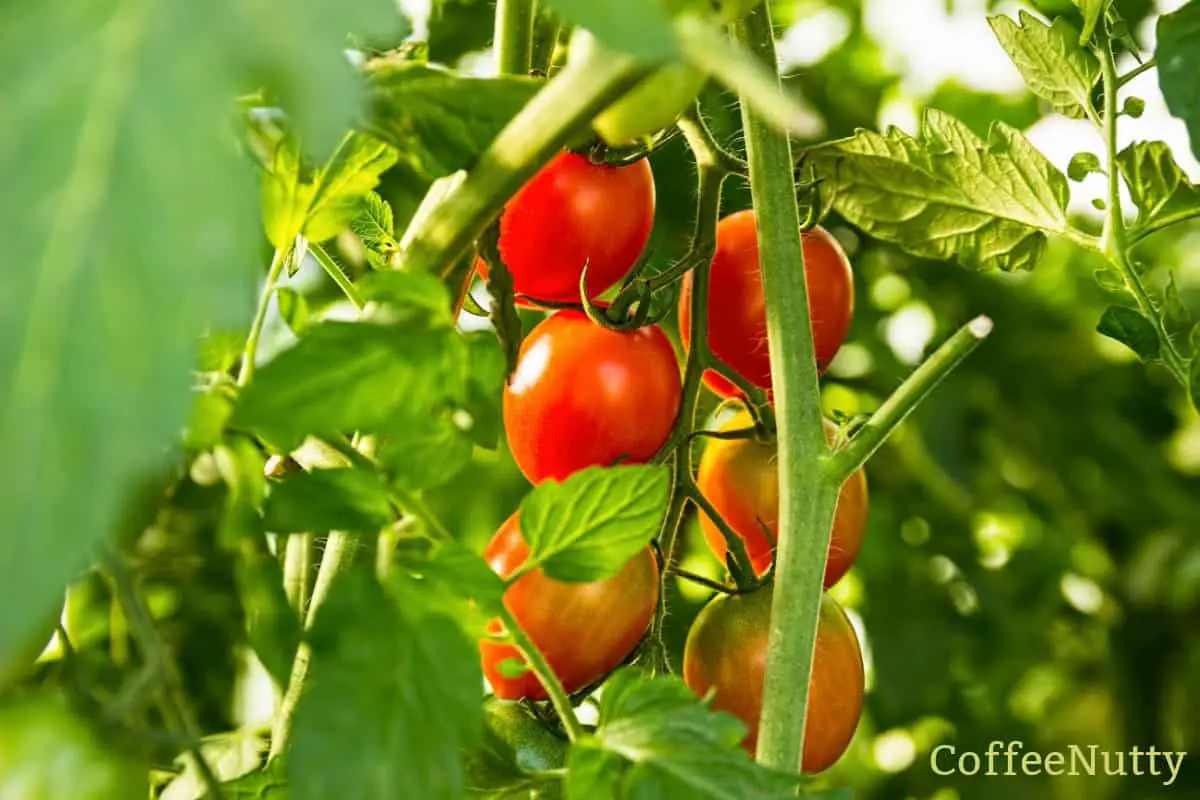 In the rest of the article, we'll examine the pros and cons of using coffee grounds for tomato plants and how much of an effect these nutrients have on the plant.
Jump to:
Let's get started.
Pros and Cons of Adding Coffee Grounds to Tomato Plants
It can be challenging to say whether or not coffee grounds are good for tomato plants without first discussing the pros and cons of using them.
Using coffee grounds as an organic fertilizer has spread widely online and among fellow gardeners, and many people are now curious to try it.
Let's examine the pros and cons of this practice:
Pros
Gardeners will only recommend using coffee grounds in the garden if they have seen the benefits themselves.
However, it would help if you looked at the science behind these benefits:
Coffee grounds add nutrients to the soil. Coffee grounds contain 2% nitrogen and trace amounts of phosphorus and potassium, which are the three essential macronutrients for plant growth.
Coffee grounds have a slow nitrogen release. This is good for tomato plants. The proteins in the coffee grounds get broken down by microbes before the nitrogen becomes available for absorption. While breaking down the coffee grounds, the microbes also consume nitrogen. As a result, the plant won't get too much nitrogen. It is beneficial because too much nitrogen fertilizer can inhibit the growth of flowers and fruits.
Spent coffee grounds can be slightly acidic to neutral. Used coffee grounds have pH levels ranging from 6.5 to 6.8. If your garden soil is already acidic enough for tomatoes (6.2 - 6.5), applying spent coffee grounds shouldn't affect the soil's acidity too much. On the other hand, fresh coffee grounds may still contain much acidity, which can be released into the soil when adding water.
Coffee grounds are compostable. The grounds can easily be added to a compost pile and fed to the plant. This is a better option when using coffee grounds in gardening with organic material as they can decompose properly and provide additional energy and nutrients to the plant. 
Coffee grounds suppress fungal diseases. Research shows that coffee grounds have antifungal properties. They are effective against some fungi that affect tomatoes, such as Phytophthora and Sclerotinia. 
Coffee grounds can improve the soil's water retention capacity. Tomato plants need adequate water for optimum growth. If your soil is fast-draining, adding coffee grounds is a good way to help improve its water retention to rehydrate your tomato plants before the moisture is lost to the air or deep into the soil.
Coffee grounds can feed soil microorganisms and earthworms. Soil microbes and earthworms feed on coffee grounds and release their chemicals into the soil. The waste or humic products released by earthworms help improve the soil texture.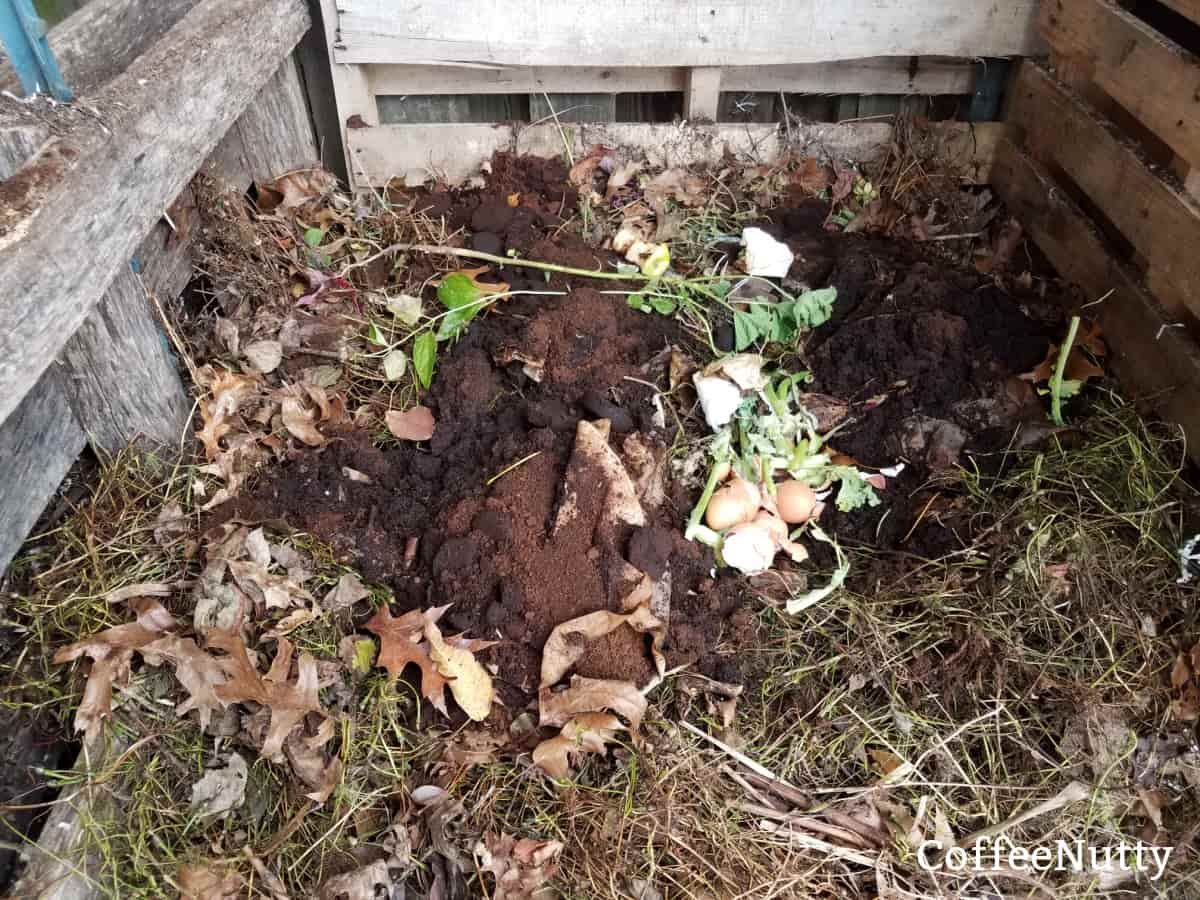 Cons
Understanding the possible risks associated with using coffee grounds can help you make an educated decision.
Let's take a look. 
Caffeine is bad for plants. Depending on the coffee variety and the brewing technique, some used coffee grounds may contain toxic levels of caffeine that can inhibit the growth of tomato plants. High caffeine content can be especially harmful to tomato seedlings that haven't developed sturdy roots yet.
Coffee grounds can have added chemicals. This is especially true if your coffee grounds are of low quality. While most people assume that coffee is an organic fertilizer, this isn't always the case, and it can significantly affect your tomato plant's growth. 
Applying a thick layer of coffee grounds on the soil can reduce aeration. Fine coffee grounds can block air spaces in the soil, potentially suffocating the plant's roots.
RELATED: Can Coffee Grounds Go in Garbage Disposal?
Do The Pros Outweigh the Cons?
Based on the pros and cons above, you can see more benefits to using coffee grounds for your tomato garden.
You can take advantage of these benefits if you use coffee grounds sparingly.
For best results, you should mix used coffee grounds (small amounts) into your compost pile to help them break down much faster, release their nutrients, and activate their antifungal properties.
It helps to remember that there are better fertilizers to use regularly on your tomato plants than coffee grounds.
It can also be challenging and costly to determine the innate qualities of your coffee grounds and how they can affect your plants.
Some coffee grounds can be too acidic or alkaline, depending on various factors, such as:
Coffee Variety
Brewing process
Chemical additives
Tips for Using Coffee Grounds for Tomato Plants
Suppose you have expired coffee grounds or want to use spent coffee grounds in your tomato garden.
In that case, you can do so without harming your tomato plants by considering the tips below:
Conduct a soil test to determine what nutrients are lacking. It will only help your plants to feed them blindly with coffee grounds if you know the soil structure. You also risk over-fertilizing them. As mentioned, high nitrogen content can inhibit the development of fruits, significantly reducing your tomato plants' yield.
Check the pH and nutrient profile of your coffee grounds. If you're a coffee lover with a steady supply of coffee grounds, it's a good idea to have them tested at the laboratory. Using the same brand or source of coffee grounds will make it easier to determine what kind of plants can benefit from them.
Avoid applying fresh coffee grounds directly on your tomato seedlings. Coffee grounds contain phytotoxic chemicals that inhibit the growth of neighboring plants to reduce competition. Feeding the soil with fresh grounds can stunt growth or even kill young tomato seedlings. It's always best to add them to your compost pile.
Your compost pile must contain at most 20% coffee grounds. Your compost should contain around a 30:1 carbon-to-nitrogen ratio. Coffee grounds are nitrogen-rich, making them ideal green compost material. However, your compost bin should have other nitrogen sources and sufficient carbon sources or brown compost material to achieve the right formula of organic matter.
Apply only a small amount of spent coffee grounds to the soil. Avoid applying a thick layer on the soil to reduce the risk of lowering aeration and altering the pH of the soil. A ½ inch (1.25 cm) layer of coffee grounds around the base of your tomato plants should suffice. Wait another two months or after the grounds have been visibly decomposed before adding more.
Get tips on using coffee grounds for your indoor plants here: What Indoor Plants Like Coffee Grounds.
How to Add Coffee Grounds to the Soil
If you're trying to create the perfect soil for your tomato plants, you'll want slightly acidic soil to ensure that the coffee grounds won't drastically change the pH.
You can then add coffee grinds to the soil after determining that the soil's nutrient deficiencies can be overcome by the soil amendment. 
You can add coffee grounds to the soil in a few different ways. 
Apply the Coffee Grounds Directly Into the Soil
One of the best ways is to work a general fertilizer into the soil at least three months before planting your tomatoes. That way, the soil microbes have enough time to break down the grounds and release nutrients.
It can also improve the chances of neutralizing the coffee grounds' phytotoxicity. Moreover, you can prevent the possible drastic changes in soil pH that can occur within a few weeks of applying the coffee grounds.
Till the soil lightly and add the coffee grounds. Add some water and allow the microorganisms and earthworms to consume the coffee grounds and distribute their nutrients in the soil.
For mature plants, it's crucial to check the acidity of your coffee grounds. Coffee brewed at high temperatures for a short period will usually be acidic, leaving little acidity in the grounds.
After confirming that the acidity won't be a problem, you can add the coffee grounds directly to the base of your tomato plants.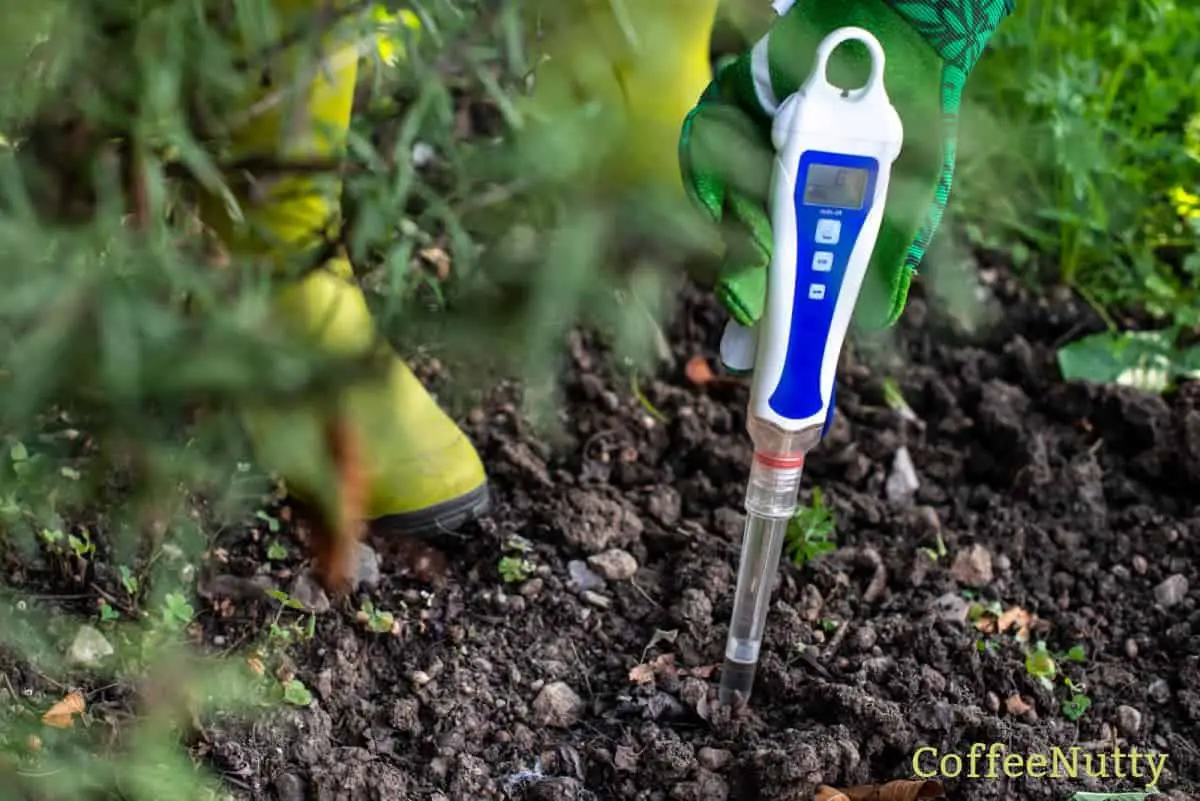 RELATED: Where Do Coffee Plants Grow?
Add Coffee Grounds to the Soil as Part of the Compost
In compost, coffee grounds can take around three months to decompose.
However, the process helps neutralize their phytotoxic qualities, making them suitable for plant growth. You can apply a one-inch (2.54 cm) layer of compost around the base of the tomato plants or lightly till it into the surface of the soil. 
Add more compost every month during the growing season and reduce the number of applications during the flowering season.
Otherwise, the excess nitrogen will prevent the flowers from blooming and reduce the tomato fruit yield.
RELATED: Why Some Coffee Tastes Nutty - And is That Good or Bad?
Final Thoughts
Coffee grounds are good for tomato plants in limited quantities.
The most important thing to remember is to avoid adding too many grounds at once. You should also limit how often you add them to prevent overfeeding your tomatoes with excess nitrogen or reducing the soil's aeration.
It's best to combine your coffee grounds with compost, but they can be added on their own.
In any case, remember to test your soil before beginning to add any nutrients, including coffee grounds. 
The use of coffee grounds can be a great way to improve the growth of your plants.
With a bit of know-how, there are benefits of coffee grounds outside just a good cup of coffee. They can be a great addition to your soil mix and homemade fertilizer.
Remember to use extra caution with young plants and happy gardening.