A good quality coffee thermos is an excellent investment for your hot drinks as you can use it for your morning commute, during camping trips, and much more. But what is the best coffee thermos for 2023, and does it really matter which one you get?
The best coffee thermos for 2023 depends on your needs. You'll want a thermos that offers value for money, one with a compact design, one that's great for outdoor adventures, or one that is good for commuting. 
This article will look at the best coffee thermoses to keep your hot coffee hot (or your cold drinks cold!) and what you should consider when buying a coffee thermos.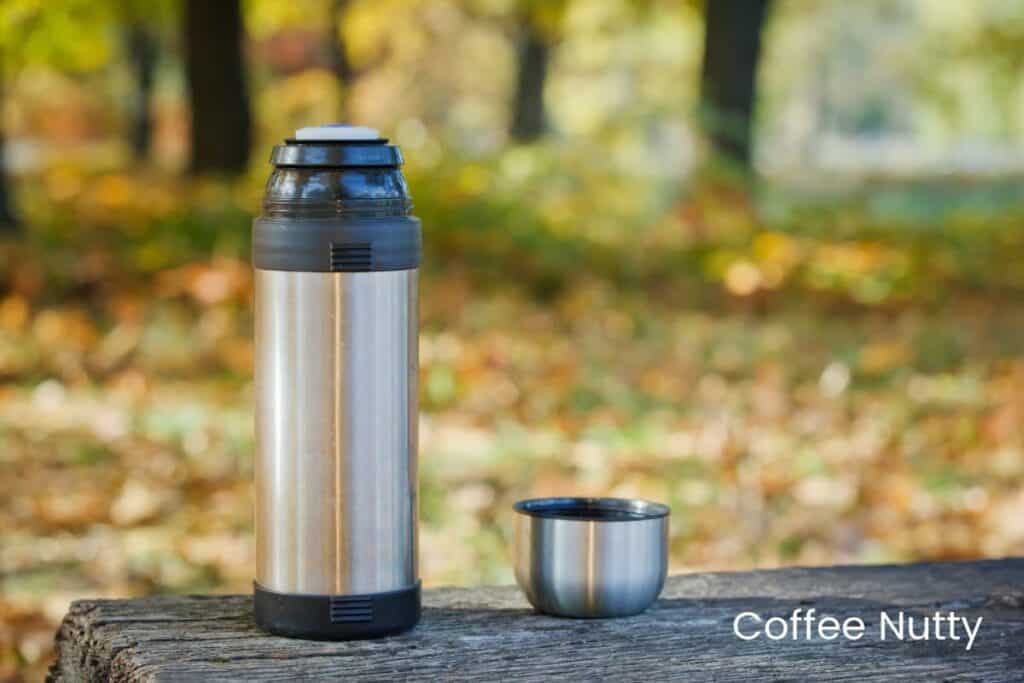 Factors To Consider
Before discussing the best coffee thermos for 2023, we need to discuss the critical factors to consider when choosing a suitable coffee thermos as this will help you to make an informed decision: 
Size: Coffee thermoses come in a wide range of different sizes, so it's essential to choose the most suitable size for your needs. Smaller capacity thermoses are best for morning commutes when you only need one cup of coffee, while larger ones hold several cups and are great for families or coffee throughout the day. 

Material: Good-quality thermoses typically have stainless steel construction, a vacuum seal, and double-wall vacuum insulation. These properties are excellent for heat retention, so look out for them when shopping for a thermos. 

Features: Different coffee thermos types have various features. For instance, some come with serving cups, a safety lock, a pour stopper, and a screw-top lid. Others are easy to clean, and some have carrying handles. These can enhance your coffee enjoyment, and it's vital to decide which features are essential to you.
 
Price: Coffee thermos pricing is an essential factor to consider, especially if you're on a budget. Luckily, it's possible to find an excellent quality coffee thermos at a reasonable price. 
Please note that this article may contain affiliate links. You can read my full disclosure at the bottom of the page.
Best Value for Money: Thermos Stainless Steel King Flask
The Thermos Stainless King Flask from Amazon.com has been around for many years and is excellent value for money as it's been made to last a lifetime.
Available in various capacities, it is a top pick for both coffee and tea drinkers as it keeps liquids at the right temperature.
Whether you're looking for a large thermos or a medium-capacity one, this one should be a top consideration.
Pros
It comes in many different colors. Choose your favorite thermos color - from midnight blue to classic army green. 
It has a convenient pour stopper. The pour stopper allows you to pour your coffee without removing it. 
It comes with a serving cup. The serving cup sits flush against the pouring stopper and is handy for drinking your coffee. 
Cons
It is difficult to carry.  Though it has a handle, it doesn't have a strap and can be heavy to carry when filled with coffee. 
Paint can be prone to chipping. Some users report that the paint chips after a while. 
Best for Outdoor Adventures: Stanley Classic Vacuum Insulated Wide Mouth Bottle (1.5 qt)
When heading out on an outdoor adventure, you need lightweight yet practical thermos to keep your coffee at the perfect temperature.
This is exactly what the Stanley Classic Vacuum bottle from Amazon.com does. It prevents heat loss for up to 24 hours and can withstand cold temperatures for long periods of time.  
At 1.5 quarts (1 liter) in capacity, this thermos can provide roughly four cups of coffee (large capacity).
Pros
BPA-free: It contains no harmful chemicals to risk your health.
Highly durable: With its stainless steel construction, this flask is solid and durable. 
Leakproof: This thermos won't leak into your bag while outdoors. 
Related: Best Coffee Beans for Espresso
Cons
Doesn't have a carry strap. Although it has a collapsible handle, it has no carry strap, which could be great while hiking. 
Prone to scratches. This thermos is durable, but the colored portion is prone to scratching and can spoil its appearance. 
Cumbersome to carry. When filled with 1.5 quarts (1 liter) of coffee, the thermos can be heavy, especially for those trying to enjoy outdoor activities. 
Most Compact Design: Yeti Rambler 12 Ounce Bottle
The Yeti Rambler (available on Amazon.com) has a compact design with only a 12 oz (340 ml) capacity. It comes in a wide range of colors, and its hot shot cap ensures that it is leakproof. 
Its shape is short and squat, and its perfect size means you can easily throw it into your backpack and forget about it until you need your coffee. 
Pros
No serving cup is needed. This thermos has a wide mouth, making it easy to drink your coffee directly. 
Dishwasher safe: No need to hand wash! 
Stainless steel design: The stainless steel construction is rust-proof and tough. 
Cons
Low capacity: It has a wonderfully compact design, but the Yeti Rambler 12 oz (340 ml) is only suitable for about one cup of coffee. That is just not much coffee for true coffee lovers.
No handle: If you need to carry your thermos around with you, the lack of a handle can be inconvenient. 
Related: Coffee Filter Alternatives
Best for Morning Commutes and Traveling: Stanley Classic Trigger Action Travel Mug
The Stanley Classic Travel Mug found on Amazon.com is one of the best travel mugs and boasts a leak-proof lid and ease of use.
It is available in 12, 16, or 20 oz (355, 444, or 592 ml) capacity and is vacuum insulated to keep your hot beverages hot for hours. 
As a stainless steel mug, it won't rust and is perfect for everyday use, morning commutes, road trips, and even iced coffee. 
Pros
Comes in a wide range of colors. There is a color to suit all tastes, from Hammertone Green to Blaze Orange. 
Compact: Perfect for your morning commute.
Easy drinking: The travel mug has a wide mouth, facilitating drinking.
Cons
Finicky lid: The lid has a press-fit button which can break easily.
Outdated design: This travel mug is a classic Stanley thermos design, but it's slightly dated. 
Other Good Option: Hydro Flask Travel Coffee Flask
This particular Hydro Flask comes in various color options and is a good portable coffee mug. It is designed to fit in most car cup holders with a 2.25" diameter.
If this is an important feature, you will certainly want to measure your specific cup holders prior to purchasing.
In addition to working well with hot liquids, this vacuum flask can also be used as a water bottle as it keeps cold liquids cold for ~24 hours.
Pros
Comes in several sizes: 12 oz, 16 oz, and 20 oz.
Double wall vacuum insulation to ensure your cold beverages stay cold (~24 hours) and your hot beverages remain hot (~6 hours).
Carrying handle
Leak proof
BPA Free
Pro grade stainless steel
Cons
Leaks can happen: If the gasket is not properly installed on the lid, leaks or spills are possible.
Cannot use a straw with lid.
Popular Option: Contigo Travel Mug
These popular Contigo travel coffee mugs are a great product for daily use.
One of the most important things is to ensure proper cleaning of the lid, which can be cleaned on the top rack of the dishwasher. You should still wash the stainless steel body by hand.
The Contigo mug comes in a variety of colors and sizes.
Pros
Vacuum insulation: Keeps hot liquid hot for 5 hours and cold liquids cold for 15 hours.
Lock on lid to prevent accidental opening, reducing spills.
Comes with or without handle.
Cons
Lid difficult to clean which could result in odors.
Paint can chip.
Handle not suitable for carrying on hikes.
Key Takeaways
A good thermos is essential if you want to enjoy a hot cup of coffee on the go.
The Thermos Stainless Steel King Flask is excellent value for money (a great stainless steel thermos), and the Stanley Classic Vacuum Insulated Wide Mouth Bottle is suitable for outdoor adventures. 
If you need a thermos with a compact design, consider the Yeti Rambler 12 Ounce Bottle. Alternatively, the Stanley Classic Trigger Action Travel Mug is best for morning commutes. 
RECOMMENDED: