If you've been brewing coffee at home for a while, you're likely familiar with making pour-over coffee. Pour-over coffee is a simple way to make delicious and flavorful coffee at home. While it takes some practice to master the perfect pour-over brew, the results are well worth the efforts. 
The filter is one of the most critical pieces of creating the perfect pour-over – apart from the grinder, of course! If you don't have an excellent filter to drip the grounds into your cup, the taste of your coffee won't be so great. Fortunately, there are a variety of solid coffee filters to create the perfect pour-over.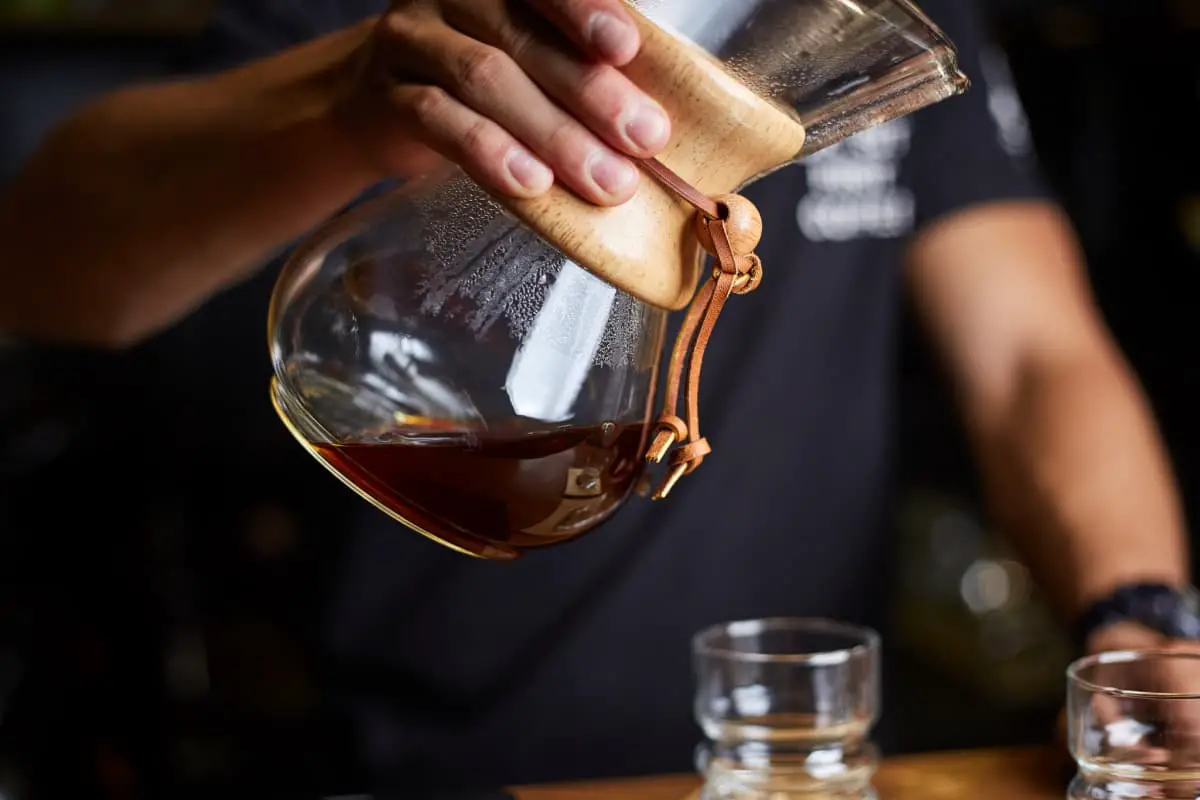 Please note that this article may contain affiliate links. You can read my full disclosure at the bottom of the page.
RELATED: Does pour over coffee contain more caffeine?
1. Cafelissimo Stainless Steel Pour Over Reusable Strainer
The Cafelissimo reusable dripper comes with a dual coffee filter made from stainless steel for the most even pour possible. The micro-mesh filter eliminates the need for any paper filters! The filter/dripper duo is small and fits right over your coffee cup, so you can pour hot water over the coffee grounds with ease. These are its top features: 
Stainless steel mesh
Dual coffee filter design
Travel size
Rinse with water for easy cleaning
Dishwasher-safe
In addition to being reusable (a.k.a., environmentally friendly), the filter is easy to wash and dishwasher safe. The filter is small and travel-size but fits over most cup sizes, so you can create the perfect cup of pour-over coffee on the go. 
If you measure two tablespoons of coffee grounds for every six ounces of water, the filter can brew one to two cups of coffee with each use. The filter lasts a long time if you use coarse coffee grounds over finer grounds.
2. Yeosen Reusable #4 Cone Filter
The Yeosen reusable cone filter is another stainless-steel device that completely eliminates the need for paper filters. This dishwasher-safe filter can brew between six and 14 cups of coffee with each use. The filter is designed to work in the same way as #4 paper filters. These are the filter's best features: 
Fits drippers calling for #4 filters
Stainless steel mesh
Dishwasher-safe or rinse with water
Scale values listed on side
Flat seal bottom
The design of the filter and use of stainless-steel helps preserve the coffee's natural oils and keeps the flavor strong. While the company advertises this filter to work for coffee makers, it also works for pour-over carafes. 
The Yeosen stainless-steel filter is also better than plastic filters, which often stain, fade, and deteriorate quickly. The measurements on the side of the filter also help you measure how many grounds you want to use for how much coffee you're making. 
3. Hario V60 Paper Filters
If you like using paper filters, the Hario V60 filters are perfect for pour-over coffee making. The filter is designed specifically for the Hario V60 coffee dripper, and different filters are made for different dripper sizes. Here's why these filters work for your pour-over brewing: 
Single use
Designed to fit #2 cone-shaped drippers
Brew 1-4 cups
These cone-shaped filters brew between one to four cups of coffee and are single-use. The filters are not chlorine-bleached; instead, they're oxygen bleached. The Hario filters are easy to use and affordable – you can get 100 for under nine dollars!
While they are designed to work with the respective Hario dripper, you can use them in any pour-over dripper. 
4. Green Barista Hemp Coffee Filters
The Green Barista hemp filters are organic, reusable, and zero-waste. The organic hemp material filters the coffee grounds by holding back the sediment and letting the oils drip into your cup. The filters create less bitterness and a smoother coffee flavor. These are the hemp filters' top features: 
Hemp holds back bitter sediment
Zero-waste material
Hemp is mildew- and bacteria-resistant
Rinse under warm water to reuse
Travel size
The mildew- and bacteria-resistant hemp filters are reusable and naturally resists insects and fungus, so you know that you're using a healthy and environmentally friendly product. To use these filters, all you need is your favorite coffee mug, a dripper, and ground coffee, of course! Use these filters in single-cup drippers or to make multiple cups of coffee.  
All you need to wash these filters is some water, and they'll continue brewing smooth and flavorful coffee for a long time. You can purchase a pack of two hemp filters on Amazon for less than $15. They are compact and work well with travel-size drippers, so you can take them traveling, camping, and even work!
5. Melitta Brown Paper Filters
Melitta produces one of the top pour-over coffee drippers on the market. You can't go wrong with their natural brown paper filters. These natural, unbleached filters fit for makers calling for a #4 cone-shaped filter. 
Cone shape with flat bottom
Flavor enhancing perforations
Compostable material
The Melitta filters feature flavor-enhancing perforations that help create intense flavors, and double-crimped material protects against bursting. While they work best with Melitta drippers and other products, you can use them for just about any size pour-over dripper. 
These filters are biodegradable, gluten-free, and kosher. They're also very affordable – you can get 600 for just under $18 on Amazon!
6. Pro Mael #2 and #4 Unbleached Disposable Paper Filters
Coming in both #2 and #4 sizes, the Pro Mael unbleached paper filters are eco-friendly and perfect for a strong pour-over cup. These cone filters feature a flat bottom that helps make a dark coffee and improve the taste. They also have good flow and keep the grounds strong but not bitter. 
Made from imported Japanese paper
Cone shape with flat bottom
Brew 2-6 cups
Biodegradable
If you feel like paper filters leave a funny taste in your pour-over brew, the material made in these avoid that altogether. The single-use filters are made of durable paper and keep the bottom seam from breaking out. 
Even though they're single-use disposable filters, these Japanese-made filters are 100 percent biodegradable. They're cheap too; you can get a pack of 100 for about seven dollars.
7. LHS Slow Drip Metal Coffee Filter
Stainless steel metal filters are all the rage for anyone trying to brew a great cup of coffee while staying Earth-friendly. The LHS slow drip filter does just that. It's reusable, portable, and even dishwasher safe. These are the LHS slow drip filter's top features: 
Stainless steel mesh
Extra wire mesh at bottom of cone
Fits on most mugs and travel containers
Small brush included for easy cleaning
This cone-shaped filter features fine wire mesh at the bottom to ensure no grounds end up in your cup. You can use it to brew multiple cups of coffee before washing it. It even comes with a small brush for easy cleaning! 
Use this filter for a single-use mug, over a large carafe, or on a canteen while camping. Wherever you are, the filter rinses easily with water and dries quickly as well. 
8. Kalita Wave Paper Coffee Filters
Kalita is another famous coffee making company, and you've undoubtedly seen their wavy white paper filters before. The pour-over paper coffee filters are available in packs of 100 for just under $15. These are the benefits of using Kalita filters: 
Wave design extracts more flavor
Flat bottom
Oxygen bleached for sustainability
Kalita's patented wave design helps extract the best flavor from coffee grounds. The filter has a flat bottom and works best with Kalita products. According to Kalita, the flat bottom helps maintain an even coffee bed, which allows the water to permeate and filter the grounds evenly. 
While these filters are on the higher end of cost, they are ideal for those beginning with pour-over brewing. With cone filters, it takes more practice to even out the grounds while pouring the hot water. 
9. Willow & Everett Reusable Pour Over Coffee Filter
Whether you want to brew a single cup or 10 at a time, the Willow & Everett reusable filter fits most carafes. The stainless-steel filter features dual filter technology to prevent grounds from slipping through and getting into your cup. It also helps the natural coffee oils filter into the cup to create the tastiest coffee possible. 
Fits most carafes
Stainless steel honeycomb mesh
Rinse with water
Silicone ring around edge
No soap is needed to clean this filter, either. All you have to do is scoop out the used grounds and run it under warm water for a few seconds. Once it's dry, it's good to go for the next brew!
According to the company, it's best to use medium or coarse coffee grounds to ensure nothing unwanted passes through to the cup. A non-slip silicone ring around the filter's edge keeps it from moving or slipping while pouring the water. 
Conclusion
Using the right filter will only enhance your pour-over coffee experience. A good filter will hold back sediments and create a smooth, intense flavor. Whether you want to stay environmentally friendly with a reusable stainless-steel filter or love using paper filters, there are various products perfect for pour-over coffee filters.
Recommended