Many coffee makers on the market use coffee pods or capsules. Nespresso capsules are a popular option, but they are made exclusively for Nespresso coffee machines. They are appealing because they come in a wide range of flavors and are extremely convenient – so much so that you can tuck them into your purse or suitcase when traveling, which provides you with a taste of home.
Nespresso capsules cannot be used in a Dolce Gusto machine because the shape is different. However, even though Nespresso Capsules cannot be used alone in a Dolce Gusto machine, you can use an adapter that will allow them to fit into the machine easily.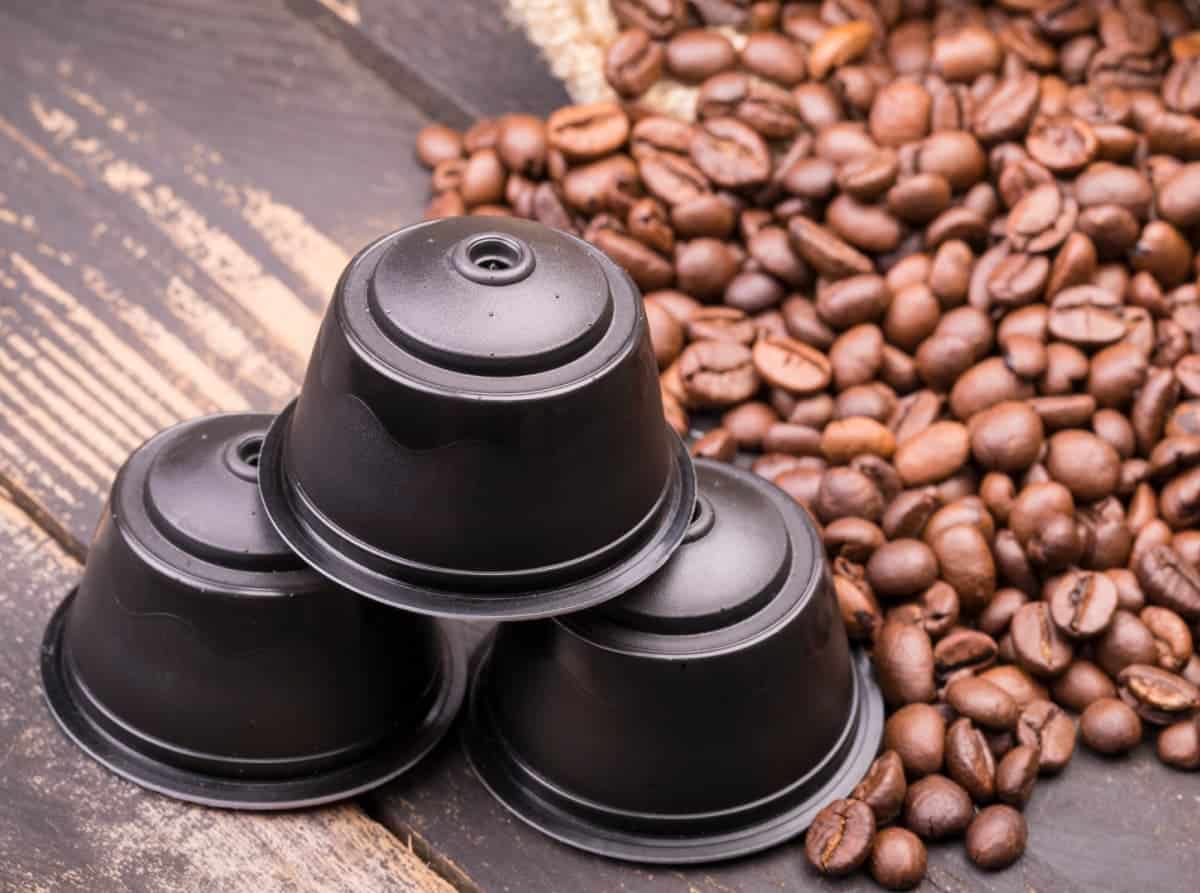 In this article, you will learn how to use capsules that are not specifically for your coffee machine safely and responsibly, which will eliminate the risk of damaging your machine.
As an Amazon associate, I earn from qualifying purchases.
How do I Use a Nespresso Capsule in My Dolce Gusto Machine?
If you have ever run into the problem of not having the proper coffee capsule for your Dolce Gusto machine, you know it can be an inconvenience, especially if you are searching for your caffeine fix for the day. 
Luckily, there is a simple remedy for this.  You just need to purchase an adaptor for your machine that will allow you to utilize multiple types of coffee capsules in your machine. (Source: Coffee Capsules Direct)
The best way to use capsules that are not specifically made for your machine is to purchase an adaptor, like this K-fee System Capsule Adapter for Dolce Gusto Machines. 
When you need to purchase an adapter for your machine, you are not going to have to search through a large list because there are extremely limited options when it comes to available adapters.
One possible reason for this is that manufacturers would prefer that you use their specific capsules. 
Because most people like enjoying new things and being resourceful at the same time, an adapter is quite appealing. Not only can you try many new flavors of coffee, but you do not have to commit to a brand-new machine to do so. 
Are Adapters Expensive?
If you own either an espresso or Dolce Gusto coffee machine, you know the cost that is associated with each.
This may also have you wondering if an adapter is truly an economical option. When looking to purchase an adapter, you can expect to spend around $20.
If you step back and think about the cost of a new coffee machine, an adapter is a much more cost-effective option.
Why Can't I Just Use a Different Capsule Without an Adapter?
When you place a coffee capsule into your machine, water flows through the capsule at a specific volume and rate. If the wrong capsule is inserted into the machine, the water ratios will be off, which will not make an ideal cup of coffee.
Therefore, it is crucial to use the proper size capsule for your machine. 
If you use the wrong capsule for your machine, you will likely find your coffee is either too weak or too strong. So, it is important to use either the proper capsule or adapter to achieve your desired results. 
(Source: Coffee Stack Exchange)
Benefits of Using Nespresso Capsules
The benefits of using a Nespresso capsule versus the traditional coffee grounds in a coffee maker make it an option that is appealing to many. 
Here are some of the many benefits of using Nespresso capsules:
They are portable: Capsules are extremely portable, which means they can travel with you, and you can use them anywhere that you have the proper machine. That makes finding the perfect cup of coffee extremely easy when away from home. 
They have adaptors that allow you to use them even when you don't have the correct machine: While Nespresso capsules are created to fit Nespresso machines, you do have the option of purchasing an adaptor, which allows you to use the capsules in other coffee machines.  It would be wise to inquire as to which type of machine is present in a hotel or your travel destination to ensure you have the proper adaptor. 
You can sample a variety of flavors easily: Another benefit of using Nespresso capsules is that it allows you to sample a wide variety of coffees without committing to the purchase of a large bag or bulk quantity. If you have ever purchased coffee without tasting it first, you know the disaster that can await if you determine you do not like the taste of the coffee. 
What is the Difference Between a Nespresso Machine and a Dolce Gusto?
So, you may understand the reason you need an adapter for the Nespresso capsules; however, you might be wondering what the difference is between a Nespresso machine and a Dulce Gusto machine that makes these adaptors necessary.
Both machines serve the same purpose: they make a steaming cup of coffee with the use of the machine as well as a capsule of your choice.
However, this is where the similarities end. Each machine was specifically made to use a certain type of coffee capsule.
The following chart tells the difference between the two machines:
Nespresso Machine
Dolce Gusto Machine
- Offered in nine models
- Capsules vary between machines
-$138 - $700
- Can make espresso with added froth
- Requires the use of Nespresso capsules only
- Ideal for a coffee enthusiast that enjoys a more luxurious type of coffee drink
- Offered in two models
- Accepts the same type of capsule in each machine
- $150 -$200
- Makes a standard cup of coffee
- Can use an adaptor in the machine
- Prepares a more basic cup of coffee
- You have the option to make other drinks, not just coffee options
(Sources: Aquaspresso and Dolce Gusto)
As you can see, there are many differences between the two machines. 
When determining which to choose, it comes down to personal preference and the amount of use the machine will get.
If you are an avid coffee drinker that is always visiting the local café for a delectable cup of coffee, you may want to splurge on a higher-end Nespresso machine.
If you are the type of coffee drinker that does not care for frothy and more designer types of coffee drinks, you will likely be incredibly happy with the Dolce Gusto machine. 
You will still be able to sample a variety of flavors. However, you will not have the added bells and whistles. 
What Other Drinks Can You Make with a Dolce Gusto Machine?
The Dolce Gusto machine may be more basic when it comes to making coffee, but there is an option that is not available with Nespresso machines.  When you use the Dolce Gusto machine, you can make many popular Starbucks offerings, as well as cappuccino and Macchiato.  
If you are not a fan of any coffee drinks, you also have the option of purchasing pods that make a nice cup of tea. 
There are typical tea options as well as milk teas.  The options are quite endless when it comes to using the Dolce Gusto machine. 
Final Thoughts
If you are an individual that enjoys a variety of different coffee flavors that challenge your palette, you are likely going to be interested in finding adapters that will fit the machine that you have. 
An adapter will allow you to try a variety of different coffees. It is also much more economical than purchasing a different machine. Purchase an adapter and enjoy using Nespresso capsules in your Dolce Gusto coffee machine.
Related Coffee Posts