Most of us that make our coffee at home do so not only because we know what we like but also to protect our wallets. So if you've purchased a Nespresso Vertuo you've probably wondered, can I reuse these capsules?
Nespresso doesn't recommend that Nespresso Capsules be used more than once. But, users can get more than one brew from a capsule if they want. The strength, taste, and aroma will likely be of lesser quality.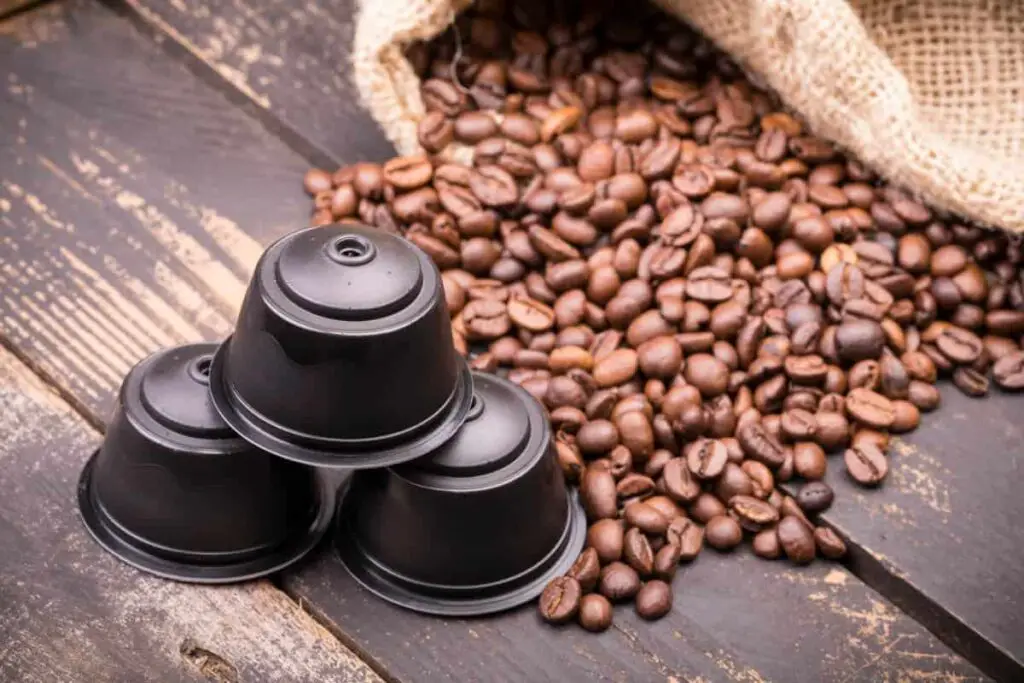 Everyone knows that buying your coffee from the stand or the cafe is the more expensive option. On average, about five times the cost of brewing your own at home.
Though Nespresso is no longer voiding warranties due to reused pods, users could be charged to repair if the capsule becomes stuck in the machine.
So, while it isn't what the machine was made for, it might not stop those that want to squeeze those little pods of delicious espresso for everything they've got. So, if you'd like to know how to use your capsules twice, read on for some tips and tricks. 
As an Amazon associate, I earn from qualifying purchases.
Getting The Most Out Of Your Nespresso Capsules
If you've purchased and regularly use one of these machines at home, the chances are high that you are partial to having your coffee a certain way. These machines allow us to pour out a perfect espresso pour and a great cup of coffee quickly and consistently. 
But what if we were to push the bounds of our coffee machine? Could we push one of these pods to create another great cup of coffee or to pull another perfect shot? Yes and no. 
To get some more bang for your buck, there are a couple of things you can do.
Here are some of the methods for extracting a bit more out of those precious cups.
Method One: Use Your Capsule Again
This is hands down, the easiest way to get a second cup of coffee from a Nespresso capsule. You don't have to do anything besides sacrifice a bit of flavor and maybe some caffeine.
Once you've poured a nice cup of coffee using a Nespresso capsule, simply put the capsule back in the machine and brew a cup the same as before. 
It is that easy. There is usually enough life left in the capsule's captive coffee grounds that you can run the machine a second time and get a decent cup of coffee.
Users who do this regularly report that while it does pour another decent cup, it does come out a bit weaker and maybe a little watered down—still, a decent tasting cup of coffee. 
There are, however, a couple of caveats with this method. 
Firstly, this method works best if there hasn't been too long of a period between brews.
You don't necessarily need to brew the second cup immediately afterward, but as soon as the pierced pod is exposed to air, it quickly begins to lose flavor, aroma, and overall desirability.
So, don't expect to leave a spent pod in the machine and get a good cup of coffee the next day.  
Can I Use a Nespresso Capsule a Third Time?
Secondly, this method only works once. Two uses can be had from a single capsule with a little loss in flavor and strength, but a third will most likely be unacceptable to most. 
If you are to use a pod multiple times, it also has a chance of melting inside the machine.
This can cause the entire thing to fail. Repairs will be necessary, and if the company finds you at fault, you may need to pay them to fix it.
Method Two: The Aluminum Foil Method 
This method of getting more out of your spent capsules is a bit more involved, but if you do it right, it can get you a great cup of coffee or that perfect pull of espresso.
Here, we are using the old capsule, with the coffee and the aluminum cover removed.
Here's the quick and dirty of it.
Remove Foil: With a sharp knife, an Exacto knife works best, cut away the aluminum cover from the top of the cup, the part that is punched through, cut it away. 
Empty Coffee Grounds: Remove the spent coffee grounds from the capsules and toss them in the trash or the compost. FYI if you dump all of the grounds in the sink, you run a high risk of a clog. 
Clean Capsule: Rinse what residue is left in the capsule out with water and let it dry. 
Fill With Your Choice Of Grounds: Refill the clean, dry capsule with about 1.5 to 2 teaspoons of grounds of your choosing. You'll want a fine grind. You can press lightly to make the grounds even, but you don't need to tamp it down. If you pack it too tight, it might not work. 
Cover The Capsule: Now, cut a piece of aluminum foil large enough to cover the capsule's opening with enough of a border that the foil can be wrapped under the lip of the capsule. 
Make It Neat: Fold the excess foil around the lip so that you have a nice taut metallic surface, similar to a new, unused capsule. The edges of the foil should be crimped neatly around the rim so that capsule retains its shape. No excess bulges or foil sticking off. You may need to trim it down to get it perfect. 
Brew Coffee: Put it in the machine and enjoy some fresh coffee from your DIY capsule. 
Now, this method might not work every time. Some have reported that the machine may refuse to work altogether. It could deliver just a cup of hot water without a drop of coffee in it. It could also fill your machine with grounds, which can cause a need for repairs. 
Make sure to do your best to make your DIY foil capsule look as close to the real deal as you can. Even then, it may take some experimentation, different foils, or coffee grind. 
Method Three: Reusable My-Cap Capsules
This isn't precisely reusing a capsule. With the My-Cap from Cremajoe.com, you can reuse the same refillable capsule over and over.
If your goal is to get maximum reusability and the most environmentally friendly cup of coffee out of your Nespresso machine, products like this are your best bet. 
These reusable capsules come in many different shapes and sizes, but they all essentially work like the aluminum foil method, albeit with a higher success rate. For a complete rundown on how the My-Cap, check out their article here. 
It can be a bit of an investment upfront to get everything you need to brew using these reusable capsules, but it will save you in the long run if you are a daily coffee connoisseur.
It can also help you do your part to protect the environment from thousands of wasted plastic cups. 
This can also enable you to experiment with different roasts and flavors than what is available in pre-sealed cups. Since you'll be using your favorite coffees, you have more control.
Getting the Most out of Your Nespresso
The Nespresso machine is made to get you the best tasting cup of coffee using their sealed capsules.
The capsules keep the coffee fresh and consistent. But, that shouldn't stop you from trying some of these methods for yourself. Sometimes just getting that second cup of coffee from a used capsule can be a worthwhile reward.
Related Coffee Posts:
---
Want to save this post for later? Pin to your favorite Pinterest board.