Keeping your coffee maker full of water adds to the convenience of having a freshly brewed cup of coffee with just the flip of a switch. With over 150 million daily coffee drinkers in the world, many wonder about the safety of leaving water in a coffee maker overnight. 
Water can safely be left in a coffee maker overnight, as the risk of being ill from drinking the water is low. However, it is not recommended to leave water in a coffee maker for longer than 12 hours, as negative consequences can occur, including:
Staleness
Bacteria Growth
Mineral Deposits
In this article, you will learn more about how leaving water in a coffee maker overnight is generally not harmful, when it could become harmful, and more helpful information you won't want to miss.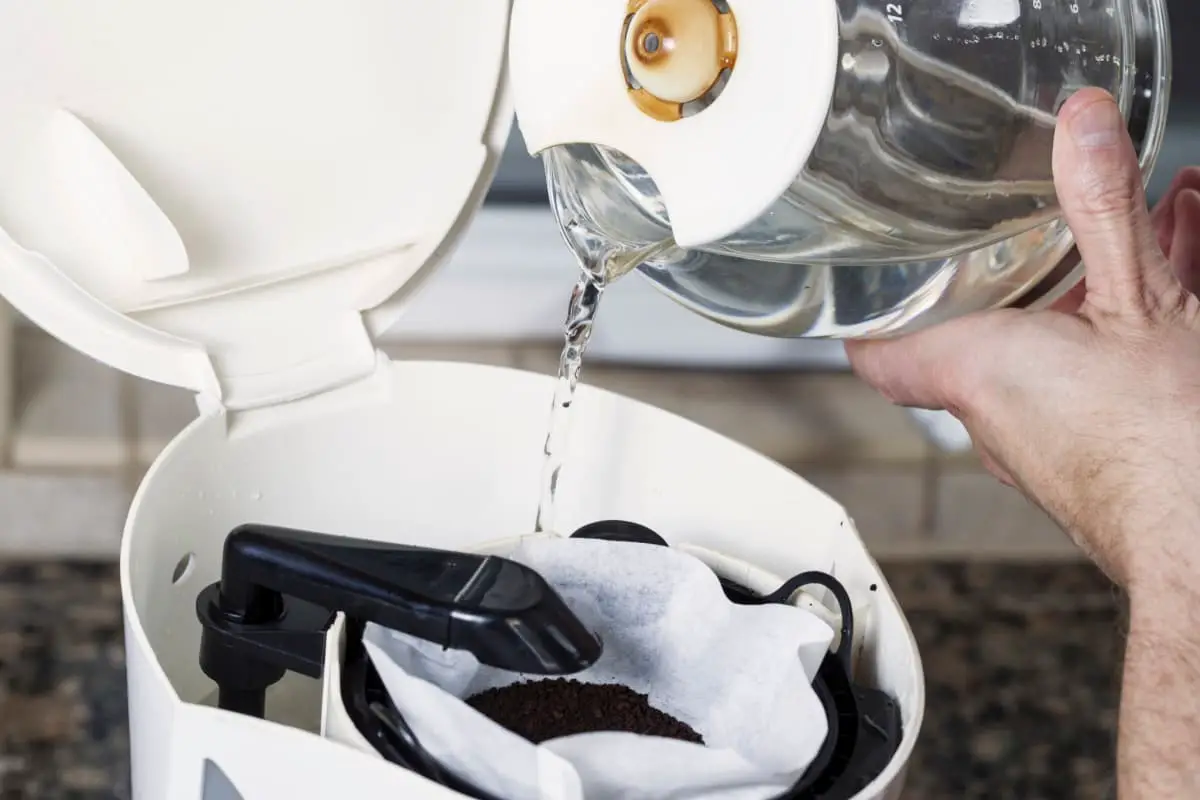 Can I Leave Water in My Coffee Maker Overnight?
Most commonly, coffee is consumed first thing in the morning. Because of this, many people choose to leave water in the coffee maker at night so they can quickly brew a cup in the morning. 
You'll be glad to know that leaving water in a coffee maker overnight is a low-risk practice. This is because it takes a long time for harmful substances to grow in clean water. 
How Long Can You Leave Water in a Coffee Maker?
Now that you know that leaving water in a coffee maker for a long period can be harmful, you may be wondering just how long is too long?
While there is not a hard and fast answer to this question, it is recommended that you not leave water in a coffee maker for more than 12 hours.
You may notice single-cup coffee makers that are advertised to hold water for up to four days in the machine. The longer water is stored in a coffee maker, the higher the probability of negative health consequences and a loss of water quality. 
The following sections will address some of the perceived dangers of leaving water in a coffee maker.
Consequences of Leaving Water in The Coffee Maker Overnight
It is generally safe to leave water in your coffee maker overnight, but you need to be aware of what could happen if you leave the water in there for longer than 12 hours at a time.
Negative consequences include stale water, bacteria growth, and mineral deposits. 
Stale Water
When you prepare a fresh cup of coffee, the last thing you want to do is use stale water as the base.
The good news is that it takes a long time for water to go stale.
Water is typically considered fresh for up to six months. This means that, while water left in the coffee maker overnight is not fresh from the tap, it is not likely to have an altered taste. 
Bacteria Growth 
One of the most significant issues that can arise from leaving water in your coffee maker for a long period is the growth of bacteria.
Water that is exposed to the air for a minimum of 12 hours can begin to lose some of its PH, which means the taste could be altered. However, it is unlikely that you will have an overgrowth of bacteria overnight. 
How Long Does It Take for Bacteria to Grow in a Coffee Maker?
Though bacteria are not likely to build up in your coffee maker after leaving water in it overnight, it does not take a long time for mold to grow in a coffee maker. The worst part of this is that you will likely not see it growing.
Because of the warm environment and the build-up of water in the inner workings of the machine, mold tends to grow in the tubes.
Once the mold has built up in the tube, your machine will either stop working, or the mold will be flushed out into your coffee.
This is a gross thought, but it is highly possible and undetectable. 
Can Old Water Make You Sick?
If you consume extremely old water, meaning 6-12 months old, you increase your risk of becoming ill. T
his is speaking of water that is sealed and stored properly. If you are drinking water from a glass that has been sitting out, you are likely safe to drink the water for three days before you risk getting ill.
Mineral Deposits 
All water, even highly filtered water, contains some degree of minerals.
When water is left in an unmoving position, such as in a coffee maker, the minerals can begin to settle out of the water.
This can begin overnight but will likely not cause issues unless the water is left in the coffee maker for long periods. )
What Type of Water is Best for Coffee Makers?
When choosing water to use in your coffee maker, regular tap water is fine. However, you need to be consistent with your cleaning to ensure mineral buildup doesn't damage your machine. 
It is recommended that you use tap water because the natural minerals in the water help give the most flavorful cup of coffee. Using distilled water will not allow the mineral to infuse with the coffee, which in turn makes a less tasty cup of coffee.
Clean Your Machine Regularly
Whether you have been leaving water in your coffee maker overnight or for longer periods, it is important to keep your machine clean. This will help prevent bacterial growth as well as mineral deposits.
It is recommended that you deep clean your coffee maker at least once a month But you should be doing maintenance cleaning each day or each time you use the machine.
A simple cleaning of your machine will help extend the life of your machine as well as keep any harmful bacteria at bay. Remember to descale your machine as recommended.
As an Amazon associate, I earn from qualifying purchases.
What Do I Use to Clean My Coffee Maker?
When it comes to cleaning a coffee maker, the good news is that you need very few materials to do a thorough job. For day-to-day use, dish soap and warm water will work.
When you prepare to deep clean, you need to up your arsenal with white vinegar. This will allow you to remove the mineral deposits from your machine.
If you are cleaning your coffee maker for the first time and feel it needs a little more TLC than normal, you may wish to use a commercial cleaning product formulated specifically for coffee makers. There are several on the market, but these are 3 of the best to try. 
Afresh Coffee Maker Cleaner Tablets: This product is formulated for single and multiple cup machines and is as easy as dropping a tablet into the reservoir and running a pot of water through the machine. If you have not cleaned your machine frequently, you may need to repeat the process for the best results. 
Tupkee Descaling and Cleaning Solution: This is a liquid product that you put into the reservoir of your machine with water and run it through. In the process, it lifts any deposits that may have formed in your machine. Repetition may be necessary for overly dirty coffee makers. 
Dezcal Descaler and Cleaner: You drop the tablet into the water reservoir and run water through the machine. This process will clear out the buildup that is in the coffee maker. 
Final Thoughts
Coffee makers are a wonderful time and money-saving tools to have in your home. However, you should not make a habit of keeping them filled with water when not in use. While the risk to your health and machine is minimal, if you forget to replace the water daily, negative issues can arise. 
RELATED POSTS: