Brewing a good cup of coffee starts with grinding fresh coffee beans to the perfect consistency – a task that is much easier with the right equipment. In researching coffee grinders, I've found that using a specialized coffee grinder gives much better results than just throwing the coffee beans into a multi-purpose grinder, such as a food processor.
Coffee grinders and food processors will grind coffee differently. Food processors chop coffee beans into unevenly sized pieces; burr coffee grinders will grind coffee beans consistently. Grinding coffee in a food processor takes more effort, and often results in a bitter or weaker brew.
Say you're in a desperate situation. Maybe you don't have a coffee grinder yet, and you've accidentally purchased whole beans. Would it be worth it to buy a coffee grinder when you already have a food processor? In this article, we've researched the difference between these two kitchen gadgets to help you make the most of your morning grind.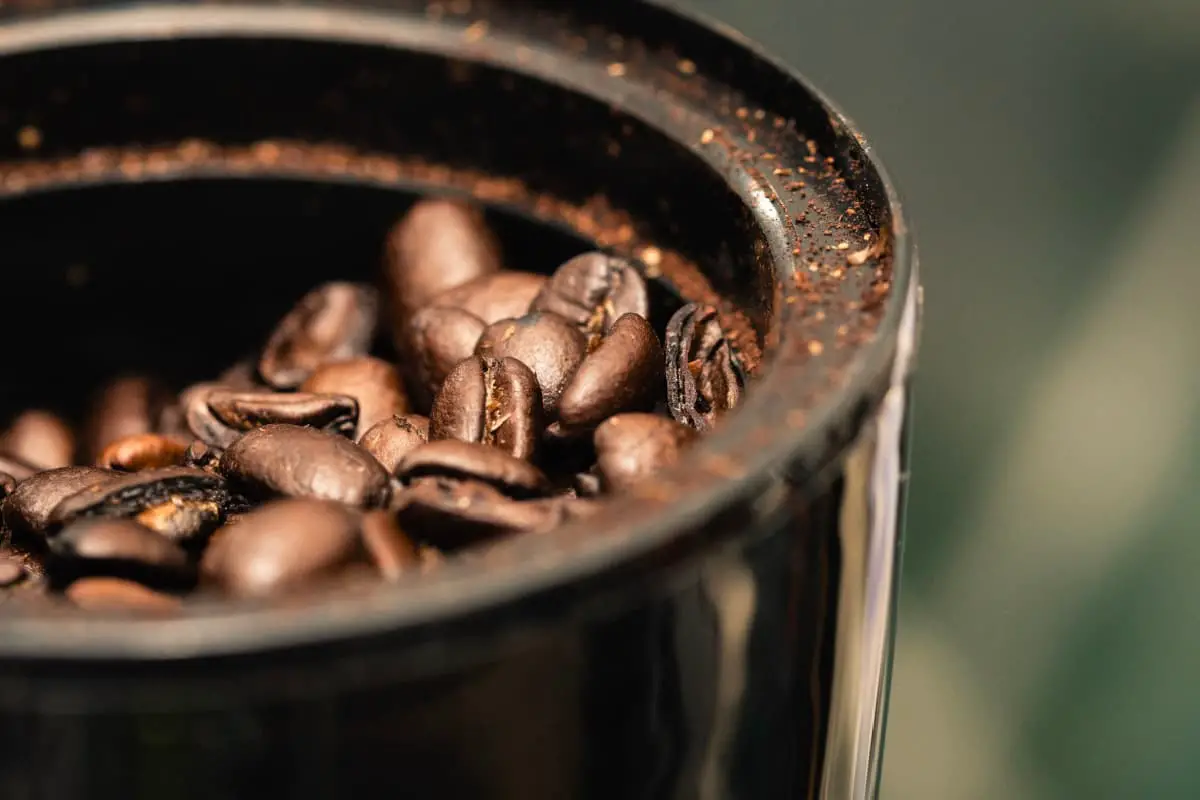 Grinding Coffee in Food Processors vs. Coffee Grinders
The goal when grinding coffee is to have fresh coffee grounds that are consistently sized. This is what creates an even extraction during the brewing process, which is really the key to delicious coffee.
Unevenly sized coffee grounds affect the rate that water passes through them, meaning that coffee can be over- or under-extracted, affecting the taste of the brewed coffee. Coffee made with unevenly sized grounds can taste weak and/or bitter. Not a happy surprise when you take that first sip.
Bottom line: The type of equipment used to grind whole coffee beans can mean the difference between perfectly uniform grounds and grounds that are somehow too large and too dusty.
Let's look at the differences between a food processor and a coffee grinder, and how these differences can affect those precious coffee beans.
The Different Blade Types in Coffee Grinders and Food Processors
Food processors typically have a stainless-steel S-shaped blade that rotates in the center of the grinding chamber. This large blade efficiently cuts and chops repeatedly as foodstuff swirls around the blade's sharp edges.
Burr coffee grinders have two sets of blades that grind coffee beans between them. The inner set of blades spin around, grinding the beans against the stationary outer blades. These blades can be flat or conical; the main difference is that flat burrs grind horizontally while conical burrs grind vertically.
While food processors don't stray far from their blender-like steel blade, burr grinders have more customizability. In addition to choosing either a flat or conical burrs, there is a choice between steel and ceramic blades.
Customizable Options for Food Processors
Food processors vary from model to model in this department, but generally, their main modes are to turn on and off to pulse chop ingredients.
The fast chopping makes quick work of tasks like dicing vegetables, which has crowned the food processor as a versatile and time saving kitchen gadget.
But the food processors' versatility doesn't quite translate to grinding coffee. Because there is only one blade, accurately customizing the size of the coffee grinds is nearly impossible. With some effort in timing each pulse, food processors can roughly grind coarse to medium-fine coffee grounds.
Beyond timing how long the food processor is chopping, there aren't any other ways to customize the way coffee is ground in a typical food processor. And no matter how carefully the pulses are timed, the grounds will likely still be uneven and/or heated.
Keep in mind that some food processors do have a grind function meant for herbs, while other models could break from attempting to grind coffee in them. To be safe, check your user manual!
Customizable Options for Coffee Grinders
On the other hand, burr grinders are made to specifically adjust the grind size by choosing the distance between the two blades.
The size of the grind you want when making coffee depends on what brew method you're using. For example, you'd want a much coarser grind when making coffee in a French press than if you were making espresso.
The wonderful thing about coffee is that there are so many ways to make it. There is always room to perfect your technique, and one of the first aspects to change when your coffee doesn't taste quite right is to adjust the grind size.
With a burr grinder, adjusting the grind size is easy and recordable. Most burr grinders have their grind sizes marked in some way, which makes it simple to take notes. If you want to go coarser or finer, simply adjust from your last setting.
So, having the ability to make precise changes helps you make that perfect cup of coffee and takes the guess work out for the next time.
Food Processors Have a Larger Capacity for Grinding
This is one section where food processors may have a slight advantage on most burr grinders, as their chambers can hold a lot more coffee beans than a typical burr grinder.
However, because the technique to grind coffee beans in a food process relies on pulsing, it would probably be better to work in smaller batches anyway.
Quality of Ground Coffee Produced in a Food Processor vs. a Coffee Grinder
In the end, nothing grinds coffee better than a burr grinder. While food processors can technically turn coffee beans into coffee grounds, the final product isn't going to be at the same level as the grounds produced by a burr grinder.
Food processors will give you inconsistently sized coffee grounds that will make your coffee taste worse. The larger grinds and fine particles will extract at different times and can make those sensitive coffee flavors bitter, sour, or weak.
If you're going through the trouble of grinding fresh coffee beans in the morning, make it worth your time.
Benefits and Drawbacks of Food Processors for Grinding Coffee
| | |
| --- | --- |
| Benefits | Drawbacks |
| Multi-purpose | Could ruin food processor |
| Ability to grind a lot of beans at once | Inconsistent grind size |
| Might already have one in your kitchen | Difficult to customize grind size |
| Less expensive than high-end coffee grinders | Takes more time and effort |
Benefits and Drawbacks of Coffee Grinders for Grinding Coffee
| | |
| --- | --- |
| Benefits | Drawbacks |
| Adjustable grind size | Can be expensive |
| Simple to use | Storage |
| Consistent grounds | Not multi-purpose |
| Repeatable results | Holds smaller quantity of beans |
Not All Coffee Grinders Are Created Equal
Now, when comparing food processors and coffee grinders, I've been referring to burr grinders. This is because burr grinders are the most recommended type of coffee grinder by coffee experts and lovers. They are the darlings of any coffee snob's brewing routine.
But not all coffee grinders are burr grinders. There's a black sheep in the world of coffee grinders that I haven't quite touched on yet.
What About Blade Coffee Grinders?
Now, when most people think of a coffee grinder, they probably picture a small electric grinder with a stainless-steel blade that whirrs around until the coffee is ground. This is a blade grinder.
While these blade grinders will do the job, most coffee aficionados agree that they aren't doing quality coffee beans justice. Why? Because blade grinders function very similarly to a food processor.
Blade coffee grinders feature a familiar steel S-shaped blade and rely on time spent grinding to adjust the grind size. However, the grinding capacity in a blade grinder is smaller than a food processor.
Coffee expert James Hoffman has a very detailed video on how exactly to get better coffee grounds with a blade grinder if you're in a pinch, though the technique does require a few extra steps.
Let's just say if you're looking for a coffee grinder, skip the blade grinder and go for a burr grinder.
RELATED: