Nothing quite says good morning like a hot cup of coffee. And many of us coffee lovers love our French press for the perfect, freshly-brewed cup. After waiting for the grounds to steep, it can be really disappointing if your brew turns out weak and watery.  
French press coffee is supposed to be rich, flavorful, and aromatic. If you are consistently getting watery coffee, something is wrong. But the good news is, whatever you are doing is easily fixed! And we have all of the answers right here.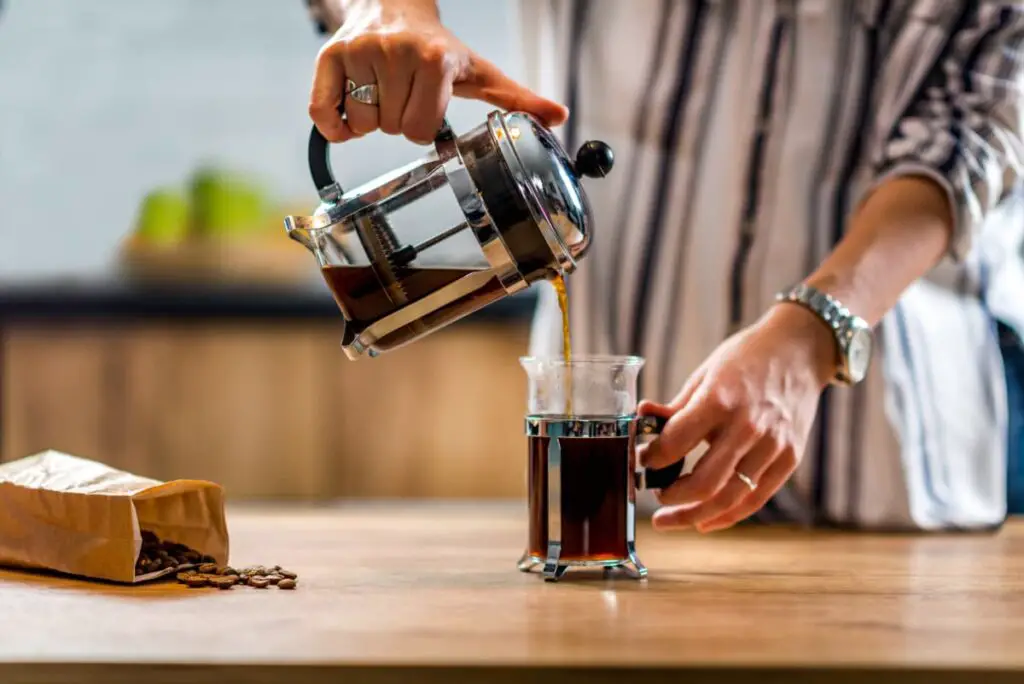 The Proportion of Water to Coffee in French Press Coffee
Problem: After so many cups of coffee, it may be easier to guestimate the amount of grounds you're using. But eyeballing isn't always the answer. If the proportion of coffee to water isn't right, there won't be enough of the rich, delicious coffee oils to flavor your coffee, and your cup will be weak. 
Solution: Most of the time, you can find the recommendation of how many tablespoons to water on the package. If the bag doesn't include the amount you need, the National Coffee Association recommends using up to two tablespoons of grounds with every six ounces of water.
So, if you plan on using 12 ounces of water, plan to use between 2-4 tablespoons of coffee grounds. The best part? If your coffee is too strong or weak, you can adjust the amount until you reach a satisfying cup. 
Pro Tip: Once you figure out the sweet spot for the coffee you're using and what suits your personal taste – write it down! You'll want to remember this, right?
As an Amazon associate, I earn from qualifying purchases.
Time and Water Temperature for French Press
Problem: With a manual coffee maker like the French press, you'll need to boil the water either on the stovetop or in an electric kettle. When the water is too cold, your beans won't be fully extracted, leading to a watery coffee cup. The same goes for the amount of time you let the ground steep. Not enough time will give you weak-tasting, watery coffee. 
Solution: After you boil your water, make sure to let it sit for up to one minute. Using a thermometer, check that your water is between 195 to 205 degrees Fahrenheit. The extraction period should last about four minutes. Any shorter and, yes, you're correct, watery coffee. Four magical minutes will allow you to get the most out of your beans.
Pro Tip: Set a timer! You can use a regular kitchen timer or go old-school with a 4-minute hourglass.
A Coarse Grind Is Essential for French Press Coffee
Problem: Various coffee machines require a slightly different coffee grind between extra fine to coarse. Using the wrong grind can lead to your coffee being under or over-extracted. There's a reason you see different settings on high-quality coffee grinders—because all brewing methods extract coffee just a little differently.
Solution: A good rule of thumb is to think about how much time your coffee grinds must spend in the water. The less contact coffee makes with the water, the finer the grind you'll need. French press coffee makers usually take about four minutes during the extraction process. In contrast, auto coffee makers allow you to put the grounds in, and the water passes immediately through the coffee. 
Make sure you're using a coarse grind or the recommended grind for your specific coffee maker. There are also grind charts available to check which size you need.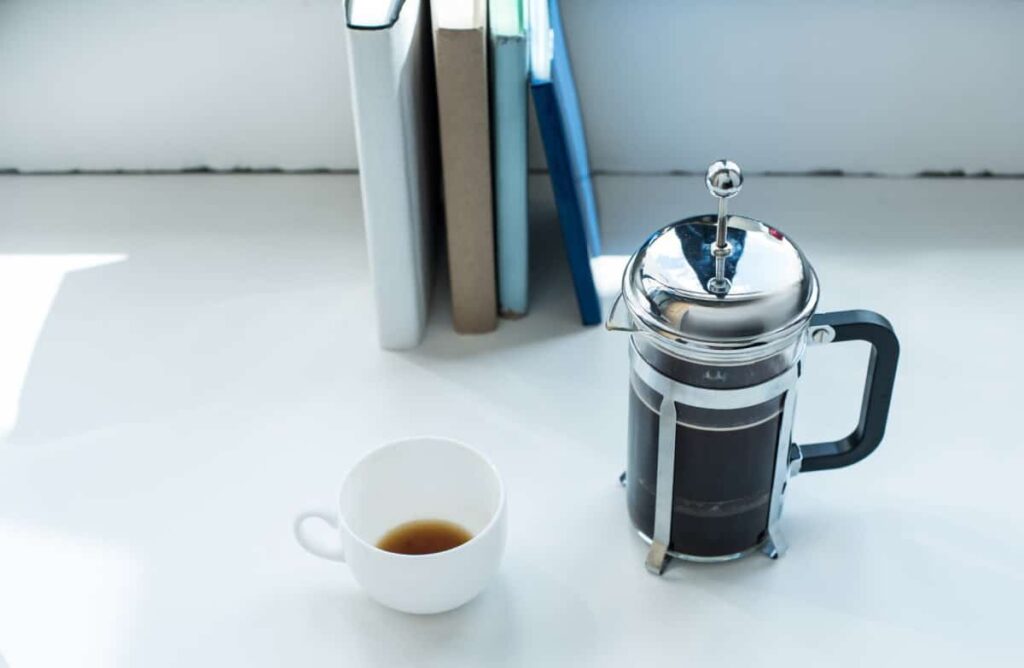 Good French Coffee Needs Fresh Coffee Beans
Problem: When using stale coffee beans or, worse, old coffee grounds, your cup may deliver a subpar coffee at best. Your coffee will only taste as good as your beans are fresh. 
Solution: Coffee isn't something you want to stock up on. Usually, buying in smaller quantities will allow you to get the best quality out of each cup. Also, keeping your beans away from moisture, heat, and light will keep them fresh longer.
If you frequently purchase coffee, a storage canister with an airtight seal can help alleviate some typical coffee enemies like moisture and air. 
Pro Tip: Grind as you go for the best cup of joe.
The Difference Between French Press and Drip-Coffee
There are various coffee machines on the market, from the French press to the drip machines. So, what's the difference?
| | | | | | |
| --- | --- | --- | --- | --- | --- |
| Machine | Roast Time | Grind Size | Automatic/Manual | Price | Features |
| French Press | Between 2-4 minutes | Coarse and chunky | Manual | Average up to $30 | -You have control of each step- Comes in two pieces (beaker and filter mechanism) |
| Drip Machine | Up to 5 minutes | Medium (similar to sea salt) | Automatic | Average up to $100 | -You don't have to watch the coffee through each step-Different machines have extra features (duel pot, steamer wand, etc.) |
Steps to Use a French Press Coffee Maker
Before you start trying to make coffee, you'll want to be sure you have all the right utensils to do so. The French press will include the beaker and filter mechanism. Additional equipment includes a coffee grinder (if you're starting with beans) and a thermometer.
Be sure to have the right ratio between the grounds and water (too many equals a bitter cup while not enough is funny tasting water). 
Heat your water to between 195 and 205 degrees Fahrenheit and check with your thermometer to be sure it's the right temp. The sweet spot is usually around 200 degrees.
Drop grounds into the bottom of your clean, dry French press and slowly pour your hot water over the grounds. 
Gently set the top on with the plunger raised as high as it goes.
Let your coffee steep for four minutes. 
After 4 minutes, press the plunger piece down. All the way down. The plunger keeps the grounds pressed against the bottom of the carafe, so they don't end up into your cup.
Pour your cup, relax and enjoy!
Typical Coffee Blunders
Creating a worthy cup of coffee is a culinary art. When you're in the breakroom or kitchen trying to refuel, the last thing you want to deal with is a poor cup of coffee. Some average problems and solutions during your midday pick-me-up include:
Too many additives: Adding sugar, milk, creamer, etc. can bring out a new flavor in an otherwise average cup. But if you add and keep on adding, there may be too many ingredients that no single flavor can shine through—leaving you with a cup of glorified sugar or cream. In this case, less is always more. 
Drinking stale coffee: It's okay; it can happen to anyone. Fortunately, there's an easy fix to this. To check if your beans are stale:
Put a small handful of coffee beans in a plastic baggie
Zip it almost closed and press out all the air you can
Fully close it and leave your baggie out overnight
Check to see if your bag filled up with air by morning. 
Fresh coffee beans will release CO2 or Carbon monoxide. If your bag is the same and has no visible changes, it's time for some new coffee beans.
Storing coffee in the refrigerator: To keep your coffee fresh, keep it in a dry area away from moisture. The fridge is not the place. Moisture will ultimately alter the flavor of your coffee by making it taste dull. Instead, keep your beans in an airtight container in a cool, dry place like a pantry or cabinet.
The Final Say
With practice, your next French press coffee can be the talk of the party. While the process requires a few extra steps, you can look like an expert manually making your coffee. By taking steps to avoid watery coffee, including proper ratios, correct water temperature, altering the grind size, and using fresh beans, you can prevent your French press coffee from being too watery. Now, time to enjoy that next cup.
RELATED: