Coffee goes stale pretty quickly. Even coffee pods can lose their flavor before we are ready to drink them. Let's look at how you can store coffee pods for maximum flavor and freshness.
You can store your coffee pods in tinted glass jars to help keep out excess air and avoid high temperatures. You can also store them on a shelf, tier stand, or in a drawer. Another option for keeping the pods extra fresh is to store them in the fridge.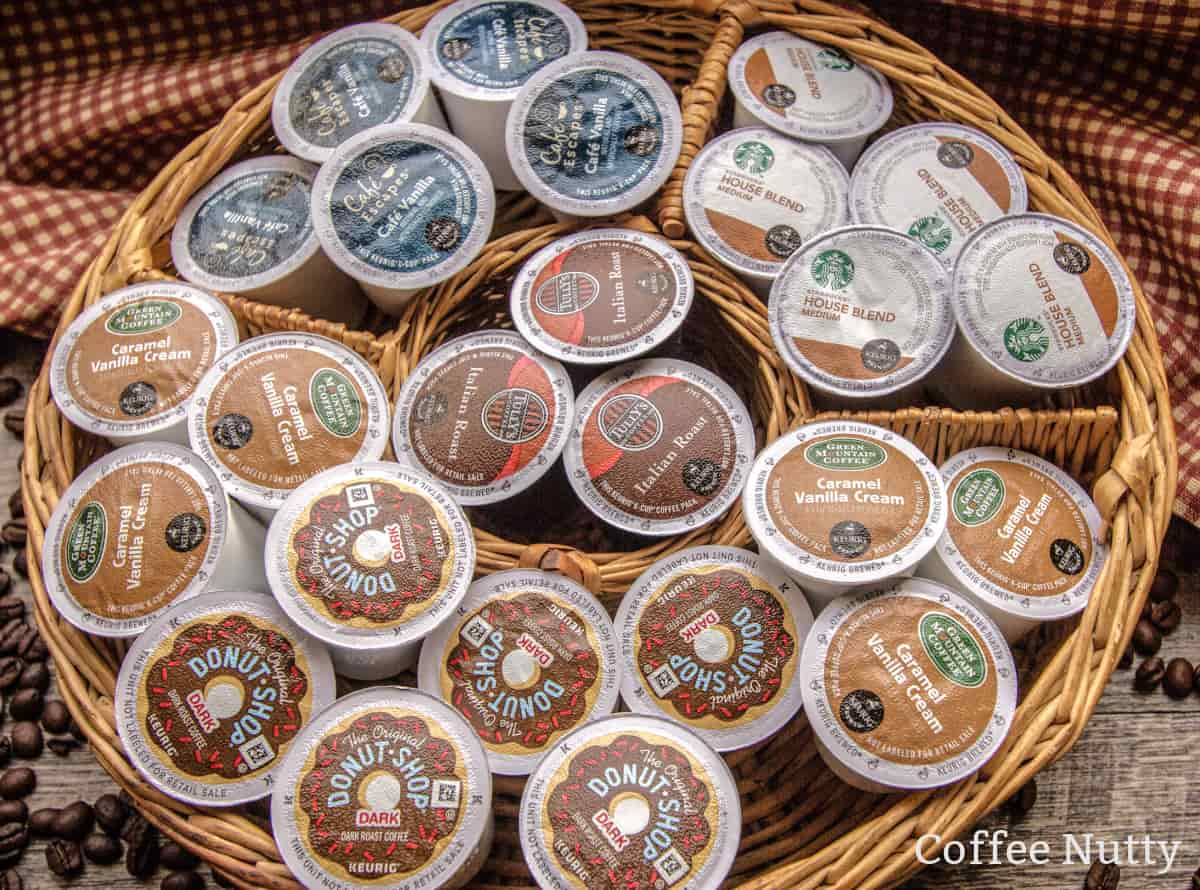 Today we'll discuss the best ways to store your coffee pods. We'll go over what will keep them the freshest and what you can do to make them aesthetically pleasing.
Whether you have a Nespresso machine with coffee capsules or pods, a Keurig coffee maker with Keurig pods, or a different coffee machine that uses coffee pods, storage of the pods can be an issue.
Let's get started so you can find the best way to store your pods.
Jump to:
5 Ways To Properly Store Your Coffee Pods
How you end up storing your coffee pods depends on what your ultimate goal is in storage.
Is it to get them off your counter space and into a more organized place? Is it to keep them fresher for longer? Is it both? 
For a coffee lover, ease of access is important but the coffee's flavor should always be maintained.
Luckily, there are tons of options for storing your coffee pods in a fresh and pretty way. Let's talk about some of these storage solutions.
1. Store the Pods in a Jar
The best option for fresh coffee is to store the pods in an airtight jar since air degrades coffee in the first place. Once oxidation begins, the pods begin to go downhill.
One way to help limit this, even after the pod's expiration date or best buy date, is to store them in a jar, preferably one that is dark-tinted and airtight. While you can store them in a regular jar, you won't get the benefit of the pods remaining any fresher than they would be sitting out on the kitchen counter. 
You can choose a regular mason jar or something similar for a storage option for a coffee pod holder. You can also purchase specially made tinted jars that help to keep out the light and block out excess air. 
Apart from using the fridge, which we will discuss in a moment, this is the best method for keeping your coffee pods as fresh as possible. All coffee functions best when it is taken out of the air. 
For more tips on storing coffee beans and coffee grounds, see best containers for coffee storage.
2. Store the Coffee Pods in the Fridge
The fridge, surprisingly, is one of the best places to store your coffee pods. This is primarily because it blocks light and air, making it the perfect place for your coffee pods to hang out and stay extra fresh. 
While most coffee pods are sealed with a quality seal to maintain freshness, there's no harm in helping the process by keeping them away from excess light and air. 
You can store them wherever is convenient for you inside the fridge, but normally they'll stay fresher if you place them near the back for more stable temperatures. 
RELATED: Can Refrigerated Coffee Be Reheated?
3. Store Your Pods on a Tier
Tiers are a really cute way to store your K-Cup pods in particular. Because of the round shape of the tiers and the pods, they fit perfectly inside them. 
While using a K-cup holder doesn't keep your pods as fresh as some other methods, it takes advantage of the pods' built-in freshness and allows you to stay extremely organized with them.
You can organize them by color, coffee type, different flavors, and more. 
Coffee pod display racks on a lazy susan base, like this one on Amazon, makes a fun spinning k-cup carousel to display each type of K-cup you have on hand.
If you drink coffee regularly, the good news is you will likely use the pods before their freshness is of question. If your coffee bar is in a cool, dark area the shelf life of k-cups should be somewhere between 6-12 months.
If you're feeling artsy, another storage idea is making your own DIY tier stand. Some people have made them from upside-down cake pans and more. Pinterest is a great place to look if you're into this kind of thing. 
RELATED: What is Cometeer Coffee?
4. Store the Pods in a Drawer
Tons of people store their coffee pods in kitchen drawers, at room temperature.
This is mostly because the drawers are a dark place and out of the way. Plus, they provide a guaranteed dry place for the pods, which can easily go bad if they end up wet. 
Many people keep their coffee machine on their kitchen counter and have their coffee pod storage in a drawer directly underneath so that it's easy to access.
Drawers are also a great organizational tool since they usually provide adequate space to spread out the coffee pods in a way that makes sense to you. 
A drawer organizer can also help and be a great space saver while still allowing easy access for the perfect cup of coffee.
A storage drawer made specifically for K-cups also works great, like this one on Amazon. You can even put your Keurig directly on top of it for extra space saving.
5. Store Your Pods on a Shelf
One of the most obvious ways to store your coffee pods is on a shelf. This may exist inside your pantry or a separate space you've set up on your counter as a coffee station. 
A shelf may be a great option for storing your coffee pods if you have a small kitchen or in small apartments since it can be easily set up in a pantry or corner area on the counter.
One of the biggest benefits of using a shelf is that you can stack the pods with height, which ensures that they don't take up extra counter space.
You can also store other types of coffee here, making a shelf for each type. For example, you may put your coffee pods on one shelf, whole beans on another, and other ground coffees and instant coffee on yet another shelf. 
It's a great idea to decorate it and use a chalkboard label for your collection of K-cups and other coffee varieties.
Do Nespresso Pods Have Specific Storage?
The methods of storage that we've talked about thus far have been primarily concerning K-Cups. However, Nespresso Pods have slightly different methods of storage.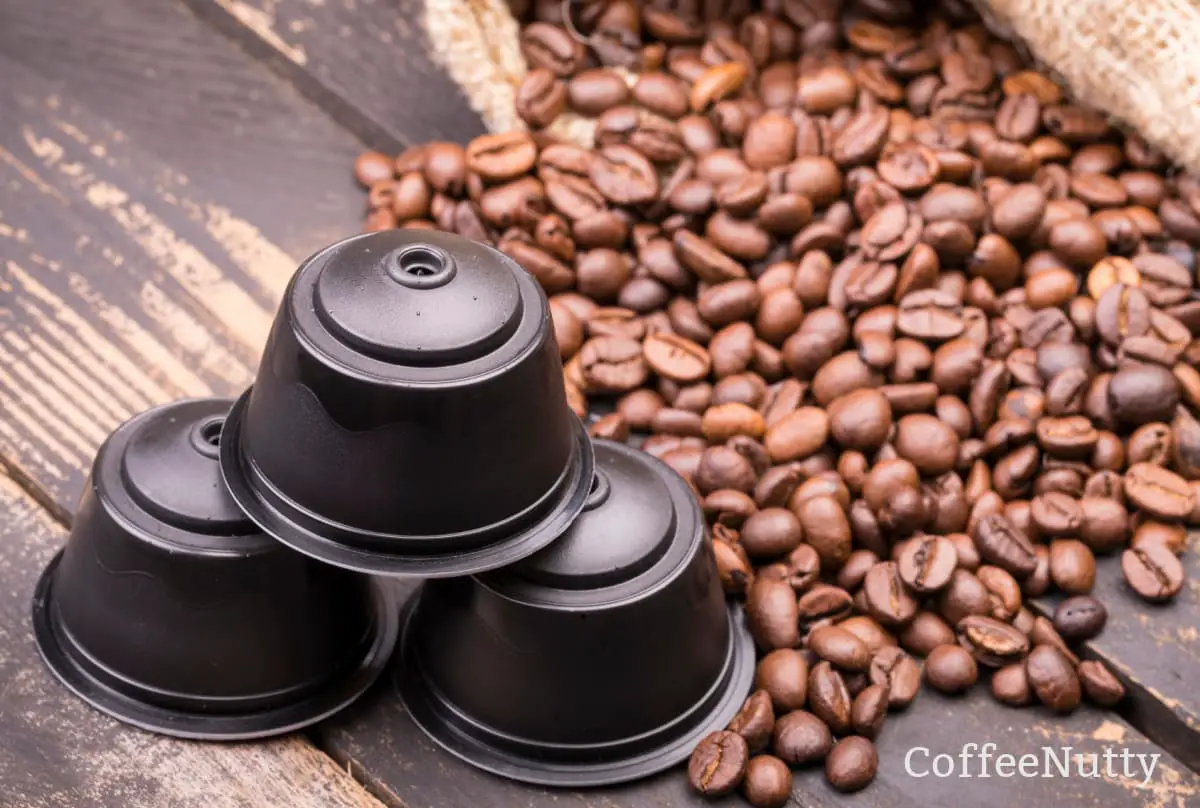 Nespresso Pods on their own are already built to maintain freshness due to their vacuum seal.
Once the roasting process has been completed, the grounds are packaged in a controlled environment that doesn't allow oxygen. However, over time oxygen can still make its way in. 
This is one of the reasons it's important to still store your pods properly rather than leaving them scattered about. 
Nespresso has several storage options for their pods as well as their Nespresso capsules, depending on your goal. They have options to fit almost every style and design, both your kitchen and the storage container. 
While you can store Nespresso pods in all the normal ways, they tend to function better in one of Nespresso's signature storage devices, or storage made specifically for Nespresso capsules and pods.
Of course when storing any individual pods, ensuring you have enough space while providing a safe preservation method is key.
Final Thoughts
You can store coffee pods in a myriad of different ways, but the best ways are the ones that keep your coffee pods fresh for long periods.
Some options I would highly recommend include storing your pods in the back part of your fridge or storing them in an airtight and tinted jar away from direct sunlight. 
These methods ensure that your coffee pods last a long time.
While other coffees may have already turned stale, you can expect your coffee pods to last significantly longer with these methods. After all, coffee drinkers love their coffee's flavor to be intact and ensuring proper storage is always a good idea.
Want to save this post for later? Pin this to your favorite Pinterest board!