If you don't have a teapot or the correct tea brewing implements, making tea in a coffee maker is a simple solution. All you'll need is your tea of choice, a handy coffee machine, and a little time on your hands.
Here's how you can make tea in a coffee maker in 9 easy steps:
Choose your tea. 
Choose your coffee maker.
Clean your coffee maker thoroughly. 
Figure out your tea's steeping time.
Measure an adequate amount of tea.
Place the tea in the coffee maker.
Add water to the coffee maker reservoir.
Switch on the coffee maker.
Enjoy your freshly brewed tea.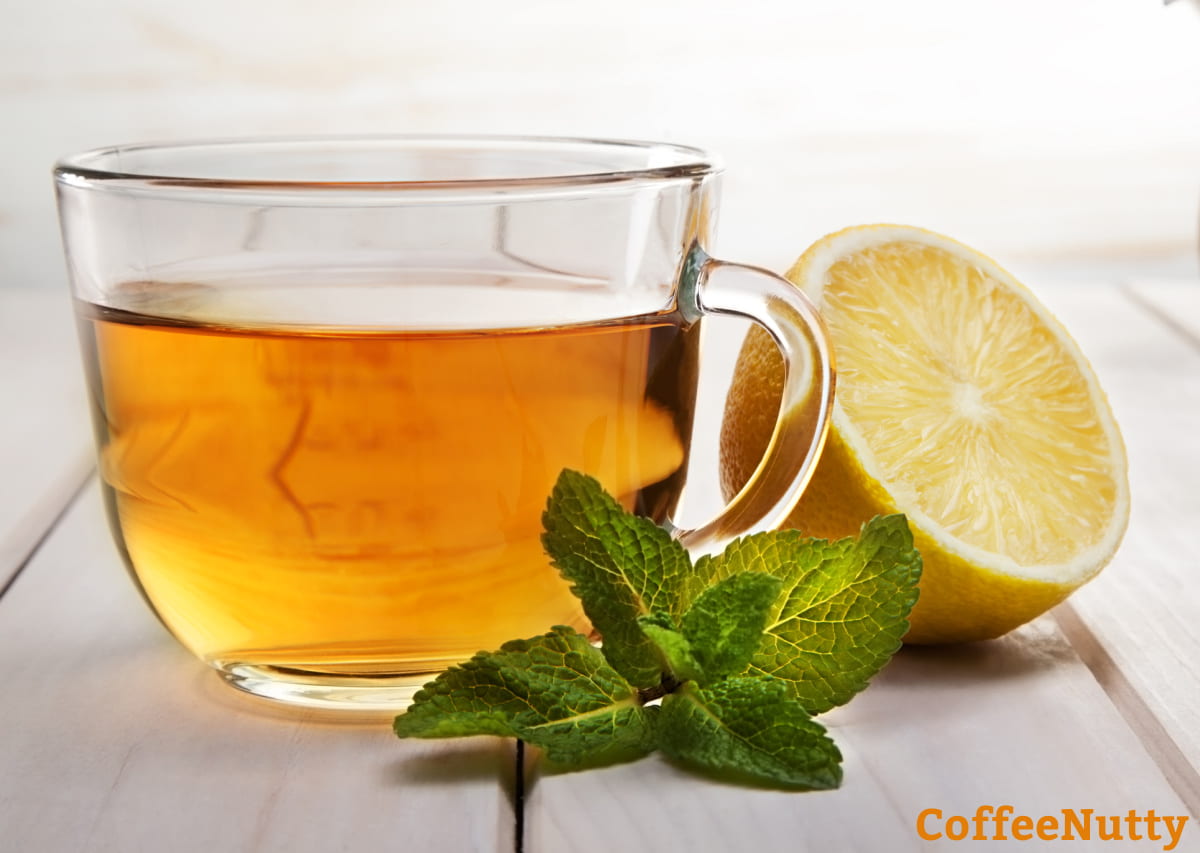 Keep reading for a more detailed explanation of each of the steps above.
The type of tea you choose and whether you use a stovetop coffee maker or even a French press will bring a certain je ne sais quoi to your tea-brewing experiment. 
1. Choose Your Tea
You can make your tea in a coffee maker using tea bags, loose tea leaves, or compressed fermented tea leaves.
If you don't have coffee filters, choose tea bags to neatly contain the tea and make the coffee maker easy to clean up.
Loose leaf tea is ideal to use with coffee filters designed for ground coffee. The filters are strong enough to handle the hot water of a second brew. 
Hot water passes through a coffee machine much faster than tea requires, making the tea weaker than you may be used to. This is especially true with herbal teas and infusions, which are often lighter than compressed and other dark teas.
Compressed or fermented teas have a strong flavor, and some can handle a third brew in a coffee maker.
However, the results of a 2001 survey warn against consuming compressed or brick tea for an extended period of time as it could lead to fluorosis.
2. Choose Your Coffee Maker
Choose a coffee maker that is simple to dismantle and clean. A basic entry-level model like the Mr. Coffee 5-Cup Coffee Maker (available on Amazon.com) is an ideal drip coffee maker thanks to its Grab-a-Cup Auto Pause function. 
The machine conveniently pauses while you grab your first cup of tea and resumes when you return the carafe to the hot plate.
If you don't have a coffee pot, you can use a stovetop percolator or a coffee plunger.
RELATED: How to Make Tea in a Coffee Percolator
3. Clean Your Coffee Maker Thoroughly
If you've been using your coffee maker for brewing coffee, it's vital that you clean the filter basket and carafe thoroughly to remove any coffee smell or coffee residue.
Once you have cleaned your coffee machine by following the manufacturer's instructions, brew a pot of water mixed with some white spirit vinegar. You'll need three tablespoons (44 ml) of vinegar for every liter, or 33 ounces of water. 
This mixture will clean your coffee maker and remove any traces of coffee before brewing your tea. Watch Lisa Yakas, a food health and safety expert, demonstrate this cleaning method:
Clean your percolator or plunger by soaking them in the vinegar mixture. Rinse them very well before use.
RELATED: Is Chai Latte Coffee or Tea?
4. Figure Out Your Tea's Steeping Time
Green tea is one of the most delicate teas and may turn out bitter and astringent if you brew it more than once in a coffee maker.
Boiling points can vary based on locations, but for reference boiling water occurs at 212°F at sea level.
According to the Specialty Coffee Association, most coffee machines heat water to temperatures between 197 and 204°F (92 to 96°C). 
These water temperature ranges are ideal boiling temperatures for the following different types of tea:
black tea
pu-erh tea
herbal tea
rooibos tea
Black and pu-erh teas need between three and five minutes to boil and steep, which is the time most coffee makers take to heat up a full carafe of water for a brewing cycle.
Herbal and rooibos teas need between five and ten minutes. You can pour the first brew back into the filter basket to achieve a flavor closer to what you'd get with traditional brewing.
RELATED: How to Make Coffee Milk Tea
5. Measure an Adequate Amount of Tea
Measure out the normal amount of your tea of choice that you would use for one cup, then double that quantity. 
This will ensure your tea reaches the proper strength and flavor. Most teas are brewed in a ratio of one teaspoon to 6 oz (177 milliliters), but this varies greatly depending on the type of tea. 
If you prefer a stronger tea, adjust accordingly.
6. Add the Tea and Water to the Coffee Maker
It's a good idea to use paper coffee filters, even if your machine includes a reusable mesh filter basket.
A paper filter avoids loose tea leaves or powder getting stuck in your machine's nooks and crannies, affecting the flavor of your next cup of coffee.
Use a ratio of two teaspoons of tea to 30 oz (0.88 L) or about four cups of water. If you add too much water, you may dilute your tea too much, even if you brew twice or more. 
8. Switch On the Coffee Maker  
To ensure a well-brewed pot of tea, switch on the coffee maker and switch it off immediately if it does not have a pause function. 
Pour the first brew back into the filter basket for the second brewing and switch the machine back on. Do not pour the tea into the water reservoir—it should only accept clean, cool water.
9. Enjoy Your Freshly Brewed Tea
Whether your freshly brewed tea is from Morocco, Japan, or Russia, enjoy it like the locals. 
If you made a pot of black Russian tea, place a sugar cube on your tongue as your sip on this strong brew.
You may whisk the steeped tea in short zig-zag motions until tiny bubbles appear on the surface if you're drinking Japanese matcha. 
Add some dried mint and sugar to taste and serve with traditional dates and bread for a Moroccan tea.
Watch Beryl Shereshewsky as she tries tea from seven different places around the world, including Morocco, Japan, and Russia:
If Using a Keurig
If you have a Keurig for single serve k-cup coffee, you can easily use this to make a cup of tea. Instead of going for a coffee pod, simply pop in a tea pod and get your mug ready.
But if you want to avoid the taste of old coffee, don't forget to clean your machine before using a tea pod!
For iced tea, you can pour the brewed tea over a cup of ice and you are all set! Don't forget to add some lemon slices for a little extra flavor.
If you are wanting a full pitcher of tea vs single serving, the Keurig is probably not your best choice.
Final Thoughts
If you're in a pinch, you can brew your favorite tea in a coffee maker; however, it may be a good idea to invest in some basic tea-making equipment. You'll learn to brew tea using the appropriate implements for an experience of pu'er bliss.