Have you ever been in a rush in the morning, and just when your cup of coffee is finished brewing, you grab your creamer just to realize it is expired? You then begin the internal dialogue of "Is it really that far out of date and really change the taste of my coffee?" or "Would it make me sick if I only used a little?" So, how long does coffee creamer last before it goes bad?
Dairy creamers must be used within 1-2 weeks after opening them to avoid bacteria growth or signs of mold. Non-dairy creamers can also last for the same amount of time after opening, however; the times do vary if they have never been opened and depending on how you store them.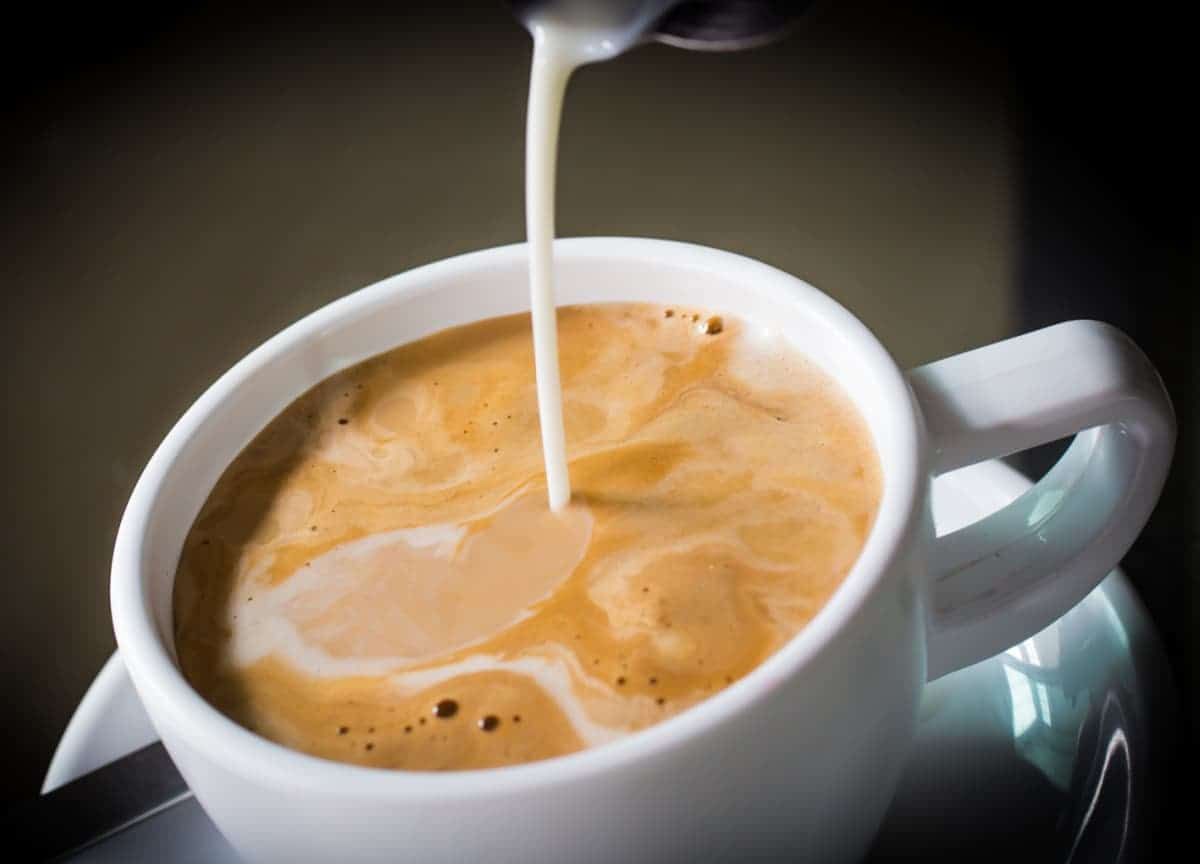 Keep reading to find a more in-detail explanation of how long each of the types of creamers last.
You can also discover a few different creamers with the longest shelf life, the possible effects of drinking creamer that has gone bad, and more. 
How Long Do the Different Types of Creamers Last?
Below is a list of different types of creamers, dairy and non-dairy, and how they fare before and after opening:
| | | | | |
| --- | --- | --- | --- | --- |
| Type of Creamer | Location In the Store | Storage Method When Unopened | Storage Method When Opened | Time of Expiration |
| Liquid Creamer | Shelf | Can be stored at room temperature | Refrigerate after opening | 1-2 Weeks after opening |
| Liquid Creamer | Refrigerated Section | Contains dairy/refrigerate at all times | Refrigerate at all times | 1-2 Weeks after opening |
| Powder Creamer | Shelf | Does not contain dairy/store in the pantry | Seal tightly and store in a dry place | 3-6 months after opening |
| Sealed Cups | Shelf | Can be stored at room temperature | These are one-time use cups | 1 month |
As a side note, where the creamer is sold in the grocery store can also give you a hint toward the shelf life time.
Now that we know how long the different types of creamers last, let's take a look at why you shouldn't use expired creamer.
Why You Shouldn't Use Expired Creamer
Some of the time frames on the packaging of creamers can vary more than what is listed, depending on whether they contain whole milk, half and half, or coconut milk and almond milk.
All of these dairy products have different spoilage times based on the differing fat amounts. 
If expired creamer, or creamer that has begun to form bacteria and mold, is consumed, you run the risk of getting food poisoning. 
Food poisoning can consist of an array of very uncomfortable stomach and digestive tract issues that can take a few days to work out of your system.
These issues can consist of: 
Diarrhea
Indigestion/acid stomach
Nausea/vomiting
How to Tell When Your Creamer Is Bad
You can check a few things to give you an idea of whether your creamer may have gone bad or not: 
The expiration date has passed 
The smell and/or flavor has changed (it tastes sour)
The consistency is different (it has clumps)
If you see any of these things in your creamer, then you know to toss it. 
Another thing to consider if you are using a powdered creamer is contamination.
Most of these types of creamers contain sugar and will attract ants and other bugs. You can transfer your powdered creamer packets to a sealable container if you feel that will be an issue for you. 
Please note that this article may contain affiliate links. You can read my full disclosure at the bottom of the page.
Creamers With the Longest Shelf Life
There are some brands of creamers that do tend to last longer before going sour. The top three are listed below:
Even though those have the longest shelf life there are still ways to make your creamer taste better if it's just stale and not molded or soured. 
How to Make Bad Creamer Taste Better 
If you find you are in desperate need of a way to flavor your coffee due to your creamer having gone bad, there are other options.
These may not be things you would want to do everyday, but they certainly will help in a pinch. 
I've listed three methods to making your bad creamer taste better below:
So what do you do if you find your creamer is out of date but you have to have the cup of coffee?
Read on for ideas to add flavor without creamer. 
What Can I Use as an Alternative for Coffee With Creamer?
Some people love to consume cold brew coffees for their daily caffeine intake rather than regular brewed coffee with creamer because it doesn't have the same bitter taste. Doing this can prevent you from dealing with the problem of your creamer going bad in the first place.
You can buy it in an individual bottle or from your local coffee shop daily.
Others like to make it themselves, or "coffee prep," and keep it in the fridge so it is ready to go every morning. 
If that is something you are interested in, know that a cold brew can normally last up to two weeks in the fridge, but the quality may not be the same toward the end of that time frame.
It may start to taste a bit bitter or stale. Still, test your cold brew before drinking if it is near the end of the two weeks. 
RELATED: Can You Froth Coffee Make Creamer
Summary
If your creamer contains any type of milk or dairy, it must be refrigerated and basically lasts 1-2 weeks. If it does not contain dairy, then it can be kept in the pantry; however, itt may need to be refrigerated after opening to have a longer shelf life. 
Consuming creamer that has gone bad can make you feel gross. So, check your expiration dates, use your sense of smell and taste, and continue enjoying your morning brew. 
RELATED READING:
• Out of Coffee Creamer? Try One of These 13 Alternatives
• Does Cold Brew Coffee Need to Be Refrigerated?